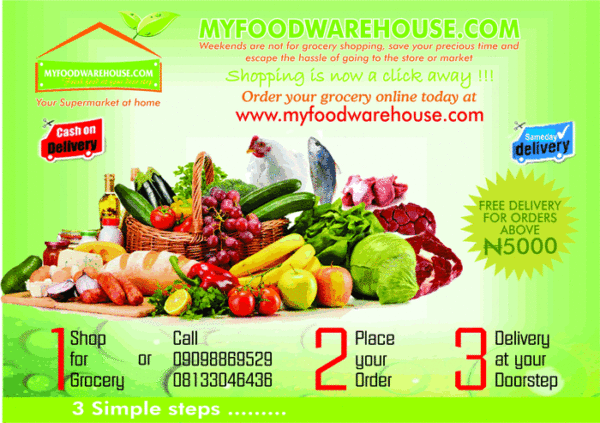 Imagine being able to shop for fresh and ready-to-cook food items online from the comfort of your office or home and have it delivered to you on the same day! That is my story with Myfoodwarehouse.com, Nigeria's most innovative online fresh food shop.
My name is Ada, I live in Lagos with my family and I love to cook. As a working mother of three, I leave my house by 6am every morning and get back at 8pm every week day and i tell you, shopping for groceries has been a real nightmare for me until a friend introduced me to Myfoodwarehouse.com. You see, technology makes this life so simple and we all need to take advantage of it. Who would have thought that one day I'll  be able to just sit in my house, using my phone or computer, order foodstuff and have them delivered to my house. That is exactly what happened my people. When I told my mom she was like, "ladies of nowadays, you just want to have everything done for you" LOL. I guess she doesn't truly understand how precious time is in Lagos.
My Experience
I went to their website and placed an order of N10,000. I was a bit skeptical because I like to see the exact thing I'm buying before a purchase- that's the main reason of going to the market, and you know how you can finish paying online and your money will disappear; but anyways I went ahead. I ordered for Kpomo, smoked catfish, goat meat, okro, ugwu leaves, tomatoes, fresh pepper, zobo leaves, plantain, apple, Ogbono (blended and unblended), vegetable oil and periwinkle.
After placing my order, I got a call a few minutes later to confirm my order and the address. It was interesting to find out that the order I placed by 11.50AM still came that day. It was raining heavily and I had already concluded in my mind that "they will soon call and say they cannot deliver, because of the rain"…but the dispatch guy came in that heavy rain to deliver my order. I didn't even have to pay online as I had enough time to confirm the order before I paid the dispatch. I was impressed with how fresh the items were especially the tomato and pepper. I love how I was able to get all the difficult to find items like zobo leaves and periwinkles in one place unlike what happens in the market sometimes. I love how everything was sealed and packaged in see through freezer packs so you can see what is inside. I placed most of the items like that directly in the fridge.
Delivery

If you order below N5,000, you get to pay N500 delivery fee but any purchase above N5,000 will be delivered for free. There's no minimum order…if you like, order for one basket of garri, they will deliver to you. Orders before 12:00 noon get to you that same day but any time after 12:00 noon will be delivered the next day. They deliver between the hours of 10am to 6pm, Monday to Saturday.
Verdict

Given the traffic laden malls and muddy nature of our open markets, yours truly no longer worries herself about going to the market for grocery shopping. I now concentrate on trying out new recipes every weekend for my family as Myfoodwarehouse.com has me covered in terms of supplying everything food I need.
Did I also add that their price is very affordable? You should definitely give them a try because this makes life easier…
To place your order, call 09098869525 or 08133046436. You can visit our website www.myfoodwarehouse.com. Place an order above N5,000 and get free delivery to your doorstep anywhere in Lagos!
_________________________________________________________________________________________________
Advertorial– Sponsored Content