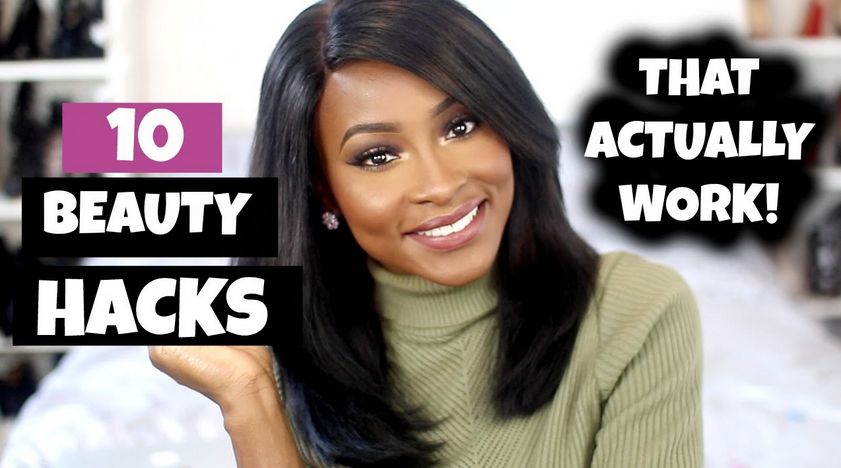 Beauty hacks make life so much easier.
From how to get fuller hair without another trip to the salon, to how to finally master applying eyelash glue, popular beauty vlogger, Jenny Jenkins of Beauty by JJ shares 10 beauty hacks that actually work.
Check out what we learned below;
1. You can get fuller hair with dry shampoo. It also helps get rid of oily looking hair.
2. To get shiny legs, you can use sheen spray on your legs to that extra sheen look.
3. A cheap alternative to highlighters is to use an eyeshadow. Just be sure the shadow has some shine to it for the desired effect.
4. Don't you just hate it when your perfume fades away. To make it last longer, apply some Vaseline to certain areas of your skin, and then spray the perfume there. The oily base will make it stay for longer.
5. Run out of shaving cream. Hair conditioner is a great substitute. It will hep give you a smoother and softer shave, just like your shaving cream.
6. You can use some perfume as a substitute for nail polish remover. Spray some on a cotton ball, then wipe the nail polish off. Just be sure not to use the most expensive kind.
7. If you're sort of a klutz when it comes to applying eyelash glue to your lashes, there's and easy fix. Apply a small amount on the ends of a bobby pin instead, and then use that to apply on the eyelash strip. Easy!
8. To make your foundation set better after application, instead of wiping your powder all around, pat it into place instead. It will make it last longer.
9. If your white sneakers get dirty, simply apply some nail polish remover to the parts that have dirt. The stains will come off easily.
10. Get rid of clumpy/almost dry nail polish with some nail polish remover. Simply pour a little amount into the bottle of dry nail polish and watch it dissolve and get smoother.
Watch!