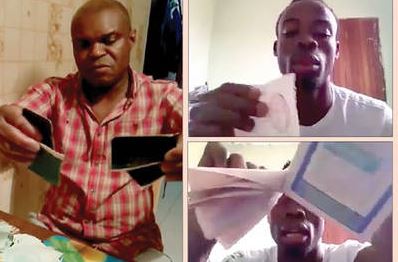 Ever since the arrest of Radio Biafra director, Nnamdi Kanu, pro-Biafra sentiments appear to be on the rise.
Just last week, it was reported that numerous people in Anambra and Port Harcourt took to the streets to protest Kanu's arrest. Some were subsequently arrested and charged with treason.
And now, according to Sahara Reporters, some Biafra secessionists took to YouTube to post videos of themselves tearing their Nigerian passports.
Due to the incendiary nature of some of the dialogue in the videos, BellaNaija will not be posting them.
However, here are a few excerpts from one of the individuals, Emenike Michael Nwofor:
"My names are Emenike Michael Nwaofor. I'm from Nnewi in Biafra land; when there was Biafra, there wasn't anything called Anambra State. I would refuse to add that name called Anambra State to it. I am from Nnewi, the former Enugu State.

"I am living here in Bordeaux (France); I am an asylum seeker in Bordeaux. I have been around Bordeaux for a year plus and we have been able to gather the Biafran family here in France; we have been able to register with the government of France as indigenous people of Biafra."
Videos of two other individuals tearing their passports and speaking against the Nigerian government have also emerged.
Reacting to the videos, Public Relations Officer of the NIS, Deputy Comptroller, Ekpedeme King said:
"There is a new Act called the Immigration Act 2015 which stipulates the punishment for any alteration or destruction of Nigerian passport; it is a jail term with conditions. Those who mentioned their names, if we find out that they tore their passports, will be taken to court. A process has to be followed."
Photo Credit: Punch