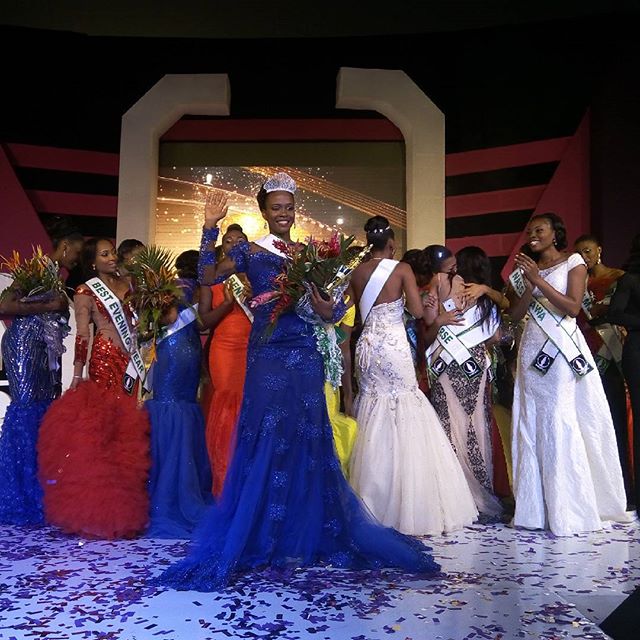 For the first time in several years, most BellaNaijarians seem to agree on winner of the Most Beautiful Girl in Nigeria (Yes, it's that serious)
Unoaku Anyadike represented Anambra State at this year's pageant and after was chosen as the overall winner of the pageant – therefore she is the MBGN 2015. She will represent Nigeria at the Miss World 2015 pageant which will take place on the 19th of December 2015 at the Crown of Beauty Theatre in Sanya, China.
So, who is Unoaku?
Here is the scoop on the pageant queen.
She's 21. Unoaku celebrated her birthday on the 16th of September
She is a student of psychology at the University of Ibadan
She has other jobs – Unoaku has been a personal assistant to Nollywood star Enyinna Nwigwe
She participated in MBGN 2014 (as Miss Lagos) but had to drop out due to exams at school
She is from Anambra State (her dad is Igbo and mum is Yoruba). Contestants rarely get to represent their home states but in this case, she actually did
Her answer during the Q&A sealed the deal – we hear that her articulate answer to the question on Climate Change and her reference to the erosion issues in Anambra helped her win points with the judges.
Her role models are Ellen Johnson Sirleaf and Millen Magese
She comes from a close knit family – "I'm the last girl out of 5 beautiful girls in my family. We are Christians and from Ekwulobia, Aguata local government in Anambra state. We live in Ile-Ife, Osun state. My father is a Professor in Literature-in-English at Obafemi Awolowo University (OAU) and my mother is the founder and proprietor of Sunshine Nursery and primary school Ile-Ife, Osun state. My family is the best family in the world and they come first, I wouldn't trade that for anything."
She is a Christian – She says "I love to meditate on the word of God" and I am presently reading "How to be lead by the spirit of God" by Kenneth Hagin
She is a blogger – Anyadike has a blog which is focused on positivity and spirituality
She's been "spotted" on BellaNaija – See her at taking a selfie with Genevieve Nnaji at her launch
Her Favourite Meal is Amala and Ewedu with goat meat and a cold bottle of water
She has a crush on Empire star Jussie Smollett and admires Miss World 2001 Agbani Darego