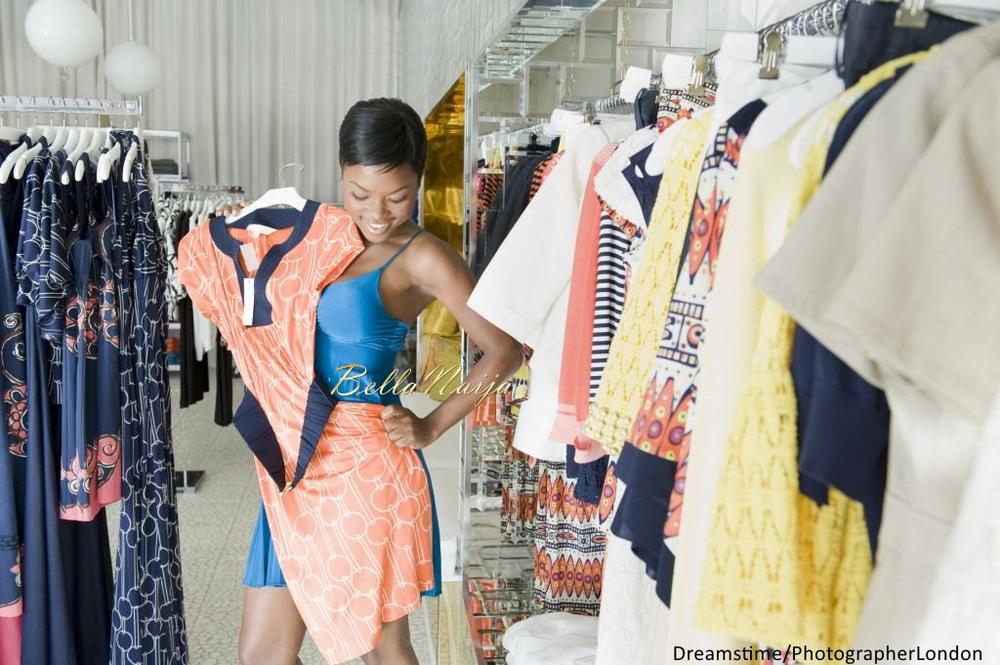 A few weeks ago, I made the long overdue decision to buy some new clothes. I'm not exactly the shopping type, but when I saw a photo from 2 years ago wearing a top I had said I would get rid off, but still own, I decided buying some new things wouldn't hurt.
So I went shopping. I must confess, I was pretty pleased with what I bought…until my friend Seyi called one of the dresses 'razz'. "So you've joined the 5 million girls in Lagos that have this dress? You want to be number five million and one abi? Why did you waste your money? This dress is razz now!"
The dress in question was a stunning red high-low dress – you know, one of those dresses with a short hemline in front and a longer one at the back. Everyone has this dress, and I decided I wanted to own one too. I had no idea it was now 'razz'.
I looked at the dress and looked back at her, all the while thinking – "Why is it 'razz'?" It's not a piece from an exclusive collection. And almost every designer I know has one version of this dress. So what's the problem?
Some minutes later Seyi leaves my room, and as I am putting the dress up in my closet, I'm still wondering why she called it 'razz'. Is it because, in her words, 5 million Lagos girls have it? Or maybe it's because it's no longer trendy? Perhaps it's the fact that you'll find it in every shape, colour and fabric in stores under the bridge in Ikeja.
Is it the same with hair? Why are synthetic weaves seen as 'razz' but braids aren't. After all, braids have been in circulation since I can remember and every year people still get their hair braided. Is it because braids are a classic look like wearing a white shirt?
I felt a post brewing so I asked a few of my girlfriends and colleagues, and came to the conclusion that pieces & trends can become 'razz' due to a few reasons;
1. The people that wear the piece
A few people expressed that trends can become 'razz' when a certain type of person wears it. It could be someone who isn't as rich or as popular as you, and their status automatically diminishes the price of the item. For example, if Agbani Darego rocked a top that was quite expensive to buy, and a regular everyday girl rocked the same top, because she's not a celebrity, it would automatically tell on Agbani's fashion status and her decision to buy the top.
I once heard that some celebrities only shop from expensive designers to reduce the likelihood of running into someone else with the same piece. I understand that celebrities might feel the need to stand out because a lot of eyes are on them, but I also think fashion is made for everyone. If you like it, wear it, no matter who else is wearing it with you.
I once showed up at an event wearing the same dress as another guest. It could have been awkward for both of us, but instead we took selfies together, laughed over it and other guests did too. They even started calling us twins, although it did start to get annoying after a few hours. I digress – my point is I think it only becomes a problem when you make it one.
2. Where you buy the piece
This one is specially from Seyi. She thinks every item that isn't bought on the island is 'razz'. To her, location is very important, and she would not be caught dead shopping at Allen/Opebi or Ikeja. And the funny thing is, a few of my friends agreed.
Their argument is – you're most likely going to get great pieces, that are not available just anywhere, on the island. This is because retailers on the island have more money to shop abroad or have their clothes made professionally. In other words, rich people who sell clothes on the island will provide expensive pieces that are rare because of their pricing. The smaller the number people that can afford the pieces and wear them, the lesser the chance of that piece being popular and then 'razz'.
3. The variations of the piece available
We all know that really popular trends get serious makeovers. And sometimes those makeovers don't end well.
Take the infamous Rihanna hairstyle – the shut up & drive/umbrella pixie cut. After that video dropped everyone wanted to copy Rihanna's new bad girl look, and after some time, hair stylists started creating new variations to keep up with their customer's needs.
We started seeing the hairstyle in various colours & shapes and the look got our of hand really fast. Soon enough, everyone started to call it 'razz', and just like the plague, people started avoiding the look until it faded away.
When I heard this point I had to bring up braids again. I cannot begin to count the variations of braids out there –  from jumbo braids & marley braids to million braids & twists, you don't see people leaving the trend alone. Are braids that embedded in our culture that we have refused to let it go? What makes it different from the Rihanna look?
4. The pricing
Everyone I asked brought this point up. They say, if a piece is too cheap, then that automatically mean it's 'razz'. I know someone who has sworn off shopping in Ikeja, because she thinks the fact that the pieces are cheap means everyone will have them, and they would be made with cheap fabrics.
Does cheap equal razz? Or does it boil down to how expensive making the piece was?
5. When the trend is over
You remember how I said my friend called my dress 'razz'? Well, one reason she gave as to why she called it 'razz' was because the trend was no longer hot. It's like someone just opening a Facebook page today. She was like "where were you when people were wearing it? If you wear it now, you would look like you're not on trend. And that can be bad". I didn't even want to know what she meant by that.
If a piece is no longer trending, does that really mean you can't wear it anymore? And what if you wear it? It's not like the world is going to implode. Would the worst case scenario be people calling what you're wearing or even you 'razz'?
I'm sure you all have your ideas of what makes a trend razz and I definitely want to hear them. Share them below – what are your thoughts?
Photo Credit: Dreamstime/PhotographerLondon