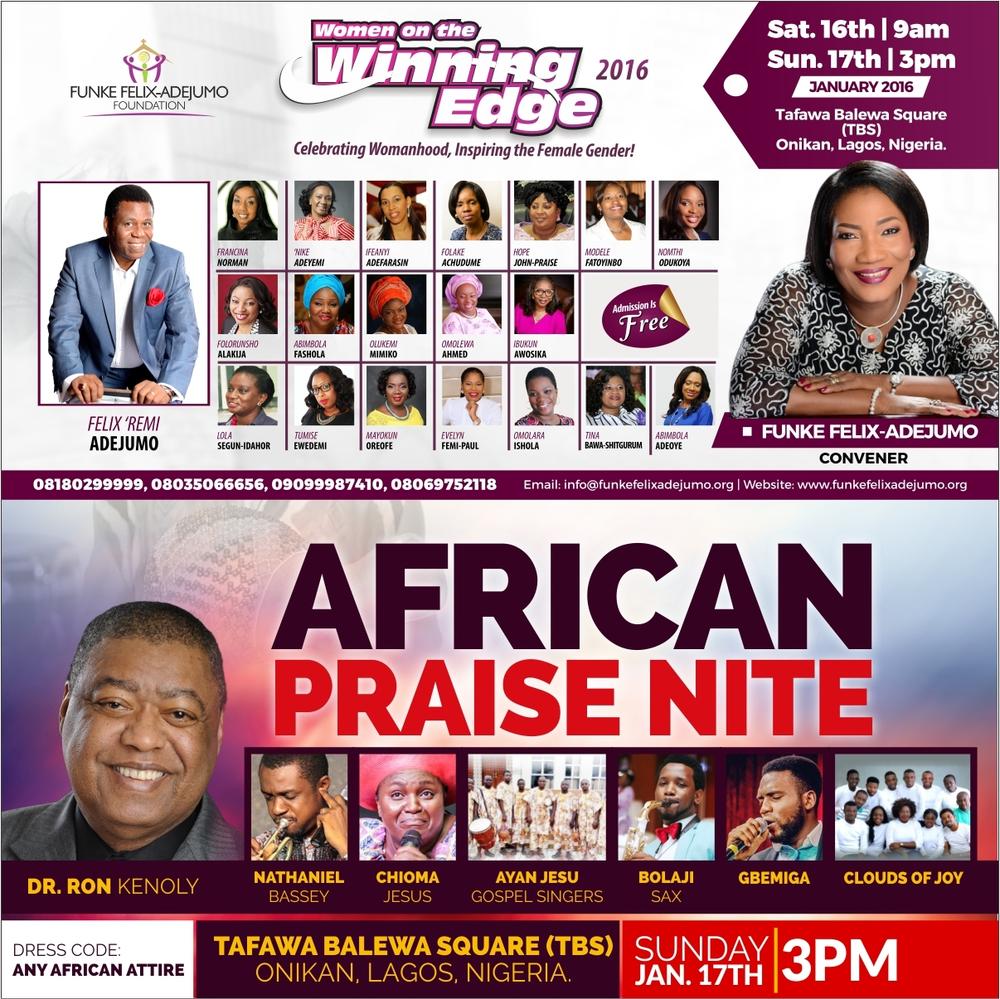 The Winning Edge Conference is all about Celebrating Womanhood and Inspiring the Female Gender.
Due to the wide variety of women that will be attending the Winning Edge Conference, we have assembled anointed women of God and established professionals in various fields to inspire, celebrate and declare God's word over the lives of every attendee.
This 2-day programme has been divided into various segments:
Preaching/Teaching of the Word
Counselling
Panel Sessions (where questions from women, that have been collated before, and during the course of the programme will be answered)
Shop for Free (An avenue to give back to the woman in need)
African Praise Night (a time to return praises to God)
It is time for women to arise, take their God-given place, and begin to fulfill their God-given mandate on this side of the divide.
Visionary & Convener,
Funke Felix Adejumo
Funke Felix Adejumo is the president of Funke Felix Adejumo Foundation. She is an accomplished pastor and teacher with deep insight into God's word. Her unique unction and utterance has endowed her to the hearts of millions of people that have listened to her at conferences and seminars around the world.
Winning Edge Conference 2016
Date: 16th to 17th January 2016
Venue: Tafawa Balewa Square, Lagos, Nigeria
Start Time: Saturday – 9AM | Sunday – 3PM
Admission is FREE
African Praise Nite 2016
Ministering at the African Praise Nite are Dr Ron Kenoly, Nathaniel Bassey, Chioma Jesus, Ayan Jesu Gospel Singers, Bolaji Sax, Gbenga, Clouds of Joy and more.
Date: Sunday 17th January 2016
Time: 3PM
Venue: Tafawa Balewa Square (TBS), Onikan, Lagos, Nigeria
Admission is FREE
For further inquiries: Call +2348180299999, +2349099987410, +2348035066656
Email: [email protected]
Website: www.winningedgewoman.org
Twitter: https://twitter.com/ffadejumo
Youtube: https://www.youtube.com/user/ffadejumo
Instagram: https://instagram.com/ffadejumo/
_________________________________________________________________________
Sponsored Content