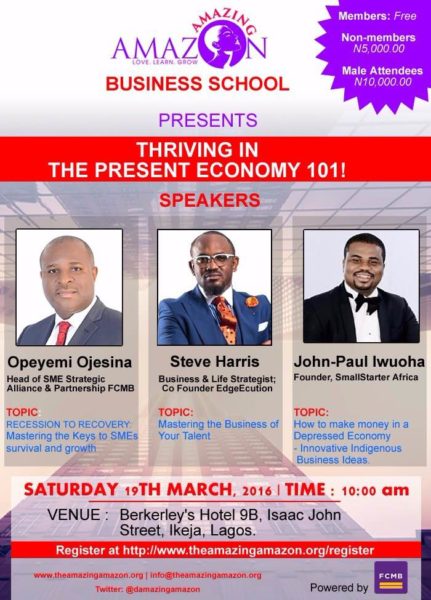 The Amazing Amazon is a support group for women from all walks of life dedicated to their empowerment, enhancement, upliftment, personal growth and development. It is an action orientated group that would not just preach about women empowerment or betterment but will take practical steps and actions to support and assist women in all areas of their lives; Business, Relationship, Career, Marriage, Parenting e.t.c
We are a network of vibrant and diverse women with shared passion to change lives and discover purpose, support one another and generally work together to achieve a common goal of a better and fulfilling life.
To achieve this aim the Amazing Amazon Business School, an arm of the initiative has put together a powerful business seminar to inform and empower women particularly and the public in general about new business ideas and opportunities  that abound in the present economy.
So whether you are out of job, or your business is struggling in view of the exchange rates and other factors, or you simply are just looking for a brand new business idea and areas of investment as an entrepreneur or an aspiring one…then this seminar is definitely for you!
Log on to www.theamazingamazon.org now and register | For inquiries contact us at [email protected] | [email protected] | Or call +234 803 412 6339
This event is proudly supported by FCMB and they have free gifts for the first 50 registered participants.
---
Sponsored Content