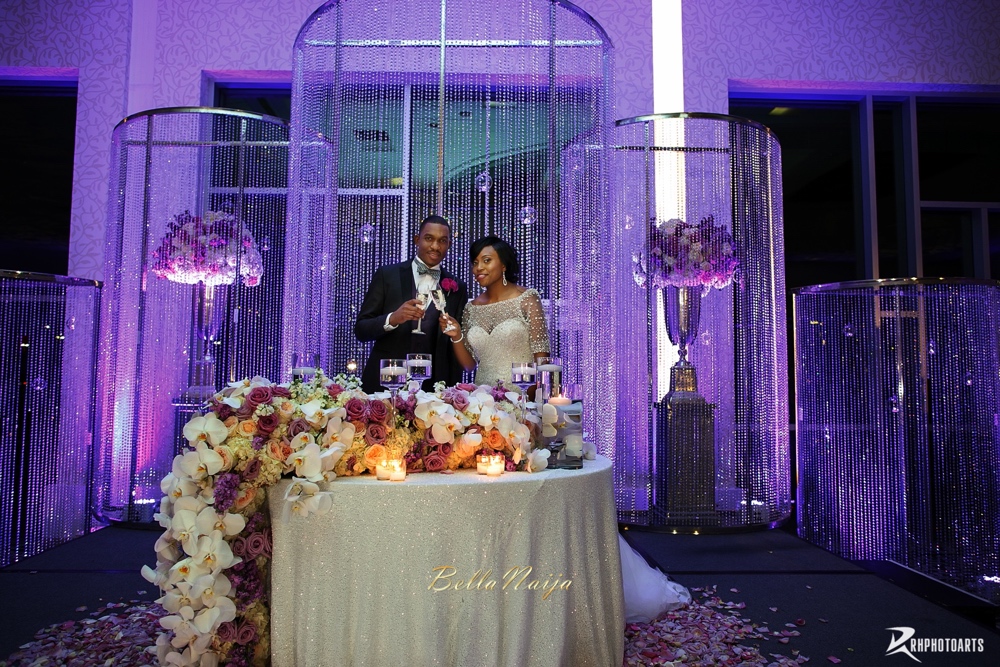 It's been a year since we featured a Cameroonian wedding at BellaNaija Weddings, and we're so elated to share this stunning wedding with jaw-dropping details, and aww-inspiring love tale.
Petra and Emmanuel were match made, and they ended up becoming the perfect pair – a match made in heaven.
Their traditional wedding was in the bride's hometown in Cameroon, while their plush plum and silver wedding took place at a luxury resort in Houston, planned by renowned Chioma of Dure Events.
Here's their beautiful love story and wedding.
***
~ Pre-Wedding Photos taken in Greystone Mansion, Beverly Hills and Santa Monica Pier | by RH Photo Arts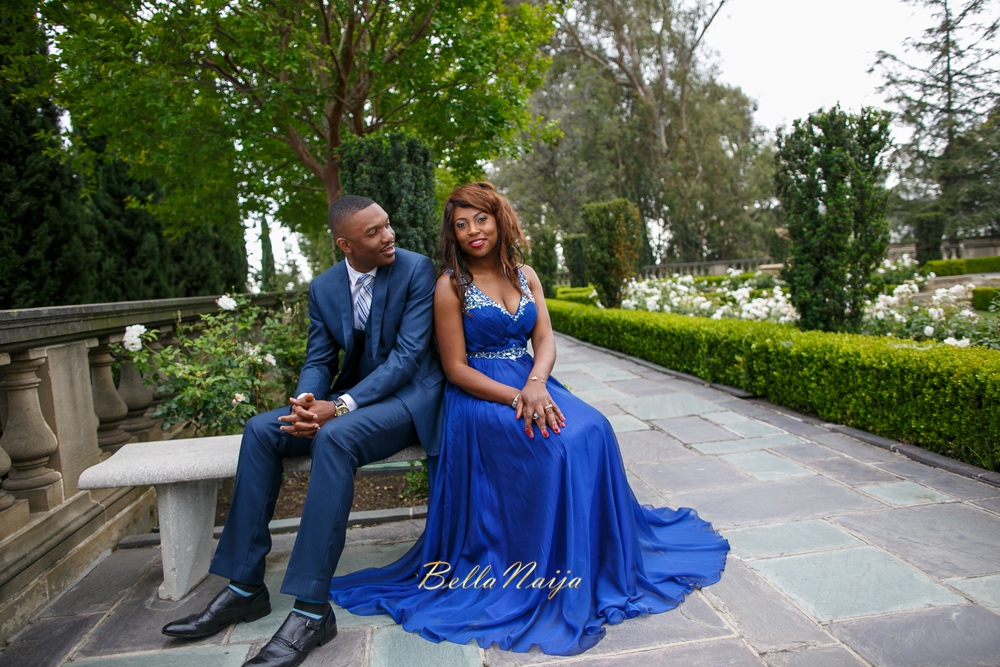 How We Met
from the Bride, Petra
An adventure trip with my sister friend to experience the famous New Year's Eve ball drop in Times Square, NY turned out to be what I will call the beginning of the best days of my life. I vividly remember how with much reluctance, I agreed to step out for a drink with one of my long time friends as I was tired & cold from the outdoor ball drop experience and the tiring drive from NY to MD, Emmanuel joined us that evening as our mutual friend from visiting from Finland invited him over to give her a ride…  fast forward, he never gave up and here we are today happily married.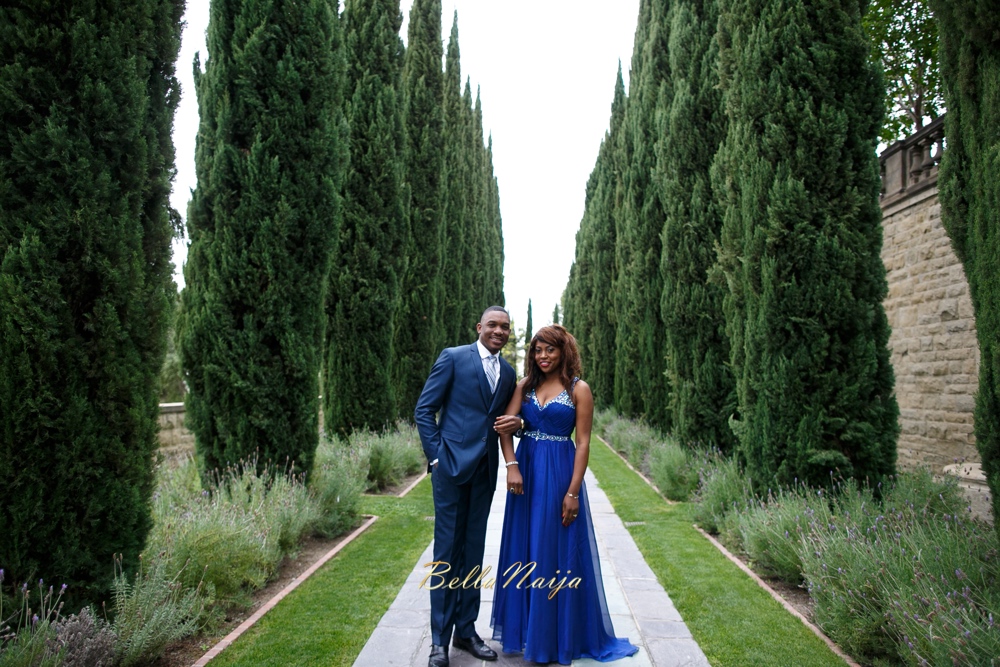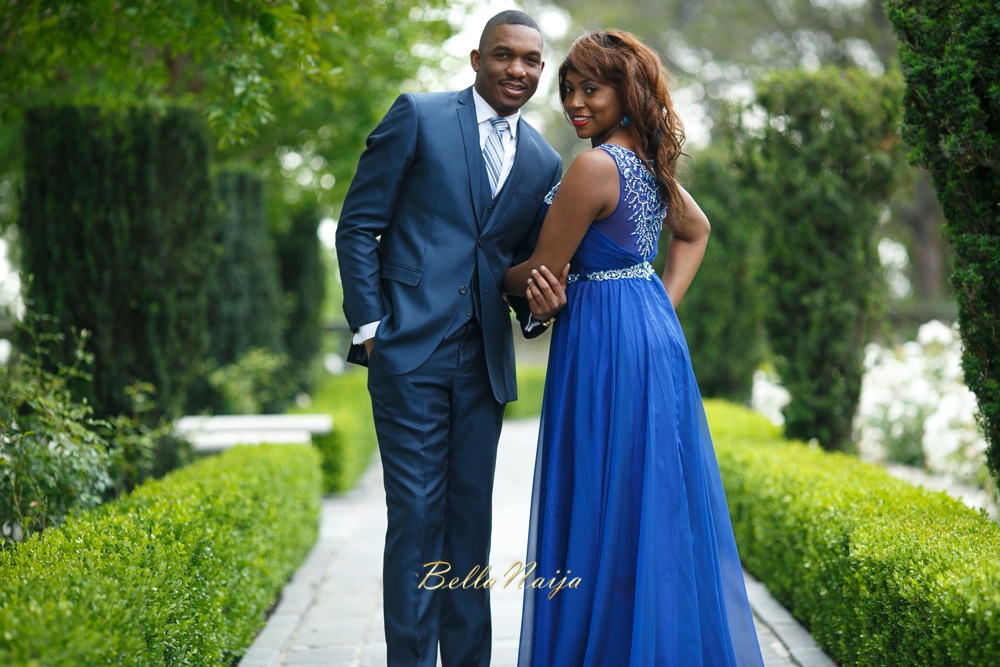 from the Groom, Emmanuel
So fresh are the memories of January 2nd in the city of White Oaks, Maryland when I first laid eyes on "Queen P". Her smile was so contagious to keep a man's heart ever cheerful.
This remarkable night was engineered by a mutual friend of ours who was visiting from Finland for the Christmas holidays. She called me to give her a ride home and little did I know she was throwing bait for me to feed on. Some folks think this was a "hook up" but I say this was Mr. DESTINY at work.
We ended up hanging out downtown Silver Spring together with some other great friends. Our first meeting ended with a picture (set up by a friend) and we parted ways and she headed for Oklahoma the following day. It took about 48hours thereafter for Petra to respond to my first SMS and 4 days later for our first live phone call. Oh! female pride and their usual nuances during the initial courtship process. You have to love it and thank God He created men with natural antidotes for such.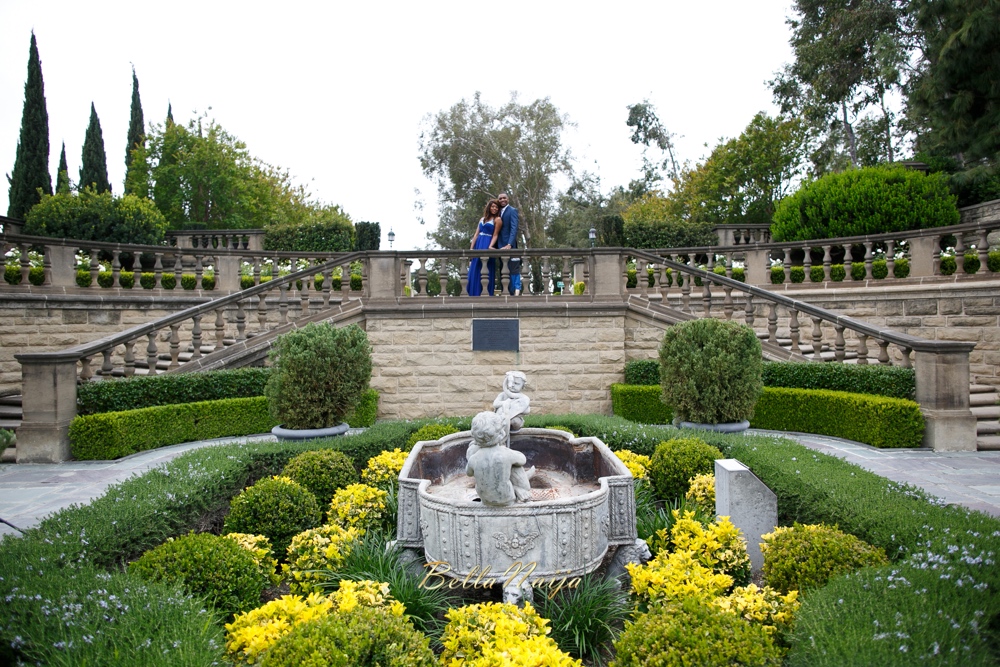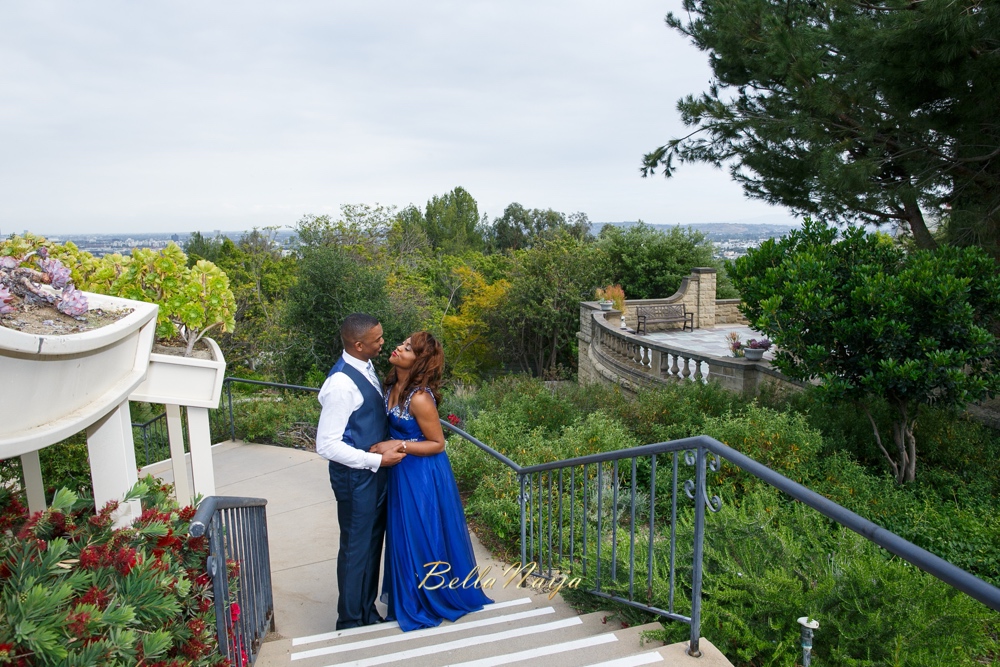 The Proposal
from the Bride, Petra
Family and close friends all had it well planned out while I thought I was headed to Emmanuel's work award ceremony, somehow I don't know how he distracted me and we ended up on the 49th Floor at Vast Restaurant in downtown Oklahoma City.
While there, he acted kind of unusual which kept me wondering, he helped me order my entree and ordered just an appetizer for himself and said he will eat after his award ceremony. While we were eating, he stepped out which was unlike him. Walked back in and we continued eating, then this photographer we know walks in towards our table and greets us and acts like she is passing by, in my mind I'm curious to know what is going on, she says she is doing a prom photo shoot and yes it's April, so I didn't doubt her. As I continue eating, surprisingly Emmanuel goes down on his one knee pops the big "Q" with the ring and of course followed by a big "Y" from me in tears.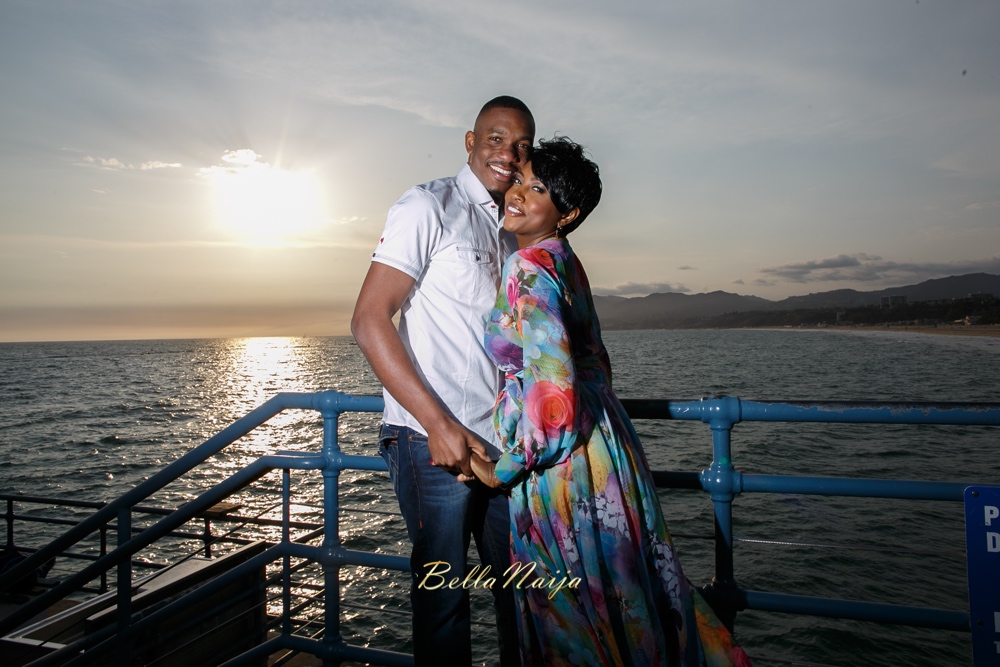 Then and only then did I know the true reason why the photographer lady is there. With all excitement, we headed back to his place to pick up a few things and head to my sister's place so I can show her my bling. Little did I know Emmanuel, our families and close friends had all planned a Red and Black cocktail evening to celebrate our engagement.
As we got to the parking lot,I told him I will just wait in the car, he said okay, rushed upstairs and then came back about two minutes later, stating that his house is flooded because he forgot to turn off his kitchen faucet.
I dashed out of the car and left my purse and everything just to rush up, open the door and find my lovely friends and family all looking beautiful in red and black… fast forward,we partied late that night.
It was a very beautiful evening.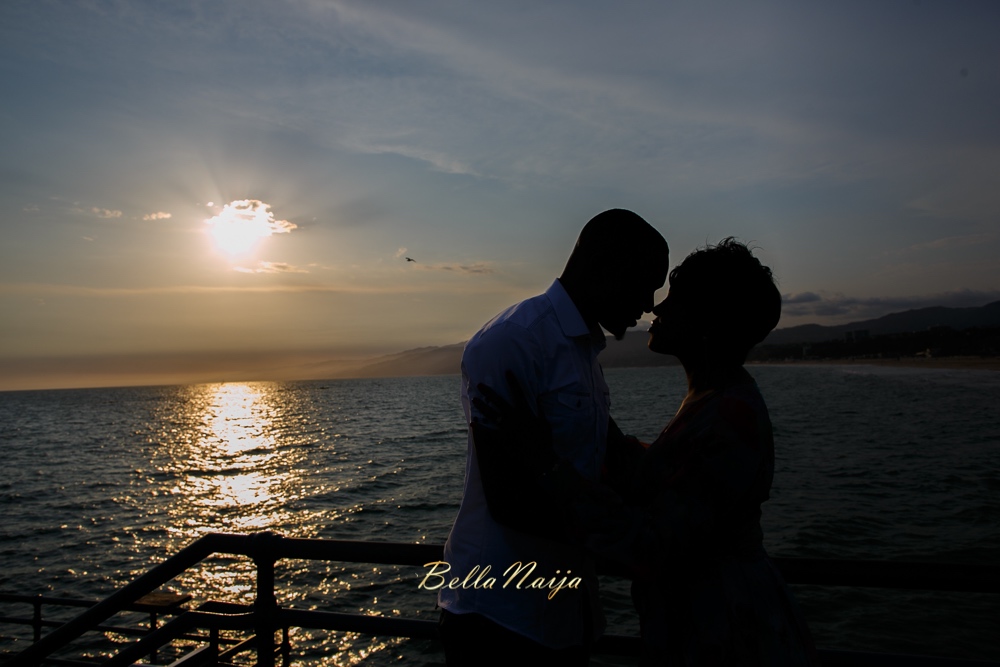 Advice from the Bride and Groom
Our little advice to those who are engaged and planning to do a wedding ceremony will be; Please attend a counseling session first, no matter what denomination you are because all church priests/pastors/leaders/married couples offer come sought of counseling. Even if it means counseling from your parents as these are very important. For Catholic Christians, please attend the Engagement Encounter.
Next is that a wedding is just one day and it will never happen again, have fun, do what you've always wanted to do so long as it is affordable for you both. Please don't ignore your families, make sure you involve them during the wedding to feel important on your day. Lastly, if you can afford it, get a planner. It saves you time and stress.
Wedding Highlights
The Groom sent 50 Red Roses to the Bride on the morning of the wedding.
Instead of doing a grooms cake, the Couple incorporated the Real Madrid Football Logo on one side of the cake, because the groom is a die-hard Real Madrid Fan.
The wedding colors were plum and silver, but the bridal party had a mix of colors and each color is very meaningful to Petra and Emmanuel.
BellaNaija Weddings wishes Petra & Emmanuel a life filled with love, and all the perfect moments that come with it.
***
~ White Wedding | by RH Photo Arts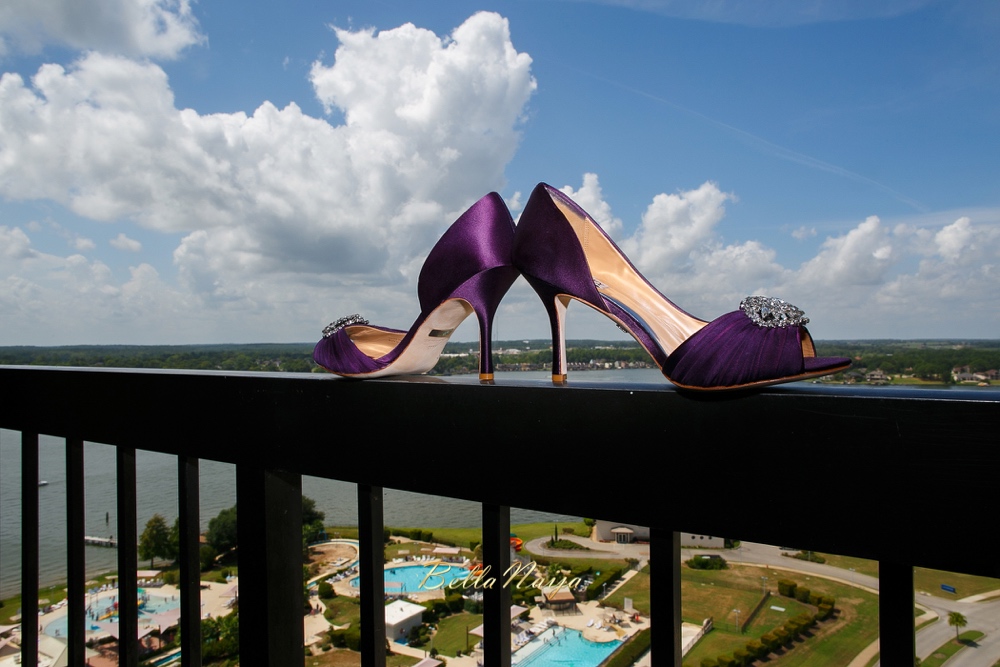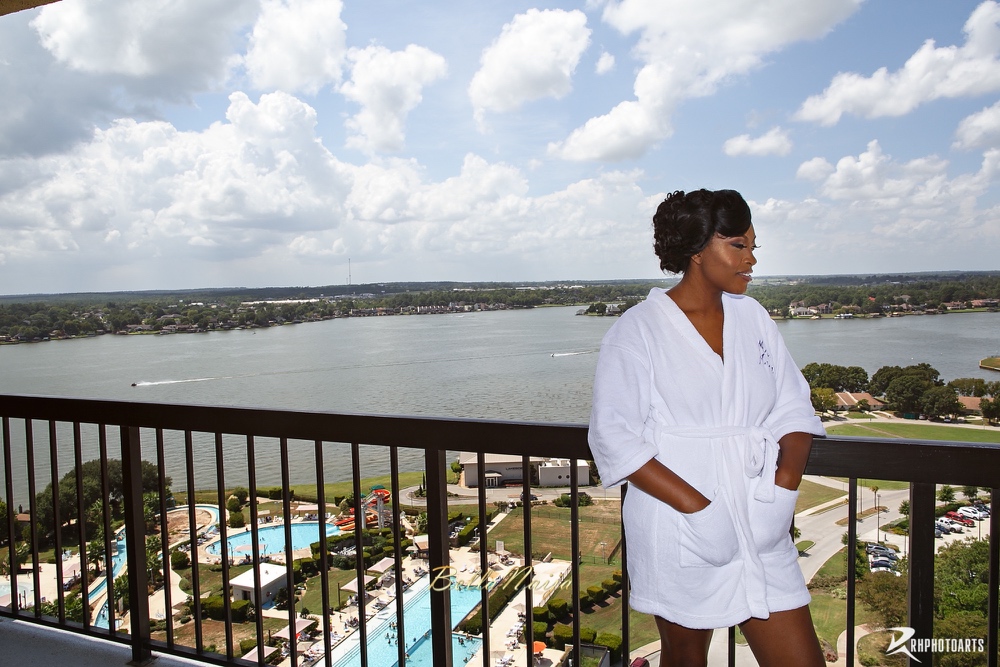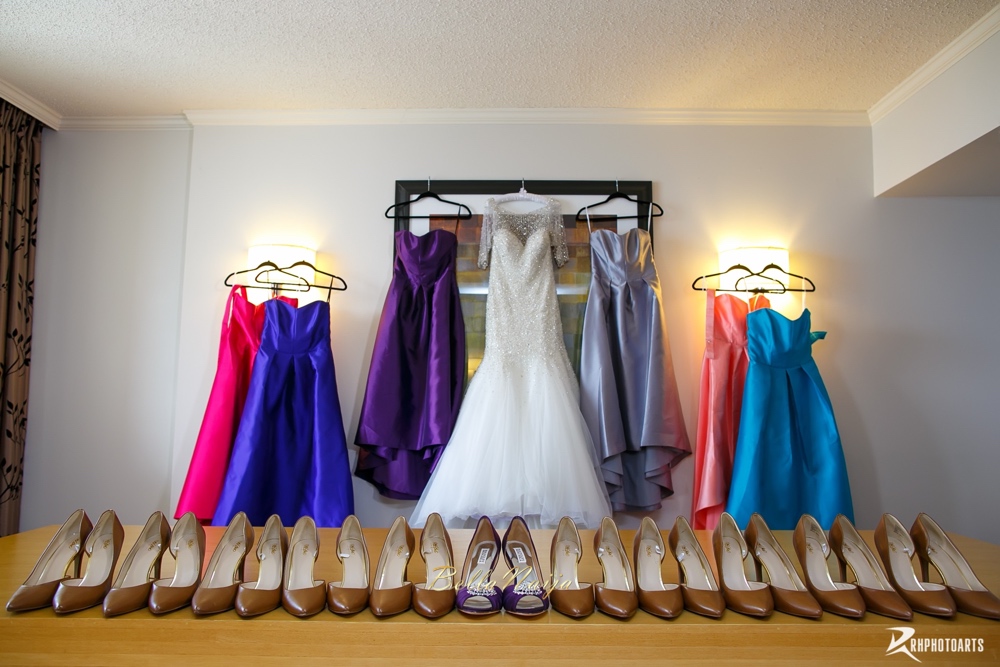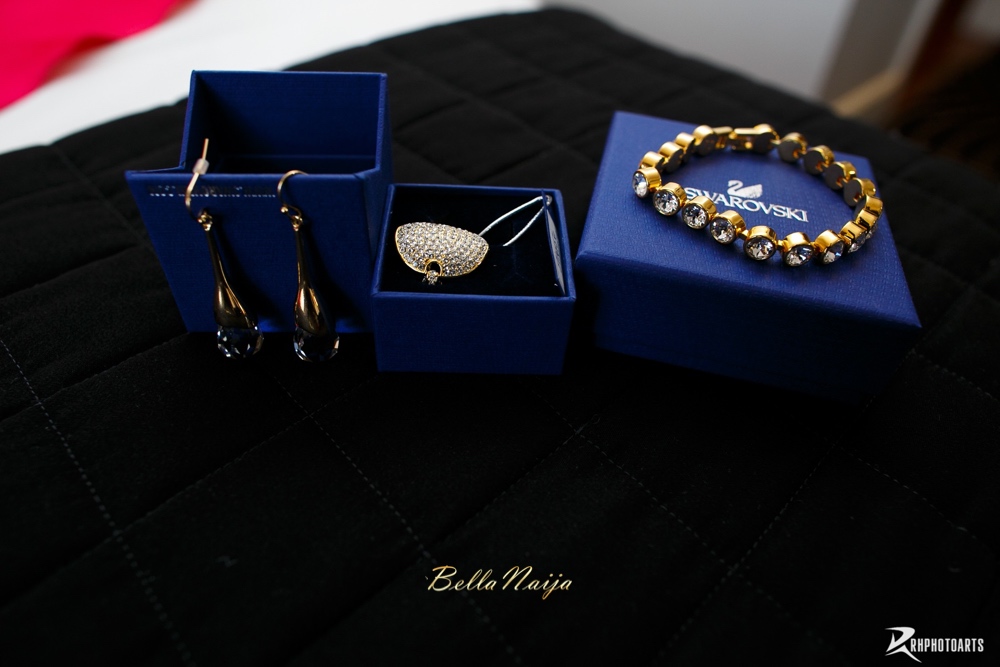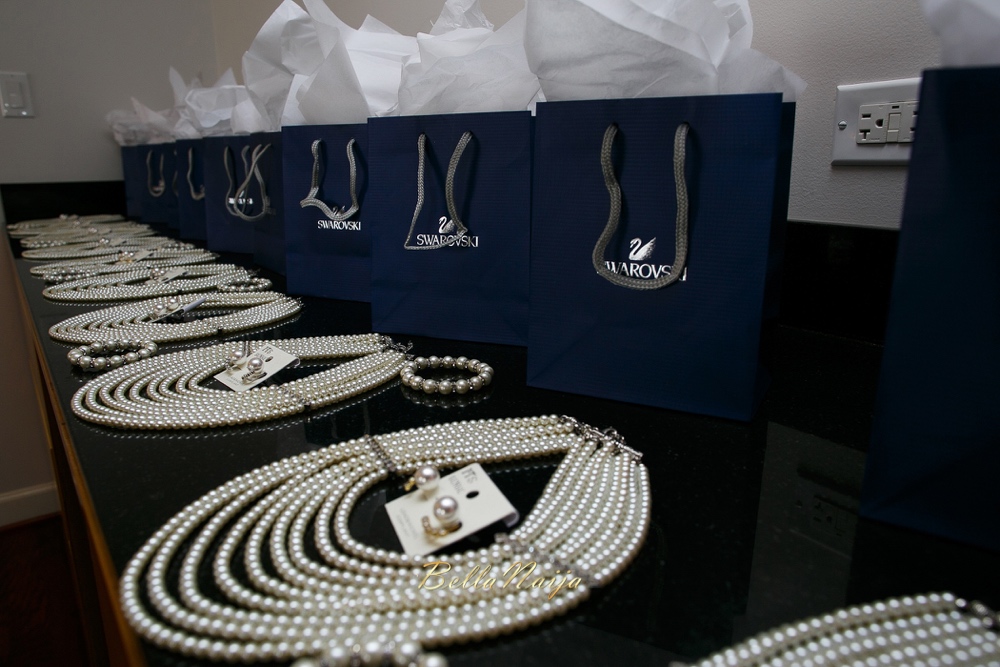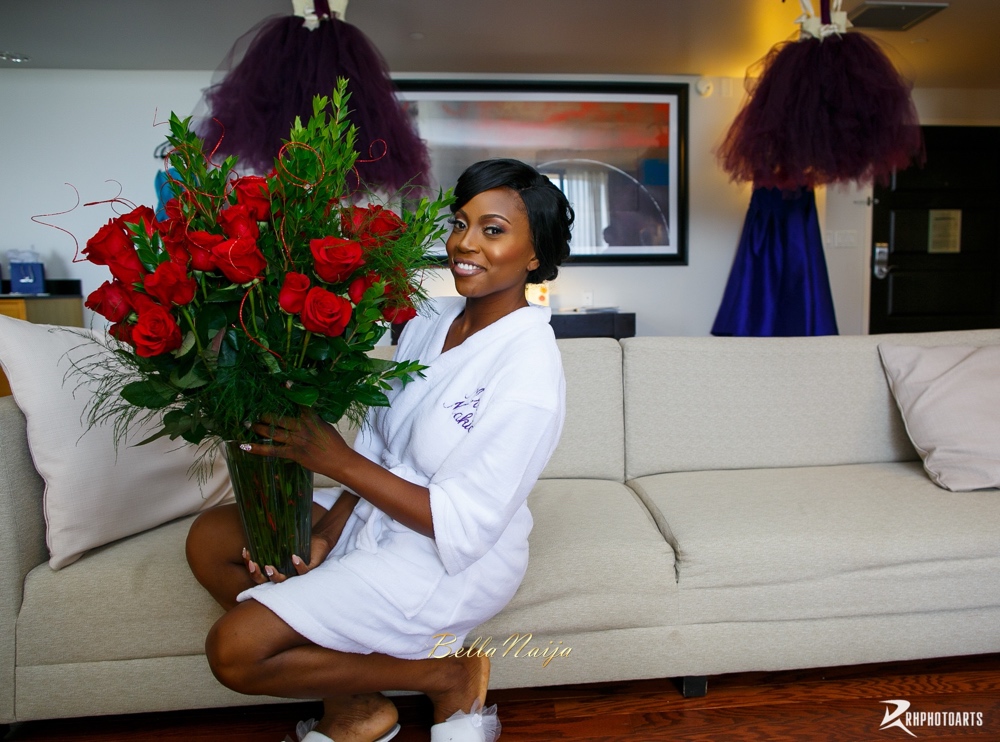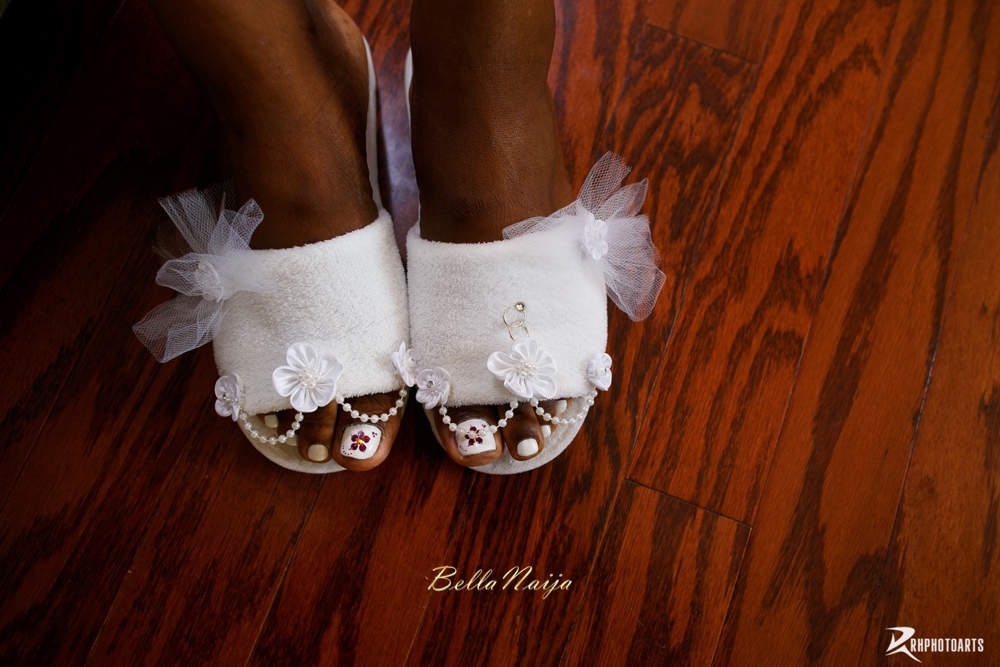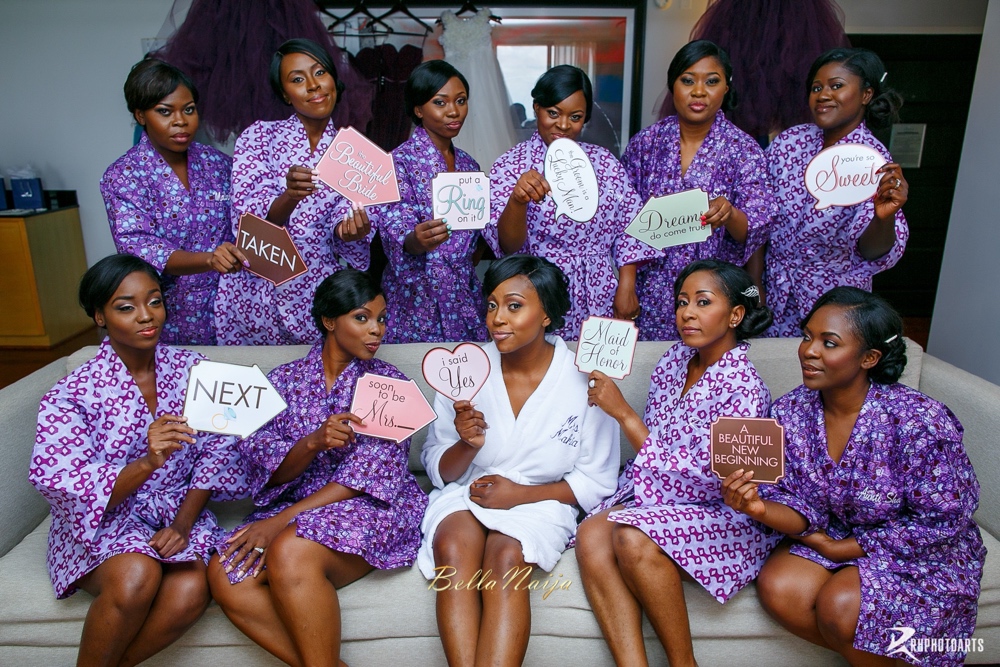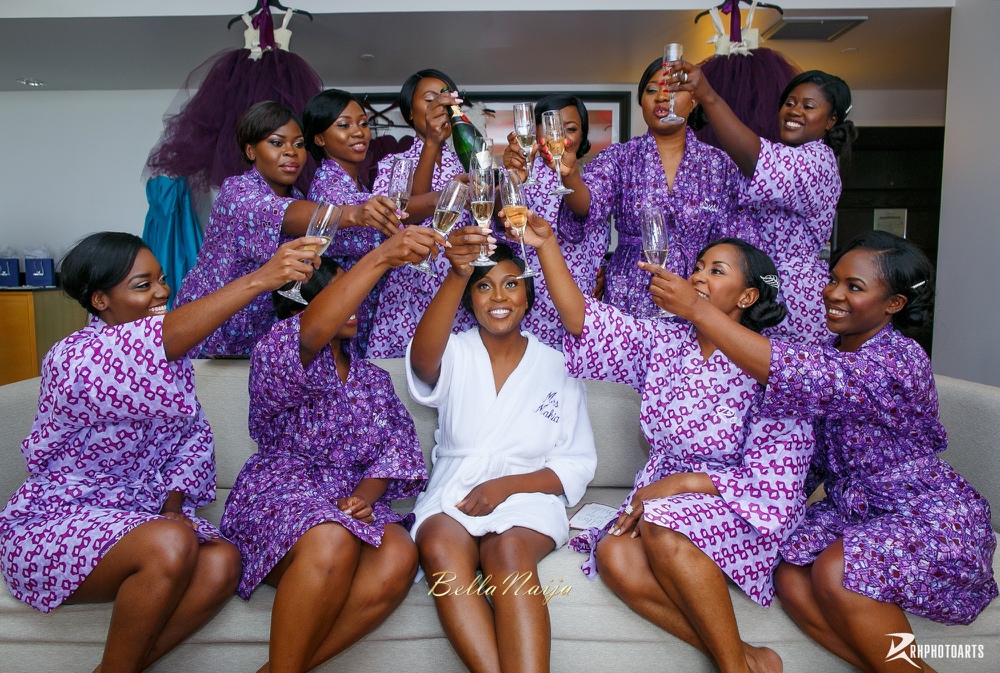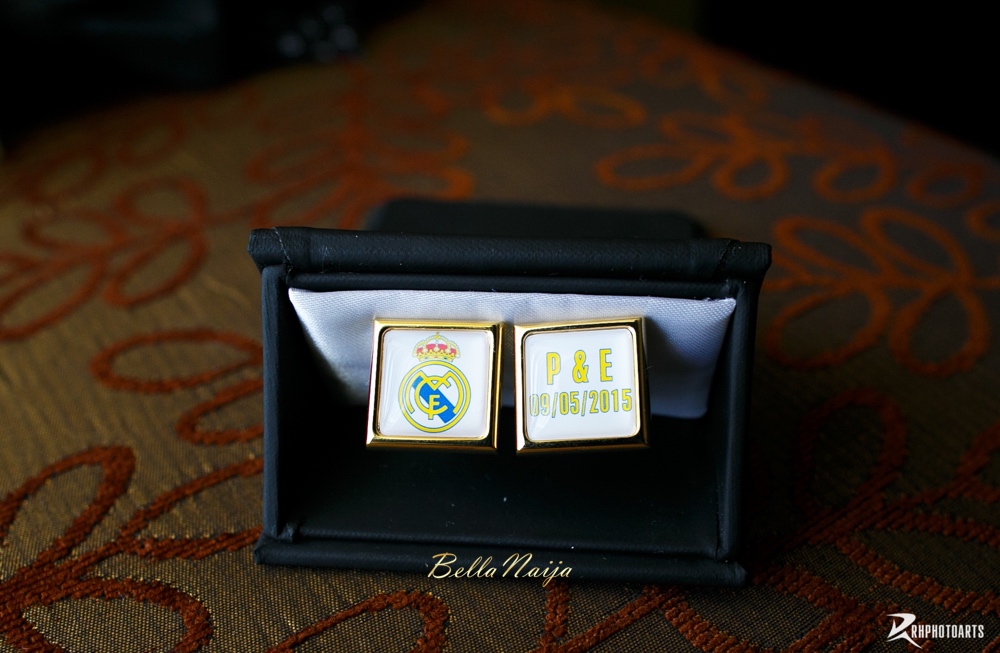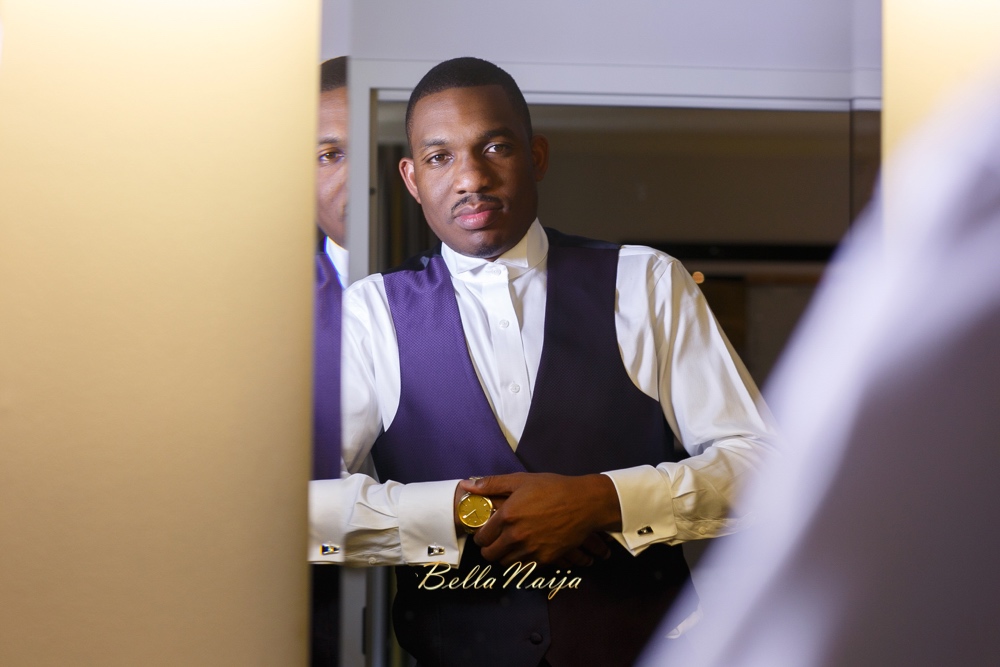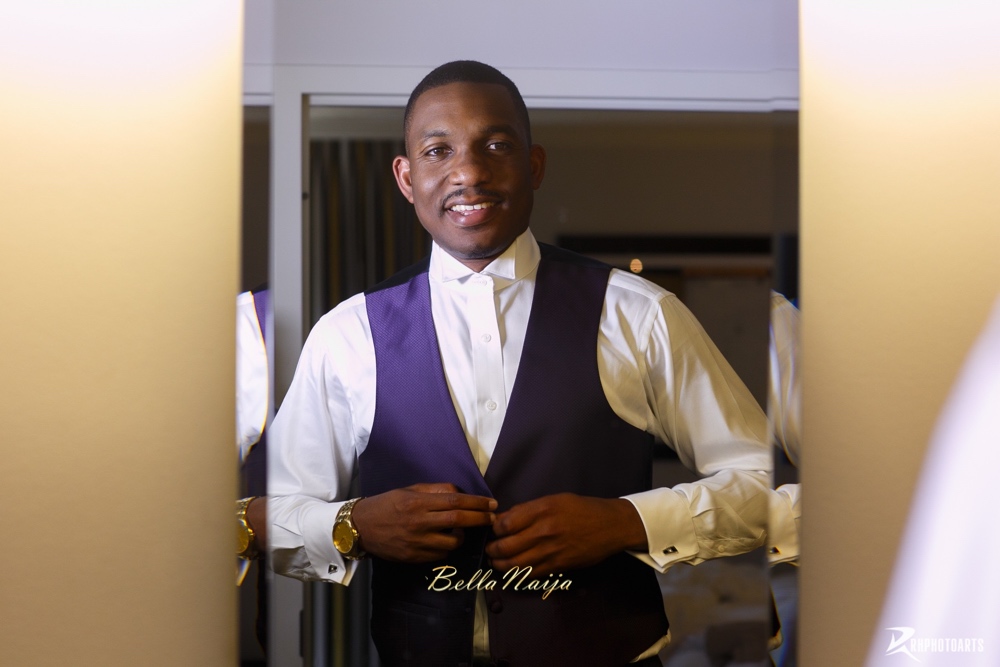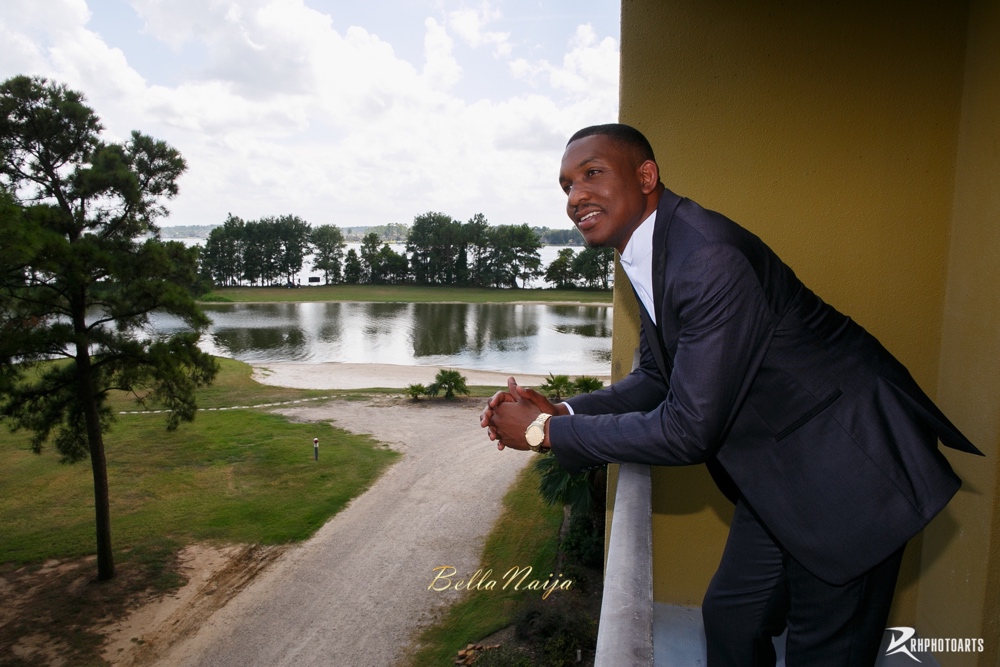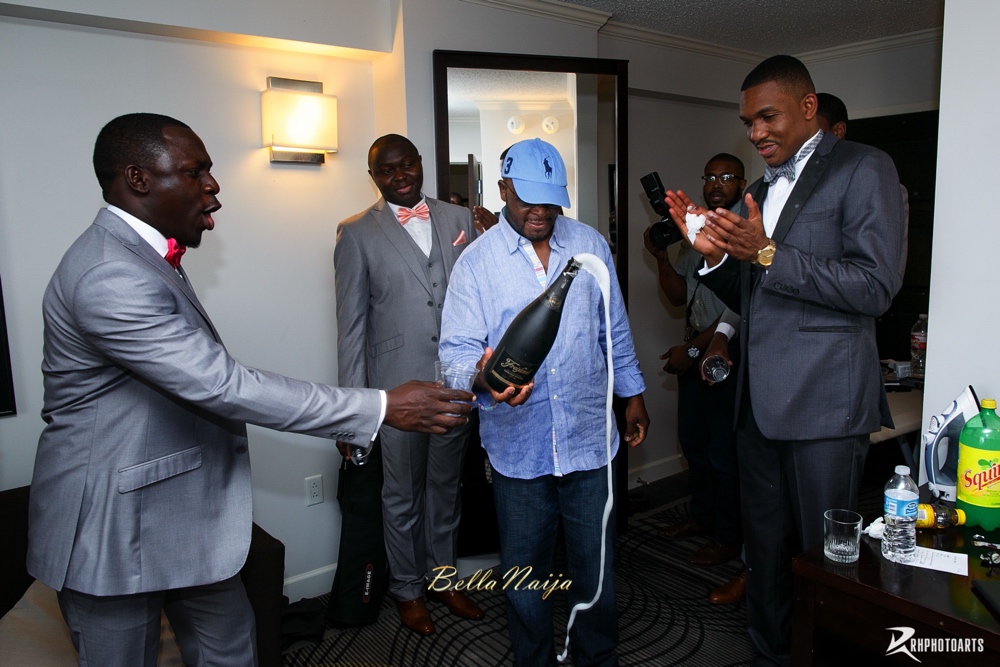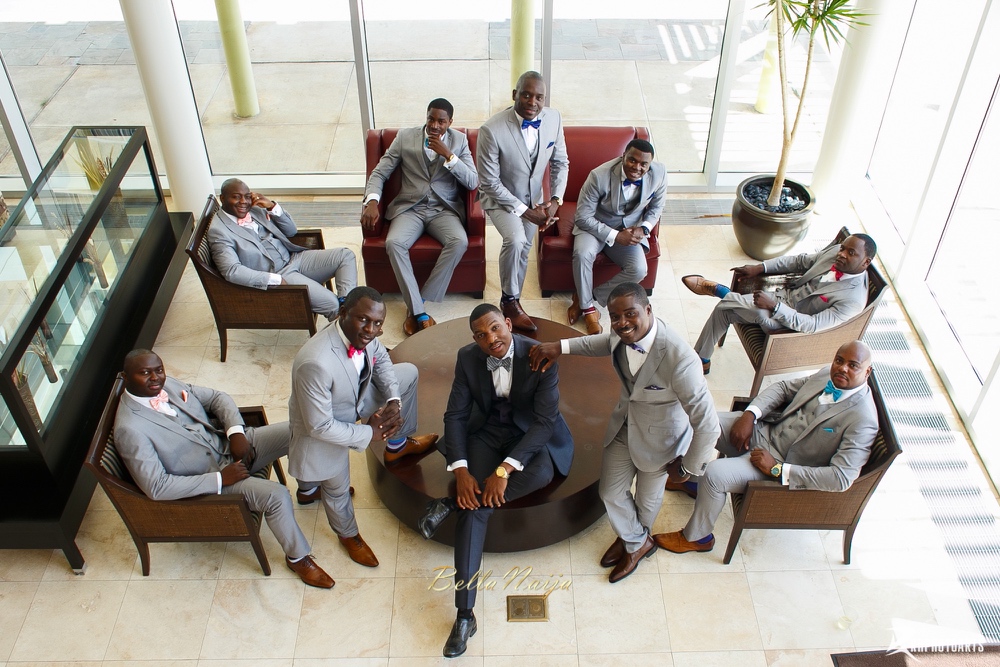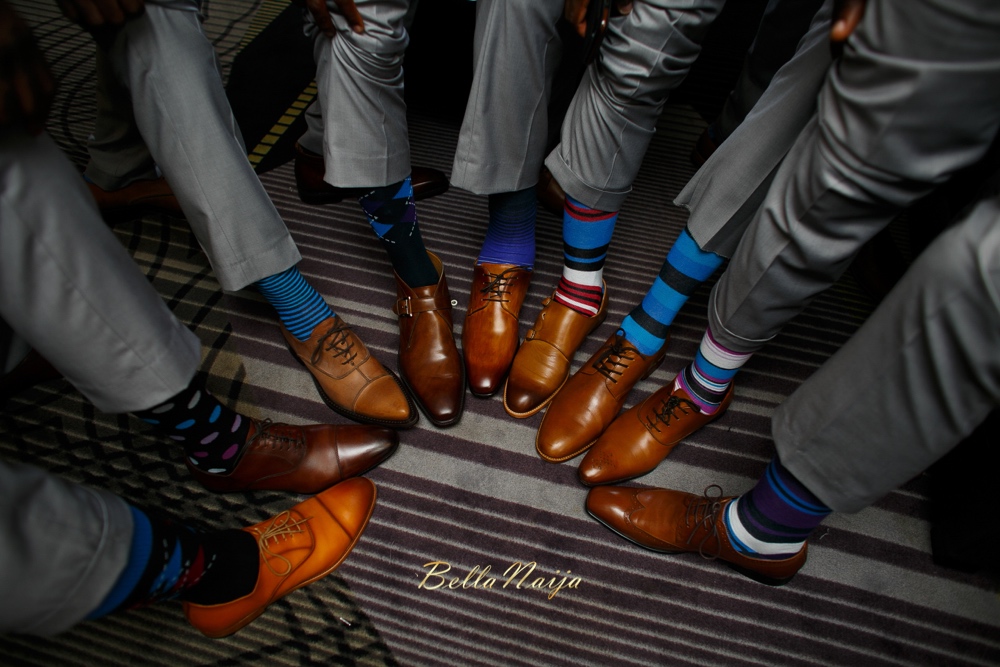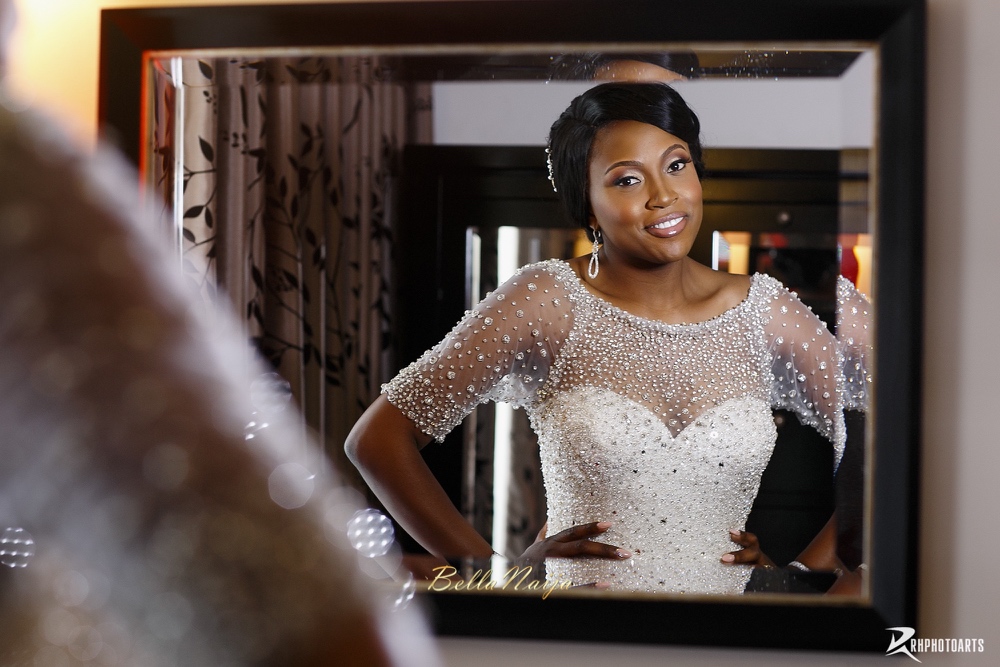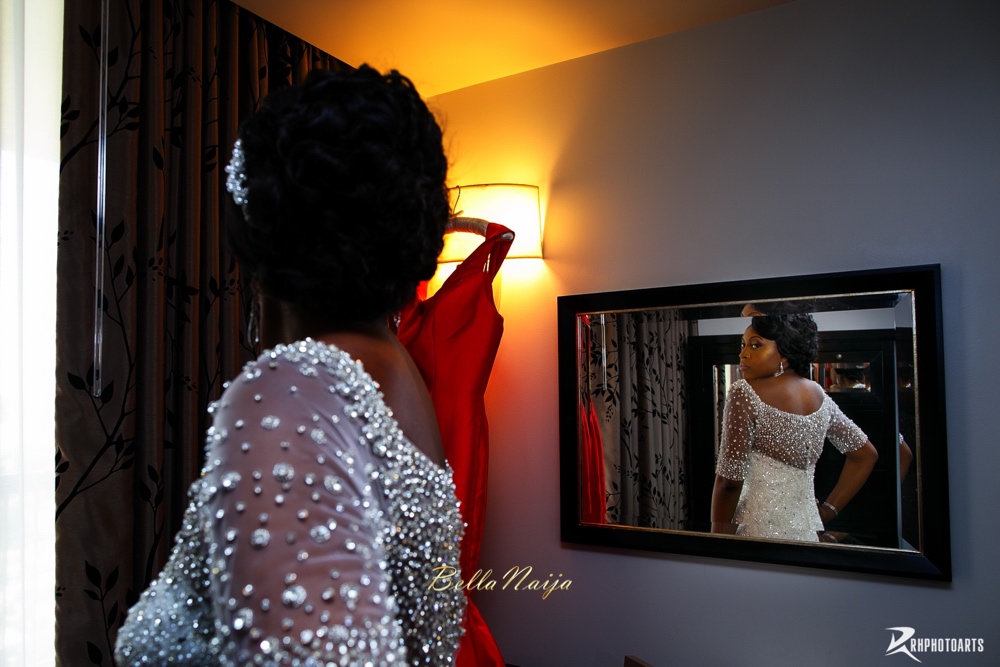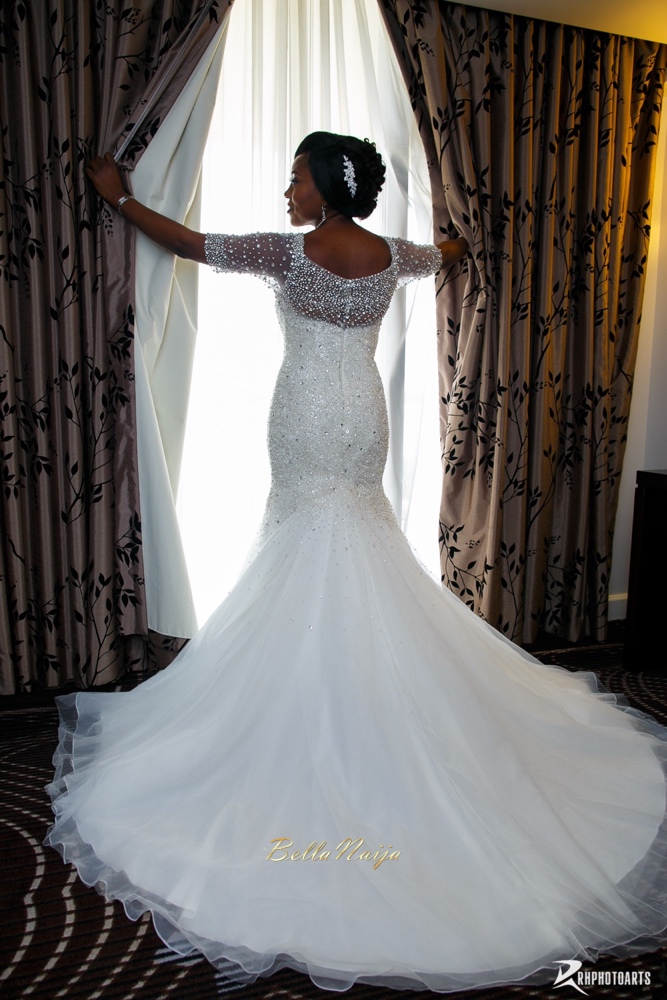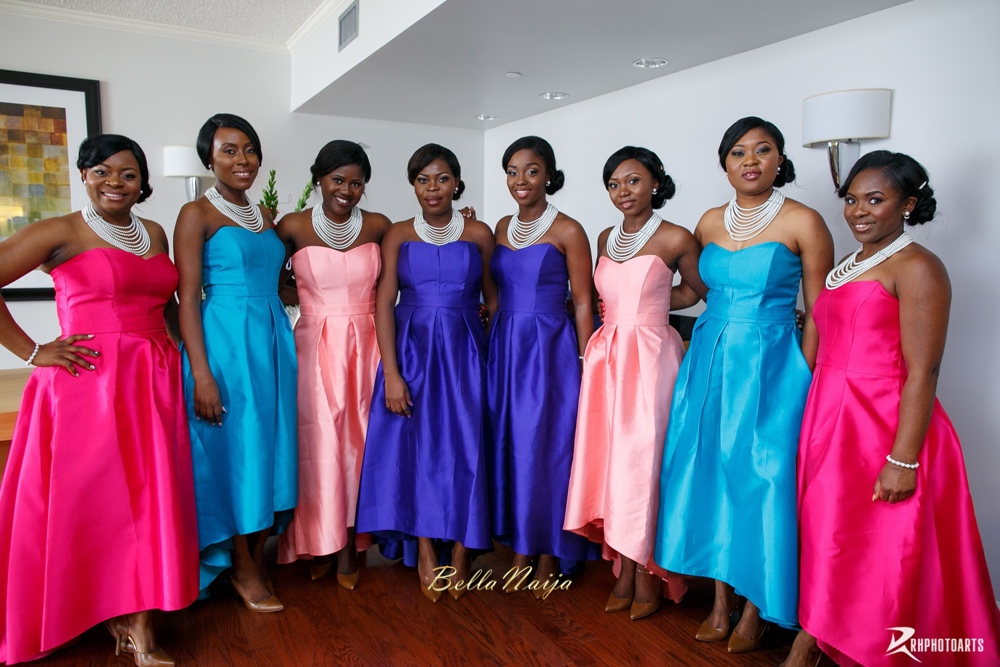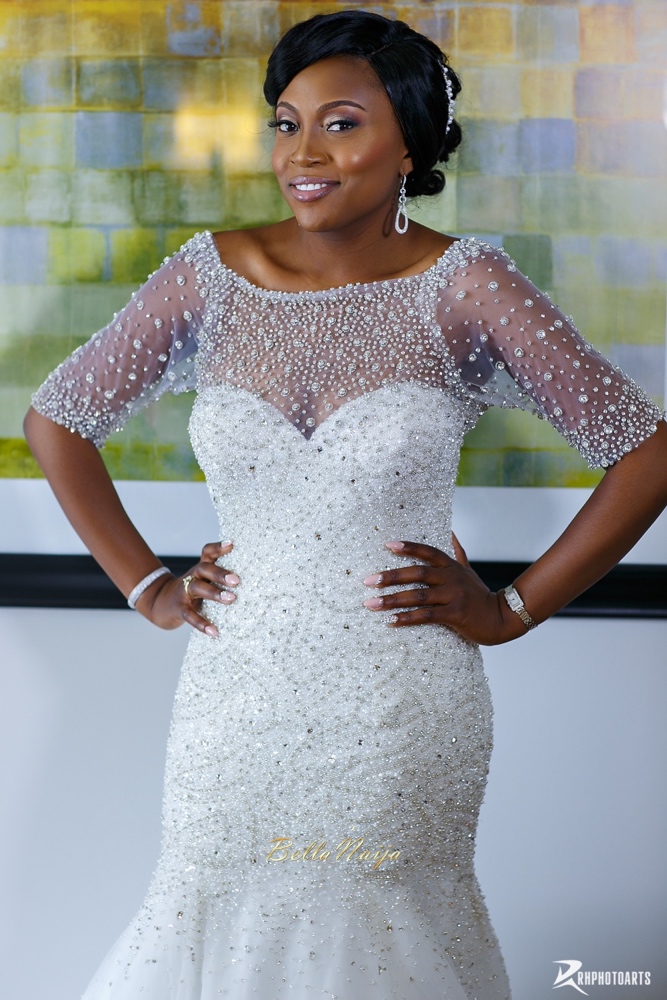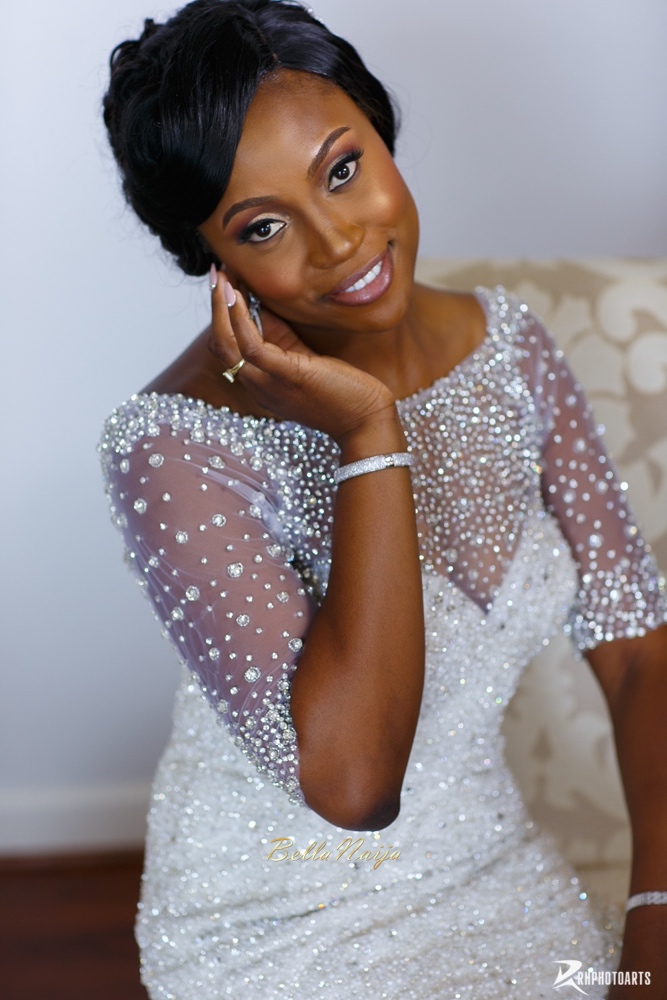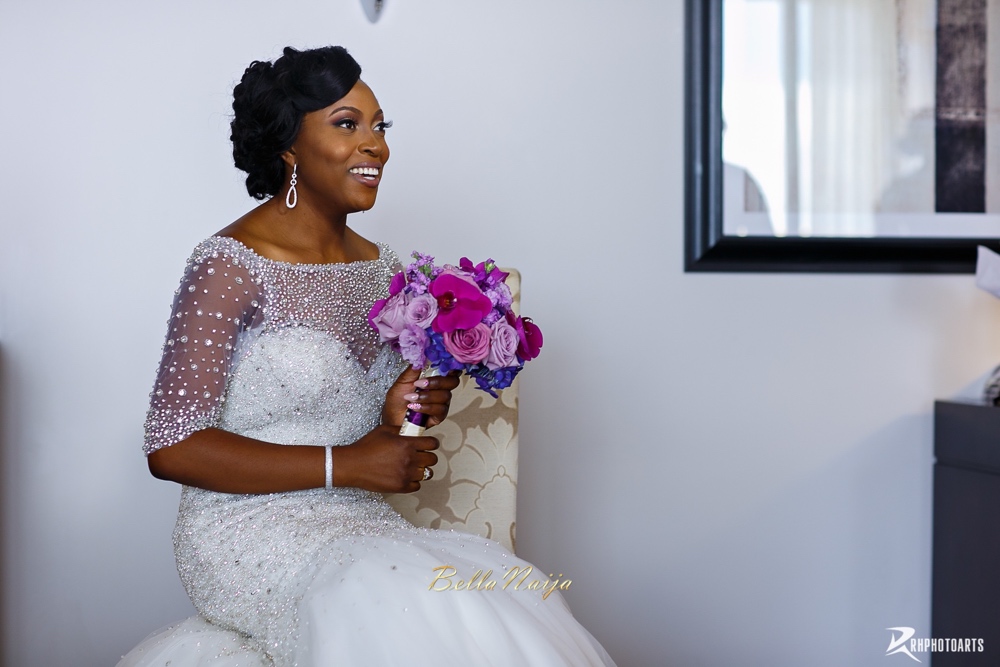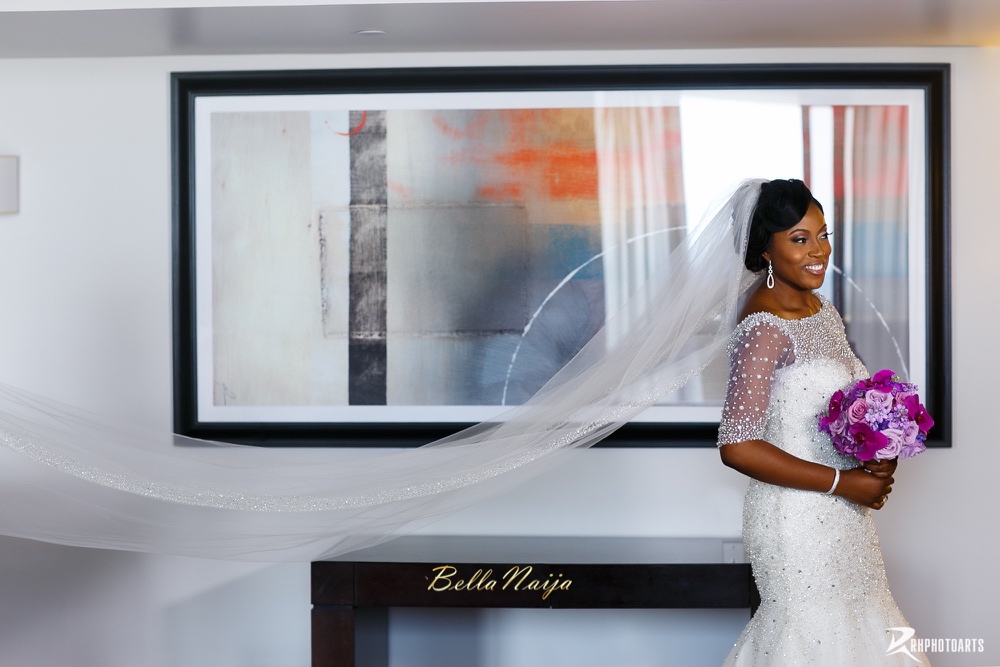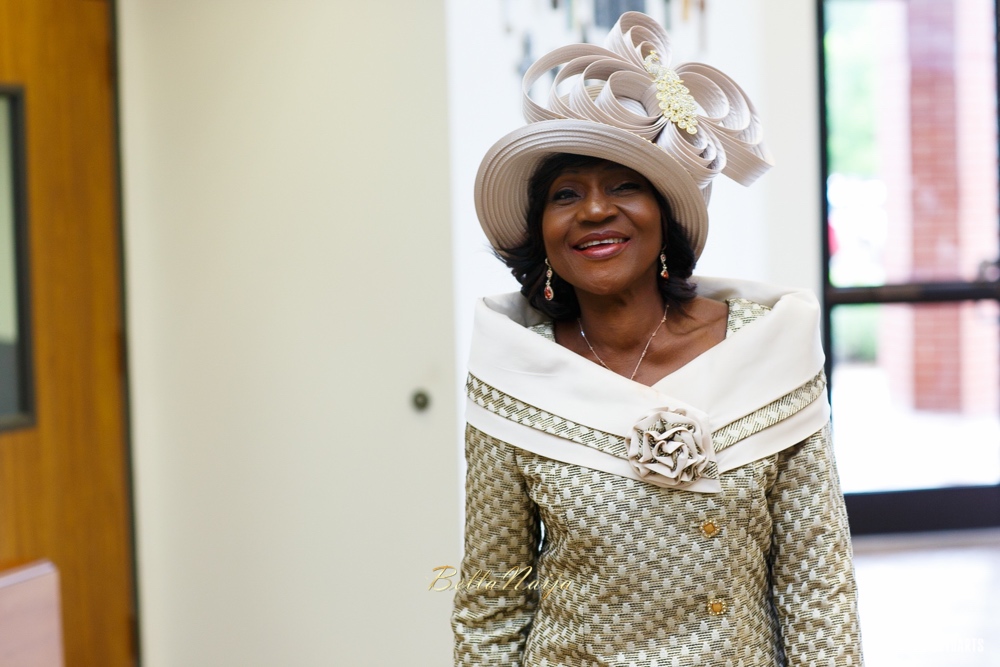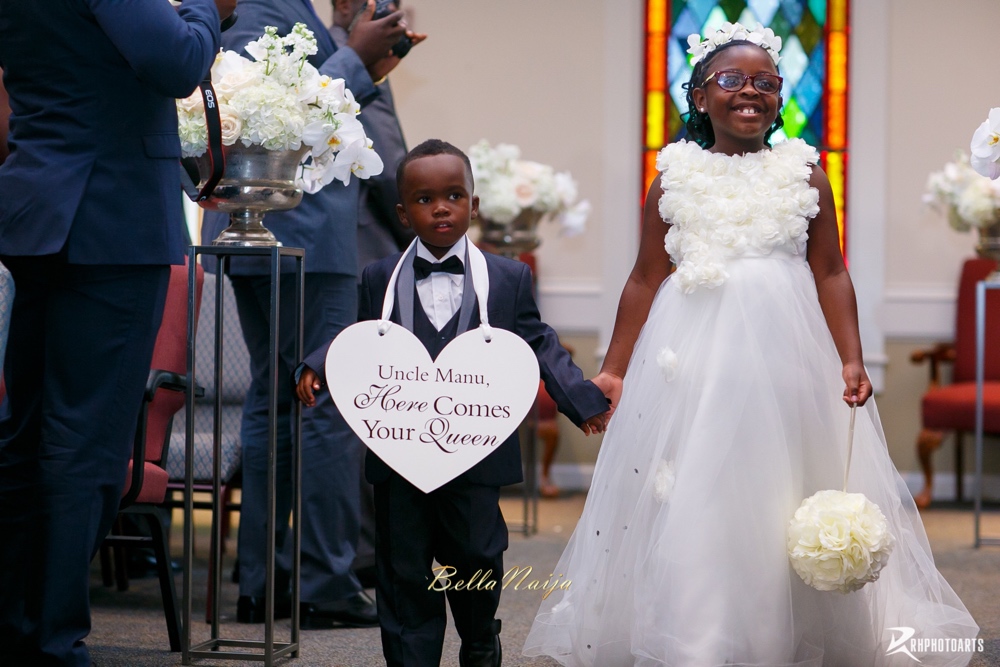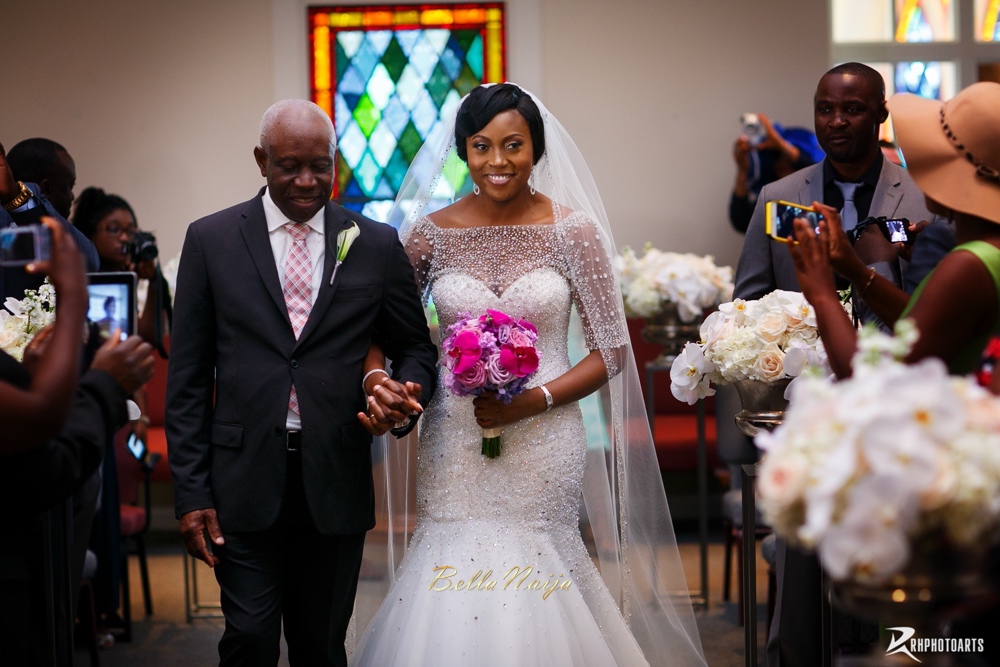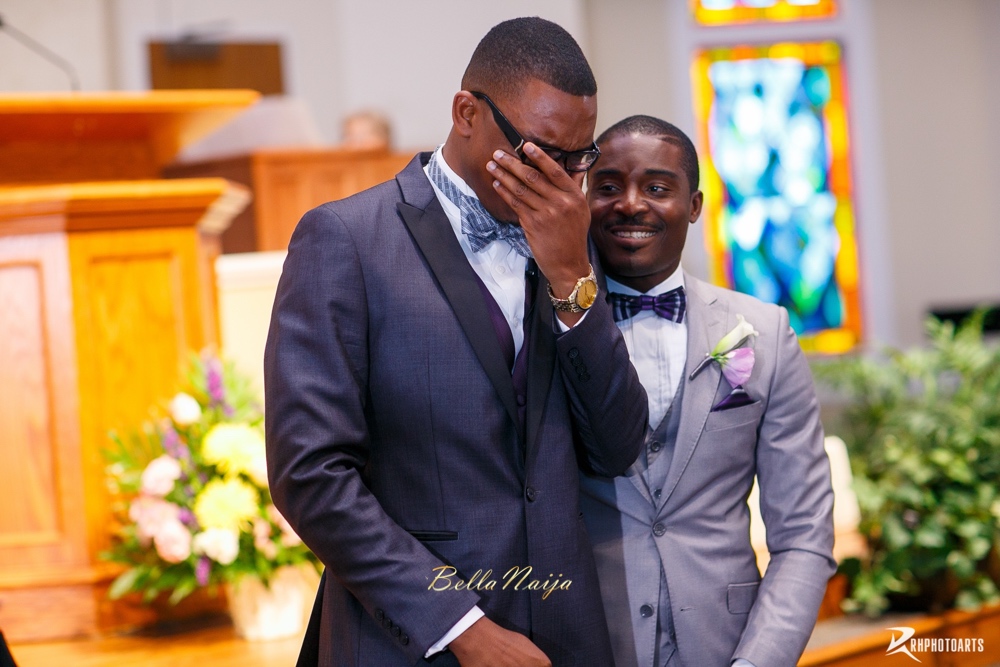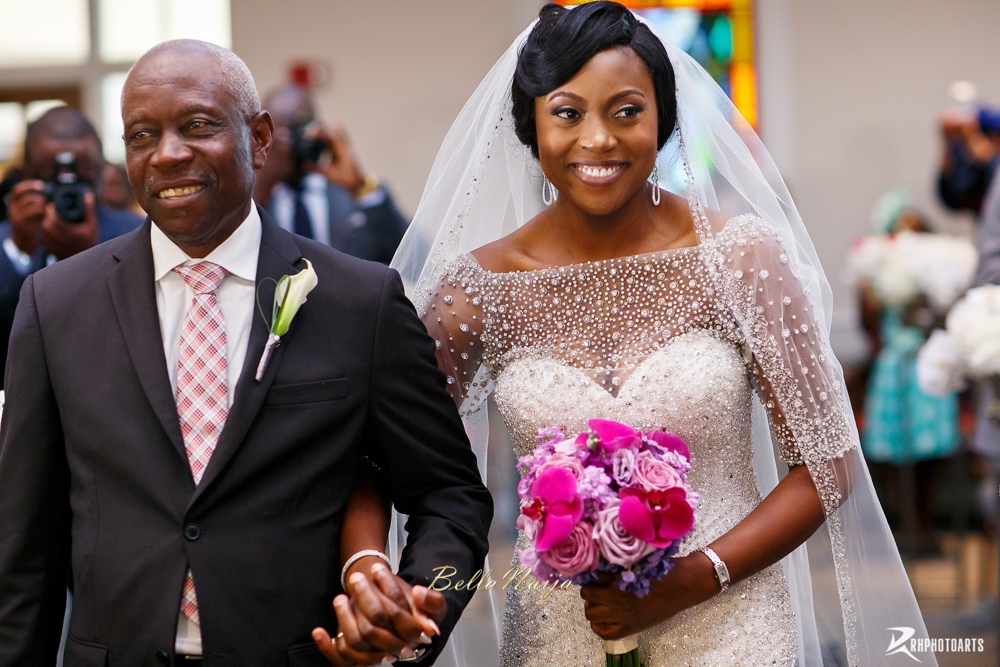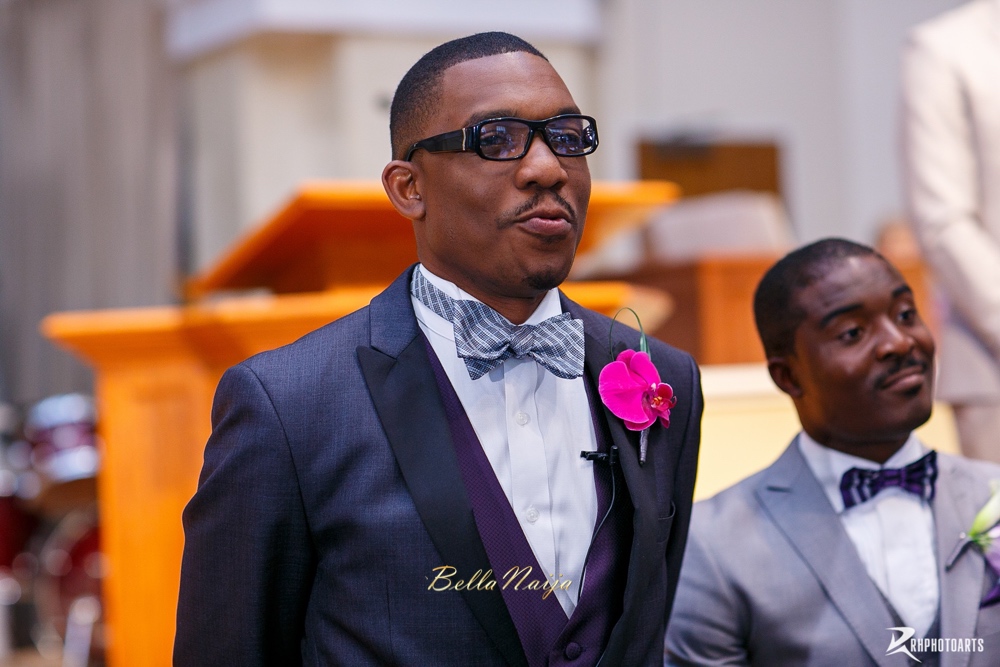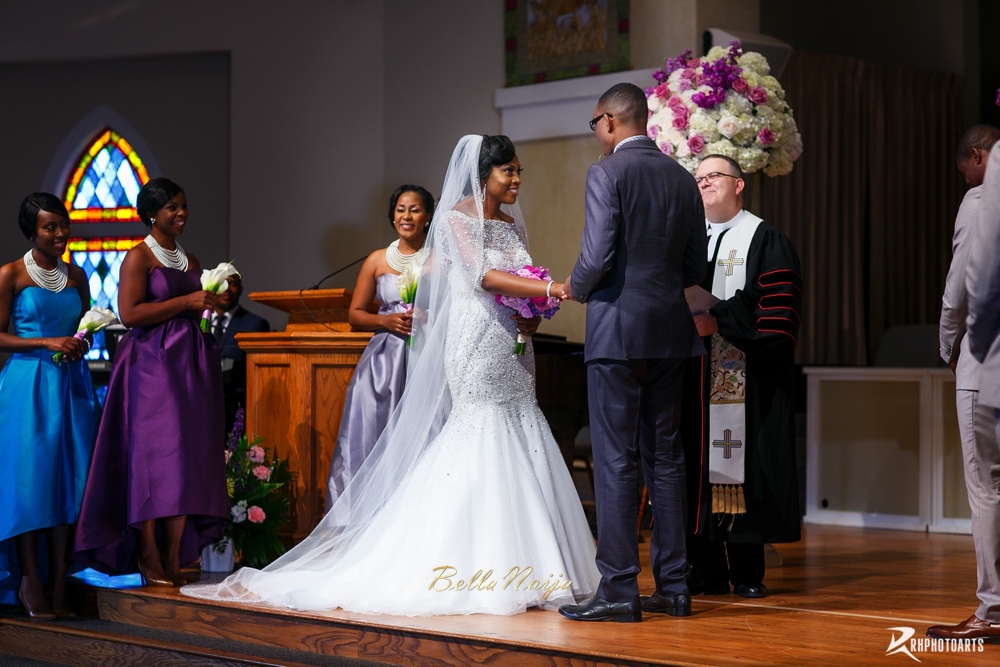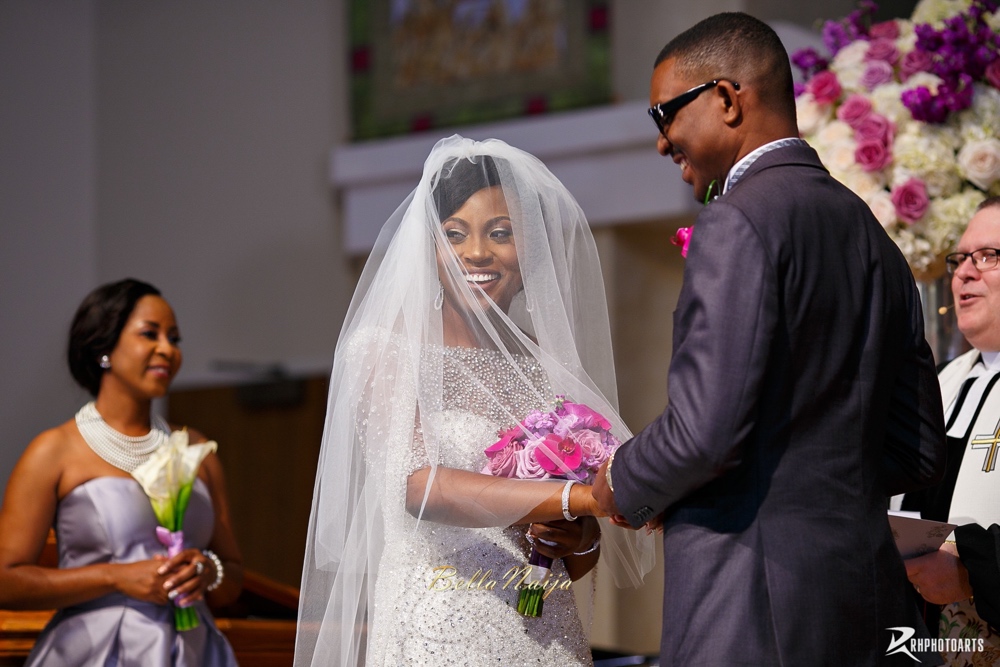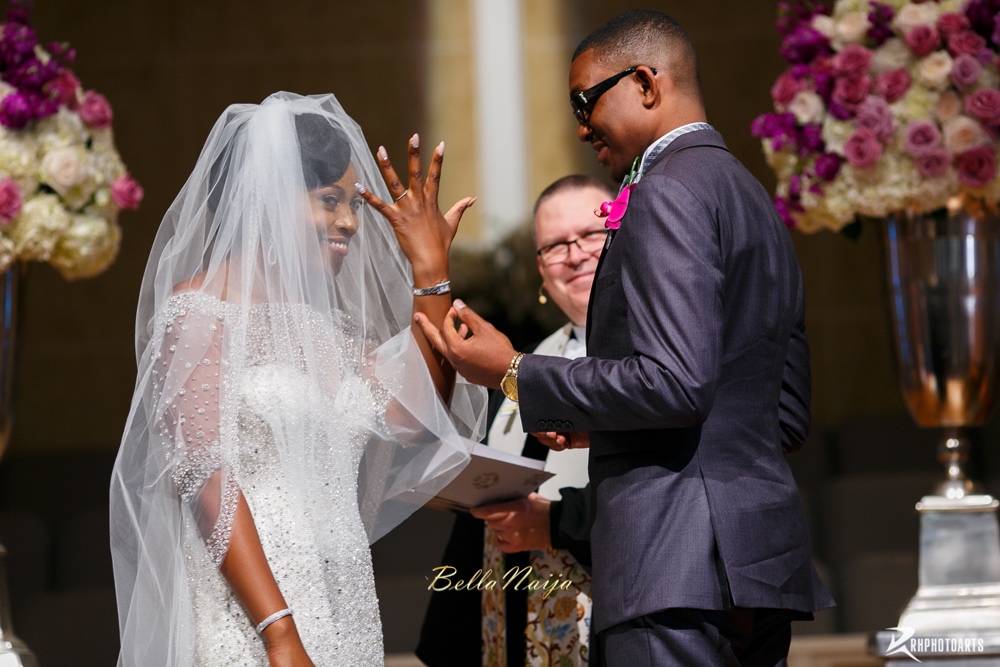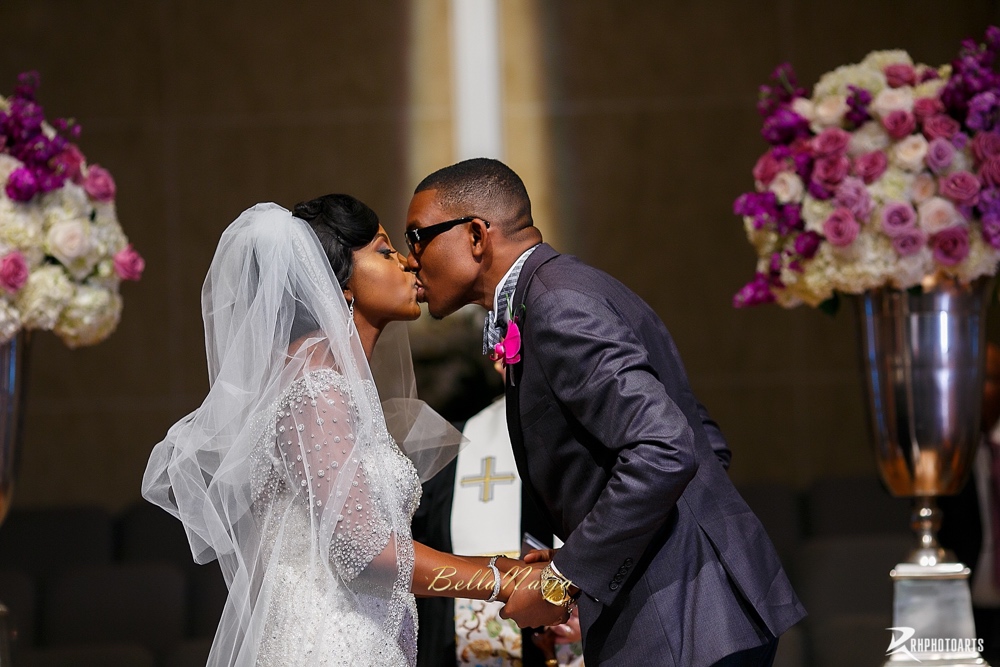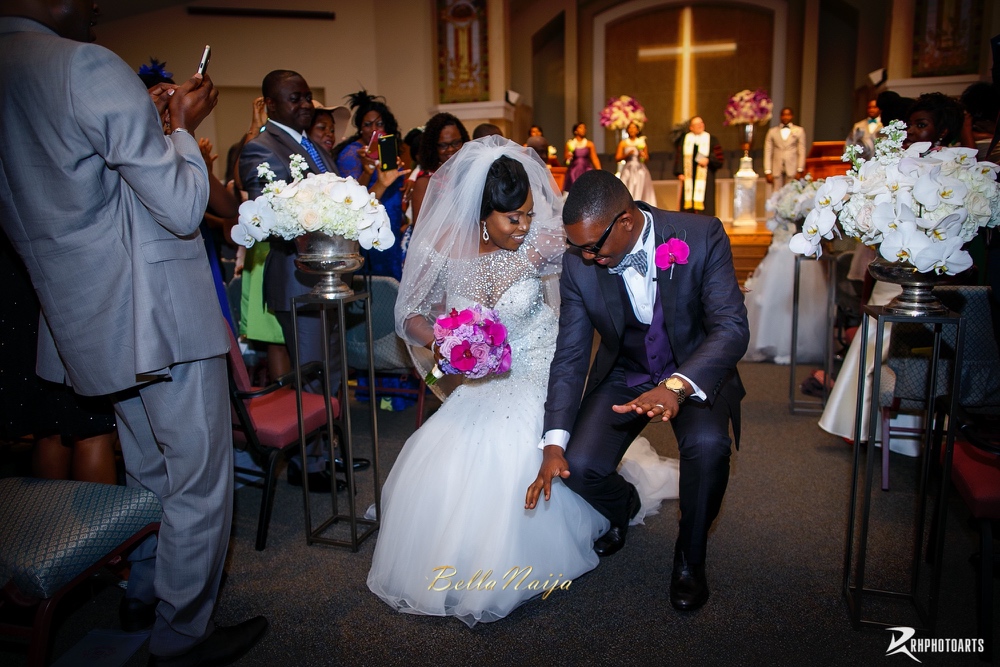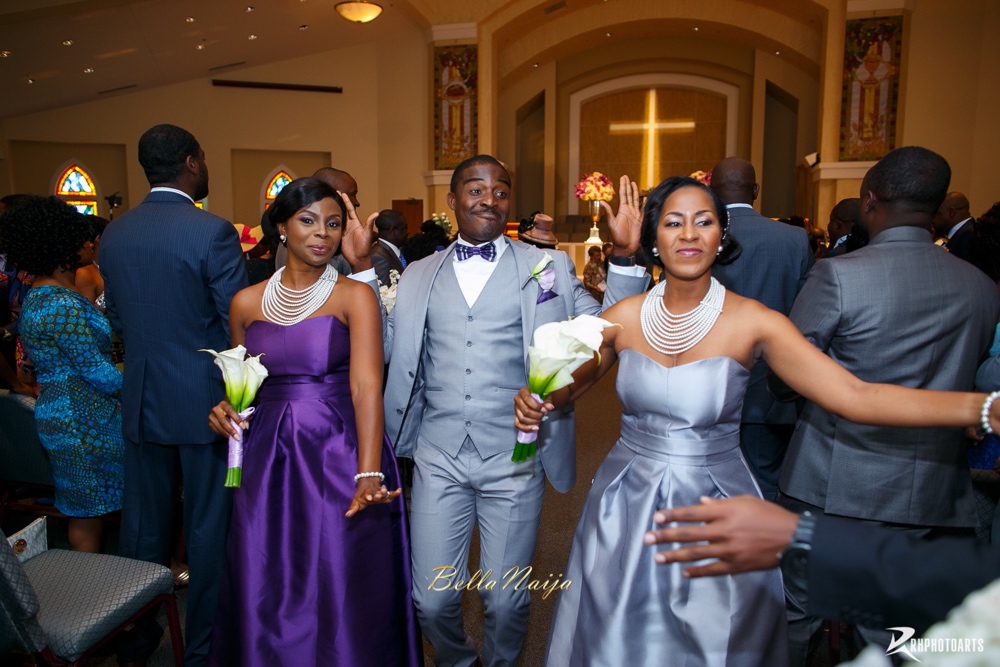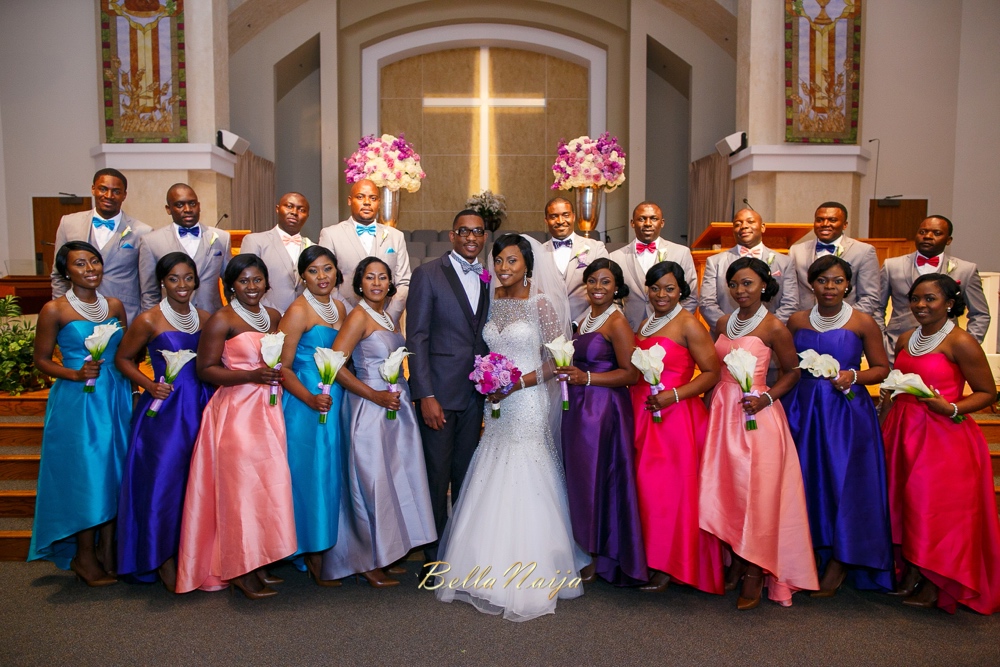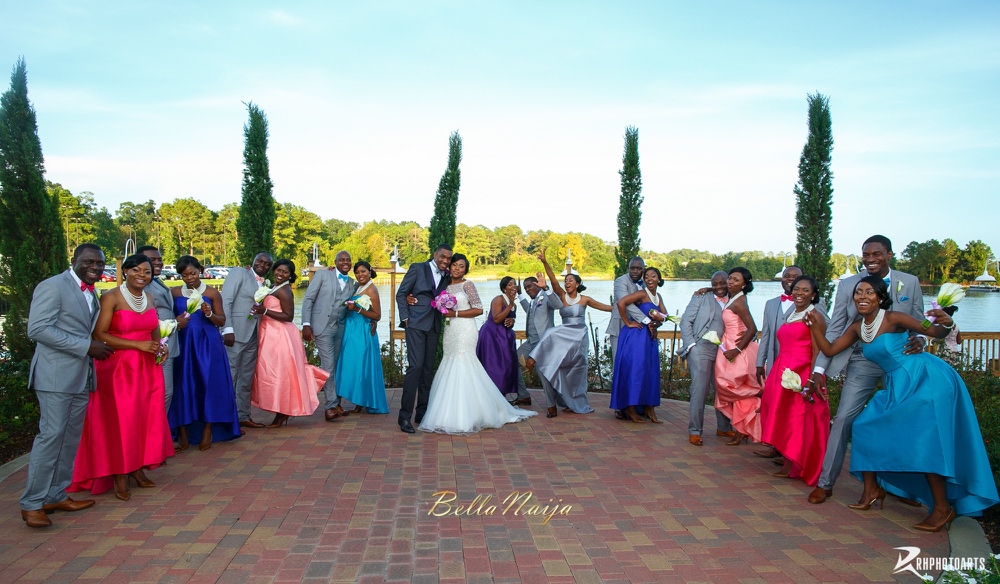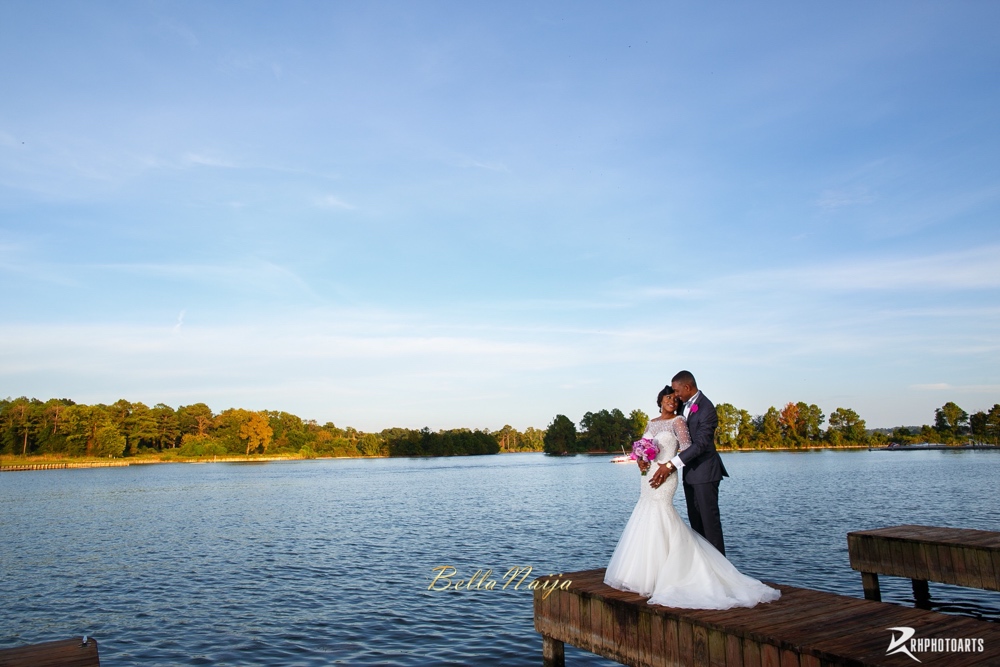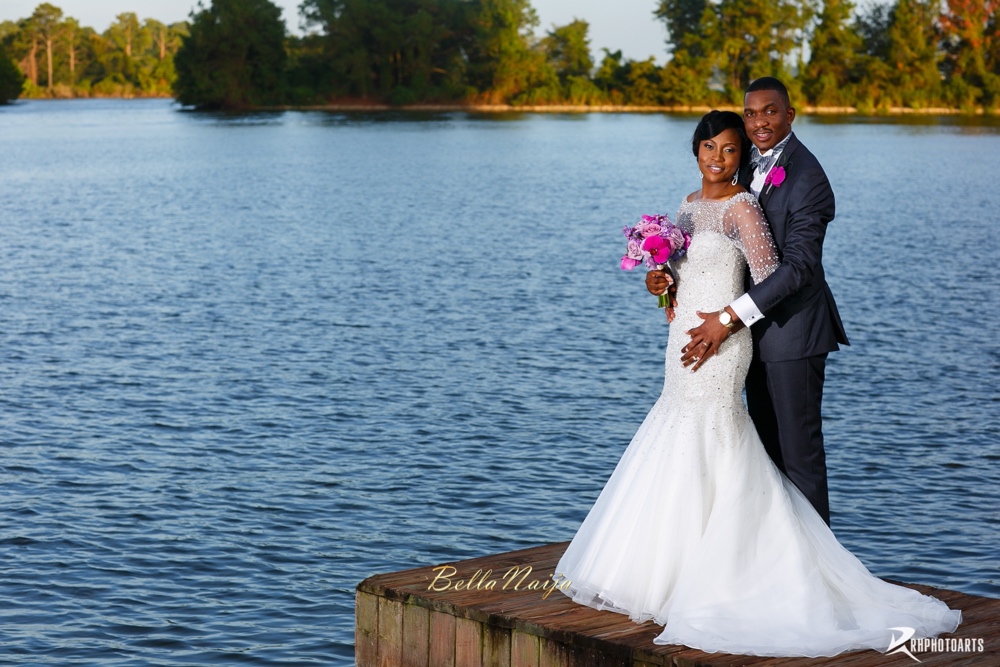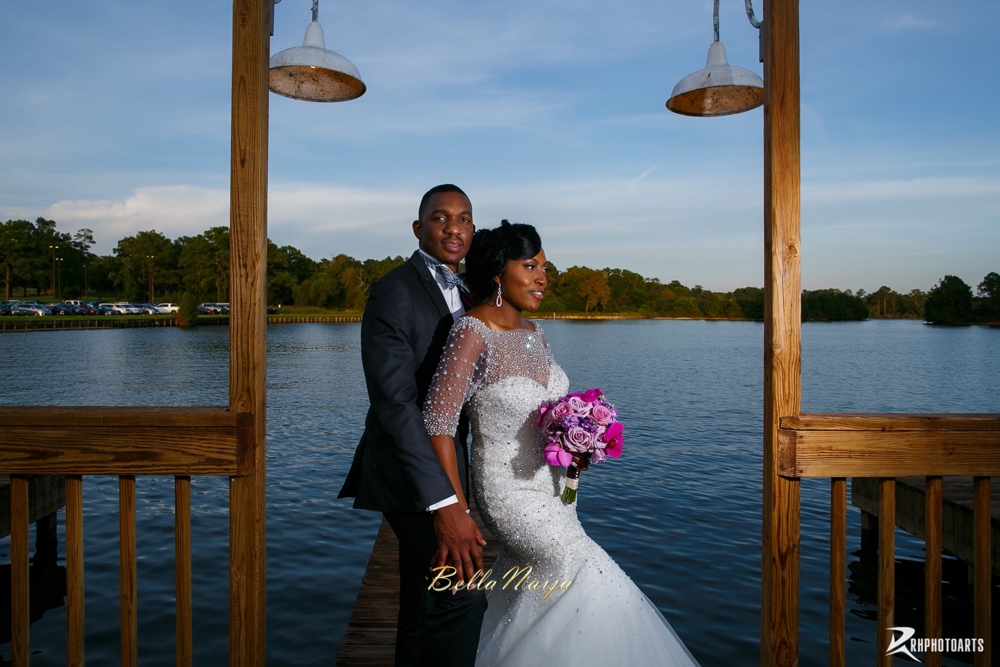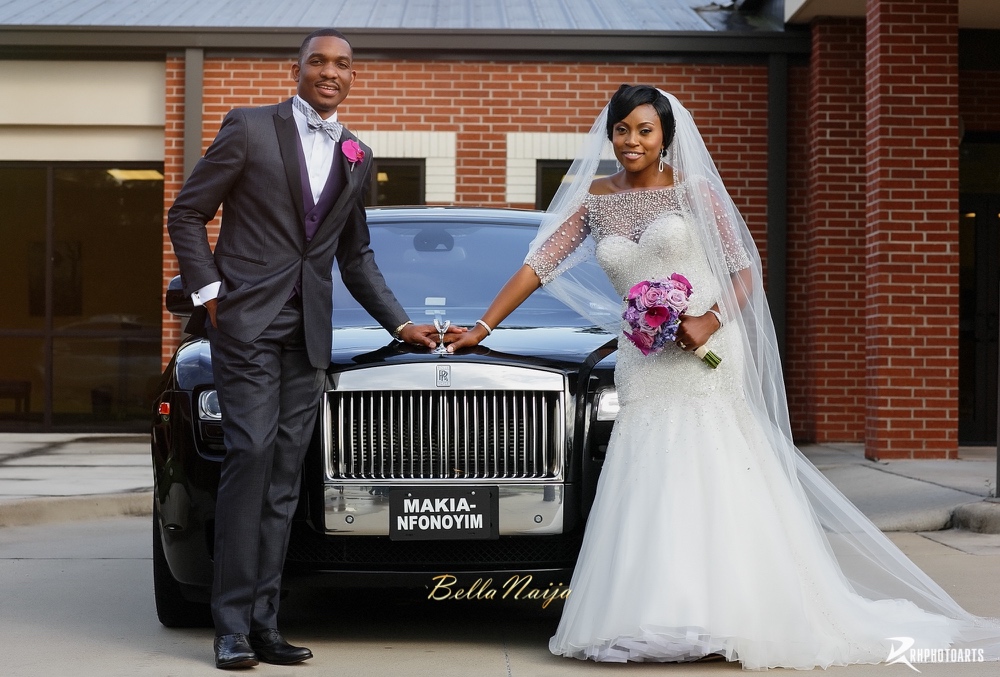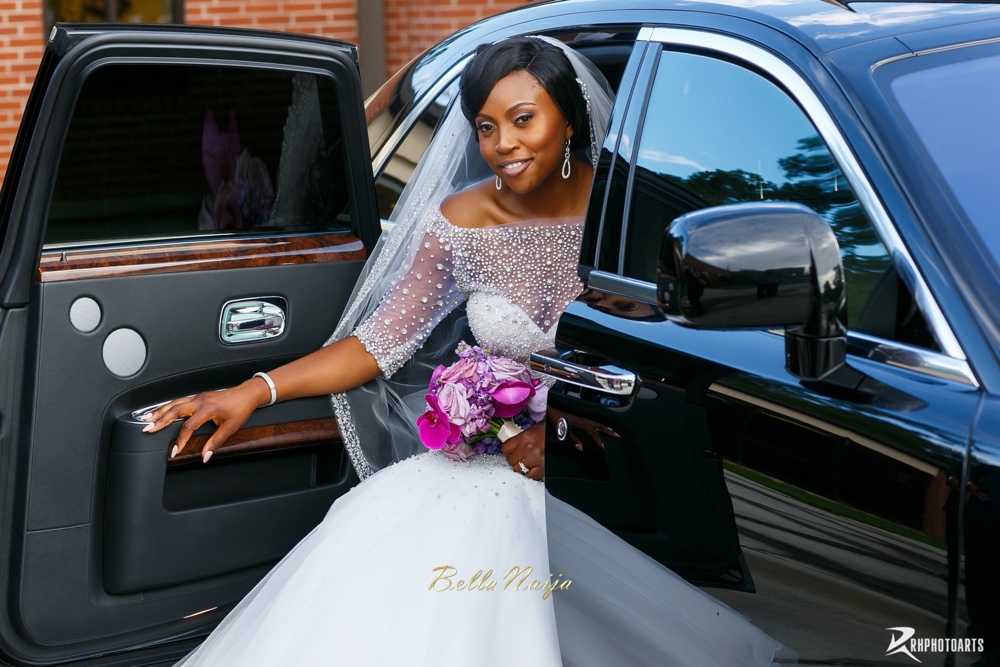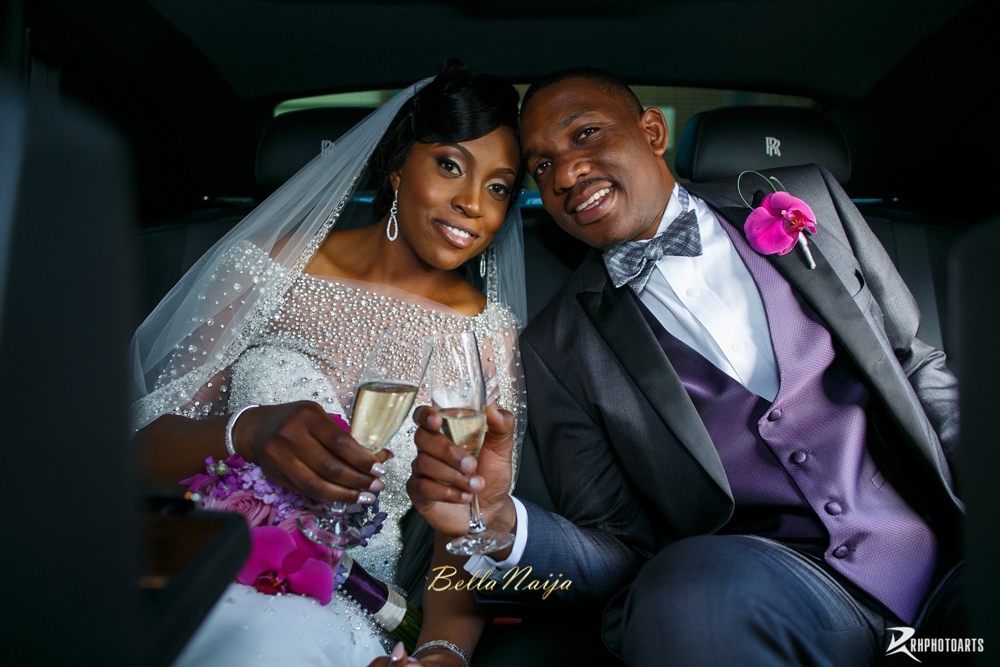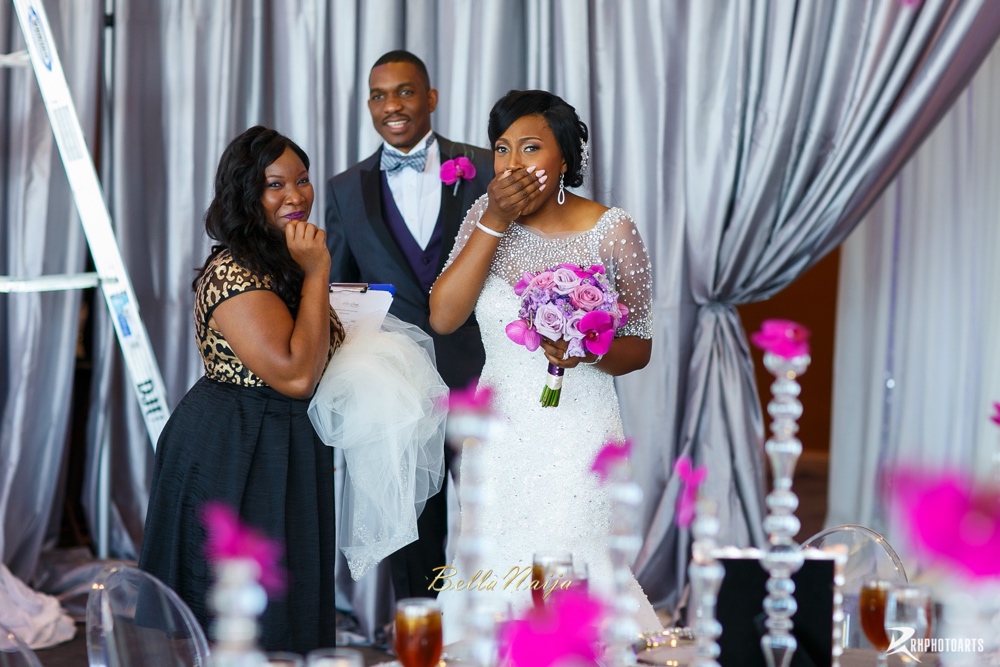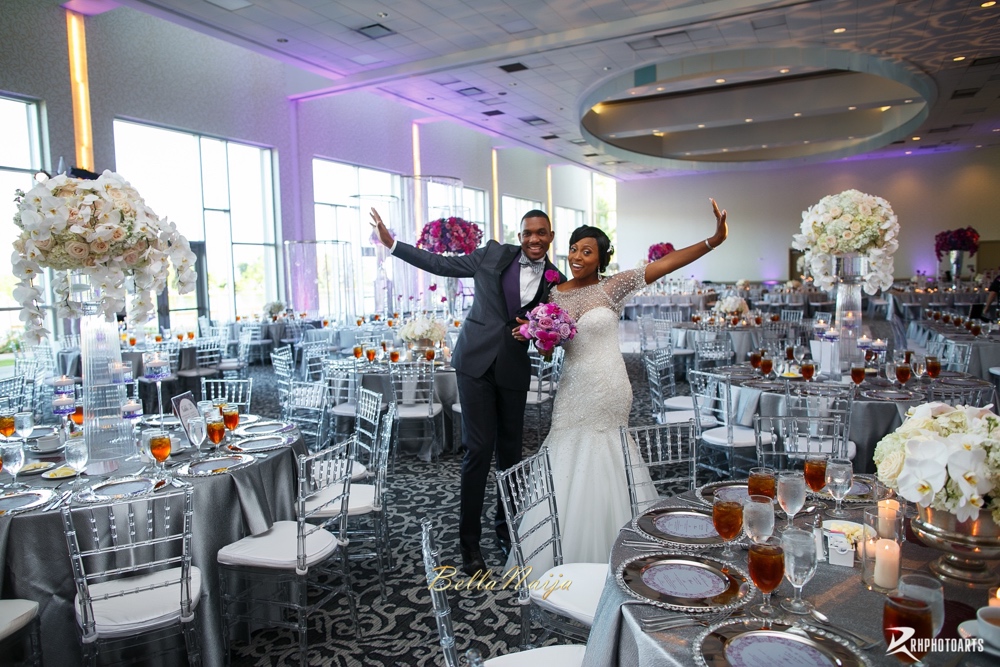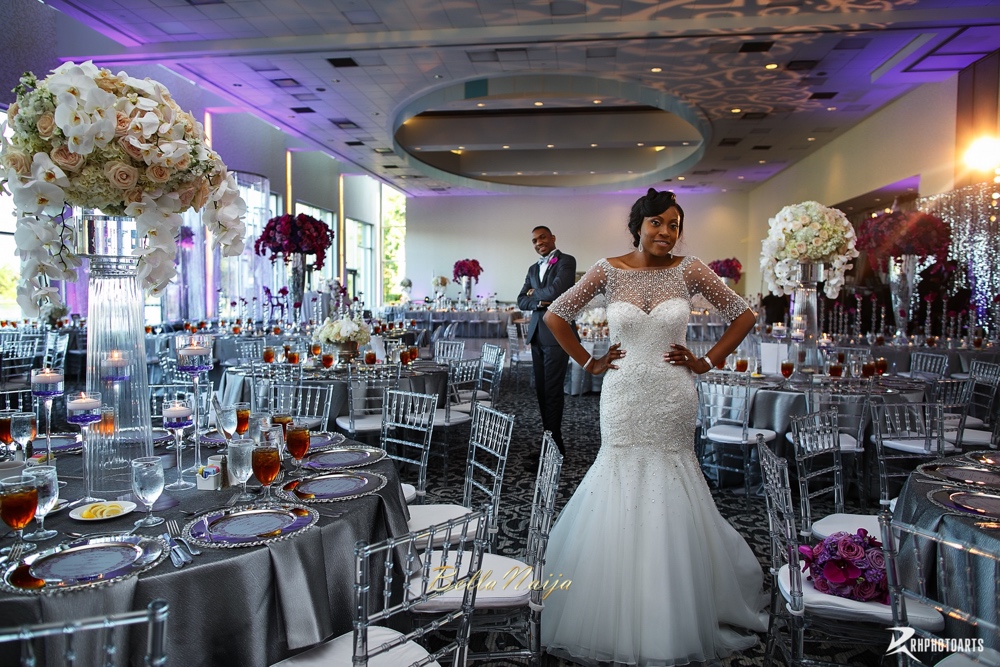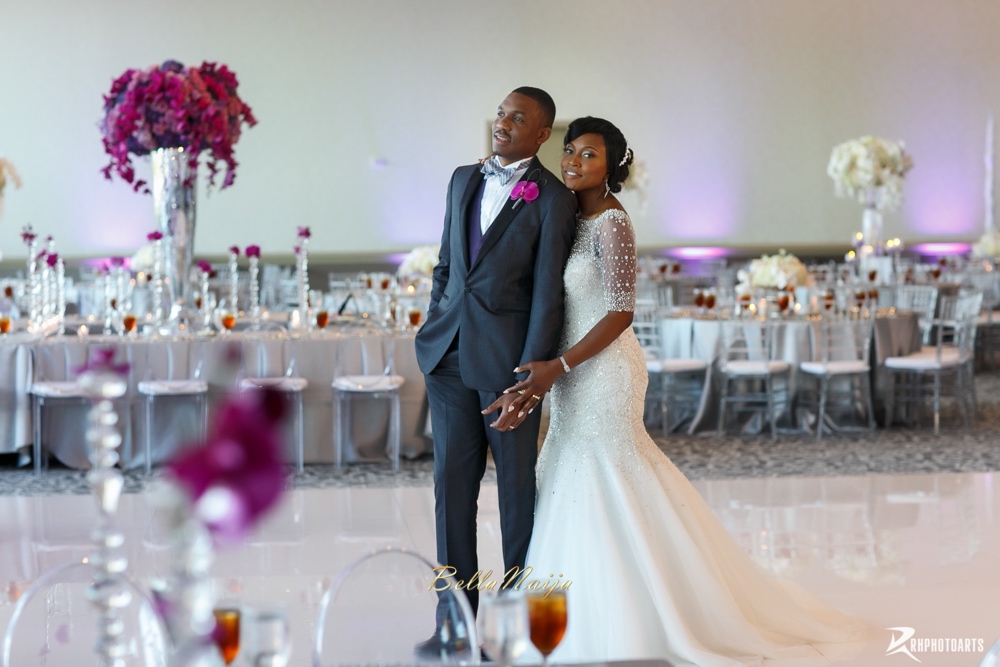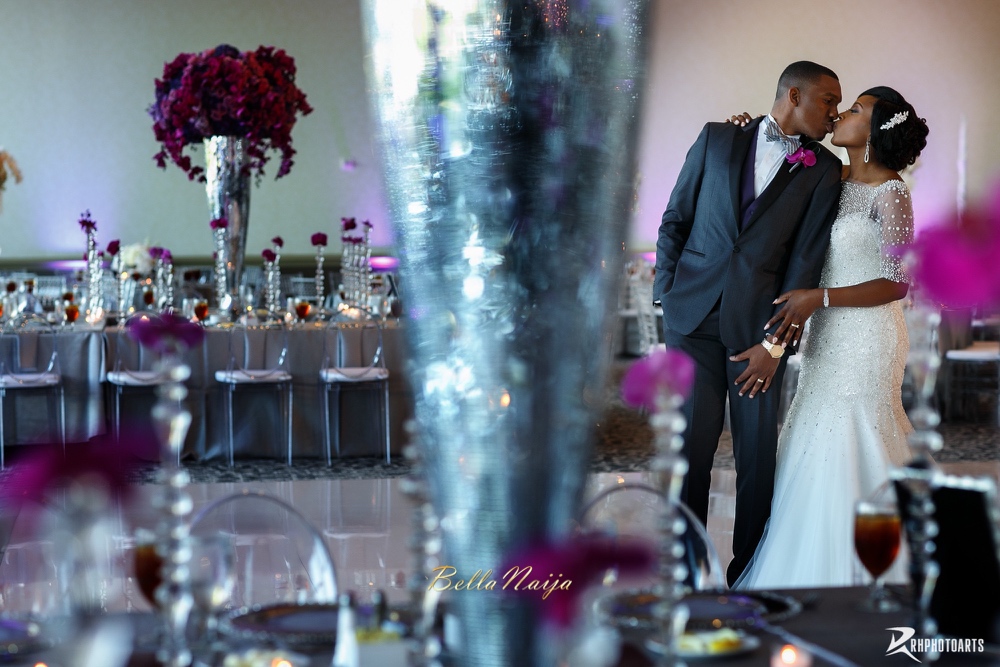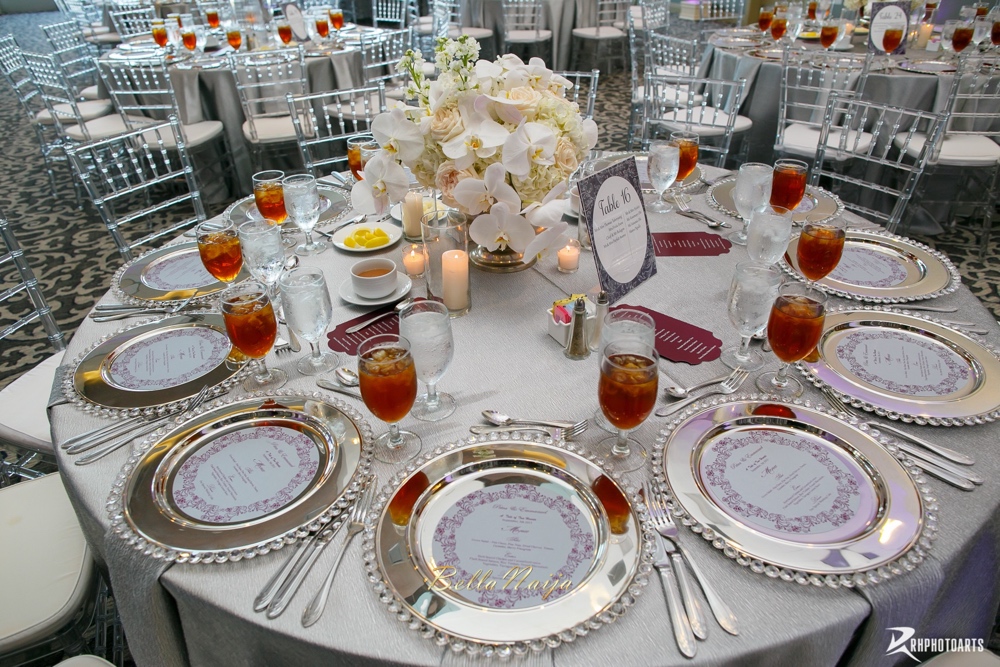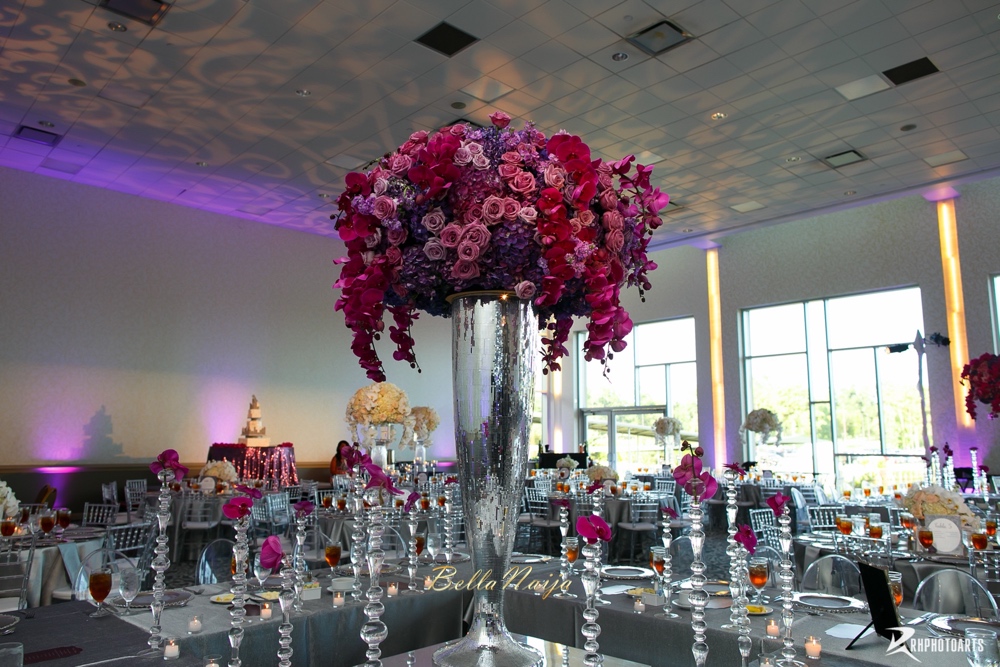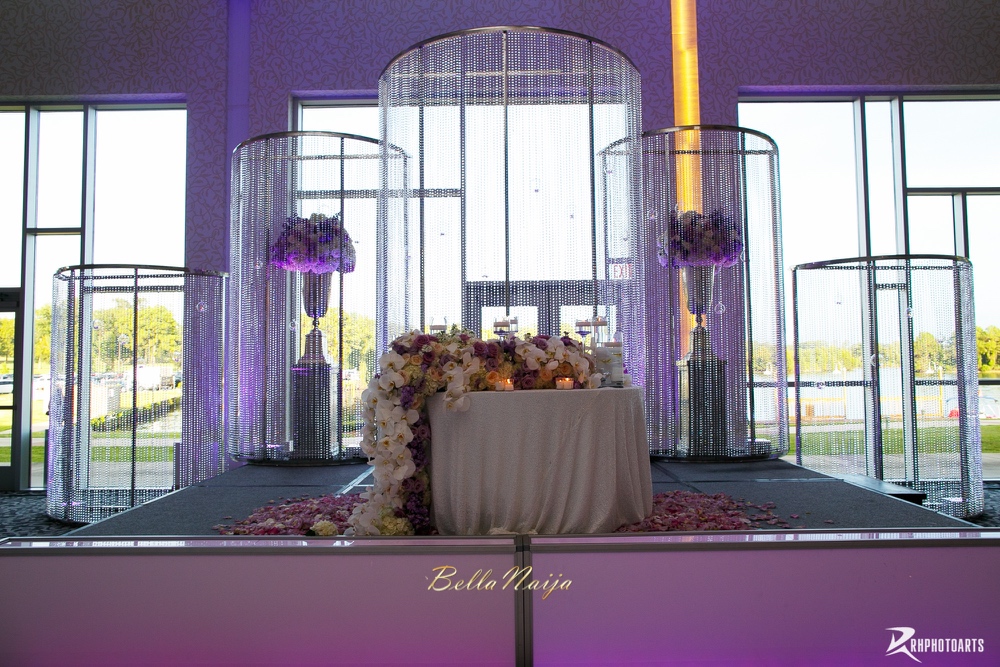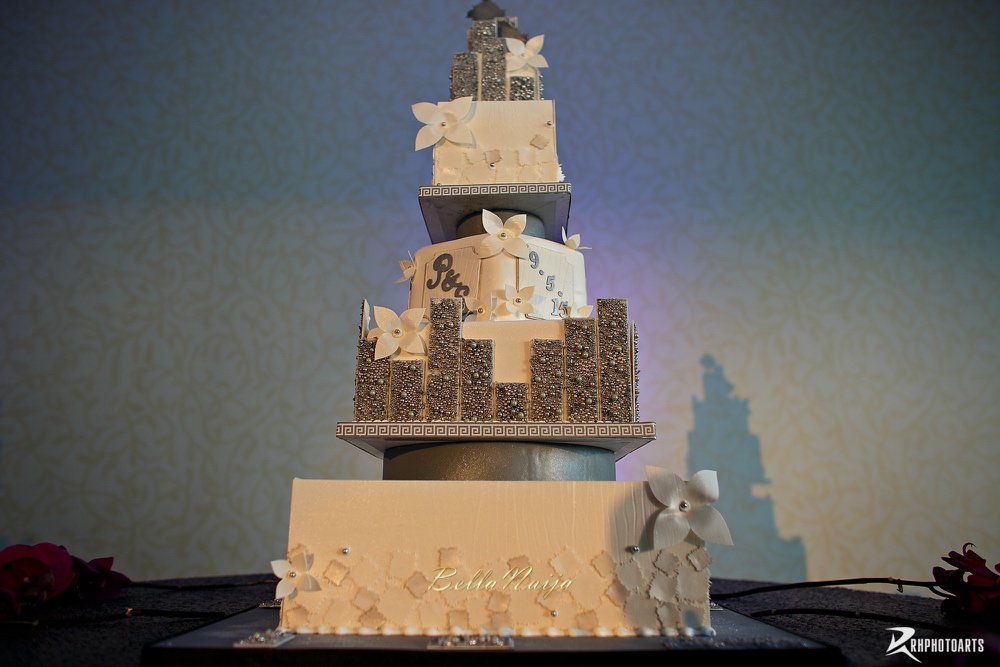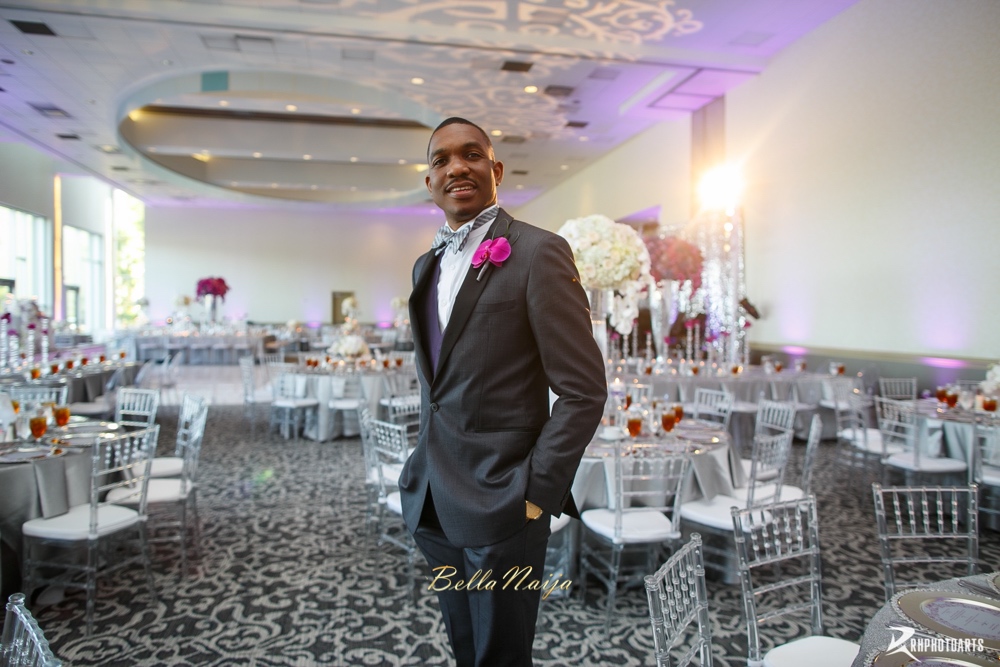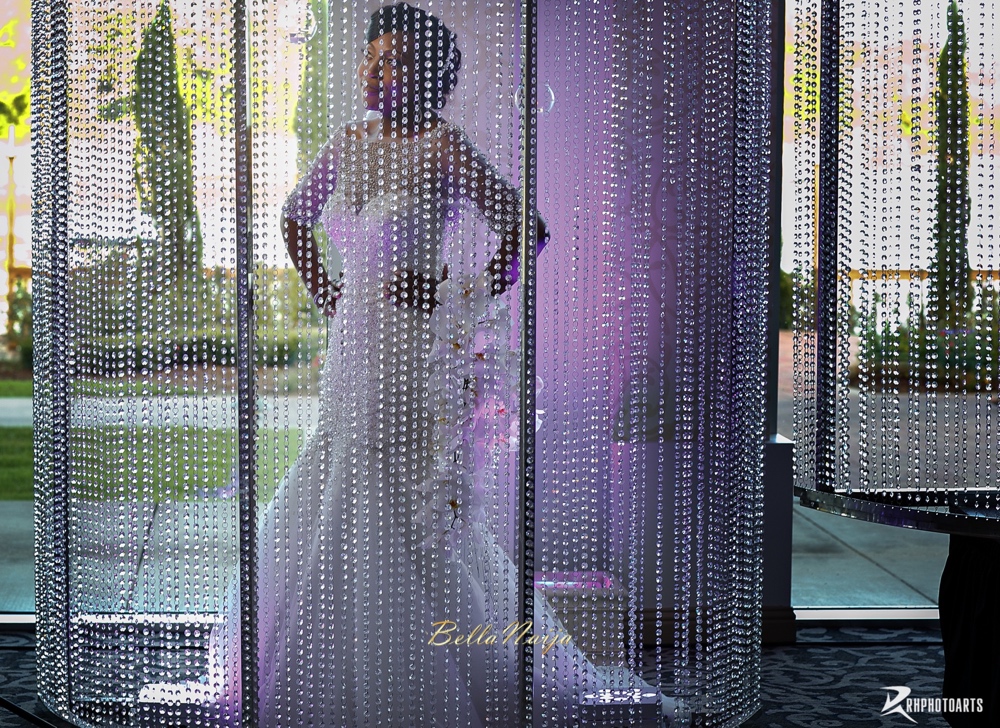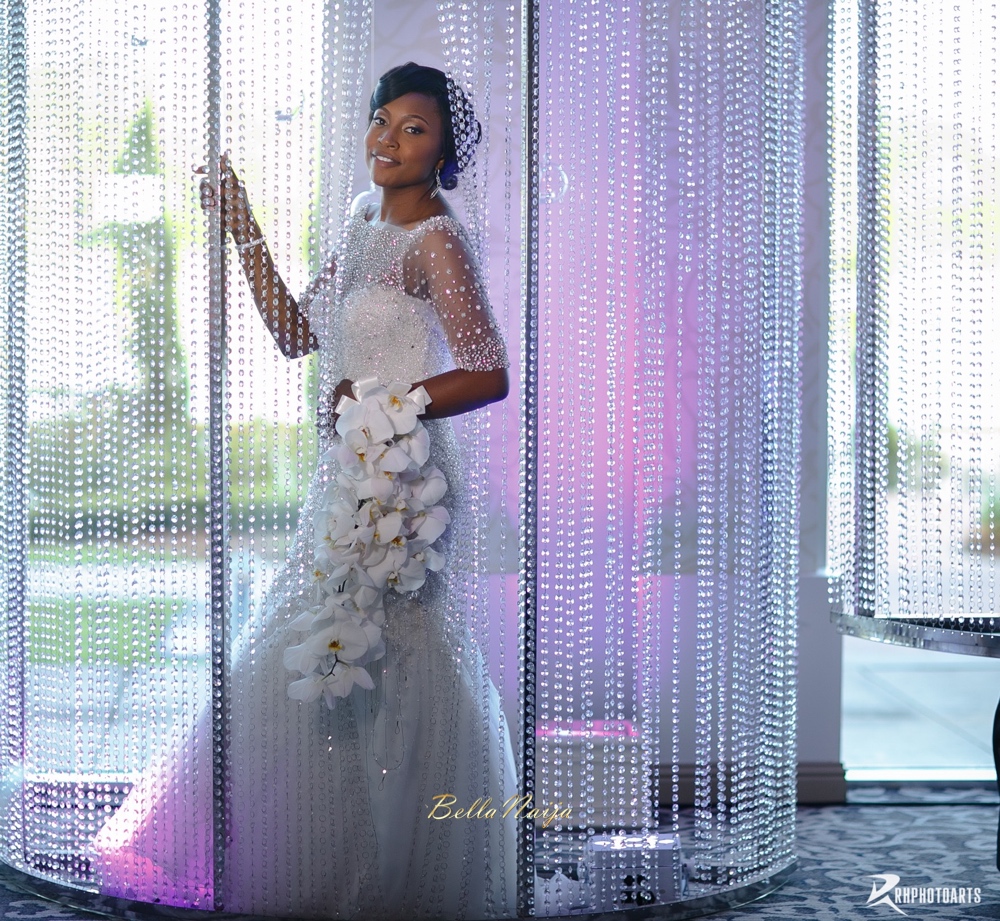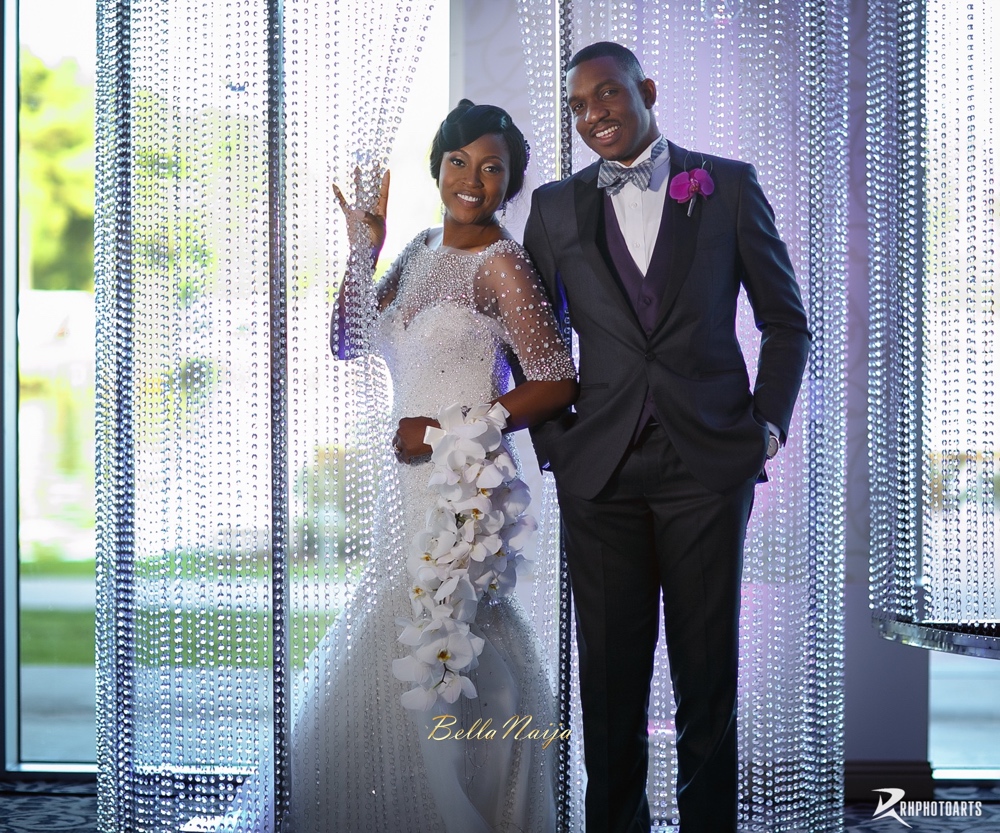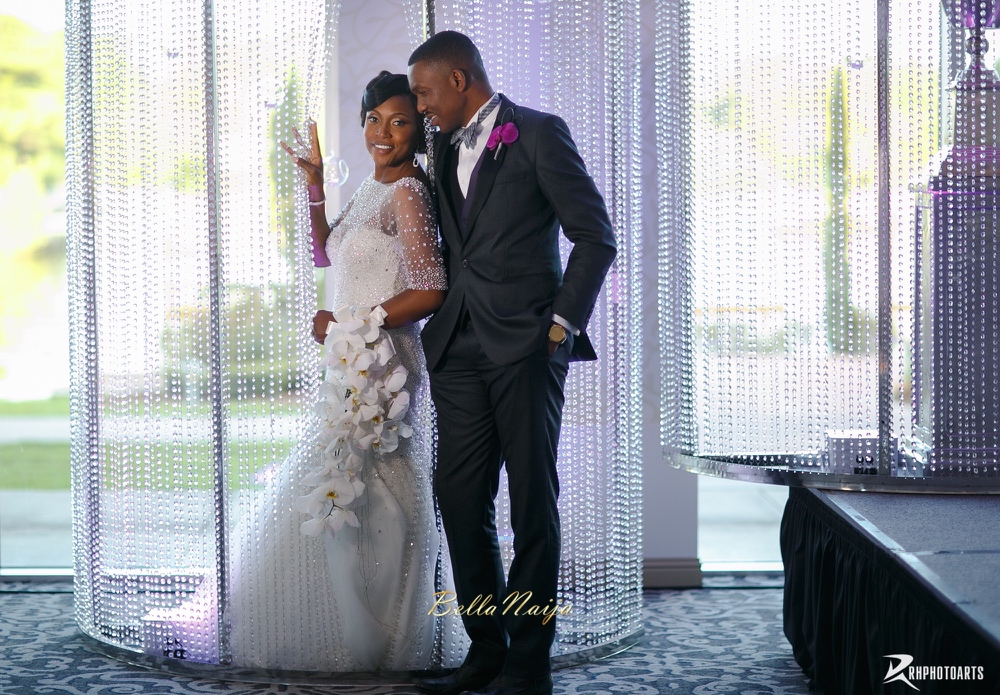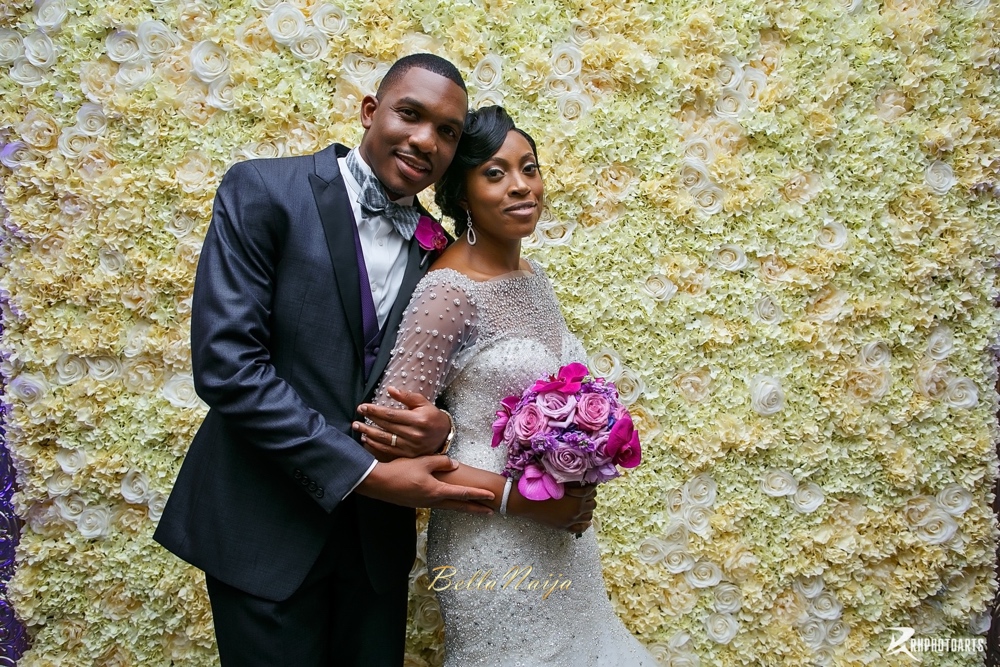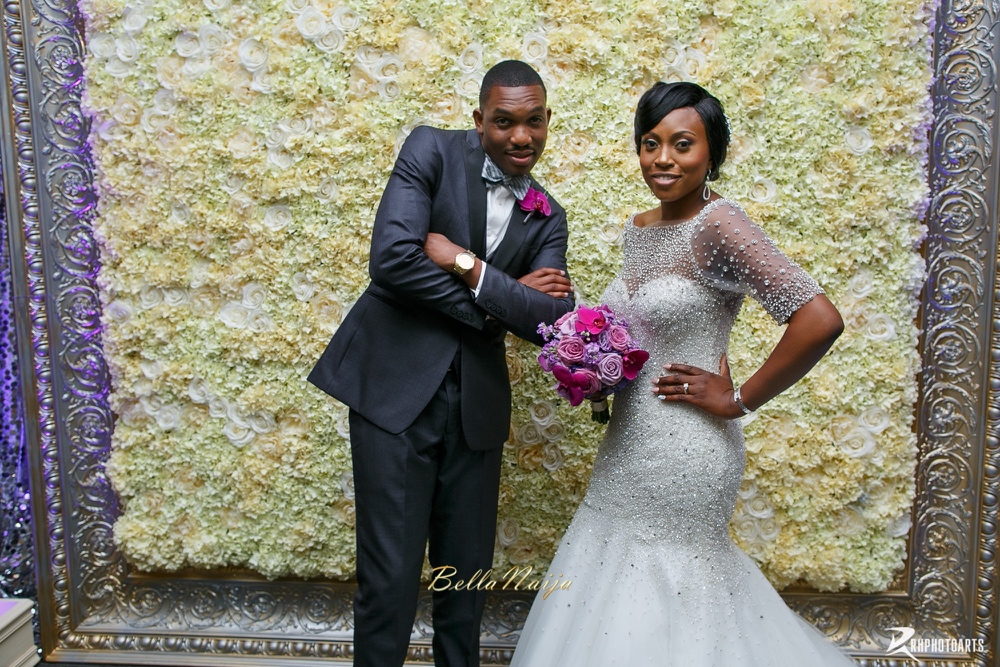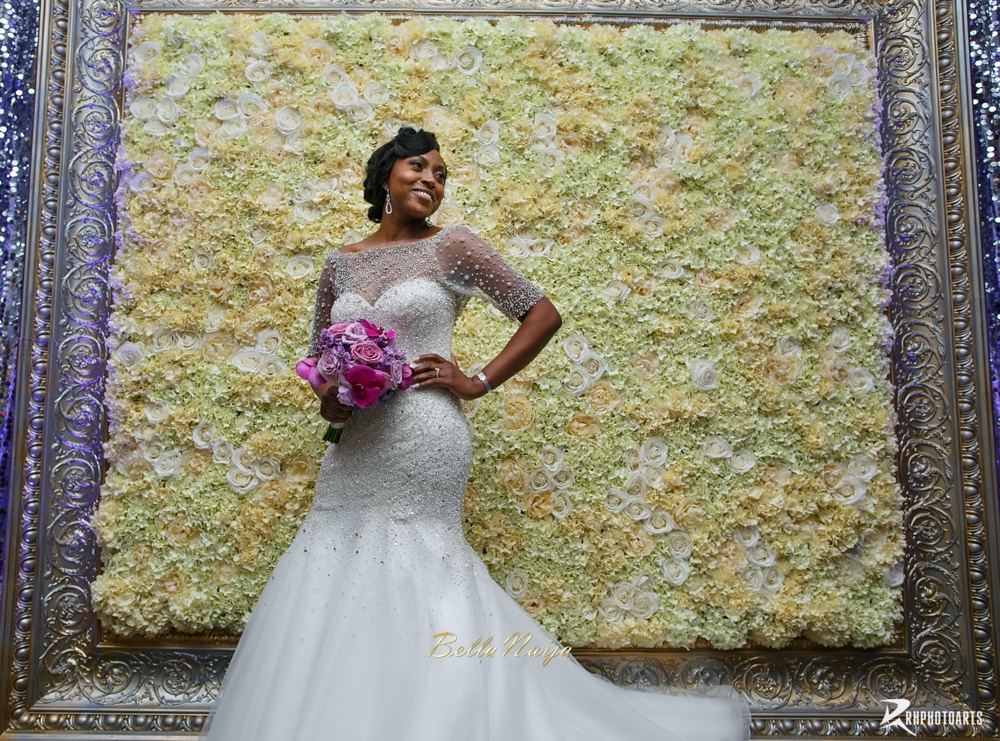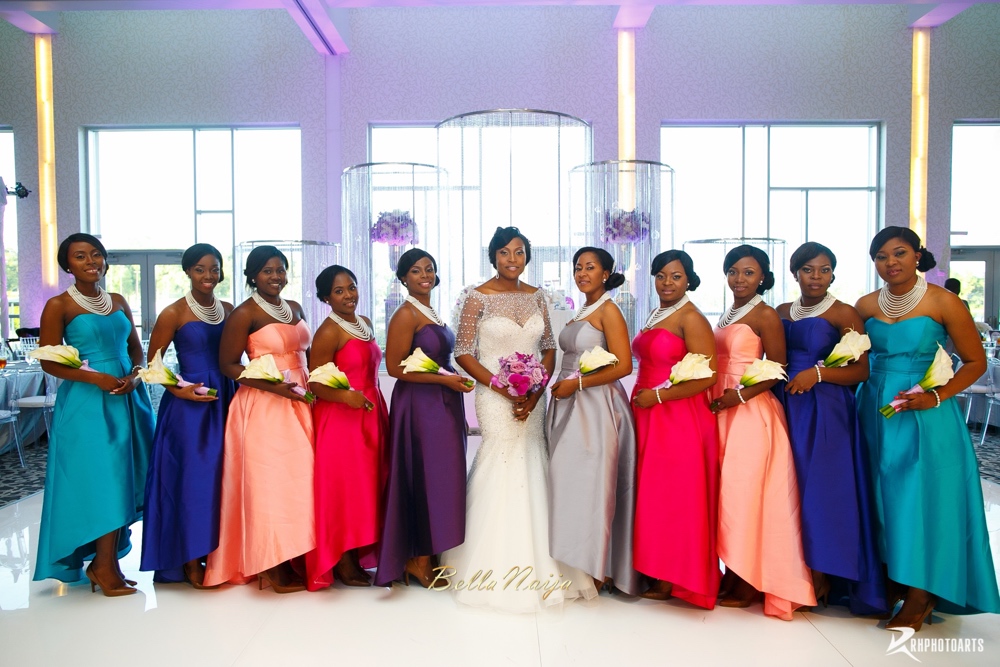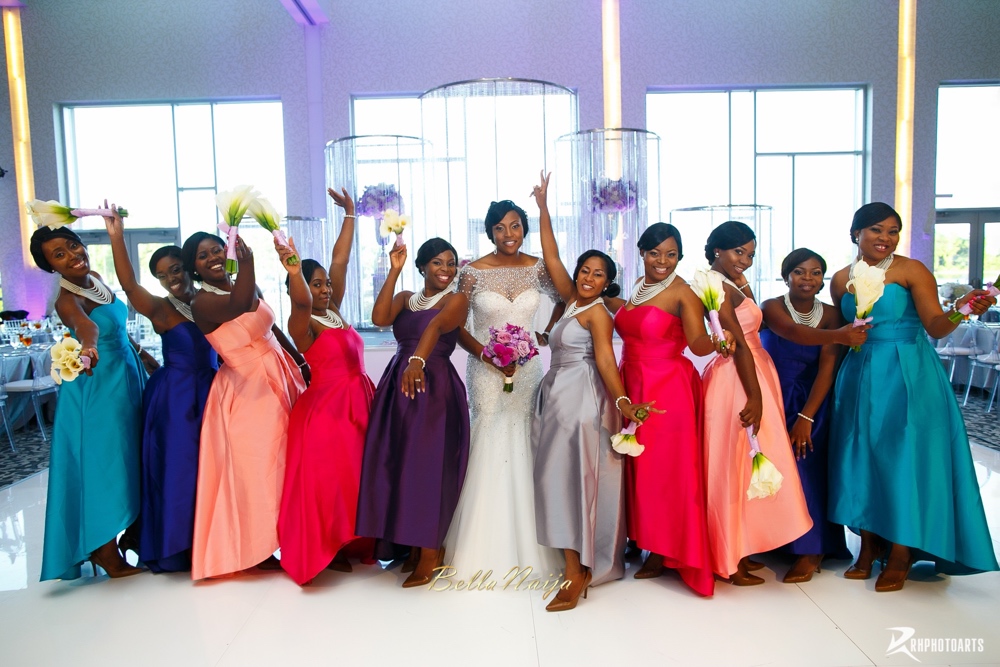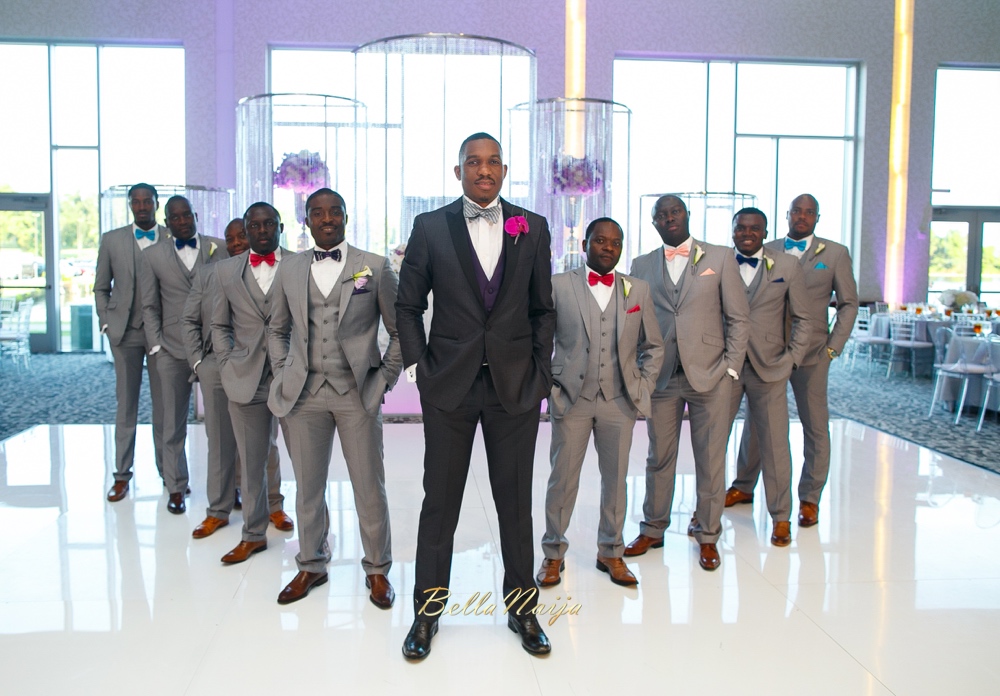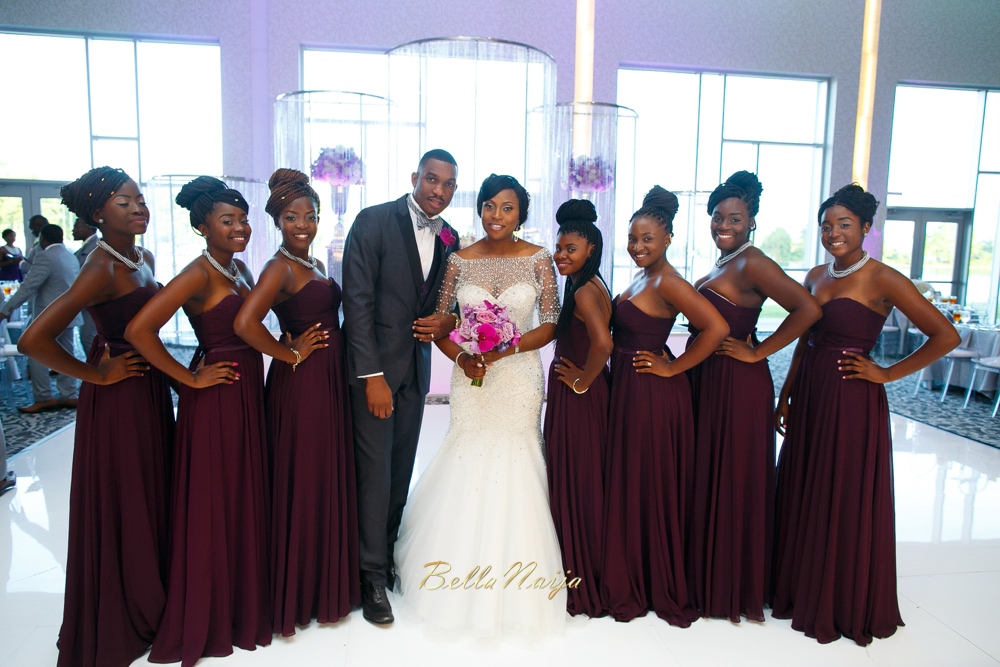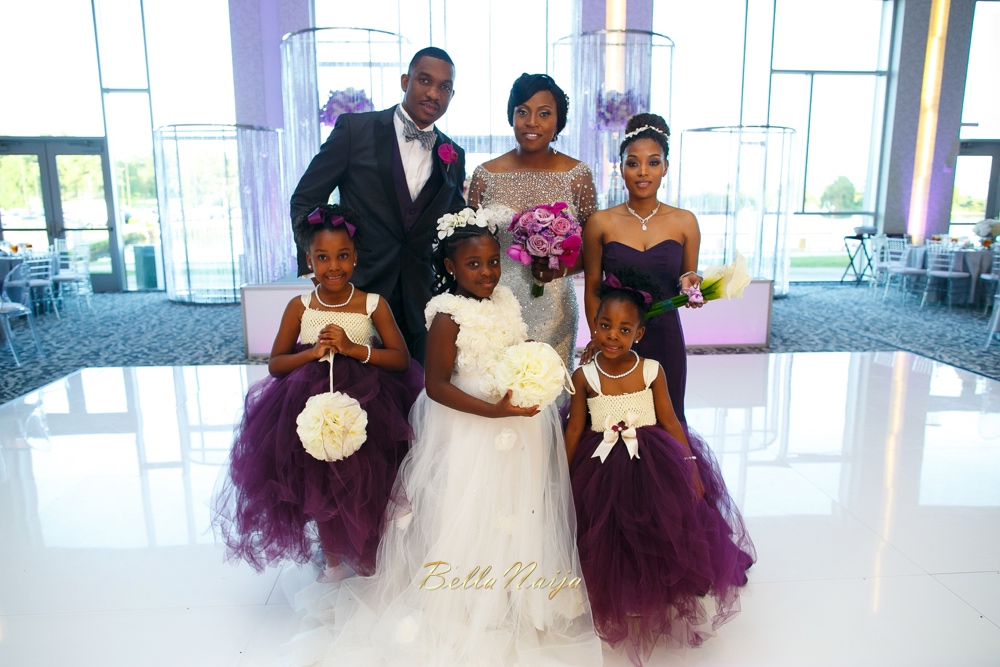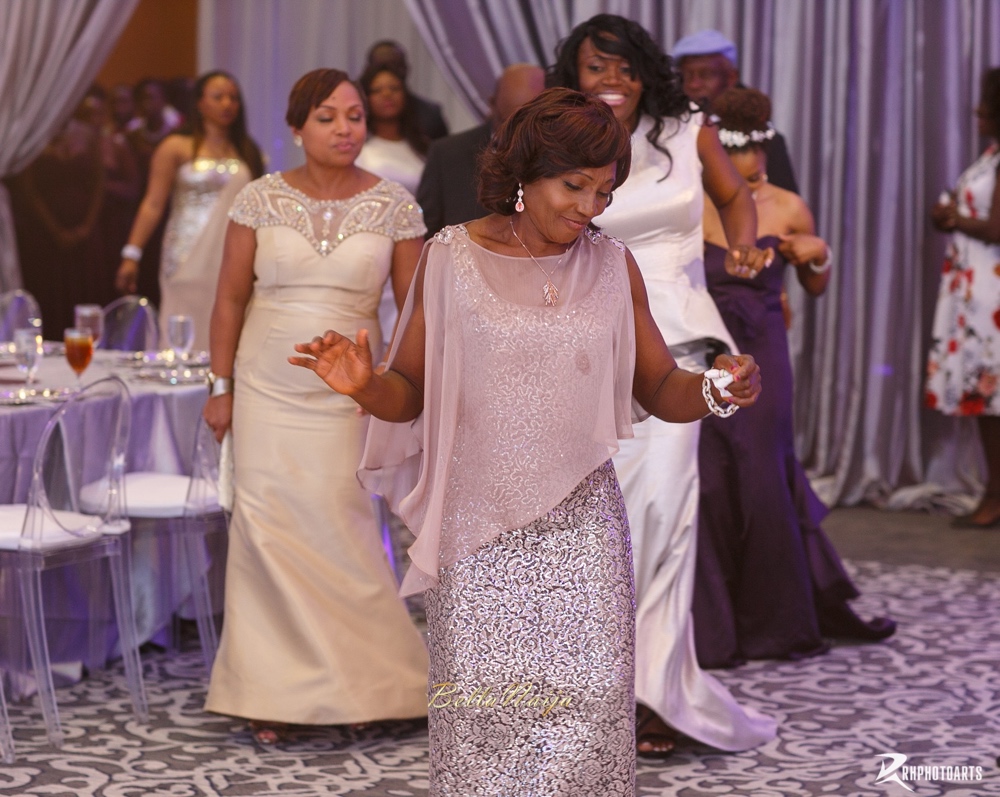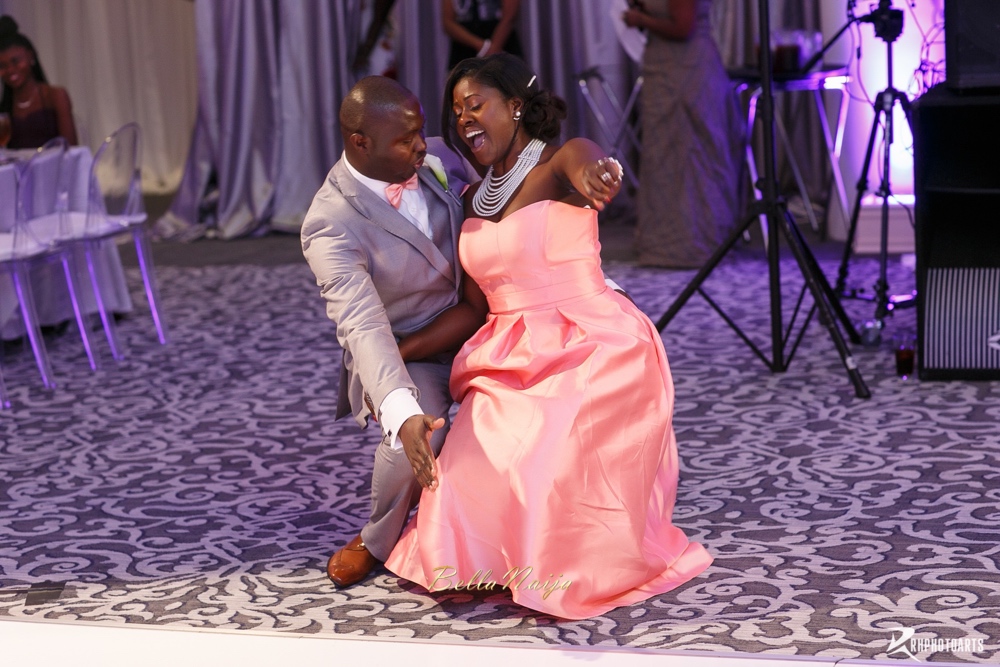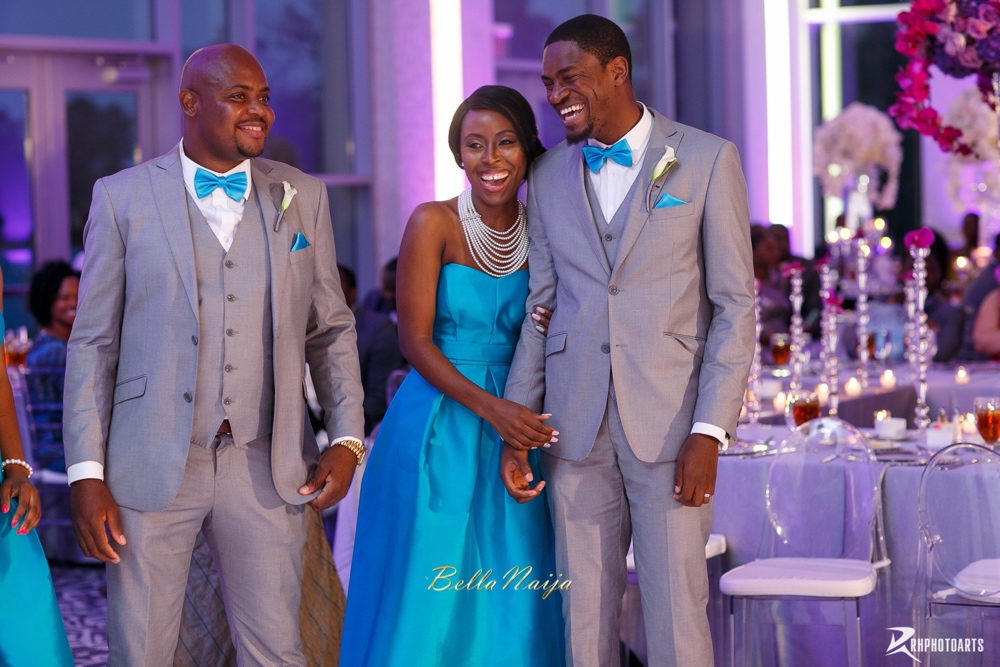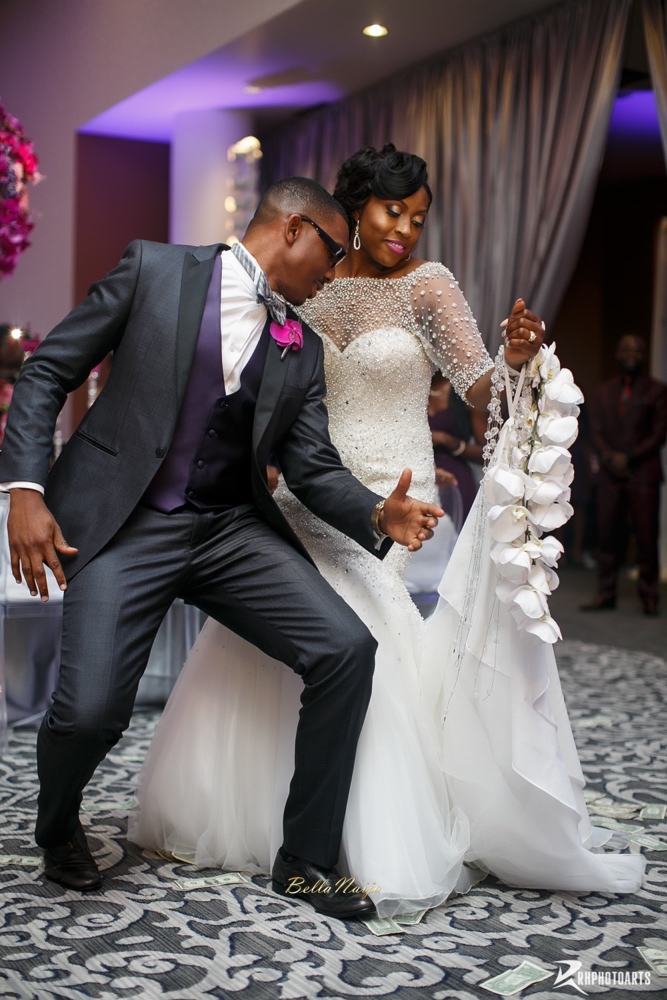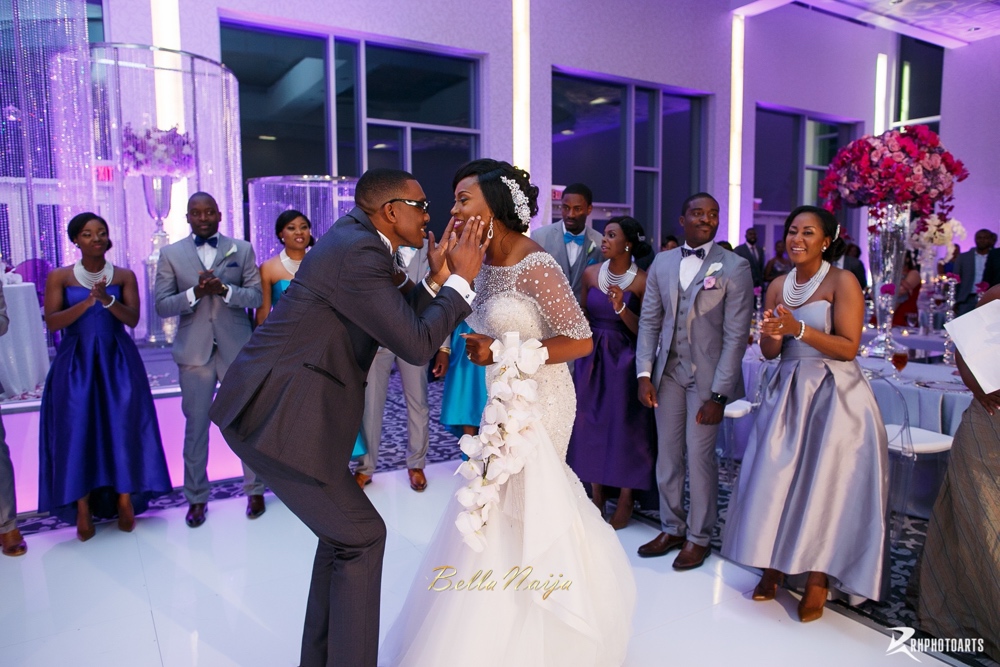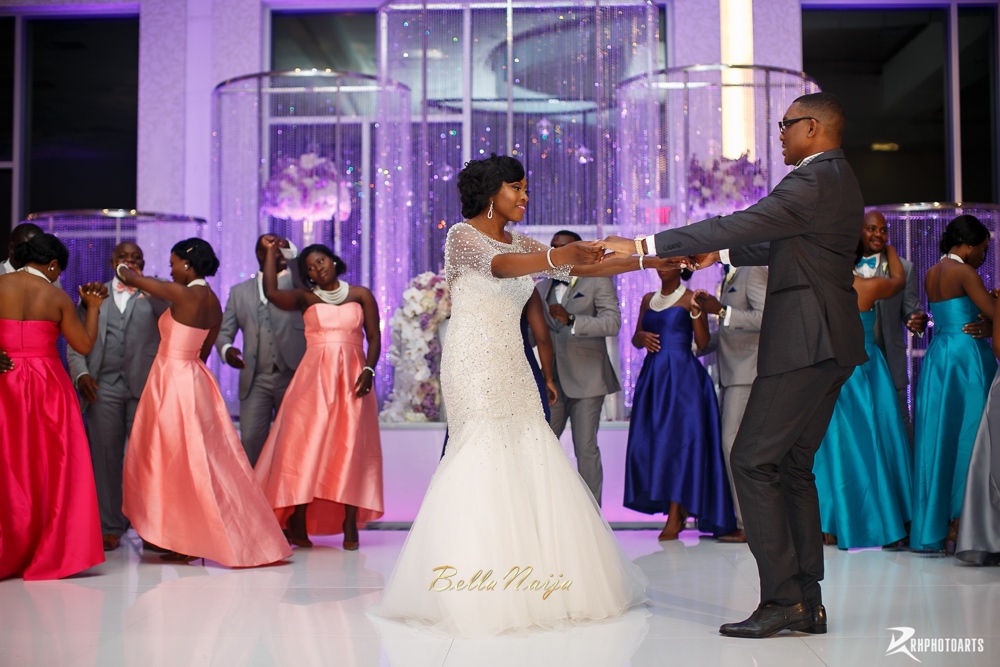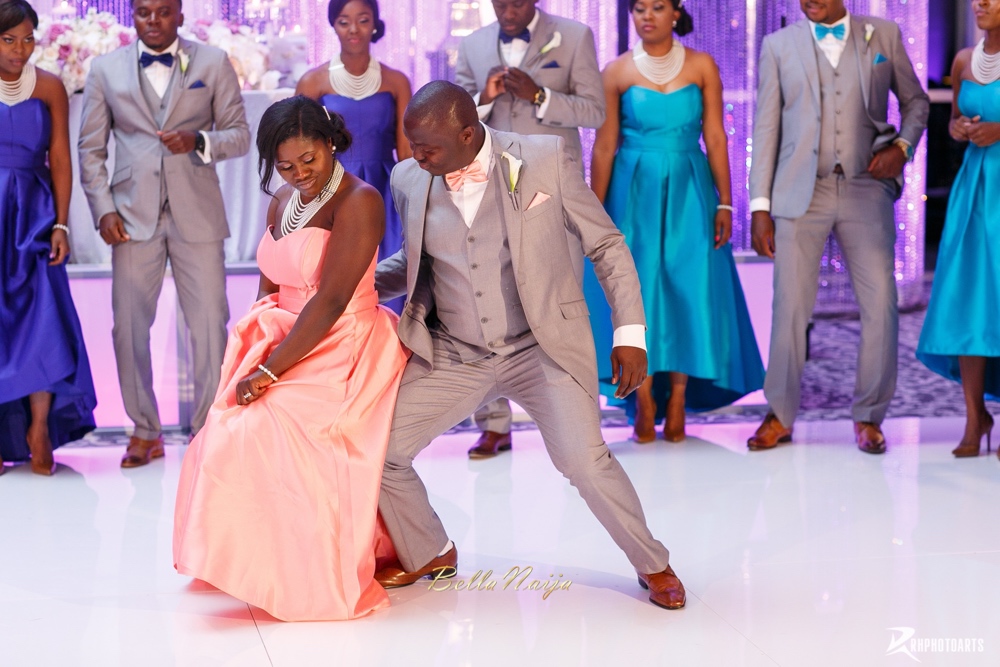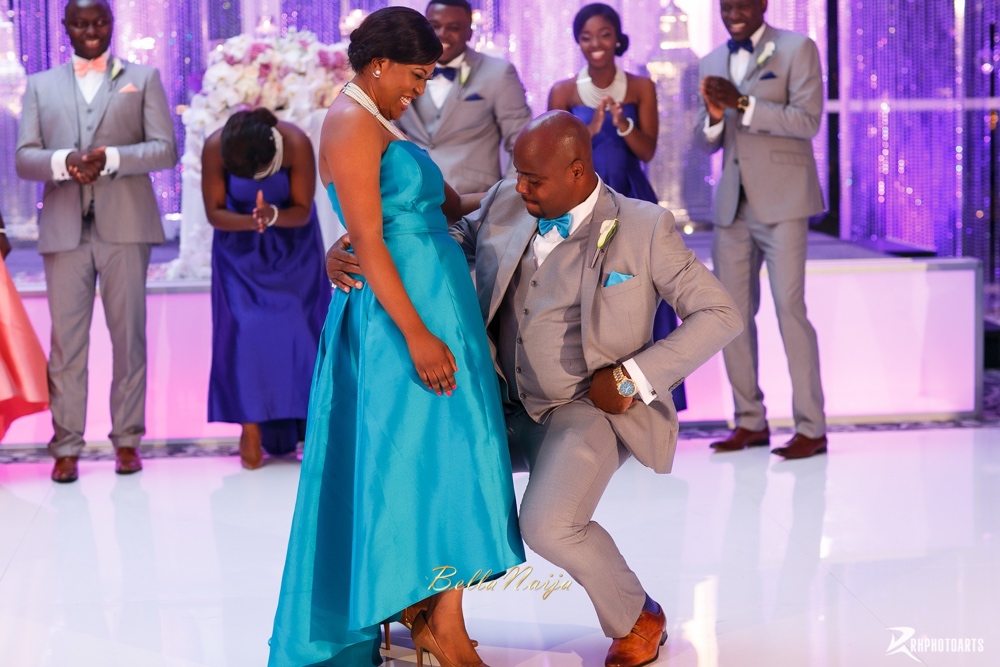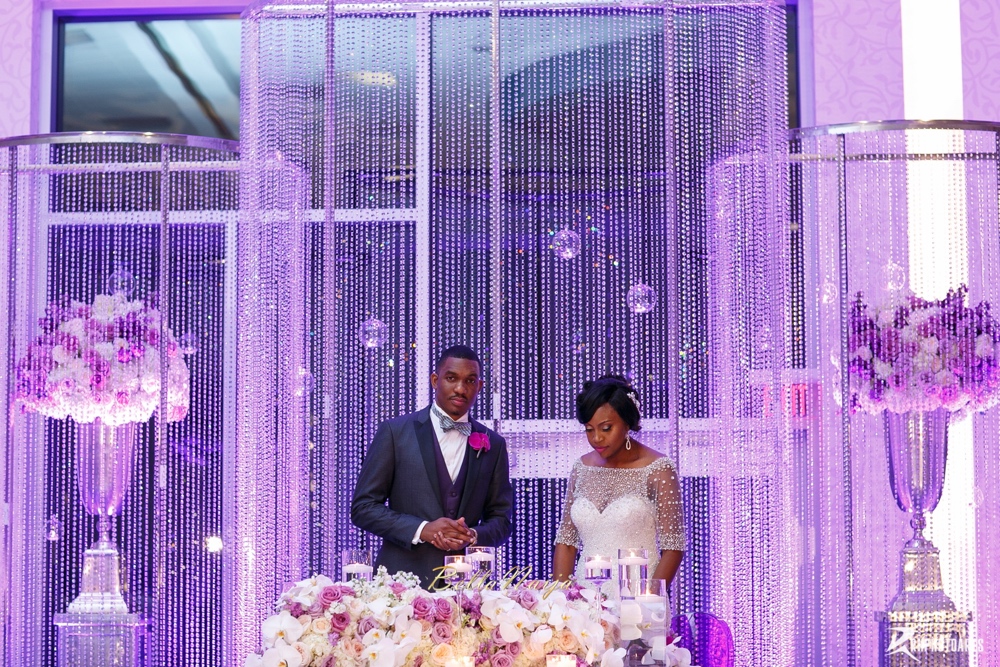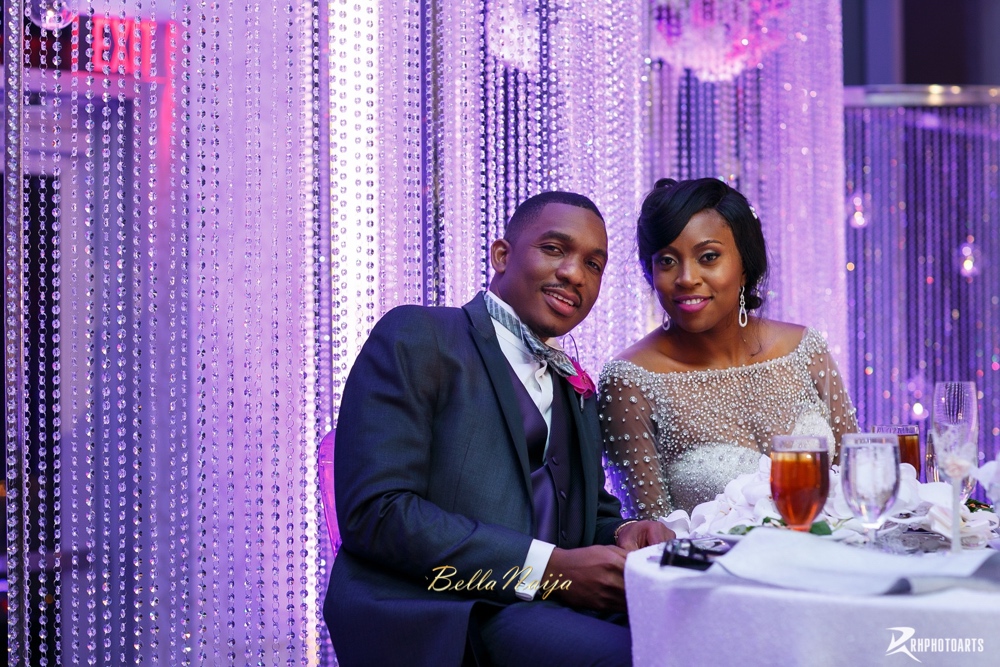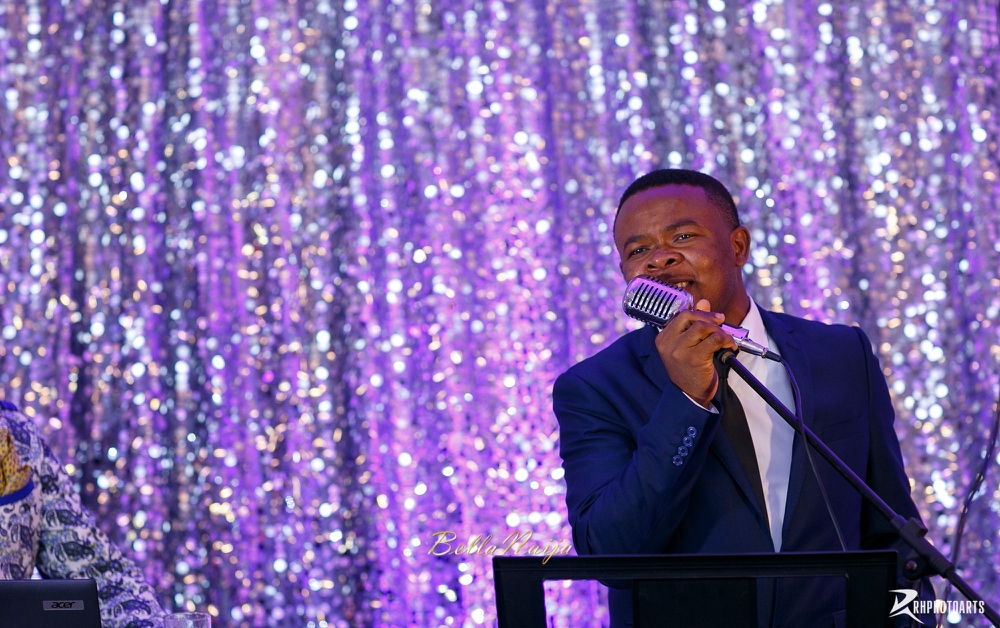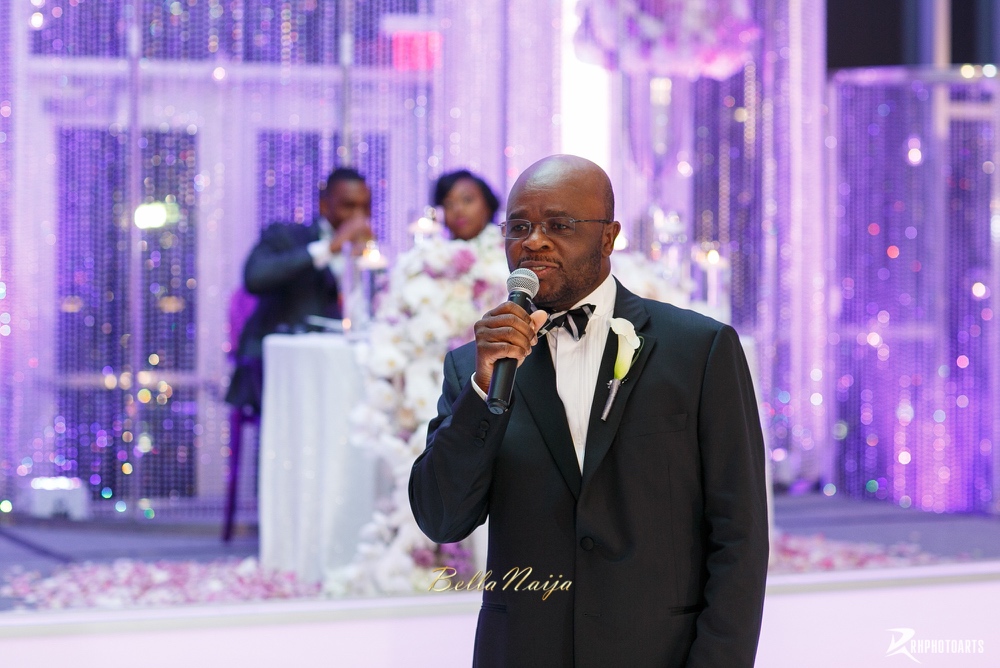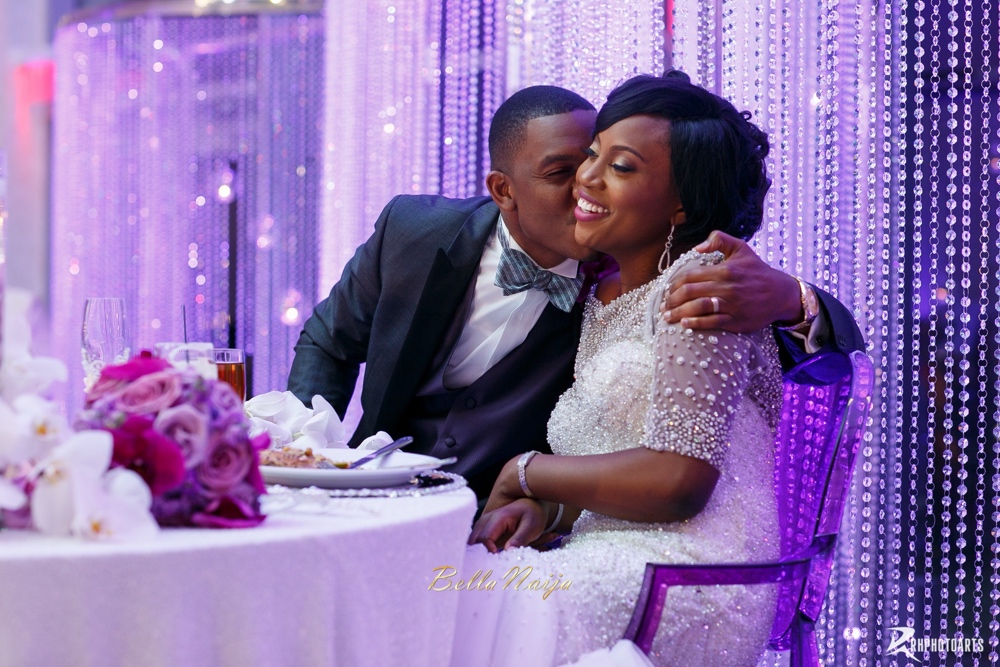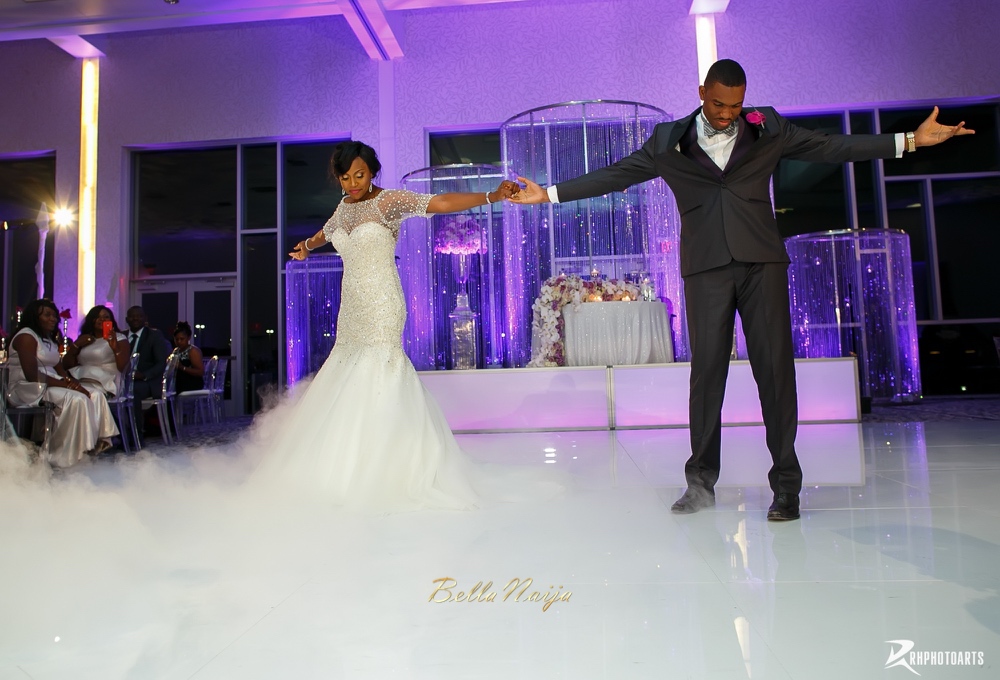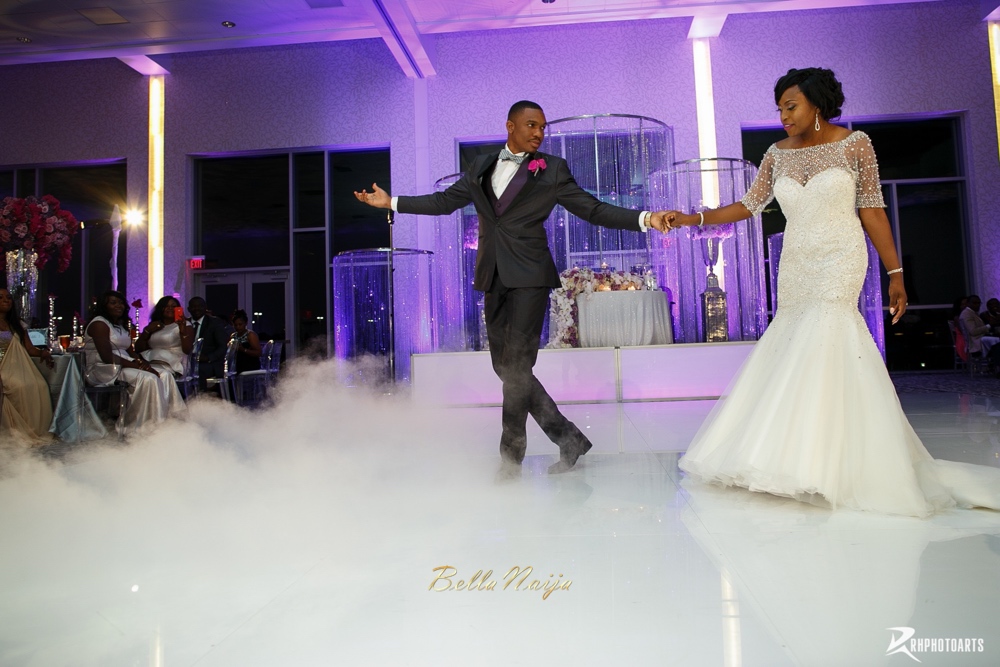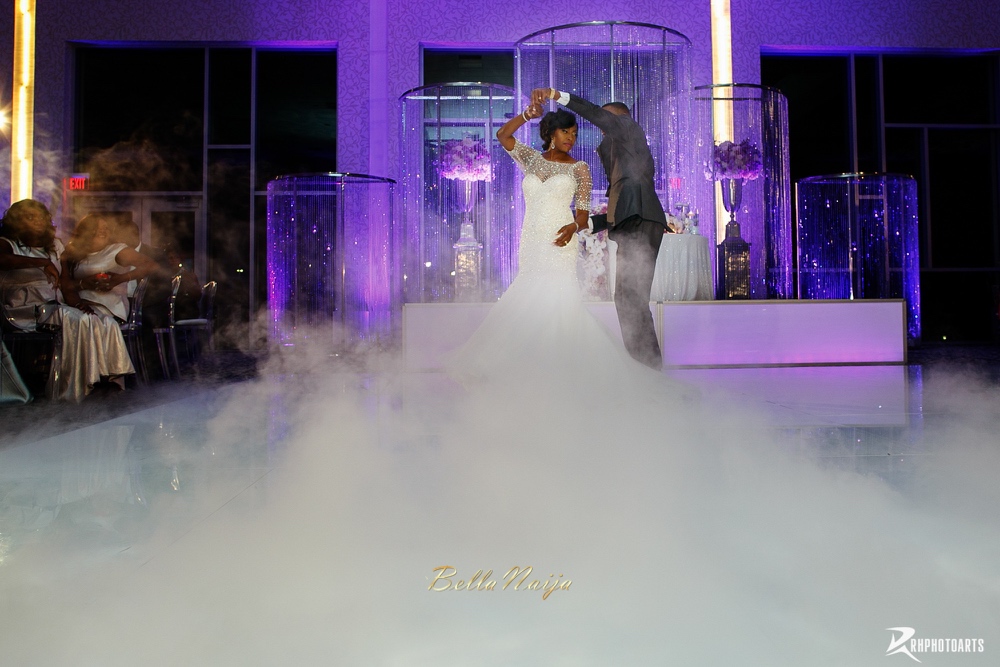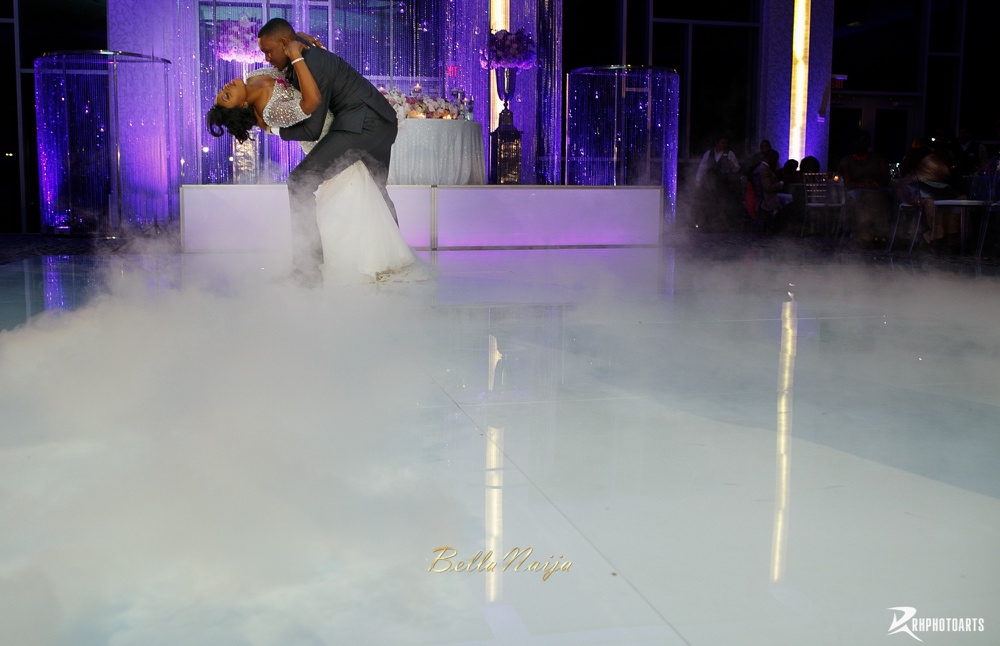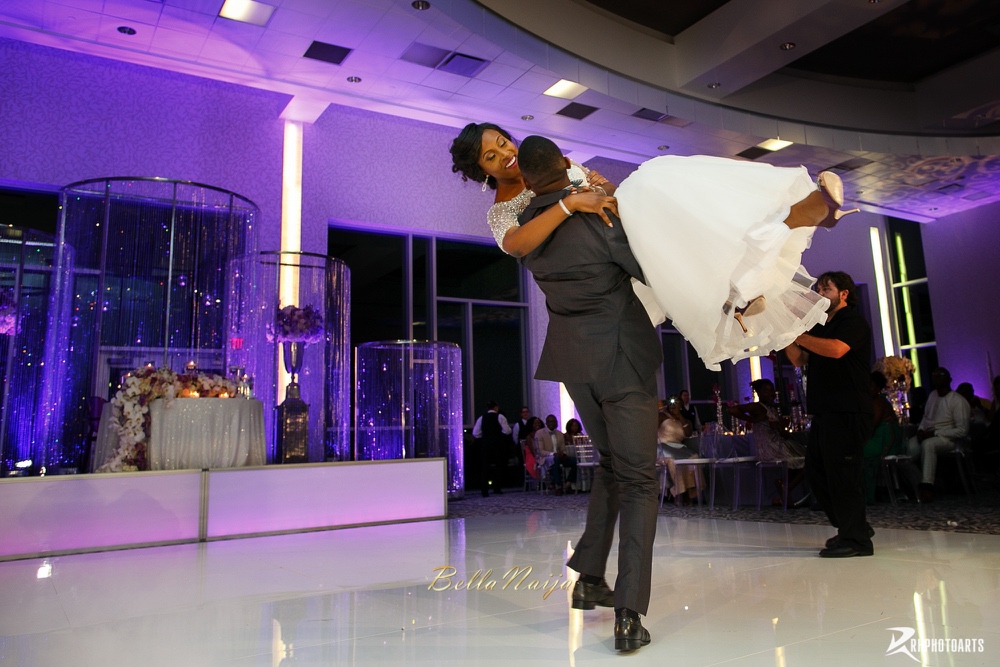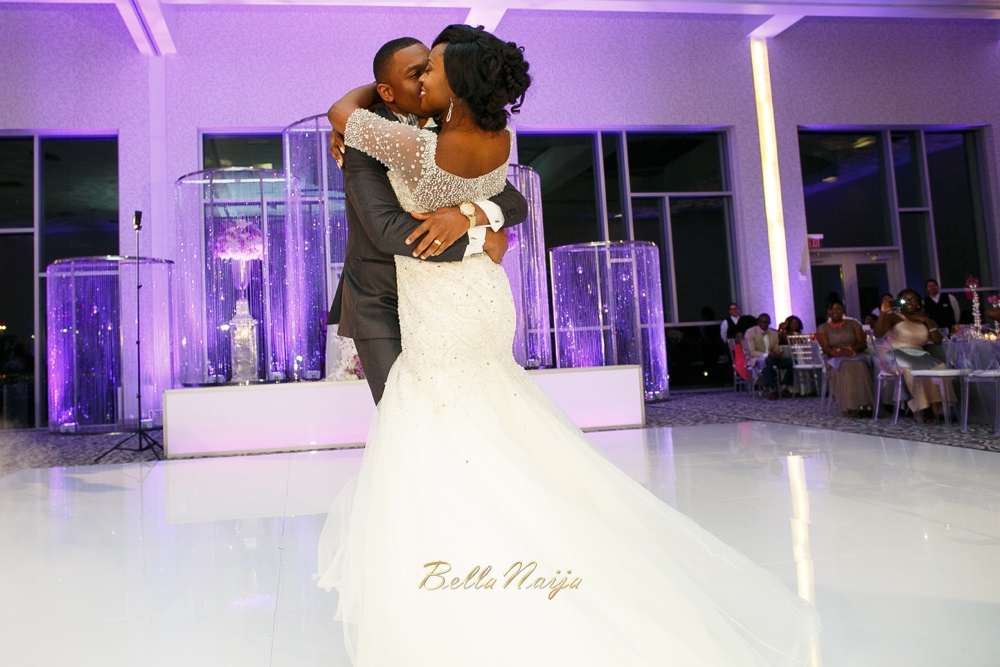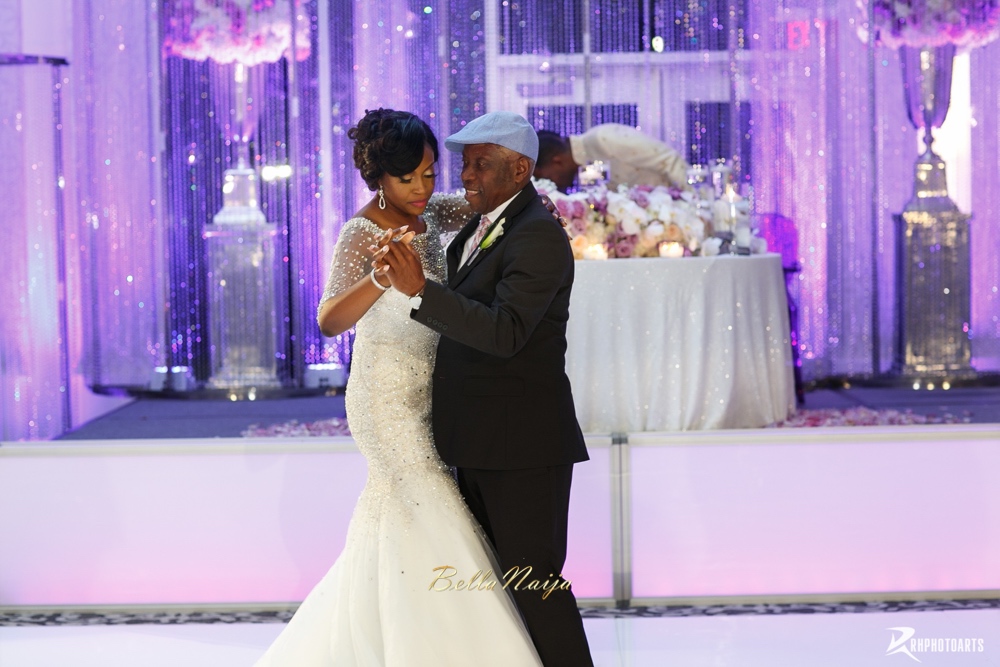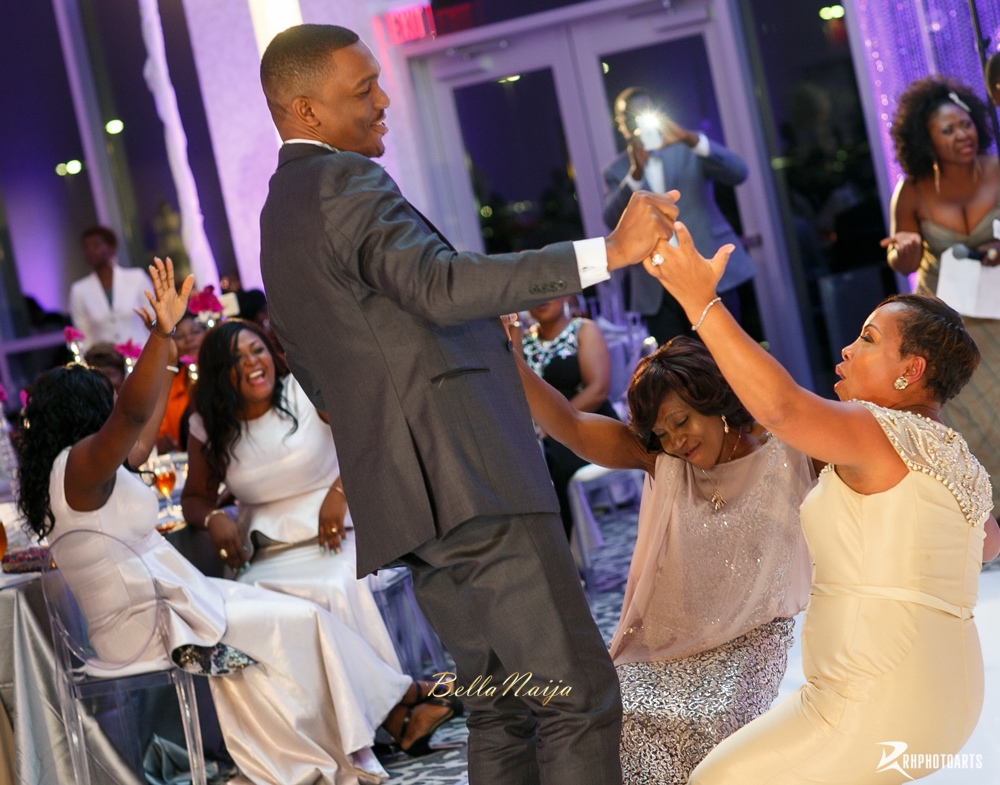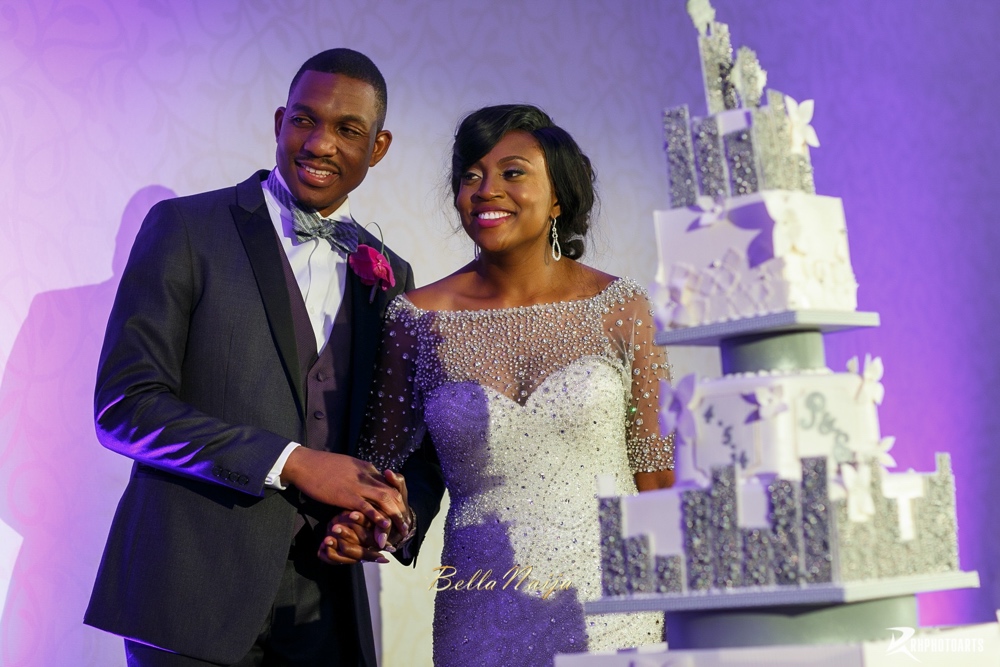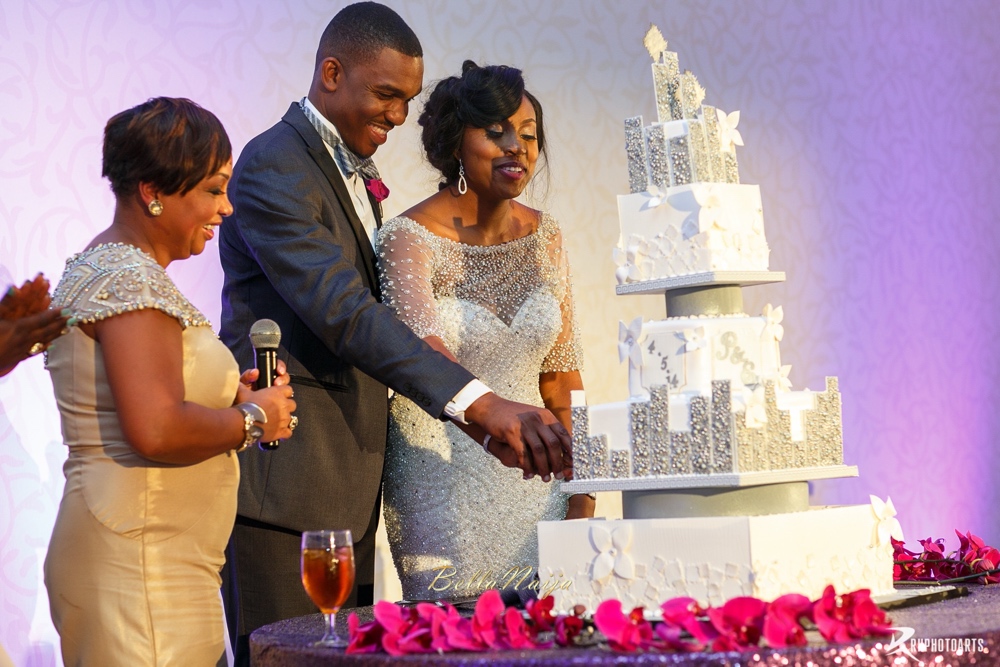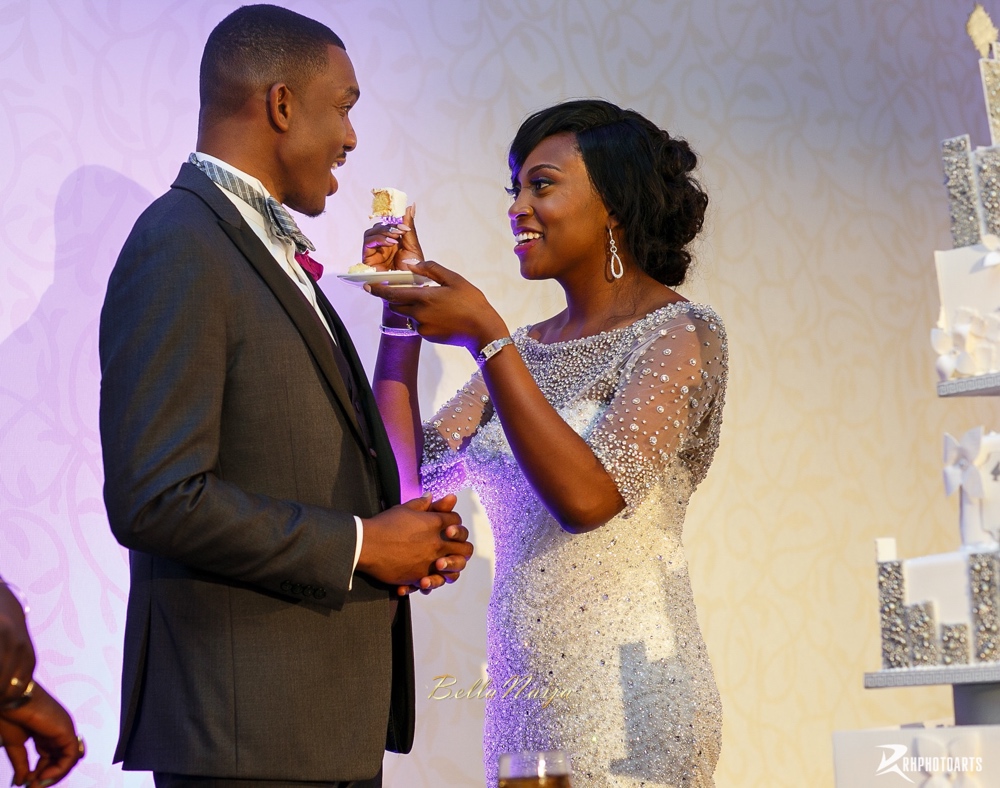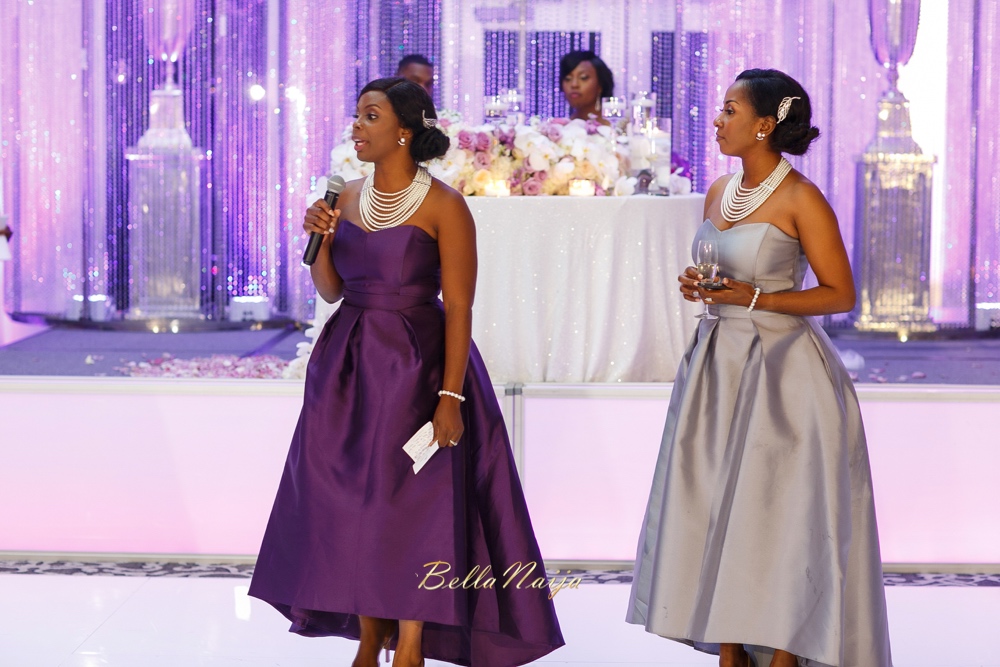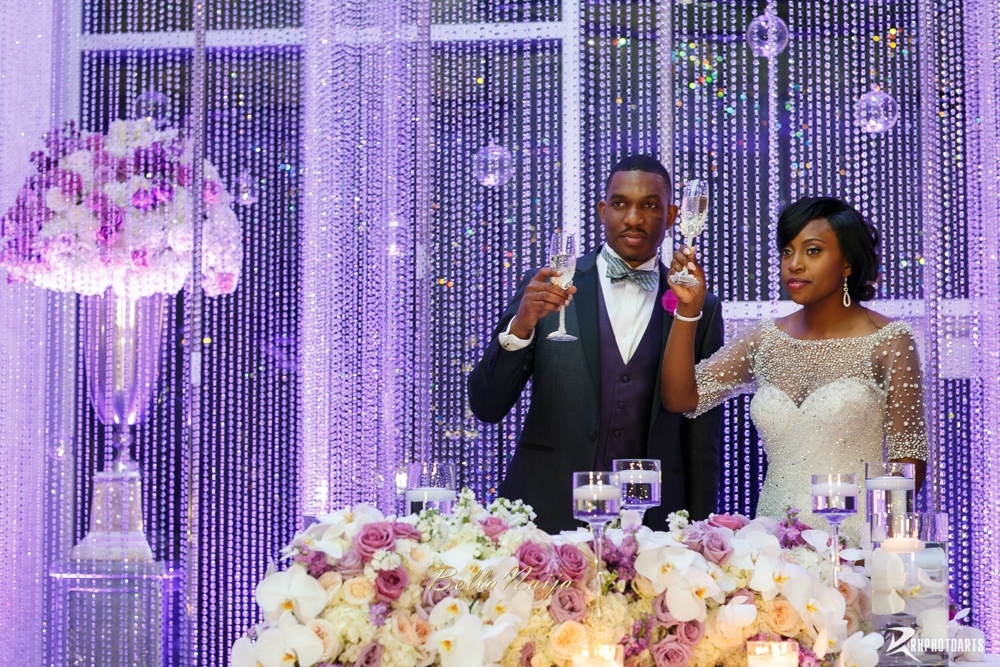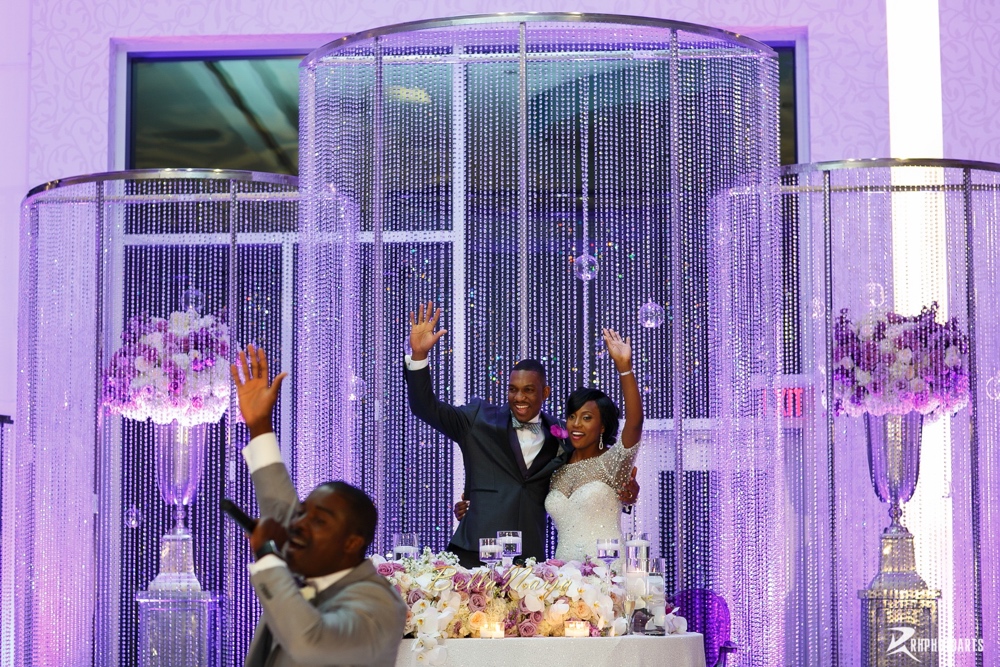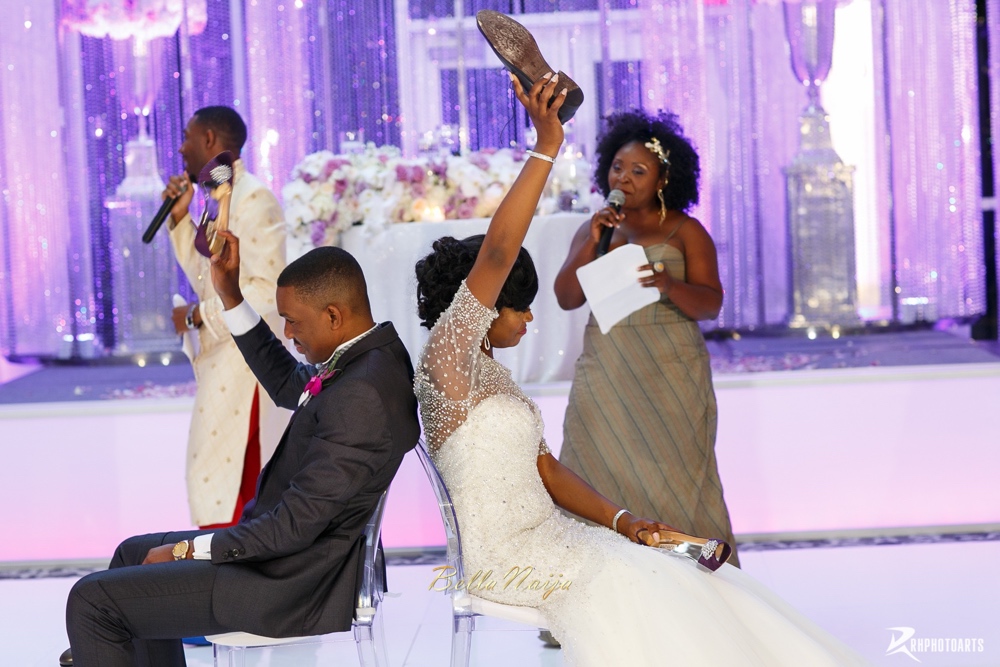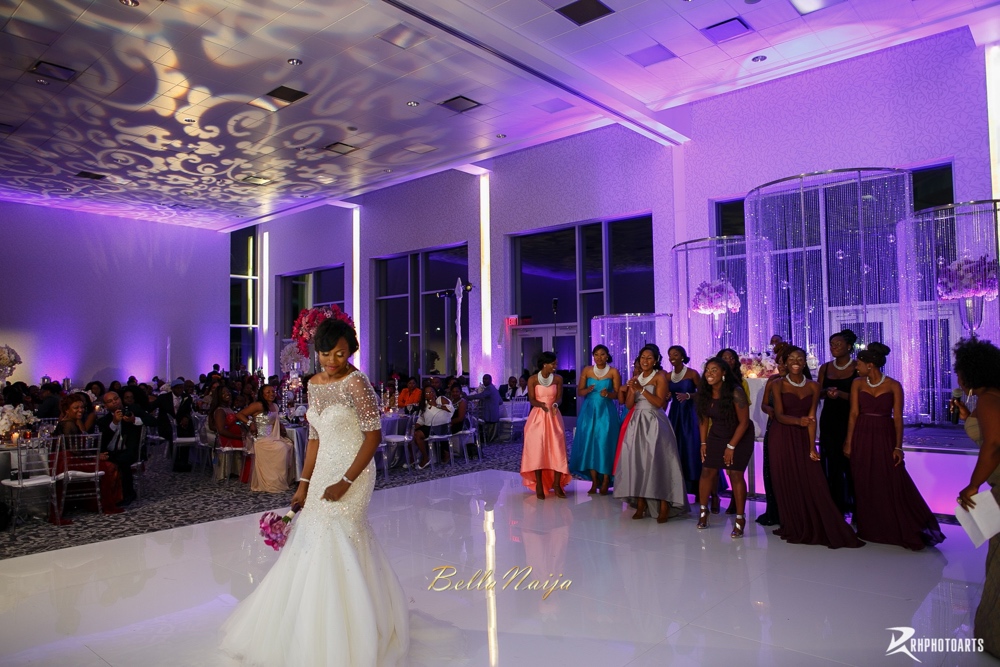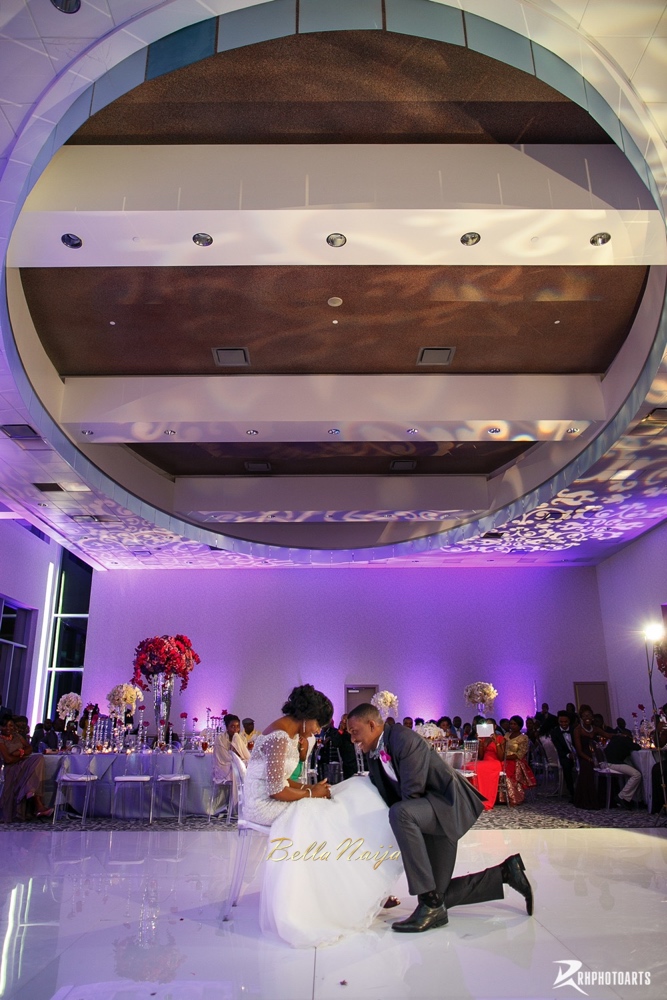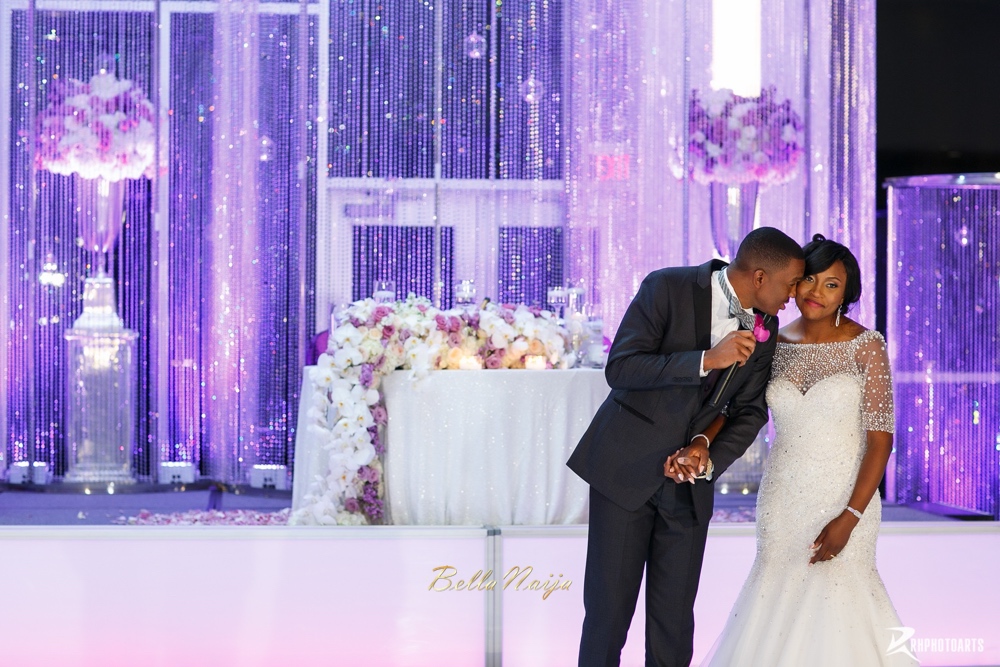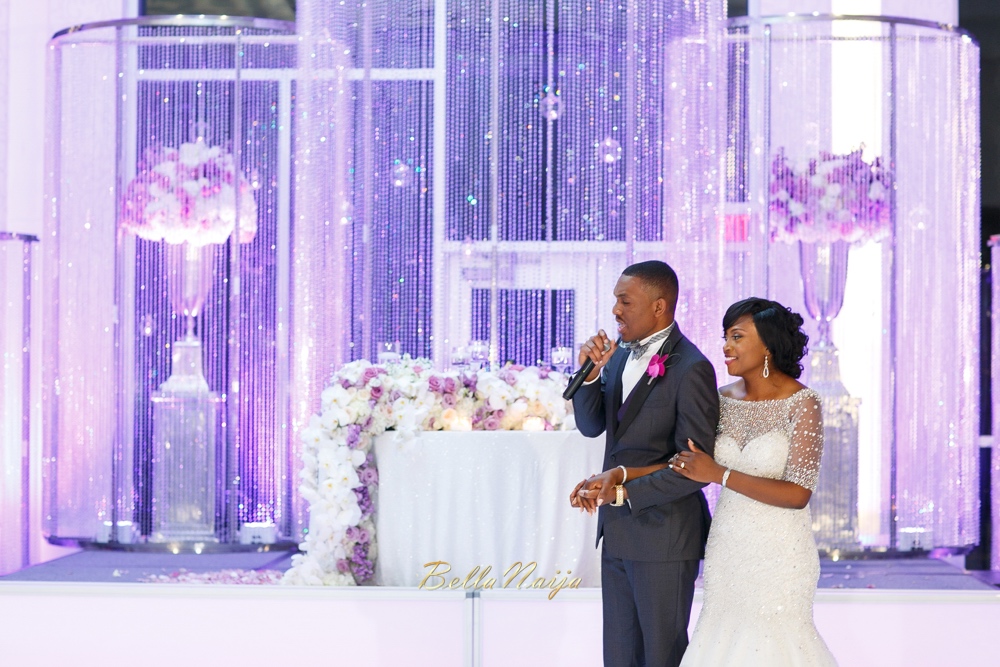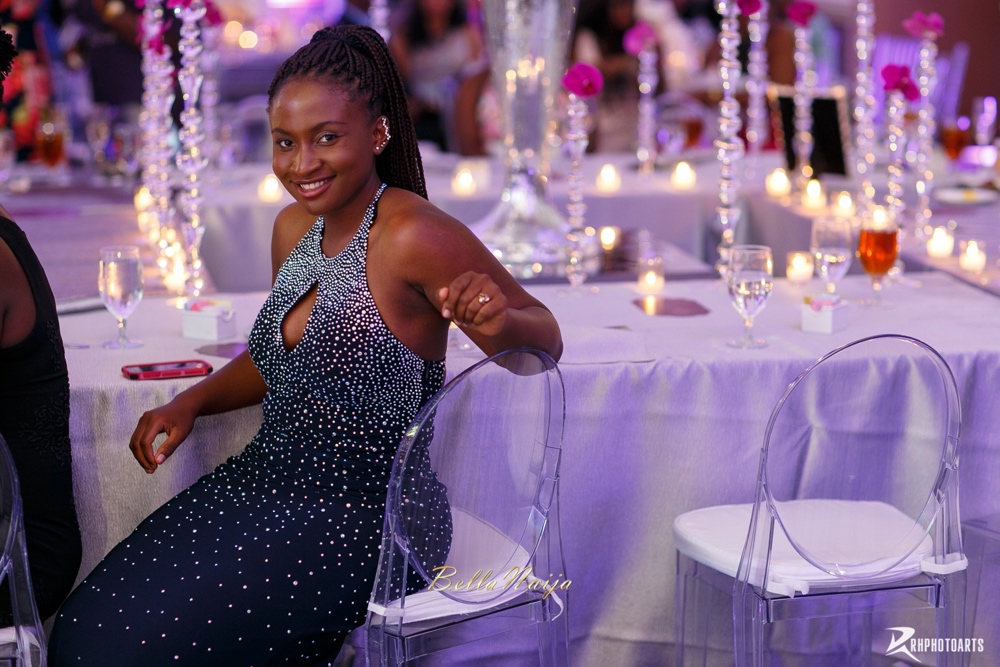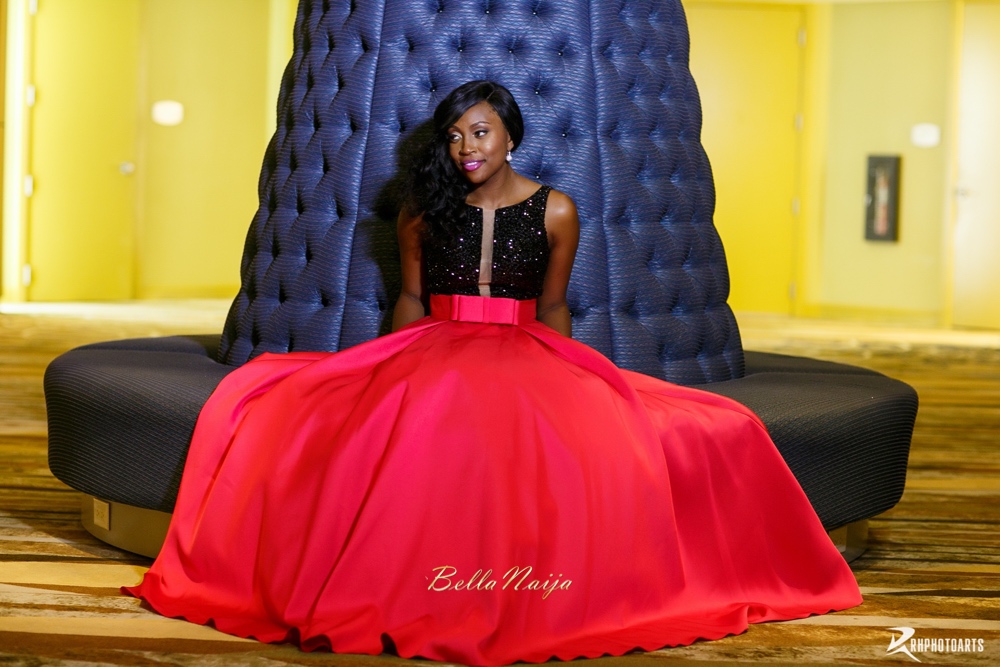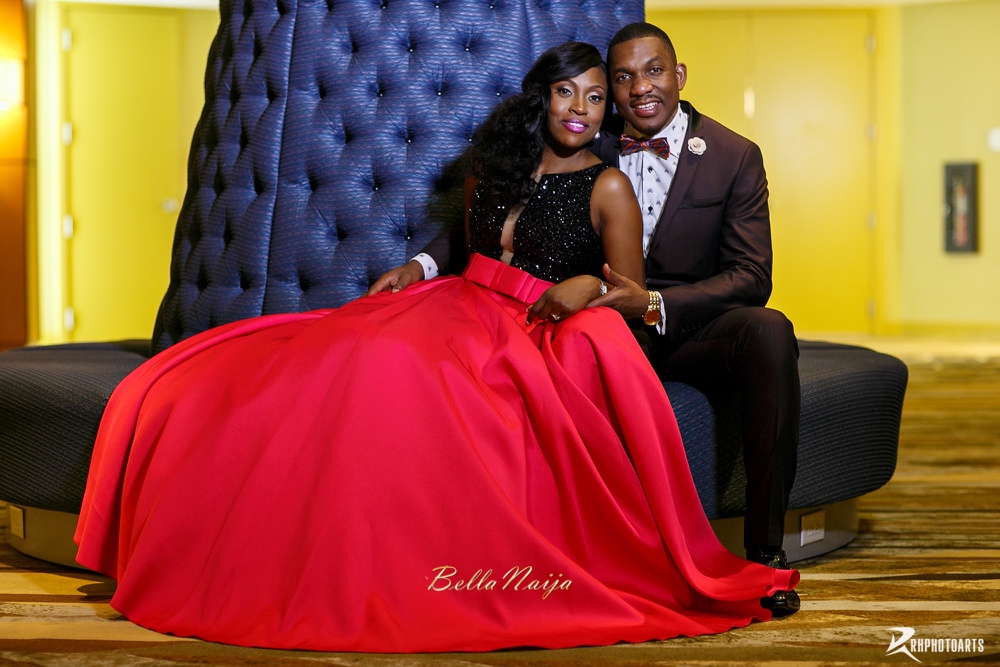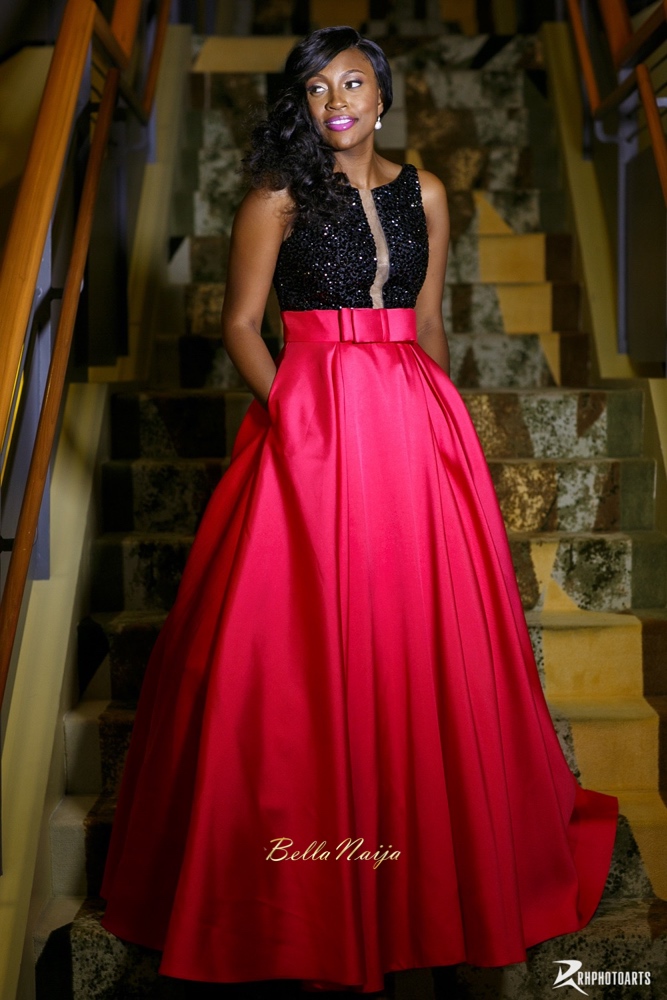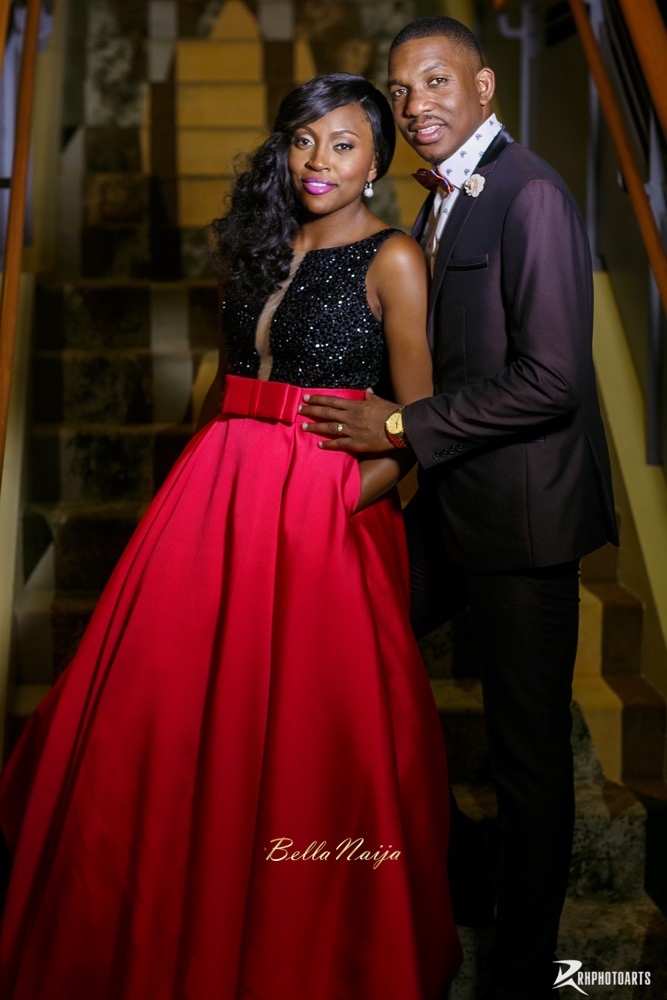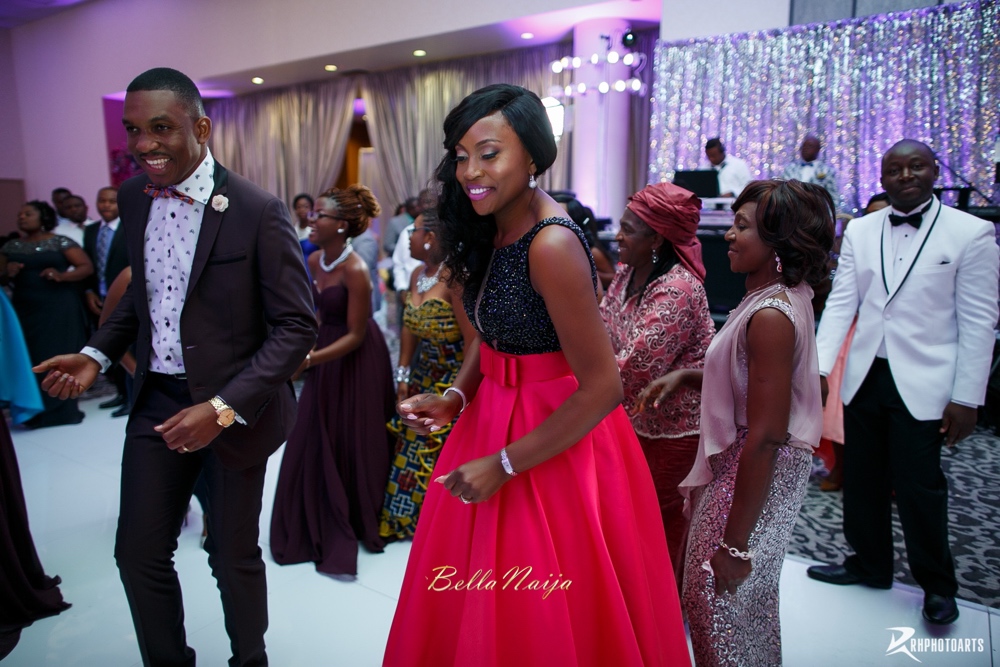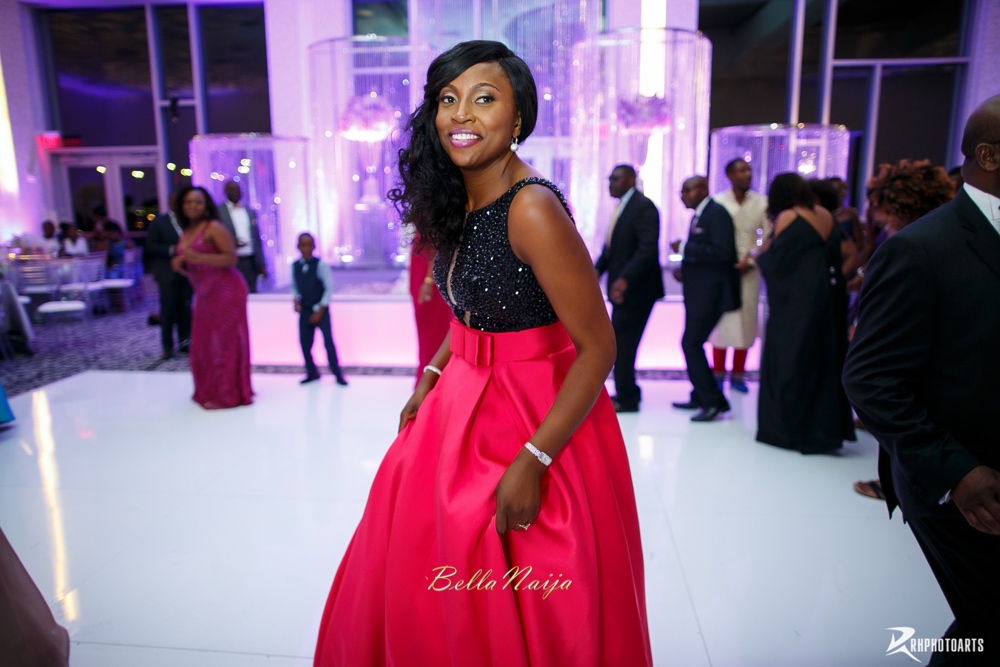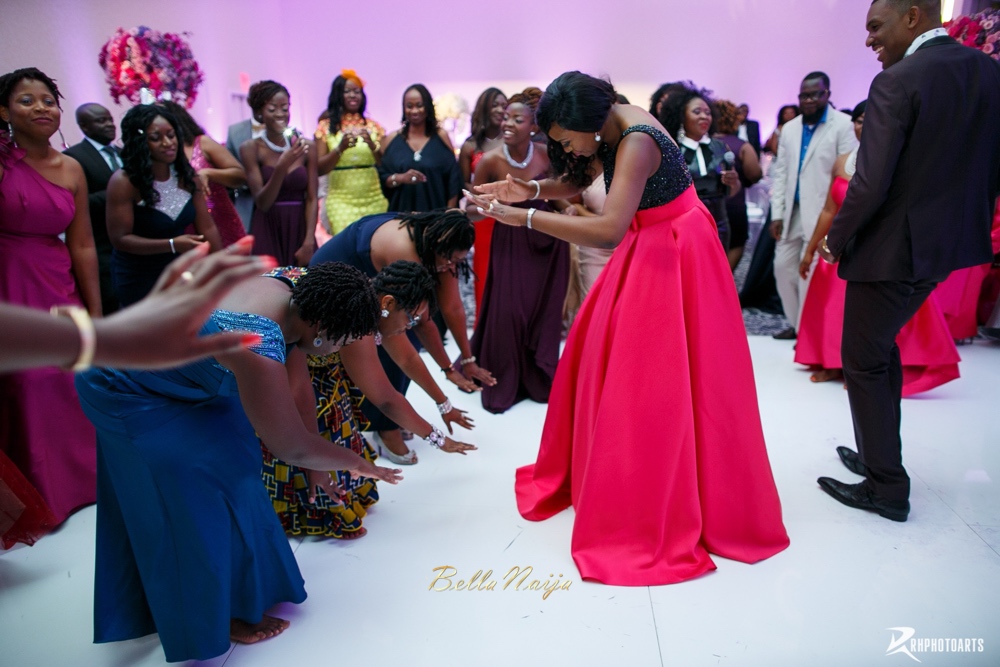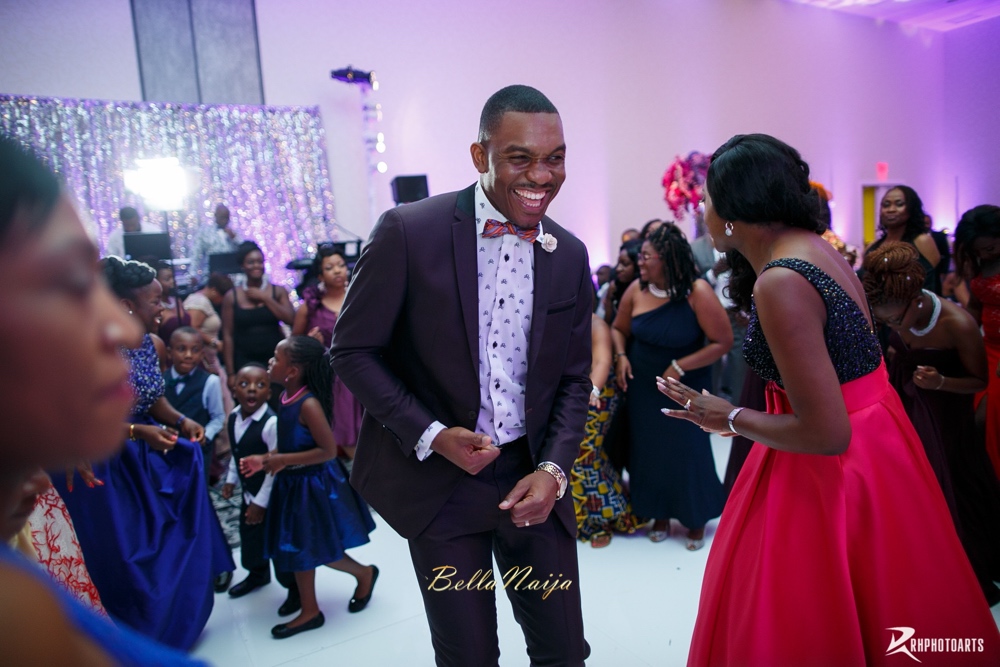 ~ Breakfast at Tiffany's Bridal Shower Photos | by Nina Fru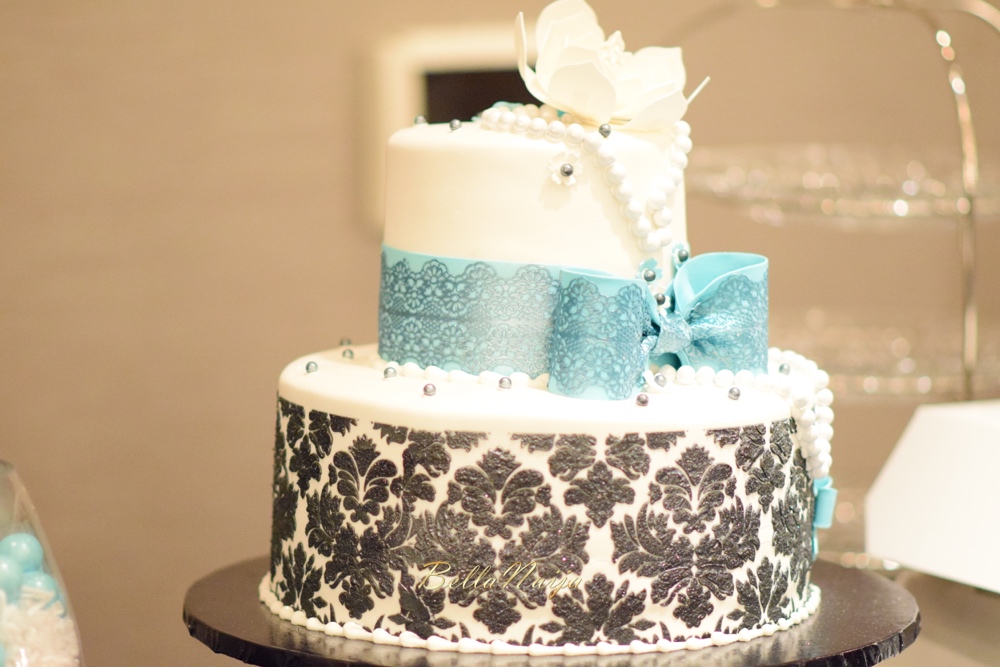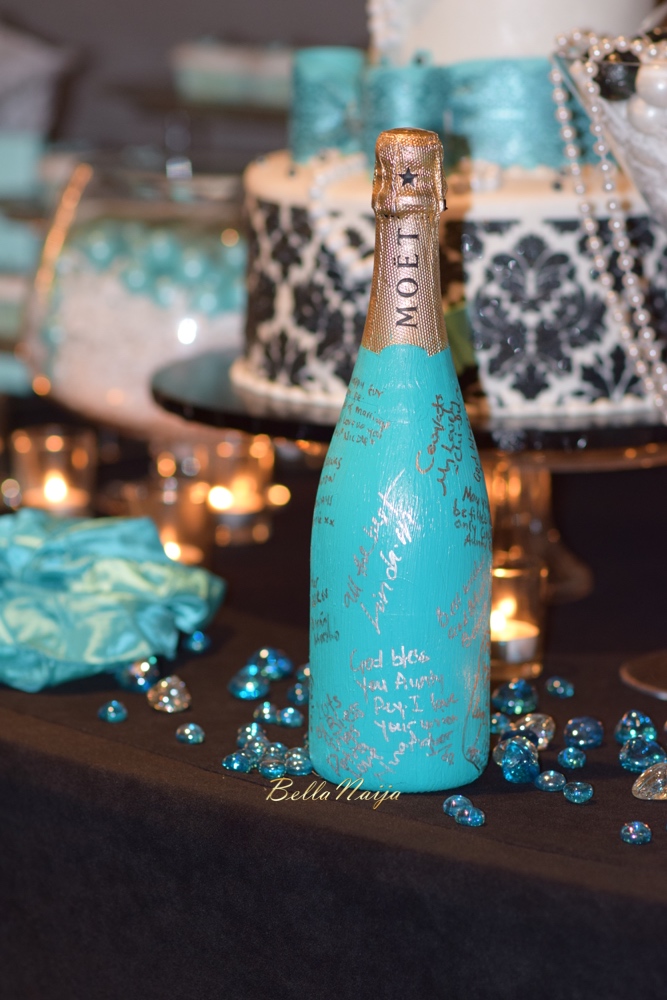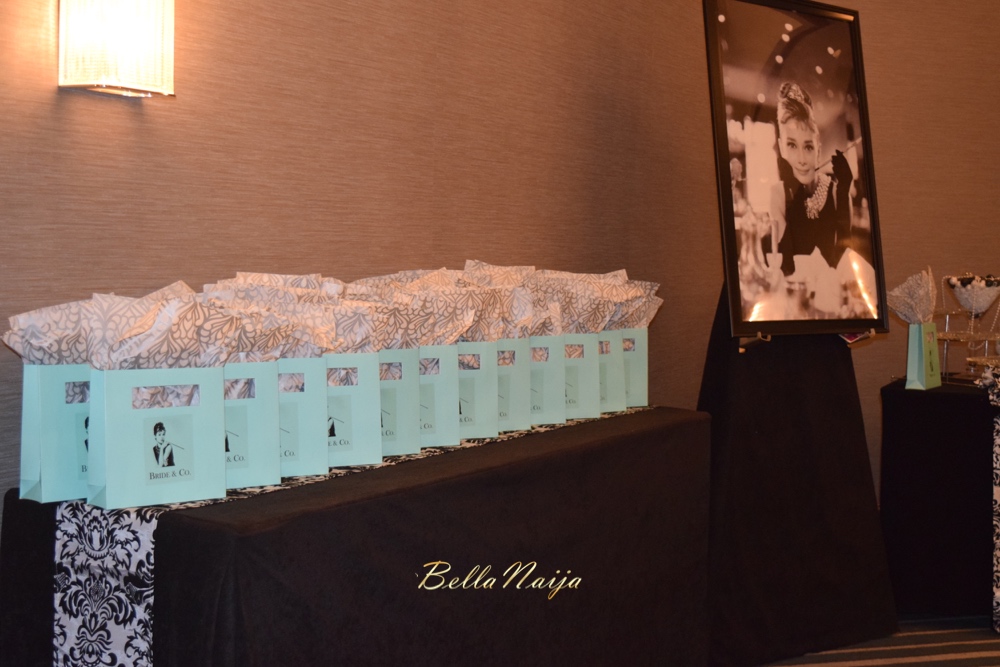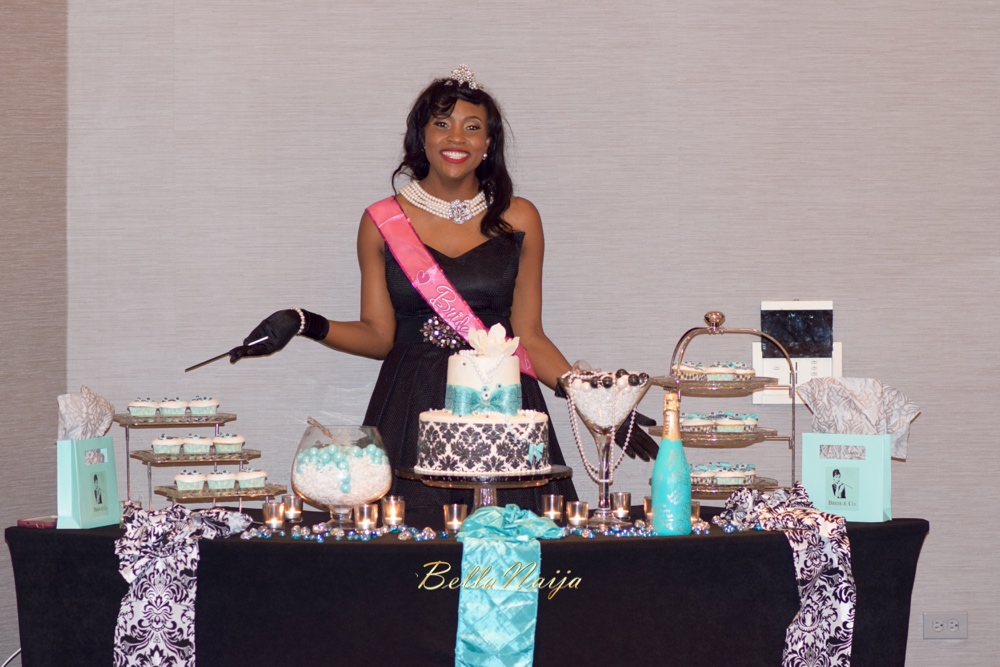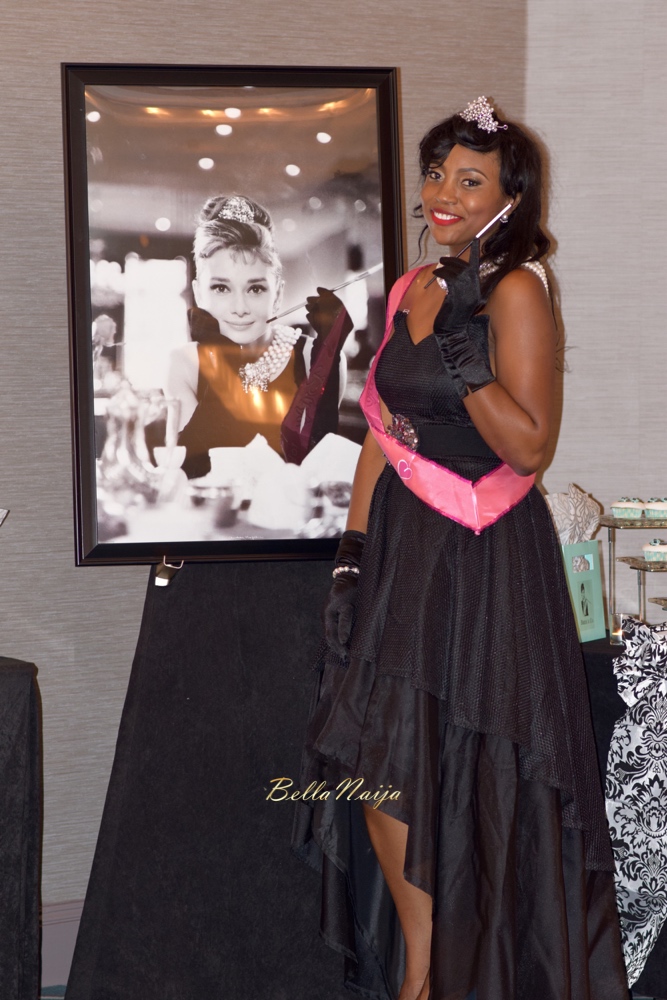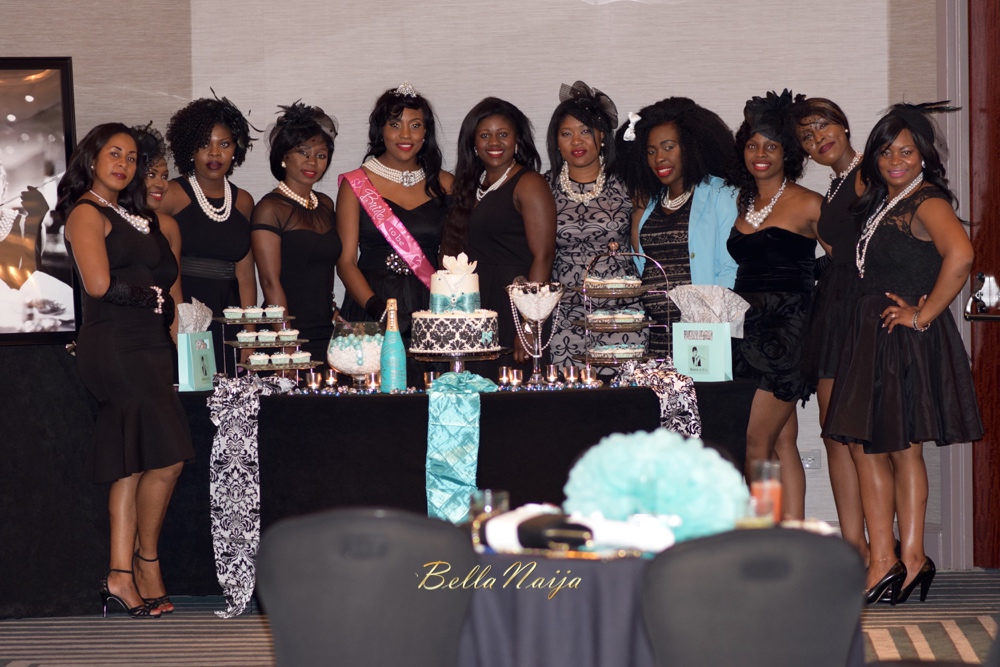 ~ Traditional Wedding Photos & Video | by Penjo Entertainment
Petra: "I wore my traditional attire during the traditional wedding rites, it is called Toghu which is worn by the people of North West and West Provinces of Cameroon. During the ceremony, I wore an orange and gold wrapper and head tie.
Emmanuel wore his traditional attire during the traditional wedding rites called Sanja which is worn by some tribes in the Southwest Province of Cameroon. During the ceremony, Emmanuel wore a gold and orange Aquada."
White Wedding Photography: RH Photo Arts | @rhphotoarts
Traditional Wedding Photography & Video: Penjo Video and Photograhy | @cameroonianweddingsbypenjo
Wedding Info | Dates, Venues, Colours
Traditional Wedding: December 27th 2014 | Kikikelaki Ceremony – Kumbo/Tobinin at the Bride's Family House, North West Province, Cameroon | Ivory & Burnt Orange
White Wedding: September 5th 2015 | La Torretta Lake & Spa, Houston, Texas, USA | Silver & Plum
Wedding Attire
Wedding Dress: Allure Bridal dress & Veil from La Reve Bridal Couture
Dress Alterations: Kristin Johnston Bridal
2nd & 3rd Dress: Jovani
Bridal Makeup for Traditional Wedding: Lilu Zoe Makeup
Bridal Makeup for White wedding: Michael Harris
Hair: Pampered Society Salon
Shoes: Ceremony: Badgley Mischka | Reception: Lanvin Paris
Jewelry: Zales & Swarovski
Bouquet: Lee of A Memorable Event
Groom's Ceremony Suit: Armani Blazer with Plum Armani Vest
Reception Suit: Piattelli
Bridesmaid Dresses: Alfred Sung
Groomsmen Suits: Calvin Klein
Vendors
Wedding Planner: Dure Events
White Wedding Decor/Flowers: A Memorable Event – DJU Productions
Traditional Wedding Cake: Yvonne's Couture Cakes
White Wedding Cake: Edet Okon
Traditional Wedding Decor: Deco Planet, Bamenda, Cameroon
Traditional Catering: Dreamland Restaurant, Bamenda, Cameroon
Tradional Tents/Chairs: White House Restaurant, Bamenda, Cameroon
White Wedding Dinner: La Torretta Lake Resort & Spa
Cocktail Hour: La Torretta Lake Resort & Spa/La Bella Event & Planning Services
Fruit Table: Susy's Catering and Fruit Designer
DJ: DJ Skeeper & DJ Montana
Day of Stationery: Oda Creative
Limo Services: ACE Limo Service
Rolls Royce: RH Luxury Cars