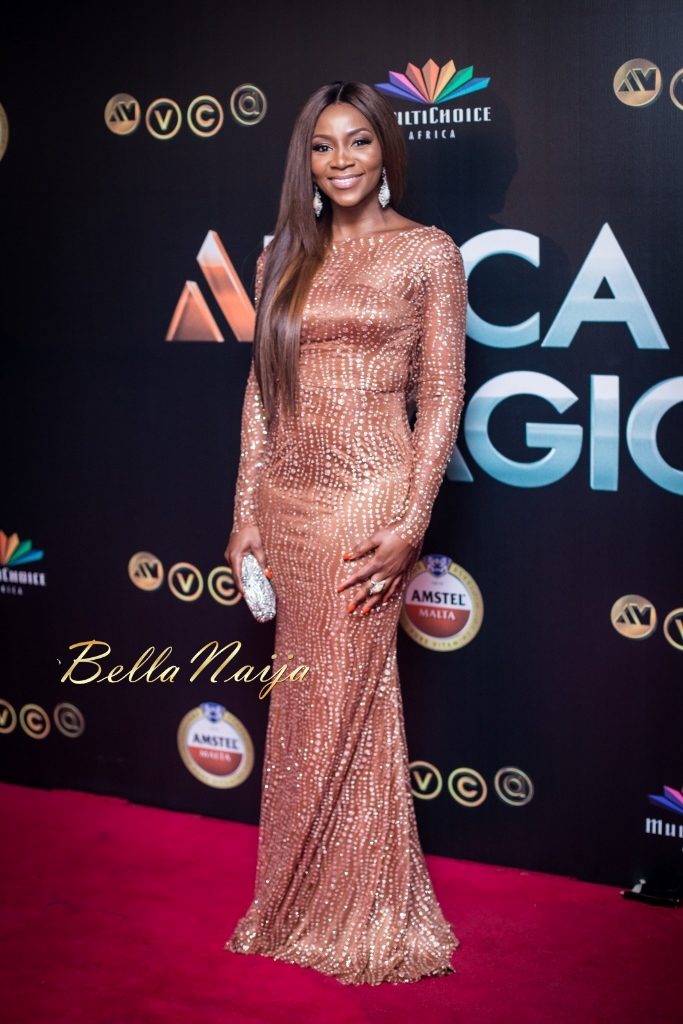 I flew down to Lagos for the AMVCAs and was in no time in the good company of Diana Opoti – who's the Founder of 100 Days of African Fashion – an annual campaign where she spends 100 days wearing different African designers – it's been covered by BuzzFeed, BellaNaija and more.
The morning before the AMVCAs was one filled with exploration for us, from doing our respective fittings with designers Emmy Kasbit and Iconic Invanity, to getting our make up done by MAC Cosmetics, we had a lot to do with very little time by our side. We were finally 30 minutes late but it was indeed a day well spent in preparation for the AMVCAs.
We were at the venue in no time (which was a walking distance from where we were staying). We were seated at exactly 6.40pm at the gallery—although far away from where the nominees were seated, I can, however, argue that we had the very best view.
I was excited to be at the AMVCAs because of how great of a glamour and beauty institution that it has come to represent over it's 4 years of existence, and this was going to be my first time being present at the awards show, so, imagine the castles I'd built in my mind and how happy I was to be one of the few guests present at the event—I knew what I was looking forward to, and at the end of the day, these five highlights mentioned below had to be my most memorable moments from the awards!
Genevieve was Indeed the Belle of the Ball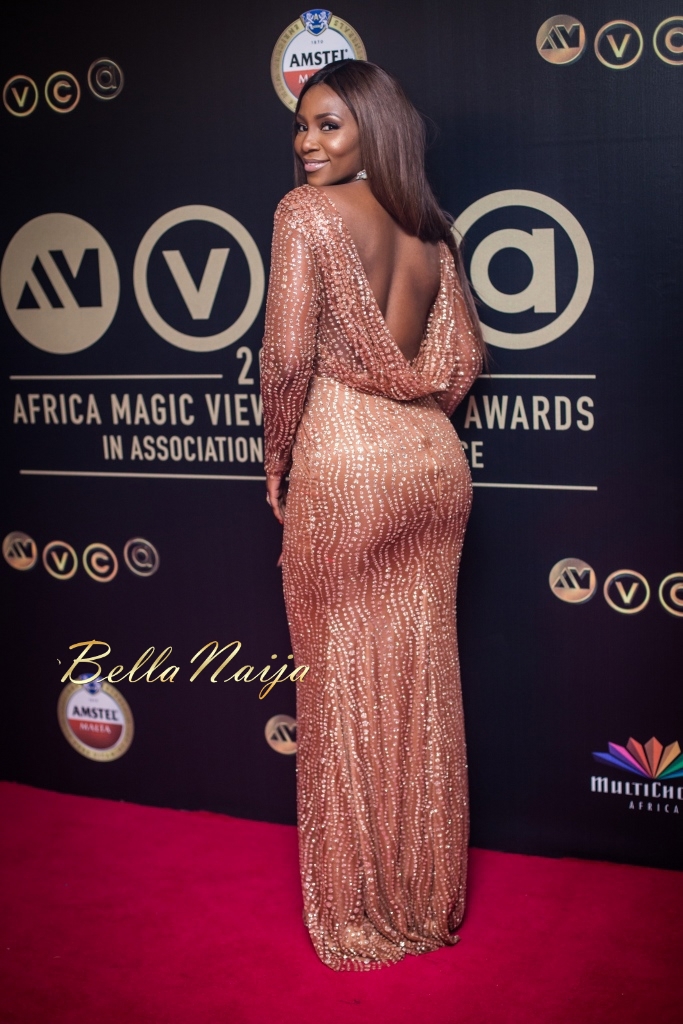 Say what you may, I thought that Genevieve Nnaji looked absolutely ravishing, she was my best dressed person by a far—far margin, she completely understands the phrase 'power dressing' to the latter and made very good use of it. Her hair was relaxed in a super sleek way, her makeup absolutely stunning, her dress…oh my God, that dress was everything! If there was any moment that Genevieve's style star shone the brightest, it'd have to be on the 2016 AMVCAs red carpet. Do I have to talk about her body? Genevieve, if you're reading this darling—all those sweaty hours that you must have burnt in the gym doing all those squats, aerobics, yoga e.t.c have really paid off—keep it up, and I wouldn't mind watching your fitness video.
Bukky Ajayi's Moving Speech and Adesua Etomi's Quote Worthy Acceptance Speech
"You all standing for me?" – Bukky Ajayi
This is one of the most touching moments in AMVCA history.#amvca2016 pic.twitter.com/LdFXXQLscN

— ID Africa (@IDAfricaNG) March 5, 2016
The 2016 AMVCAs would not have been what it was without Bukky's heartfelt acceptance speech after being awarded her Merit Awards. I cried, the people around me did too. I could see that it meant the world to her, and when she said "..are you all standing for me?", my heart, nerve and sinew almost gave up on me, I just wanted to give her a hug and say, "yes ma, you deserve much more than this".
But that wasn't all, for a second, I was disappointed that Genevieve did not get the best actress award—because I thought she brought her character to life in 'Road to Yesterday'.
I really didn't know much about Adesua Etomi, but the moment she held the mic and started talking, I knew that Adesua was Nollywood's best kept secret. She spoke with so much vigour, strength and confidence, and did not forget to use that opportunity to encourage every other person to never let fear stop them from pursuing their dreams.
The International Acts Really Meant Business 
In comparison to past editions, the Nigerian acts that performed at the 2016 AMVCAs did a much better job than the past performers, there were no lip synching at all; but even at that, the international acts did a far more memorable job. First was Salvadore, who gave a rib cracking performance, he literally left me in stiches with his Nollywood and Bollywood inspired jokes, and more than anything else, they really were preaching a salient gospel. Also along the same line was South African song bird – Zonke Dikana who really sangggg! I mean, I am yet to see a better performance at the AMVCAs, so, it'll be safe to say she set the bar for future performers.
Dry was the Movie of the Night
I'd have left the AMVCAs with a heavy heart if Dry (Stephanie Okereke, Liz Benson's power house performances were completely calmed by Zubaida Ibrahim Fagge's stellar debut performance)  had not gotten the movie of the year award. I jumped and screamed as Stephanie Okereke stepped out to collect the award, which in my opinion was quite timely especially because of the recent case of Ese Oruru which just like in the movie Dry, is about a forceful girl child marriage, which is clearly happening around us more than we'd imagined.
The 2016 AMVCAs was not an "African Time" affair
For the first time in my life, I was at a Nigerian event that started at exactly 7pm and ended at exactly 9.40pm (as scheduled), that was absolutely amazing for me. Besides which, the AMVCAs organisation seemed pretty much decent especially in comparison to their peers.
I thoroughly enjoyed the show, and I expect to back in 2017 to an AMVCA with more glamorously dressed guests and even much more interesting and captivating content.
Until then,
Ciao!