It's time for another edition of BN Style Your Bump, a series where BN Style looks into maternity style from different women to help inspire you! Last week's edition was on Patricia Bright and before that we had Chrissy Teigen.
Today's BN Style Your Bump edition features mother of three, entrepreneur and TV personality Kourtney Kardashian. A part of the stylish Kardashian Klan (see what I did there?), she is definitely one chic mum who knows how to rock her baby bump while staying true to her personal style with. Kourtney isn't very tall  but her choice of clothes flatter her figure with the baby bump and height perfectly. She also loves to accessorise with hats, sunglasses, statement jewellery and cute footwear.
So let's start with Maxi Dresses
The print of this dress works as the perfect camouflage for her baby bump. The length of the dress also helps conceal the bump while the V-neckline defines her face and exposes her neck which are two of her slimmest features at this stage.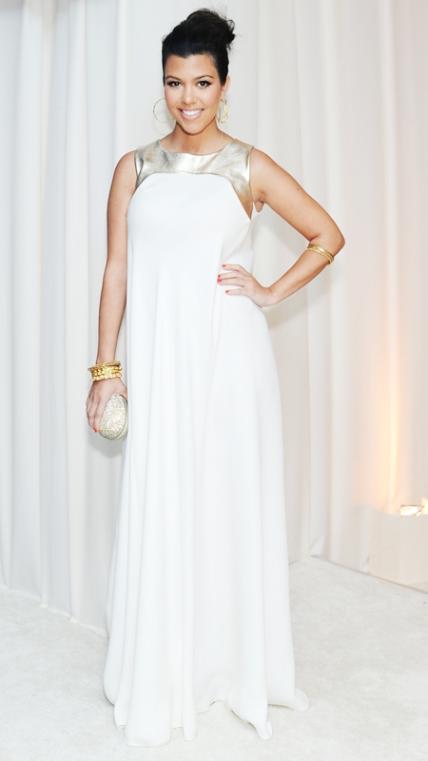 Looking very elegant in this white dress with a gold neckline that draws attention to her slim face.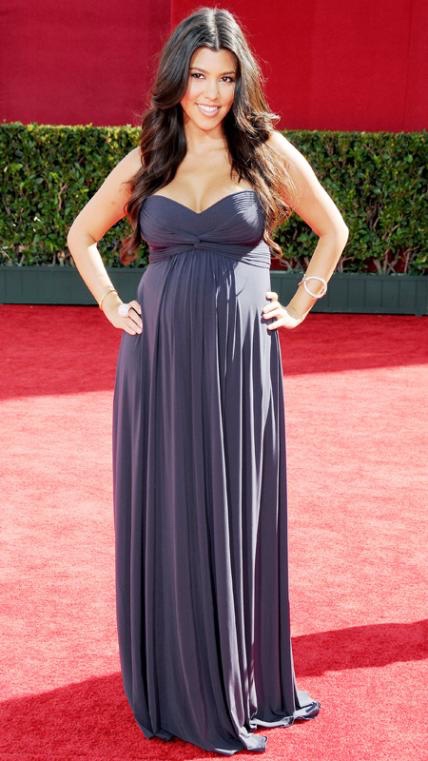 This strapless gown conceals her bump and flaunts her voluptuous chest. Pregnancy does give you the perfect décolletage so please, flaunt it!
Classic Chrissy Teigen maternity style, these maxi dresses with thigh high slits help conceal the bump and flaunt her toned legs.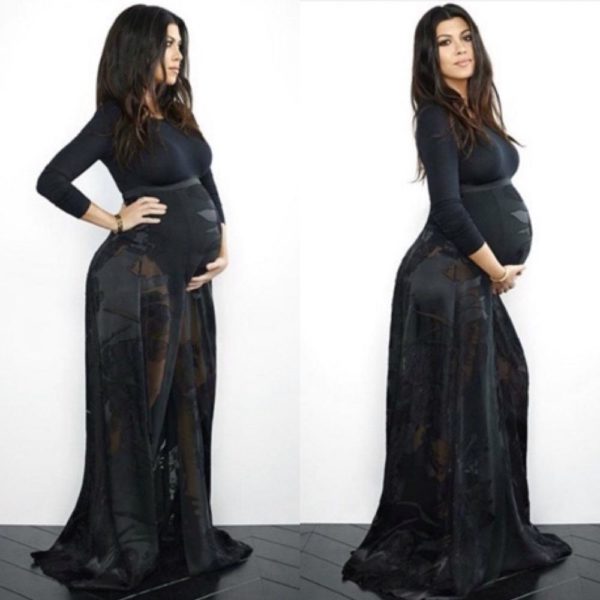 A black maxi dress with an empire/high waist cut always works. The fitted opaque sleeves help to balance the volume and transparency of the dress on the bottom.
Fringe Love
You'll notice that for both looks, Kourtney creates volume on the top by layering her outfits with a fringe jacket to balance the limb exposing short dresses she has on.
Wearing Stripes, Kourney goes horizontal
A lot of people say when you're wide wear vertical stripes and when you're tall wear horizontal stripes to contrast your shape. But frankly if you can make it work, then by all means defy all fashion rules/myths. Also notice how she creates volume with this longline jacket.
Flannel shirts and short dresses
Again with the short dresses, she creates volume on top with these flannel shirts and her staple hat and sunglasses.
The Print Lover
I really like this print and the silhouette of this dress on her, she hardly looks pregnant here.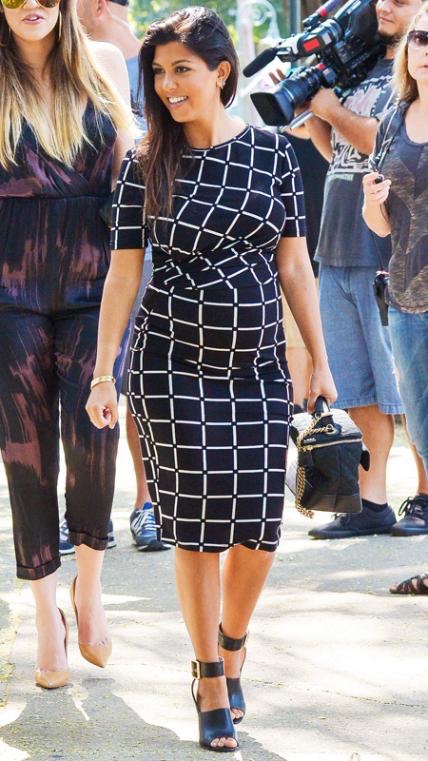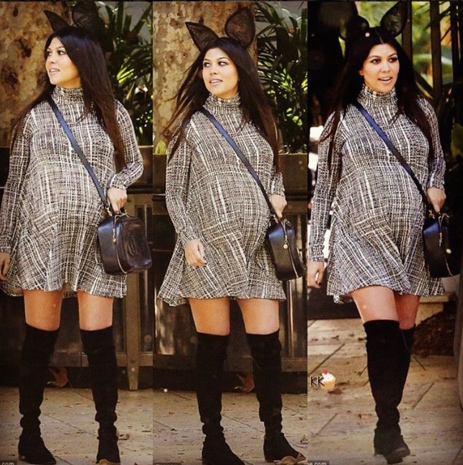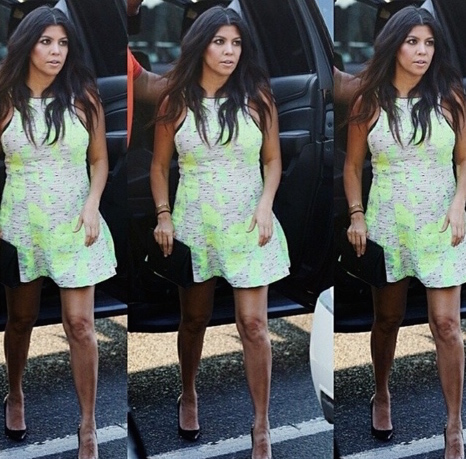 Don't ever shy away from prints. If you're afraid your belly will distort the pattern on the dress, a lot of maternity clothing stores make print dresses suitable for your baby bump so invest in some or try print dresses with the A-line silhouette.
Forget Trousers try a Jumpsuit!
Here she is in a white lace jumpsuit with wide legs (remember to balance volume) and a plunging V-neckline (flaunts your ample décolletage and define your face). I'd have never suggested it but she made it work.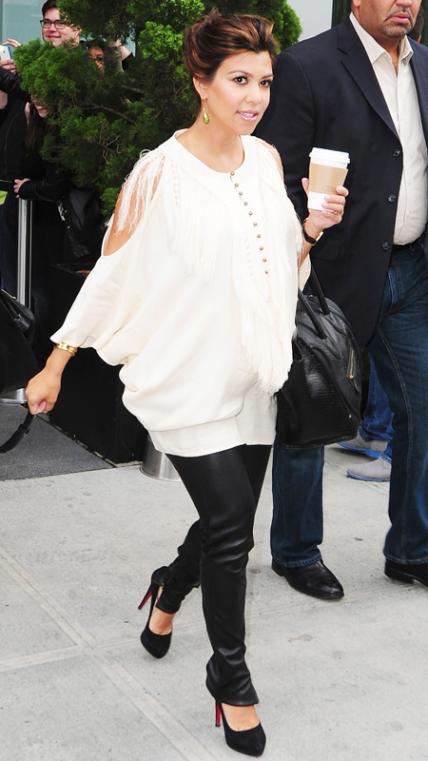 Again with a mixture of proportions, she's wearing black skinny leather trousers with this white batwing sleeved top. The contrast of black and white also helps.
She also likes long jackets and coats to help conceal the bump, or maybe it was just really windy/cold.
Lots of Leg in these short dresses.
Kourtney has mastered the perfect formula of hats, exposed legs and statement jewellery.
The statement jewellery in these first three pictures help draw attention more to her face than the baby bump.
To conclude this edition, the petite Kourtney wears a lot of short to knee-length dresses to show off her toned legs. She perfects the balancing act of flaunting your best features.
See more styling tips in my BN Body Series.
Credits: Kourtney Kardashian | @kourtneykardashian, InStyle.com, Simon Russell/Getty Images, Jason Merritt/Getty Images, Paul Zimmerman/Getty Images, Ray Tamarra/Getty Images, Frazer Harrison/Getty Images, Dimitrios Kambouris/E/NBCU Photo Bank via Getty Images for E!, Jason Merritt/Getty Images