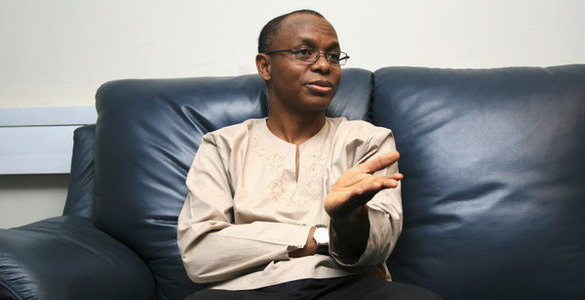 Ever since Kaduna State Governor, Nasir El-Rufai proposed a bill to the state house of assembly, he's been faced with criticism from individuals and church leaders, among which is Apostle Johnson Suleiman, who pronounced death on the governor if he does not retract the bill.
The governor, responding to questions in a recent interview with selected journalists, has said that apart from the Yobe, Adamawa and Borno axis, Kaduna state has suffered death and destruction of properties the most through misuse and abuse of religion. Hence, the need to regulate those who "preach" by the appropriate bodies, ensuring that they are "qualified, trained and certified by their peers to do it."
"Are you telling me it is okay for someone to put up speakers in the night and start making a noise, be it Islam or Christianity, disturbing people? Is that okay? Which chapter in the two holy books says that Jesus or Muhammad (SAW) did that. Are we not trying to copy them? Are they not the perfections of both our religions? Jesus said, 'Give to God what is God's and to Caesar what is Caesar's.' Government is the Caesar." he said.
When asked what he has to say concerning the fact that many are taking the bill to be aimed at stopping the practice of Christianity and Islam in the country, he said:
I have not seen anyone talking about Islam actually. Most of the people that say I would die, as if I would not die, are people who call themselves Christian clergy. Of course, I will die. If that apostle is truly an apostle, he should mention the day I will die. There is nothing in that law that prevents or infringes the practice of religion. It seeks to ensure that those that preach religion are qualified, trained and certified by their peers to do it. And some sections of the media have made it as if the law was drafted against Christianity. It is most irresponsible and I have nothing to say except to leave the matter to God.
He also said that his government has informed the Christian Association of Nigeria and the Jama'atu Nasril Islam that "if they have problems with any section, if there is anything to be done, and if they don't want the government to be involved, we will remove it, but they must regulate."
Meanwhile, OAP Freeze has written an open letter on his IG page to the governor saying he'll not die, that those calling for his death do not have the power to create life.
Source: Punch | instagram.com/daddyfreeze