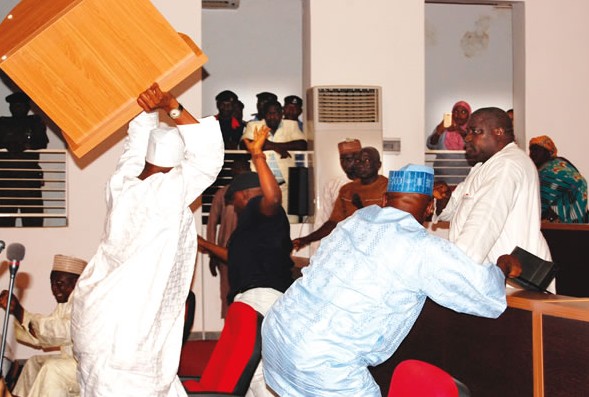 Six lawmakers in Nasarawa state have been suspended by the House for "misconduct and for bringing the House to disrepute". They were reported to be in the front-line of the  exchange of blows that took place in the house on Monday.
The legislators Abubakar Kana, Kassim Kassim, Mohammed Okpoku, Makpa Malla, Musa Ali, and Murtala Sodangi, who are all from APC are alleged to be at the fore front of the move to stop the governor's appointment of sole administrators of the eleven local councils in the state.
The fracas that ensued in the house on Monday was as a result of the move by the speaker of the house to suspend them for opposing the governor's action.
The six lawmakers were invited by the DSS on Tuesday over the chaos, that was when the other lawmakers met and decided to suspend them indefinitely. The motion for their suspension was made by the house Majority leader Tango Tunga, supported by the Minority leader, Muhammed Alkali and the other fourteen lawmakers present.
Source: Vanguard