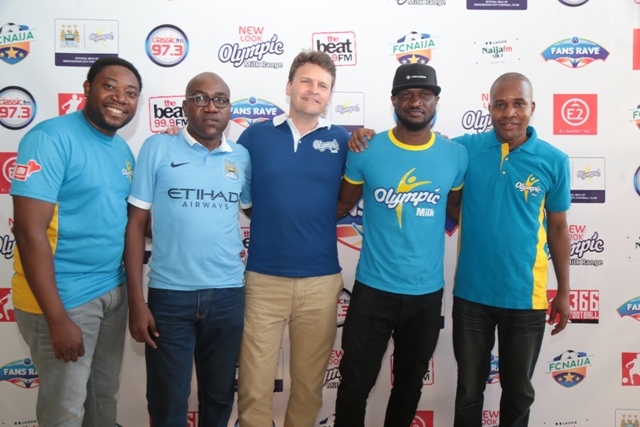 Rhapsody's Ikeja came alive with so much excitement on Saturday April 16th as Olympic brought fans together for the Olympic Football Fan Rave. It was an evening of football, music, comedy and entertainment with the Brand Ambassador, Peter Okoye of P Square joining other loyal consumers to watch the Chelsea vs Man City game.
Peter Okoye and the fans had an amazing time savouring every moment of the match day experience. From playful banters to the photo opportunities, the consumers had an great time.
Just when the fans thought they've had enough fun for the day, Peter made two lucky Olympic consumers super elated; he gave out a whopping N50,000 to 27-year-old Samuel Kanu for predicting another goal for Man City before half time while Abisola Mariam got for herself his Gucci wrist watch for being passionate about the match.
The high point of the day was the raffle draw where one Olympic fan won the ultimate prize of an all expense paid trip to watch a Man City match courtesy of Olympic. 33-year-old Olabode Akinrinola couldn't contain his excitement and he was full of praises for Olympic at the opportunity of an exciting trip to Etihad Stadium in Manchester UK.
Popular sports OAPs Chico of Classic FM, Tolu Shotade of Inspiration FM, Biola Kazeem of Else Sports and several others were also present to add more colour to the occasion.
See Photos:
———————————————————————————————————————
Sponsored Content