BellaNaija Style presents Collection Conversations, a weekly round up of all the collections and look books from Nigerian designers featured on BN Style from the previous week. Collection Conversations features Eki Ogunbor & Richard Akuson sharing their individual thoughts on featured collections from the previous week.
Let's begin!
***
Eki: What did u think of The Muse Factory?
Richard: I thought it was a good embodiment of resort wardrobe, light fabrication, free silhouette and colourful prints
Eki: I really liked it and the colours as well, but I wish the pictures were a little brighter. The contract between the models rich skin and the fabric ! ? My fave? The off shoulder dress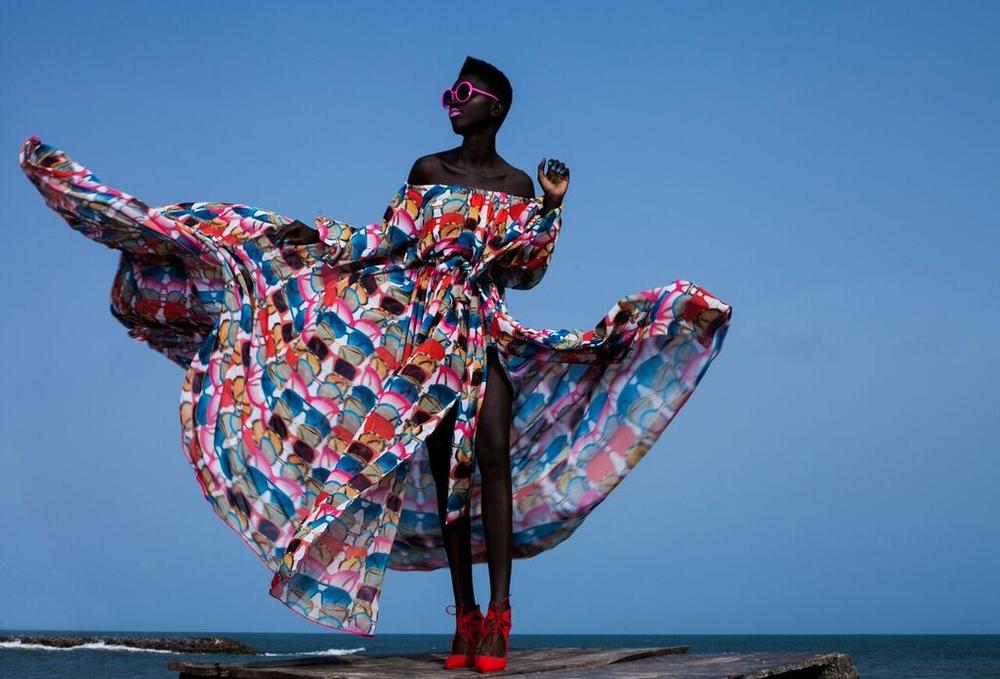 Richard: Oh yes, the entire could have used some more light. Mine too. And I love how it flared up in the campaign
Eki: Next is Tongoro
Richard: Oh my Tongoro ??
Eki: More off shoulder pieces..! Definitely seeing the trend here. The prints and fabrics are great and everything looks very well made. I especially love the Jewelry used as well, I want that chocker!!
Richard: Everything looks absolutely well made to perfection. I especially loved the mules and choker too. As a whole, this is a very functional and wearable collection
Eki: I know. It's so hard for me to pick a fave but I'll pick the polka dot dress with exaggerated sleeves and the black V-neck jumpsuit
Richard: Lord, that polka dot dress is GOOD!! But I'll go with the pin stripped ruched number
Eki: The blue one? Love it
Richard: Yes ?
Eki: Next is Tokyo James. I wish the photos were full length but I love this vibrant yellow
Richard: Me too. But someone might argue that that's the idea of campaigns, to make you want more. I love the colourful back drop. I love the clothes, creative direction, model poses and photography. Very well done. These are the sorts of campaigns that you'd see on W or GQ America. Very high fashion and so far, this is my best campaign this season
Eki: Oh ok! I guess you really like it then lol. So what's ur fave? Mine is the embroidered jacket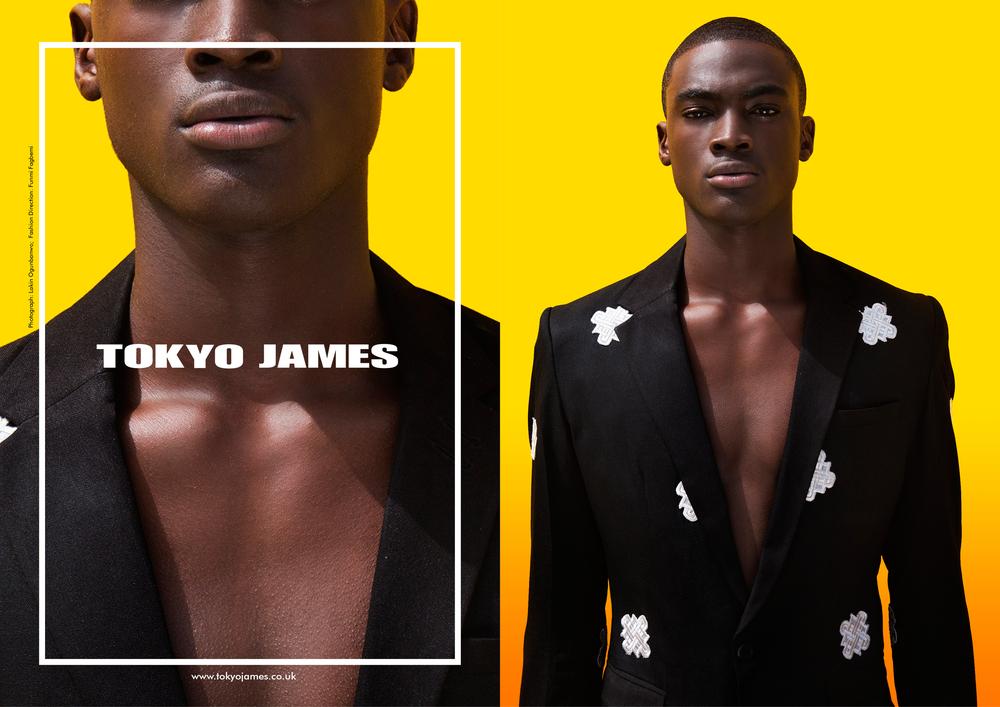 Richard: I love that appliqué piece too but that perforated white net piece is everything
Eki: Lol! I knew it would be your fave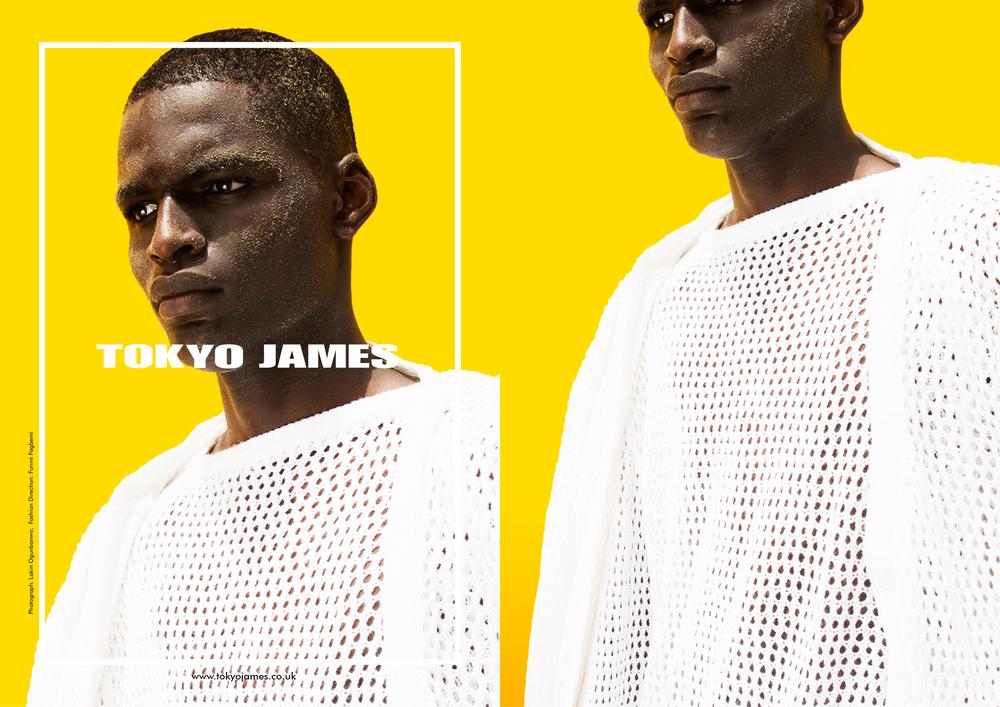 Richard: Hahahah. You know me!!
Eki: Ok House of Kaya next
Richard: For me, House of Kaya was something I could really relate to. The story behind the collection etc
I had a talk with the designer a long time ago and I can remember him telling me about his constant struggle to be modest and fashion forward. It's something that I see playing profoundly even in the collection story. How can you be both properly covered as a muslim woman and still be fashion forward? Besides this though, I love the white cape dress. Looks really regal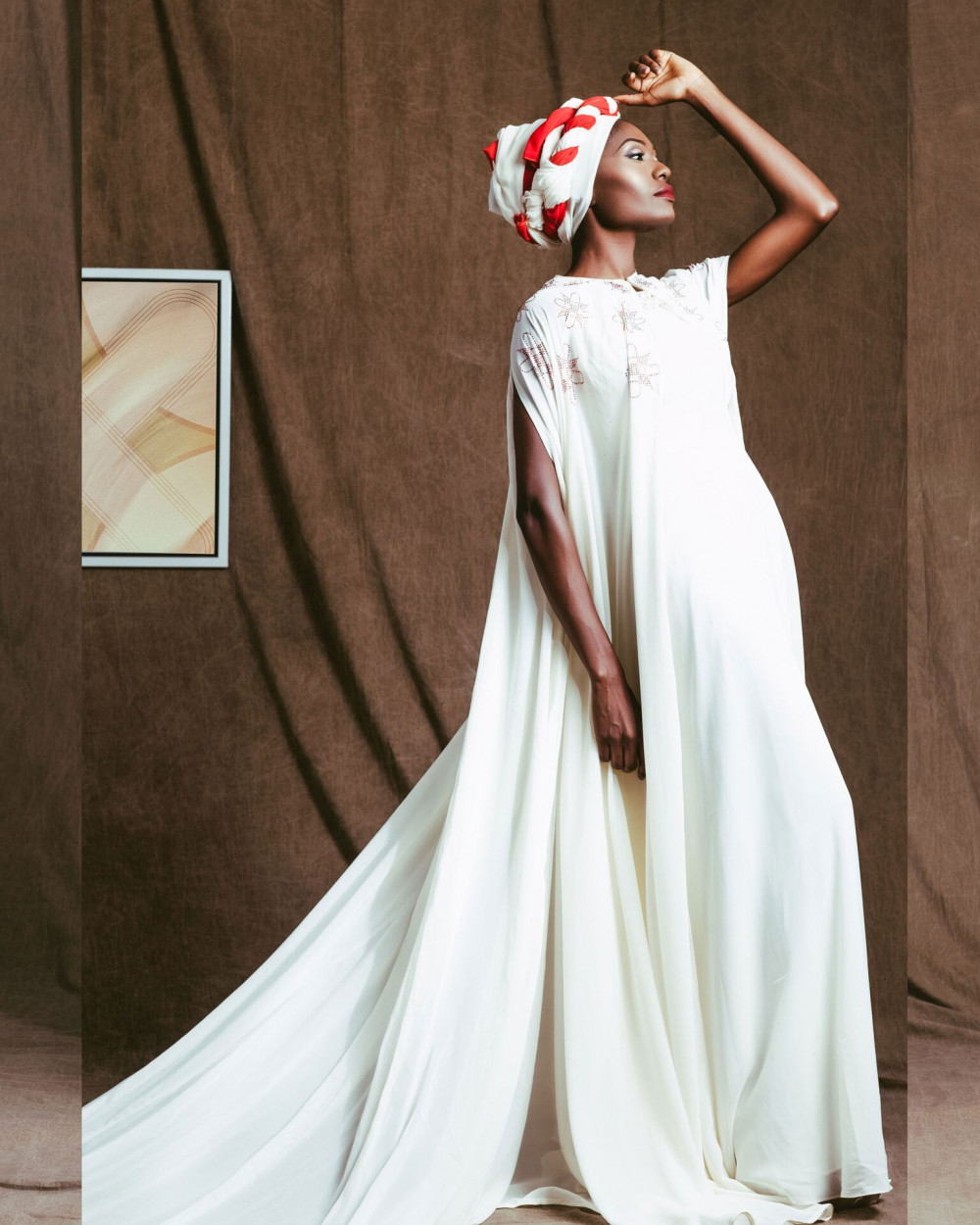 Eki: I totally agree with you. The collection is a good balance and again it's well made. My fave are the ones with embellishments. I do like that cape dress but I would have preferred a better turban. The side view of this red one looks a little messy but it's fine cuz the dress still speaks volumes.
Richard: Oh I love that piece with the embellishments too
Eki: Obinna Omeruo next
Richard: I liked the idea behind the collection. But not so much the output. The little details such as the embroidered musical notes etc were quite interesting additives. But that's the farthest for me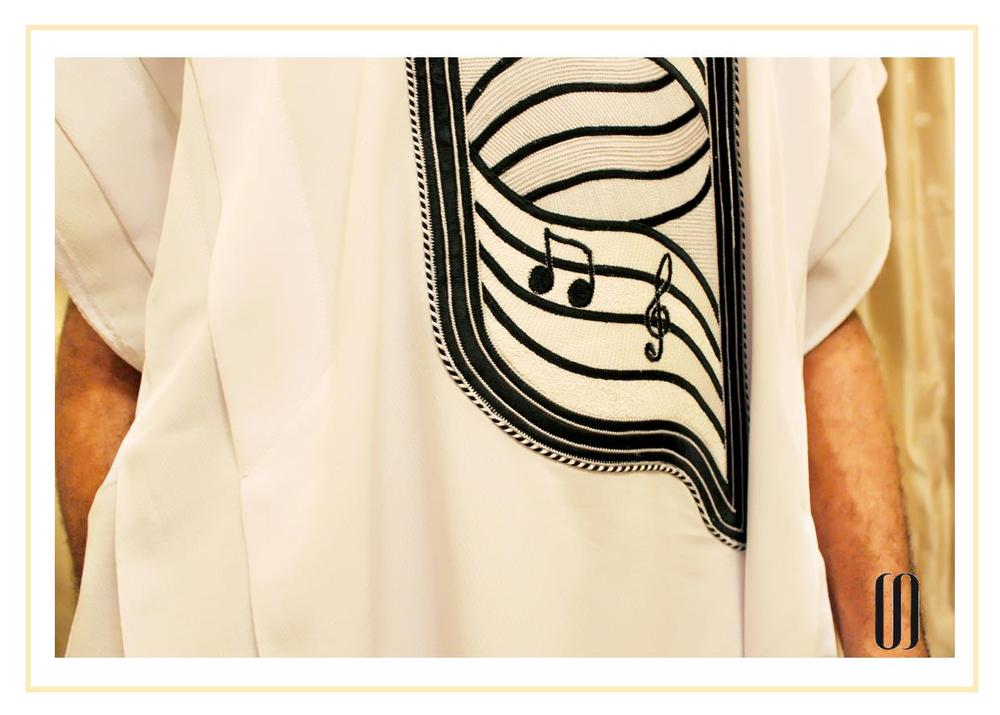 Eki: I agree, something different and interesting with those musical notes. The agbada too looks a bit different with the layered sleeves. It's my first time seeing this or has it been done before ?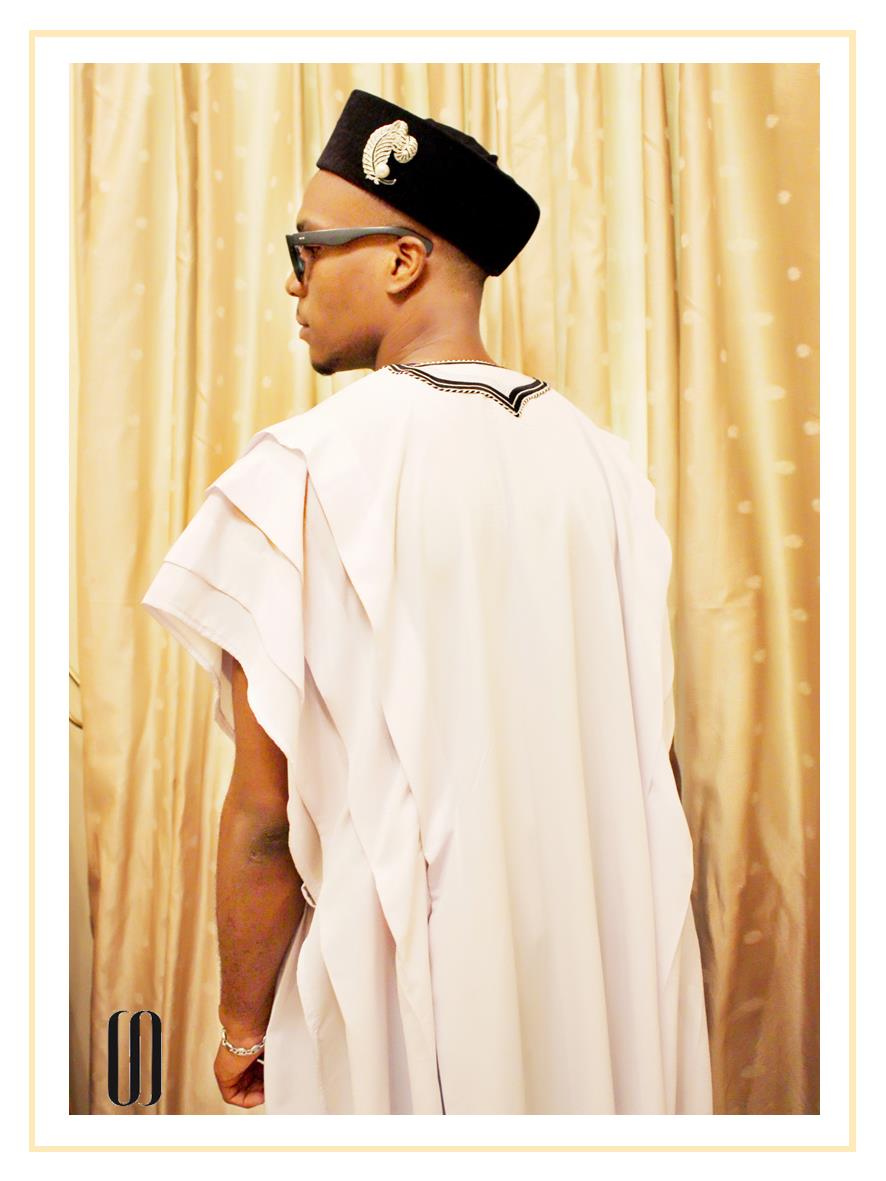 Richard: I really don't know, simply because agbadas aren't my kind of things
Eki: ?ok then
Richard: I don't see how a designer can make agbadas. In my mind, that's exclusive to tailors
Eki: Looool It is in our own minds that we stay limited.
Richard: I see most Nigerian designers doing that everyday and I just feel it's just pure laziness. What's creative about an agbada really?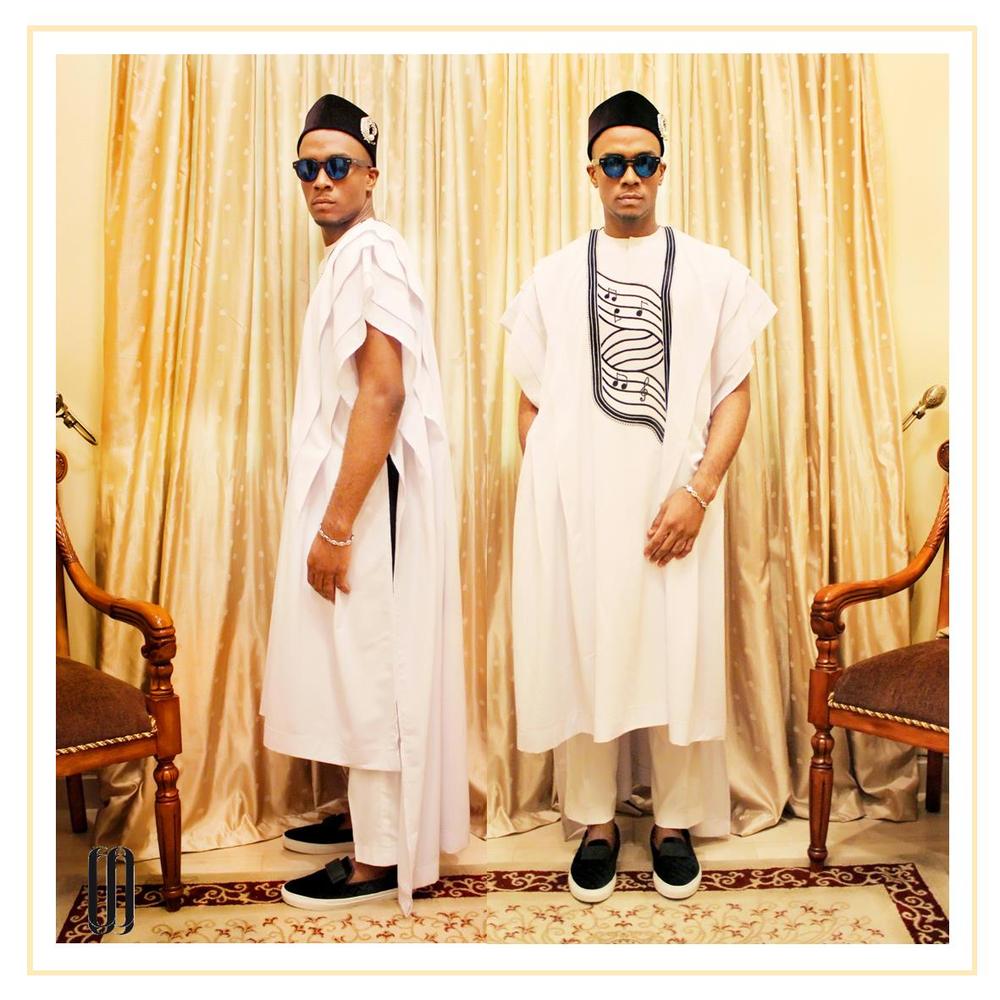 Eki: I think Obinna was creative with the sleeves though. I definitely see ur point about laziness, the concept of an agbada can be lazy but I don't think designers shouldn't limit themselves. If they want to do agbada, let them, just make sure it's done right. But Oliver Twist aren't u the one always wanting more lol
Richard: Yes, he was and with the floral appliques etc But I strongly feel agbadas should be something that designers should stay away from except they're majorly reworking it to something new and really creative
Eki: So what about people making suits we've seen a million times?
Richard: Not every tailor can make a good suit. You can always tell the difference
Eki: True
Richard: My point is, there's so much you can do with a suit – creatively. And it takes a good designer to construct good suits. But agbadas are quite the same. There's little to no room for anything new. Or rather, I'm yet to see a designer go that far. And you know I always complain about how boring suits are for me
Eki: Hm… I think suits and agbada's are two classics and ideally they shouldn't be tampered with they should just be made well. But if a designer comes up with something creative with these classics or leaves them as they are I'm all for it. None of them can ever be boring to me, I think I just can't get bored with menswear. I hope I'm making sense
Richard: Nah, classics are meant to be reworked by creative minds. That's what makes the old new, the boring interesting, the usual unsual
Eki: And I totally agree with that, be creative and make all sorts but in the end we all go back to the basics eventually and work our way up from there cuz that's what works most times. Richard moving on Biko, Oliver
Richard: Lol Ok
Eki: So Onwuchekwa by Chikezie Daniel.
Wow a lot of things in this collection
Richard: Hahaha. Well, this is quite interesting. Lots of embellishments and irregular hemlines, sheer cutouts and mix-match. Quite a treat.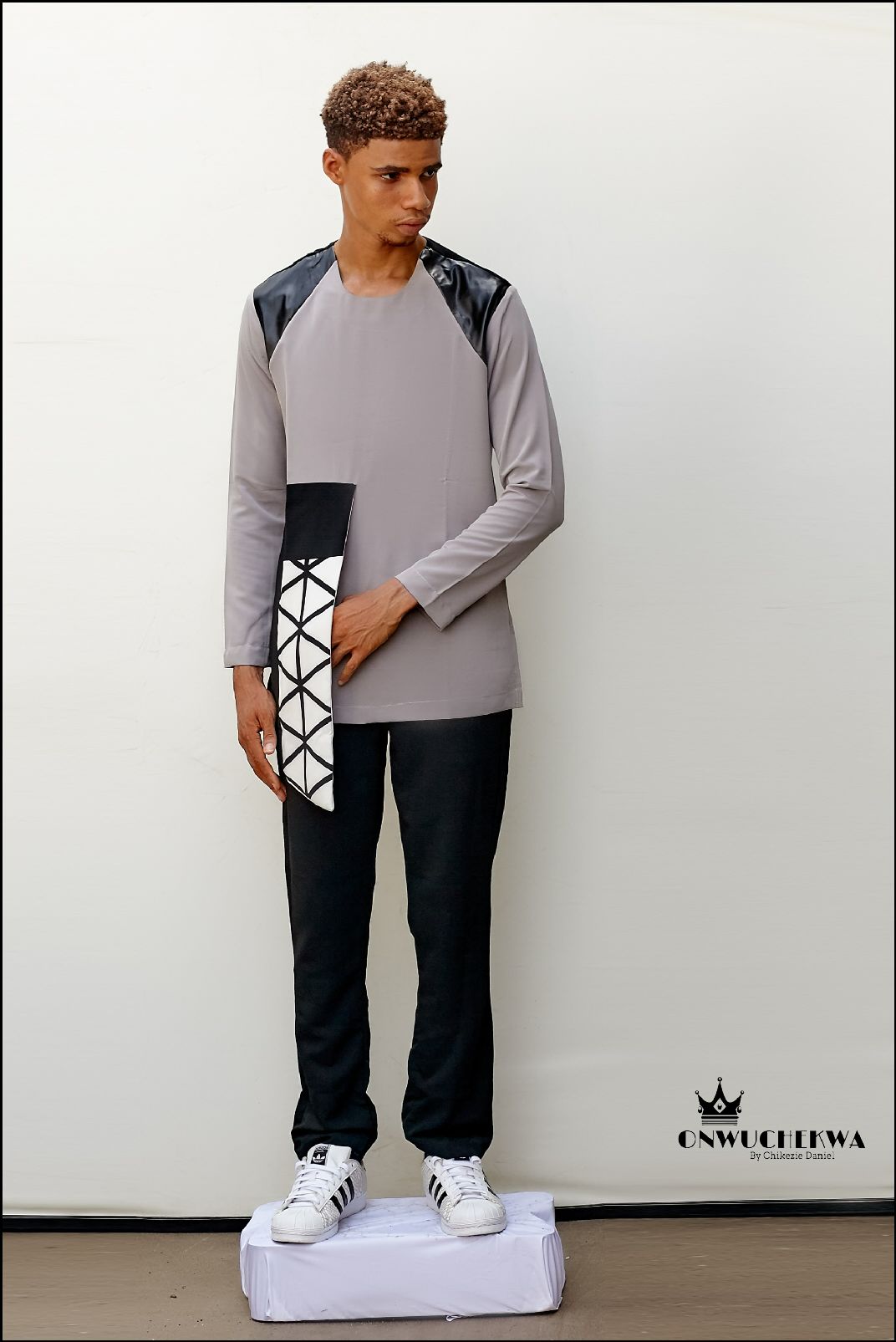 Eki: Yea. Interesting. I guess I like the creativity?
Richard: Do you think they're wearable tho?
Eki: Leather, embellishments, mesh, floral lace appliqué, it's really interesting. My answer to that, I think the designer must know who his market is, I think he knows. I know Richard can wear somethings here… Ahah can't u?
Richard: Hahahahah I can. I remember buying a pair from his previous collection. A white tunic and pants, retailed for 15k, quite reasonable
Eki: So what's ur fave in this collection then, which do u see yourself buying again
Richard: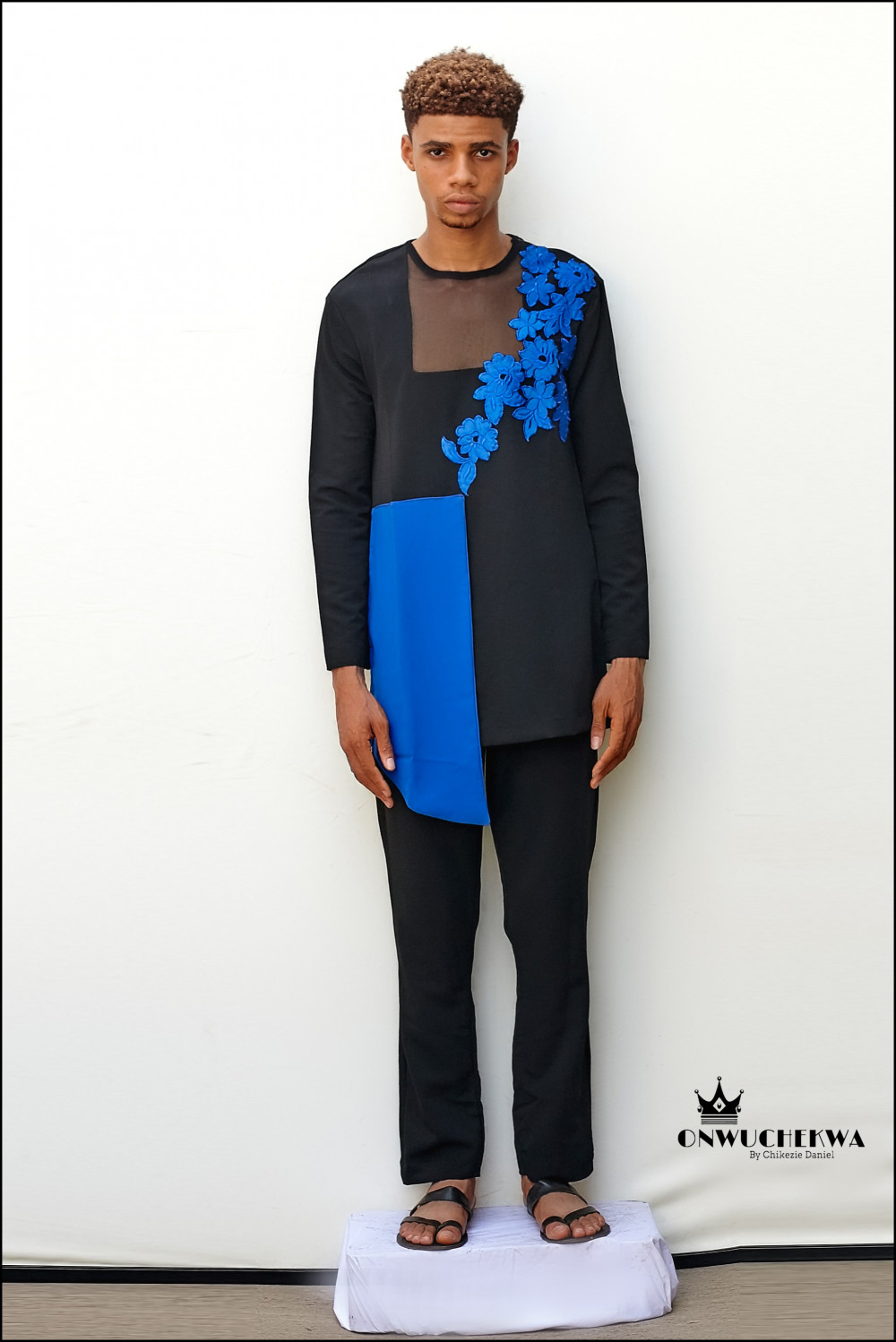 Eki: Aha! Mine is this if it was made into an a-line dress for me. Lol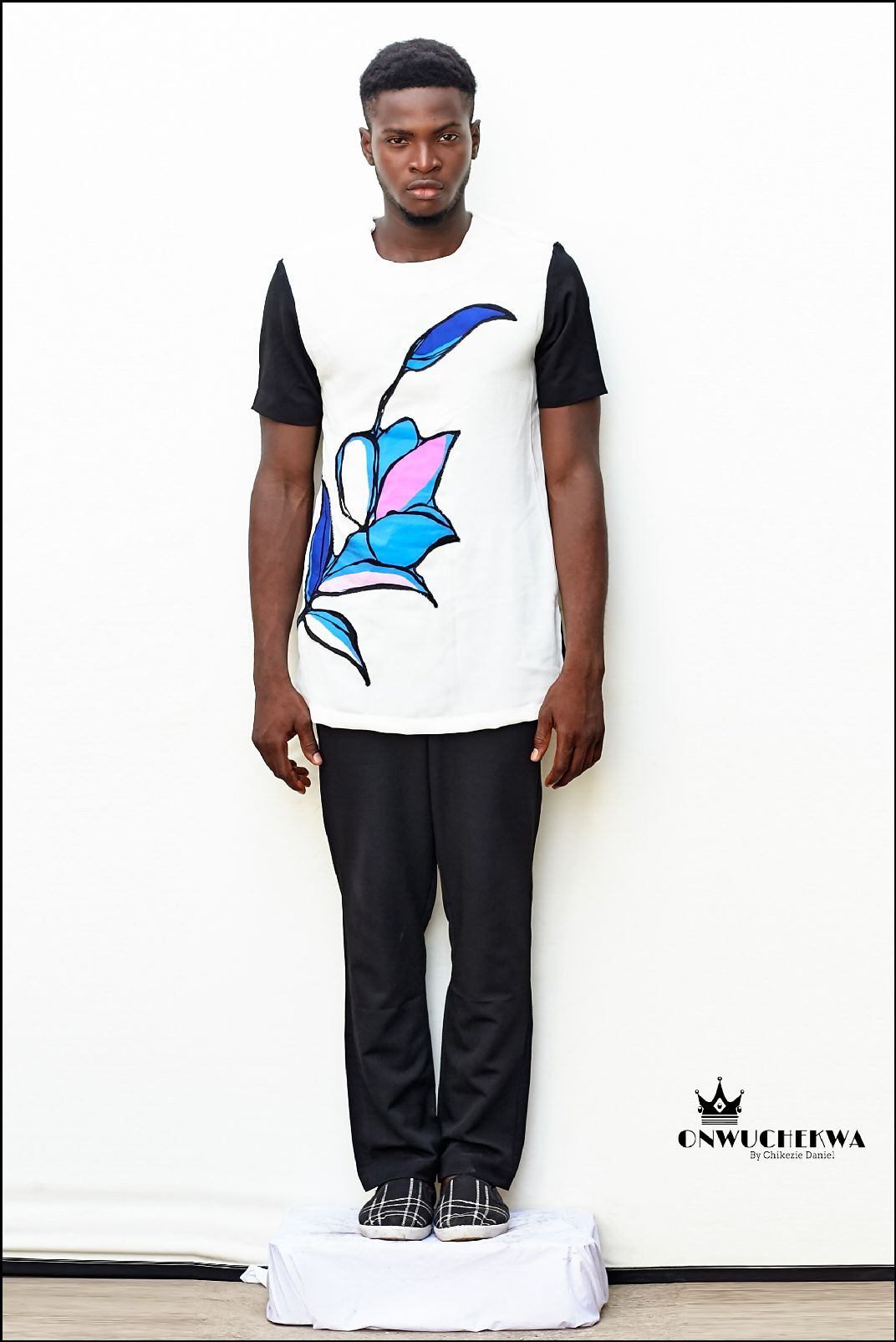 Richard: Oh my!! I like that too
***
The title 'Have Classics now become Boring?' came from the little back and forth between Richard and Eki on the concept of agbada and if designers should be making them. See the conversation about the Obinna Omeruo collection.
What do you think about that?