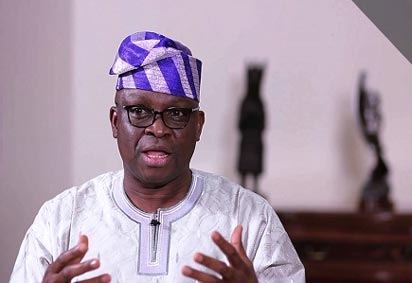 Ekiti state governor Ayo Fayose has strongly condemned the removal of subsidy by the Federal Government.
According to PUNCH, Fayose was quoted in a statement by his Special Assistant on Public Communications and New Media, Lere Olayinka, as saying, "Nigerians are now left at the mercy of political liars who took over power by deception and are governing by deceit."
Fayose said that the fuel scarcity of the last three months was deliberately orchestrated by the Federal Government to pave the way for its already preconceived increase in price.
He described the increment as insensitive and a display of the level of hatred the Buhari-led administration has for Nigerians.
When they were seeking votes from Nigerians, they promised to reduce petrol pump price from N87 to N45 per litre, they promised to create three million jobs per year, they said $1 will be equal to N1 and above all, they promised to pay unemployed youths N5, 000 stipends and provide one meal a day to pupils nationwide.

Instead of fulfilling their promises, they have increased petrol pump price to N145 per litre, increased electricity tariffs, retrenched thousands of workers and imposed untold hardships on Nigerians.

As they did in 2012, if labour leaders do not also stand up for the people at this time, posterity will not forgive them.