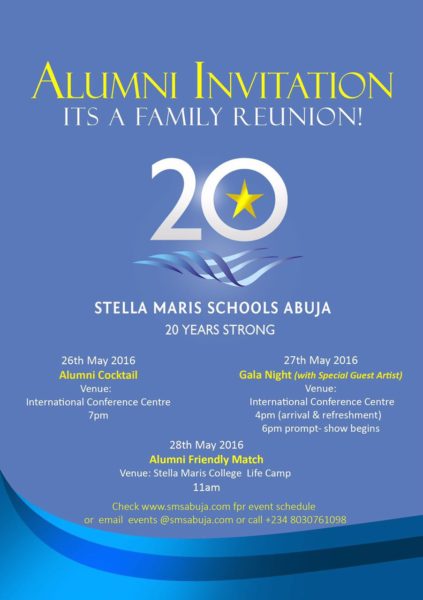 The prestigious Stella Maris College, Abuja invites its Old Students to a fun moment as part of the 20th anniversary celebrations of the school.
Be a part of this great Family Reunion and catch all the fun at the International Conference Center and Life-Camp, Abuja.
Save the dates: 26th, 27th and 28th of May, 2016.
Alumni Cocktail
Date: Thursday, 26th May, 2016
Time: 7PM
Venue: International Conference Center
Gala Night
Date: Friday, 27th May, 2016
Time: 6PM
Venue: International Conference Center
Alumni Friendly Match
Date: Saturday, 28th May, 2016
Time: 11AM
Venue: Stella Maris College Life Camp
For Alumni Invitation and details of events visit: [email protected]; Facebook: www.smsabuja.com; Twitter: smsabuja1 or Instagram: smsabuja1.
The management of the school says this is for Old Students of Stella Maris alone and it is Strictly By Invitation.
___________________________________________________________________
Sponsored Content