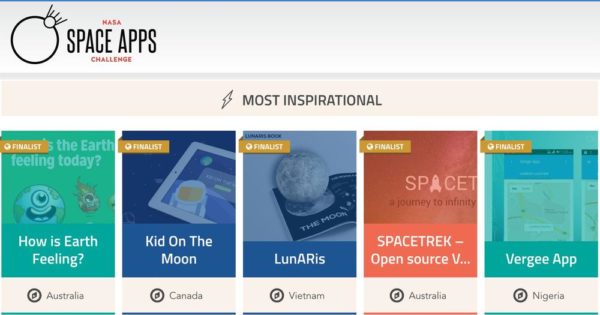 You know BellaNaija always on the hunt for positive news about Nigerians and we have a great story right here!
A Nigerian team which created the Vergee App made it to the Global Award Finals (Top 25) of the NASA Space Apps Challenge. They were selected in the Most Inspirational category.
Global nominees represent local winners nominated as the strongest solutions across every challenge category. NASA experts and Challenge Owners narrowed the field from 322 project to 25 Finalists. NASA executives will select the Global Award winners!
The lead programmer of the team shared his view on the happy news via Nairaland;
My name is Ekpang Michael Etta, a graduate of the department of forestry and wildlife University of Calabar (in) Calabar, currently undergoing my NYSC. I was the lead programmer at the just concluded Nasa Space App Challenge 2016. I and my team (Team Amazing from Enugu) created an app called vergee to help stop the Fulani herdsmen problem in Nigeria while also providing Norman farmers with resources as they arrive in an unknown location.

We are so excited to say that our app just took one step closer as the Top 25 global finalists were announced this week for the NASA Space Apps Challenge. VERGEE was named as a Top 5 Finalist in the "Most Inspirational" project category, and is proud to be representing Nigeria in the international competition.

With over 1200 projects this year created by over 15,000 participants, our project rose to the top — a testament to the innovative capacity of Nigerians

On the weekend of April 22–24, 2016, developers, makers, engineers, and entrepreneurs took on NASA-designed challenges, creating a diverse range of solutions. Over 15,000 people world-wide took part in the 2016 NASA Space Apps Challenge, with 1,287 projects produced.
You can watch the app demo below;
Vergee is an emobile pastoralism app. It aims to help pastoralist communities around the world preserve their livelihood, by providing them access to information and resources (e.g grass land, water, safe routes) to prepare and support their migration journey.
Congrats guys!