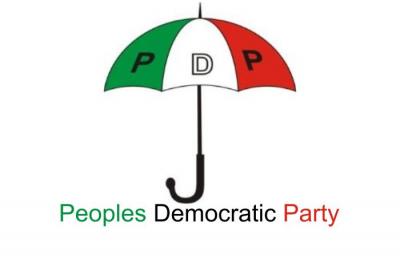 The crisis in the People's Democratic Party (PDP) on Tuesday got worse as two High Courts in Lagos and Port Harcourt gave separate orders that has now left the party with no leadership.
Recall that Senator Ali Modu Sheriff was ousted as chairman of the party during the National Convention which held in Port Harcourt last Saturday despite announcement by Sheriff that the convention had been suspended. The convention also set up a seven-man caretaker committee headed by Senator Ahmed Makarfi, a former governor of Kaduna State, while Senator Ben Obi was appointed as its secretary. Click here if you missed it.
According to PUNCH, The Justice A. M. Liman of a Federal High Court in Port Harcourt granted an interim injunction restraining Sheriff and Professor Wale Oladipo (General Secretary) from parading themselves as national officers of the party pending the determination of the motion brought before it by the party.
The court stated:
That the first (Sheriff) and second respondents (Oladipo) or any/or all the national officers, the members of the National Executive Committee and members of the National Working Committee of the plaintiff, who were removed from office by the national convention of the plaintiff held on Saturday, the May 21, 2016, in Port Harcourt, Rivers State, be and are hereby restrained from parading/holding out or continue to hold themselves out either individually or collectively as the chairman, secretary, or national officer or member of the NEC or NWC of the plaintiff, nor do anything whatsoever to negate or frustrate the decisions reached at the said convention, pending the hearing and determination of the motion on notice.
The court adjourned till June 7th 2016, for hearing of the motion on notice.
In Lagos however, Justice Ibrahim Buba of a Federal High Court said that the caretaker committee was constituted in violation of an order he made on May 12th 2016, in a suit filed before him, praying for an order preventing the conduct of election to fill the positions of the National Chairman, National Secretary and National Auditor of the PDP.
Justice Buba declared as illegal the constituted PDP caretaker committee, warning that its members – Makarfi, Ben Obi, Odion Ugbesie, Abdul Ningi, Kabir Usman, Dayo Adeyeye and Aisha Aliyu, must not "act in that capacity in defiance of this order".
"Therefore, the Inspector-General of Police is directed to enforce the order of this court until the order is set aside or all the applications before the court are disposed of," Buba added.
Buba then adjourned further proceedings till May 27th 2016.