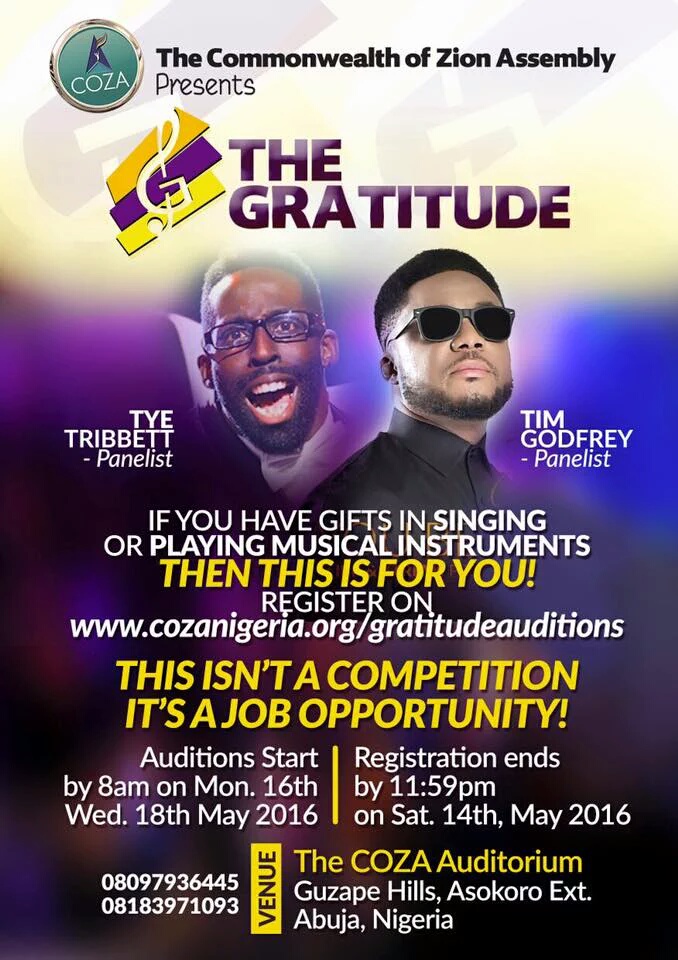 Are you gifted and talented in singing or playing music instruments and you'd like to be a full time Gospel musician? t
This is a one off opportunity for you wherever you are.
Anywhere in Nigeria and Africa, you could be part of this wonderful innovation by logging on to www.cozanigeria.org.ng/grattitudeaudions to register and then find your way to the Coza Auditorium.
Date : Monday, 16th May, 2016
Time: 9AM
Venue: COZA Auditorium, Guzape, Asokoro Extension, Abuja
Admission is FREE!
Gratitude is an innovation and a production of Coza Nigeria put together to search, nurture and produce the future Gospel music group in Africa.
The future Gospel music group in Africa will have the duo of Tim Godfrey and Tye Tribett as its official judges and so would assume the responsibility of selecting the very best amongst the contestants come Monday's audition amidst their differences in music knowhow and demographic backgrounds.
Follow @CozaNigeria and @Timgodfrey79 on Twitter and @timgodfreyofficial on Instagram for more information.
__________________________________________________________________________________
Sponsored Content