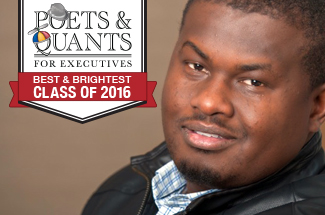 With all the doom and gloom out there, good news on Nigerians is always very welcome on BN.
CEO and Founder of Terragon Group, one of Africa's leading digital agencies with a presence in Nigeria, Kenya and South Africa, Elochukwu Umeh has been honoured as one of the Best & Brightest EMBAs in the world for 2016 by Poets & Quants for Executives.
50 accomplished business leaders who graduated from Executive MBA programmes at the world's leading business schools including Wharton, London Business School, MIT Sloan, Kellogg and IESE were selected.
Poets & Quants shares insight into the list including their rigorous criteria.
To construct the Best & Brightest list, Poets&Quants reached out to 40 of the highest-ranking EMBA programs in the world. Each was asked to submit two nominations for EMBAs who "epitomize excellence in your program." As part of the nomination process, selected students answered questions related to their biggest academic and professional accomplishments, along with sharing their favorite courses and professors and the high and low points of their experience. Schools could also include an optional faculty or student recommendation to provide a deeper look into the candidates' contributions.
Click here to see the complete list
Elo graduated from the Global Executive MBA Program at IESE Business School.
What made Elochukwu Umeh such an invaluable addition to the class of 2016? See reasons shared by the faculty below.
"Elochukwu Umeh is the embodiment of the new African executive with a global vision. Whilst still relatively young, he has fast-tracked his career in digital media by becoming an entrepreneur and has built one of the most significant companies in this sector in Africa.

"Elo's vision is about creating something truly significant by helping others to become significant in their contribution to the project. Beyond this, he is highly committed to helping his people develop themselves to becoming the best that they truly can become. His life is about giving and receiving and then giving back again.

"Elo is highly intelligent, respectful, and engaging. During the program, he has shared, both with class and faculty, his viewpoints of global business from an African perspective, and thus continually enriched the debate and more importantly the learning for himself and his peers. Beyond this, he is both proud of who he is and where he is from, but what is most disarming is his humility and his contribution, at both the academic and social levels.

"I have had the immense pleasure to watch Elo transform on each module of the program. We have often spoke about the learning, the experience, and the need to help African business and society. As a school, we feel privileged to count upon Elo as one of our alumni, as he represents what we aspire for them to be. That is, to achieve a transformational impact through our program and then to go forward and deliver this for his family, his company, and society. Elo has more than started his journey and will deliver much more in the years to come."
Read excerpts from his interview conducted by John Healy – Executive Director, Global Executive MBA Program at the IESE Business School in Spain.
You can read the complete interview here.
Age: 34
Location: Lagos, Nigeria
Undergraduate School and Degree: Lagos State University. B.Sc Business Administration
Where are you currently working? Founder and CEO, Terragon Group
Extracurricular Activities, Community Work and Leadership Roles: Engaging with undergraduates across Nigerian tertiary institutions and young professionals to develop competencies and align expectations from their learnings and when they eventually start working.
What achievement are you most proud of in your professional career? As a digital business, we recruit young, exceptional individuals who are empowered and developed to be leaders within Terragon. They drive the various initiatives in the business and others who go on to pursue other endeavors at other companies and sectors. Our obsession as a business with forming exceptional leaders adds significant value to our overall competitiveness as a firm. The opportunity to work with this exceptional team is what I am most proud of.
What is the biggest lesson you gained from business school? My biggest lesson: The power and leverage of a properly trained manager can have a significant impact on a business, especially in an emerging market like Africa where the supply side of talent is limited. A business can foster significant competitive advantage by having individuals that are properly trained and equipped for the business terrain.
What was the hardest part of business school? The rigor, intensity, and adjustment required for study, reading a lot of cases and participating in the team work sessions both physically and virtually.
What is your best advice for juggling work, family, and education? Get the cooperation of colleagues at work as well as family. One can't successfully embark on this project without getting their support. Otherwise, you won't be able to focus on the requirements and time commitment the program demands of every participant.
What's your best advice to an applicant to your executive MBA program? The program requires a firm decision that you are embarking on a journey/project that's very serious and focused on rejuvenating the participant's career. Judging by the potential output that will be achieved, it requires a significant investment of time and effort. Beyond the need for a firm personal commitment, there is a need for support from the family and from work, both managers and subordinates. Without both it will be difficult to manage the process successfully.
What are your long-term professional goals? I want to continue to focus on growing the Terragon business across the African continent and globally, with a long-term goal to transition to other opportunities in capital management and financial services.
Who would you most want to thank for your success? Firstly my wife (Amuche) for the sacrifice of having me away from home with a son who was under a year old. I truly appreciate her support. I would also like to thank my colleagues at Terragon who held the fort competently in my absence. I am proud of all of them.