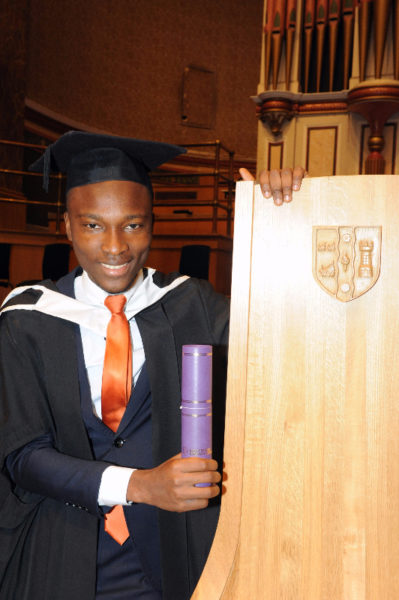 BellaNaija presents "Celebrating You! Class of 2016" We called for submissions by graduating students who had excelled in their course of study. We acknowledge the fact that everyone who has graduated this year is a winner. We, therefore, want to celebrate people who have gone over and above the norm. People who have gotten meritorious distinctions and awards from their institution of study. We hope that you are inspired and we look forward to receiving more entries.
Class of 2016 has shown a lot of promising people and we're proud to showcase one of them today.
Adebayo Ajayi, who was born in Ibadan has a personal mission statement: "nothing short of excellent".
It is this mantra that has helped him in every endeavour he has embarked on. He graduated as the best student in his Chemical Engineering class at Covenant University with a CGPA of 4.83/5.00. After that, he went on to graduate with a distinction from the Robert Gordon University, Scotland – a Masters in Oil and Gas Engineering.
This impressive young man describes himself as being sanguine, stating in addition: My "core competence (is) in success strategies, sustainable learning, leadership development, academic development and spiritual dominance."
Adebayo is the founder of a social enterprise called Success Within International – www.successwithinint.com with the vision of "Raising people of outstanding success for global relevance". He is also an author, with 2 published books. He runs a weekly series on lifegiva.com called Ignite with SuccessBayo.
We hope you enjoy reading his story as much as we enjoyed sharing it.
Academic Journey
Just like every other Jambite, I was clueless and confused about what University life was about. Mine was a little bit different because I spent a year at home, so I heard so many things about university life which varied from how to read, identifying lecturers' styles, calculation of CGPA and effects of friends on CGPA.
All these really helped me. I spent more than 70% of my time in 100 level in library. I read so much that I even went to the library to read for 1 unit courses. I took every test and assignment seriously. My roommates back then were really not concerned about academics, so I made sure I associated with people of like minds. At the end of my first year in school I had a CGPA of 4.91 which made me to be the best in my department.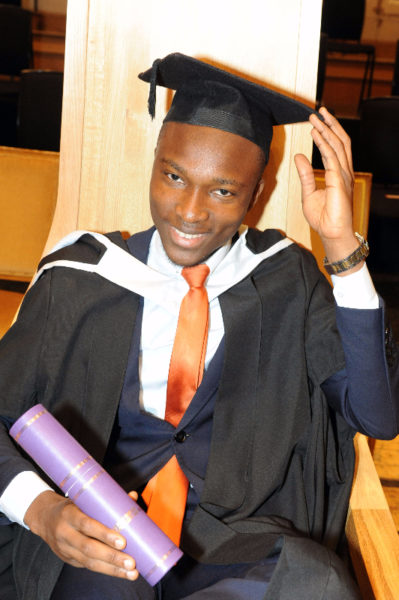 My second year was the toughest for me. It was welcome to Engineering level. I has issues with time management because the session was just too loaded and it was like time was running so fast. My first semester's CA was very poor, but thanks to the Christmas break, during the break I was able to strategise well and developed a perfect working timetable which really helped me.
I also decided to pick academic mentors at this stage (Victor Emenike, Solomon Ilaboya, Osayi Micheal, and Amoo Kehinde). At the end of this level, my CGPA dropped from. 4.91 to 4.79. But glory to God, I still remained the best in class
I entered 300 Level determined to increase my CGPA. But shortly after the semester began, I was made an ExCo member in two service units (Chaplain in CUTG and Welfare officer in Word Study Unit). I went to God and asked Him to help me. This was the beginning of my stressless journey in CU, God began to speak to me concerning my academics. He gave me a word for every semester. For the first semester, He said I am covered with the shield of favour – (Psalm 5:12) and for the second semester, He said he's going to perfect everything concerning my academics – (Psalm 138:8). I had my first 5 points in this level. Glory to God. My CGPA then moved up to 4.84.
The grace of God was so thick in my life by my fourth year that my academics looked so cheap, easy and interesting. There was no stress or whatsoever. Reading was fun, balancing my academics with other things wasn't difficult at all. I could also predict questions while reading. All thanks to God.
In my final year, we had to do two projects in my department (each was 6 units). I enjoyed divine speed, my research project was finished under 4 months and I had more time for the remaining course work and other project. Glory to God, I finished with a first class result 4.83/5.0.
I remained the best student for every level in my department till my graduation. Sincerely, hardwork pays.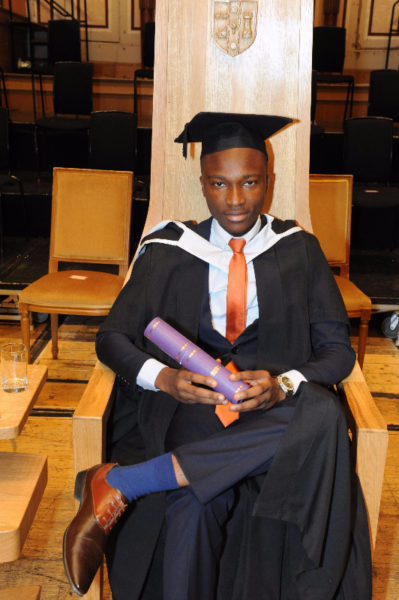 Influences
The major influencer in my academics has always been my dad. He is an Engineer. While growing up, my dad constantly told me "to study well in school so as to be great". I remember he was so interested in my academics to the extent that I had lesson teachers and I was always being flogged whenever I performed lower than expectation.
My first bicycle was as a result of my academic performance when I got double promotion from primary 4 to primary 6. I imbibed these excellence virtue because I wanted to be great like him and even better. My first degree's result was a result of hardwork and God's grace.
All Work & No Play? Nope!
My extracurricular activities include acting drama (I love this so much), I play football and I also love athletics. I have also been in a relationship since my third year in school and we are still together. I hope to celebrate my wedding with pictures soon on BellaNaija… haha). I won the award of the most resourceful and outstanding corper while serving (NYSC) 2014, Westown College. Lagos.
Post Graduate Degree in the UK
I experienced serious issues while in the UK; the lecturers' style of teaching was different and I was also doing a different course (from chemical engineering to oil and gas engineering). It was a very tough journey. I was scared of evening finishing with ordinary pass. My worst result was a D.
After this, I made a bold declaration to finish with a distinction. I wrote it boldly on my wall and I pressed towards it throughout my stay. I read diligently and prayed effectively. I was so excited when I saw that I made a distinction. To crown it all, I got two multinational job offers before I finished my masters program.
Advice to Readers
1. Determine to be successful while in school by pursuing excellence in all you do.
2. Never settle for average.
3. Pray as much as you read.
4. Ask for the help of God in your academics
5. Have a working personal time-table.
6. Avoid unserious friends.
I also want to celebrate BellaNaija for always celebrating excellence.
_________________________________________________________________________
If you want to be part of this inspiring and amazing feature or if you know someone who is part of the Class of 2016 who should be featured here, please send an email to features(at)bellanaija(dot)com. We look forward to reading from you and sharing your academic excellence.