It's time for another edition of BN Style Your Bump, a series where BN Style looks into maternity style from different women to help inspire you! So far we have profiled Chrissy Teigen, Patricia Bright, Kourtney Kardashian, Tamera Mowry, Maky Benson, Blake Lively and Lami Phillips – click here to see them glow in style.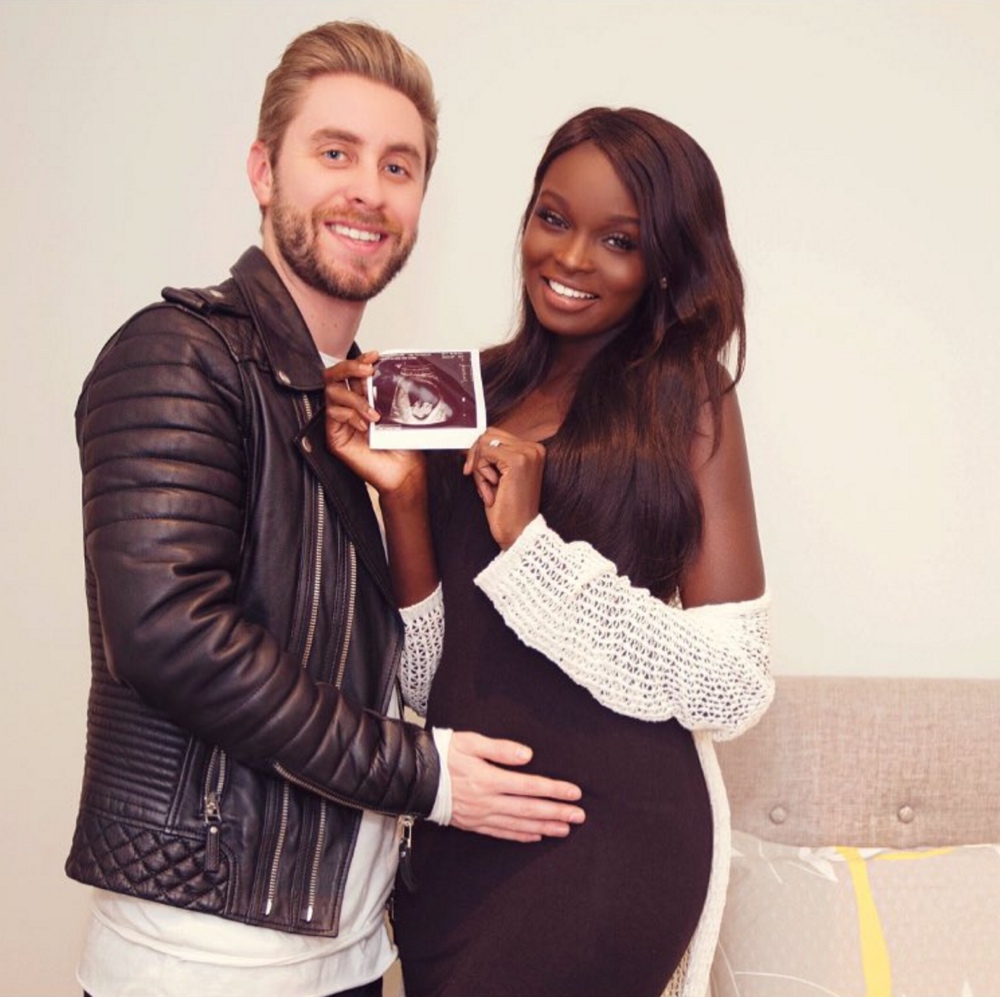 Today, we have gorgeous lifestyle vlogger Nikki Perkins. Nikki and her husband Jamie are popularly known for their YouTubev weekly vlogging channel Jamie and Nikki and they recently had their first daughter Ava Sarah. Her maternity style was an extension of her personal style, body con dresses and pencil skirts but I really liked the jackets as well, especially the sleeveless ones. It reminded me a lot of Chrissy Teigen's edition (click here if you missed it), they're both models actually so it's no surprise.
If this is your first edition of this series, we recommend a few pregnancy styling tips which I'll list below. They stay the same each week but vary with different body types and personal preferences. Just remember to look good, stay comfortable and enjoy your glow.
So let's get to it.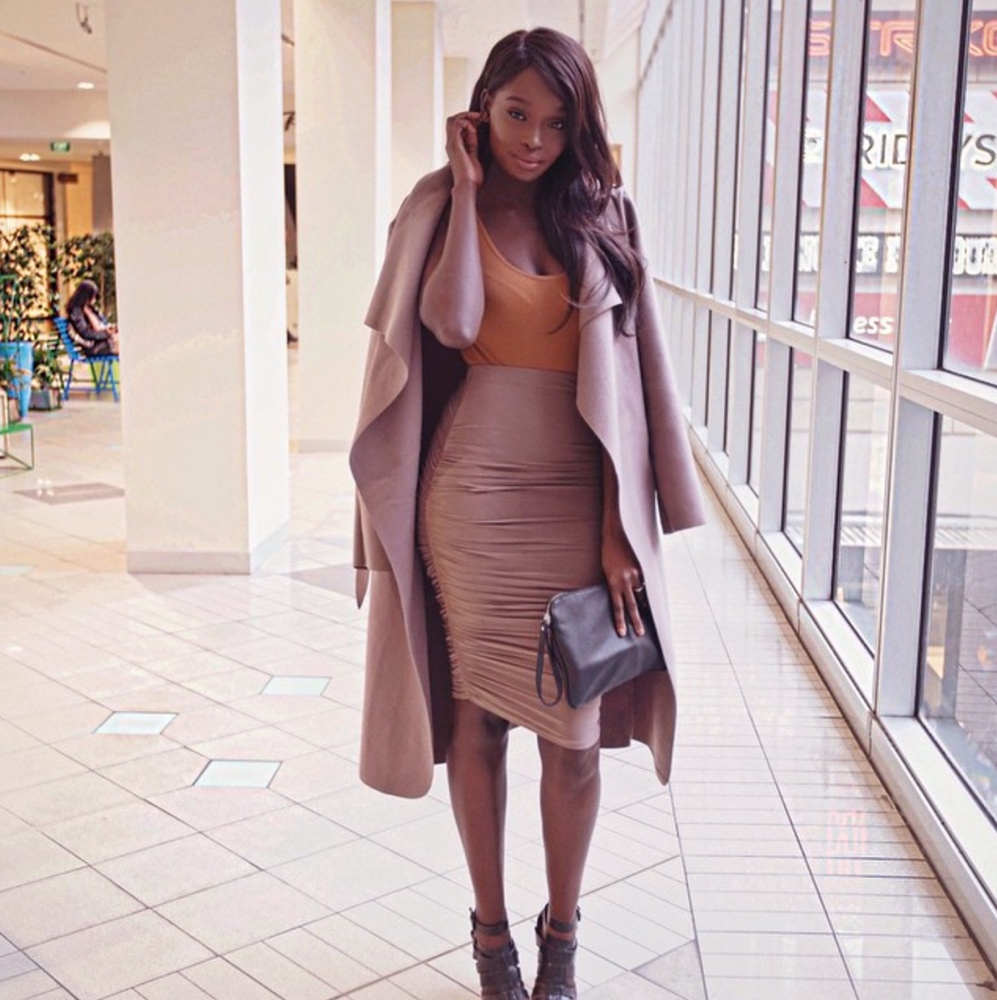 Love the colour combination of this look and the beige jacket as well. Here she's 12 weeks in but notice her use of jackets as we go along.
Here she is at 13 weeks looking hot in this burgundy bodycon dress.
At 19 weeks, here she is in this grey outfit with a cozy longline sweater jacket in the same colour.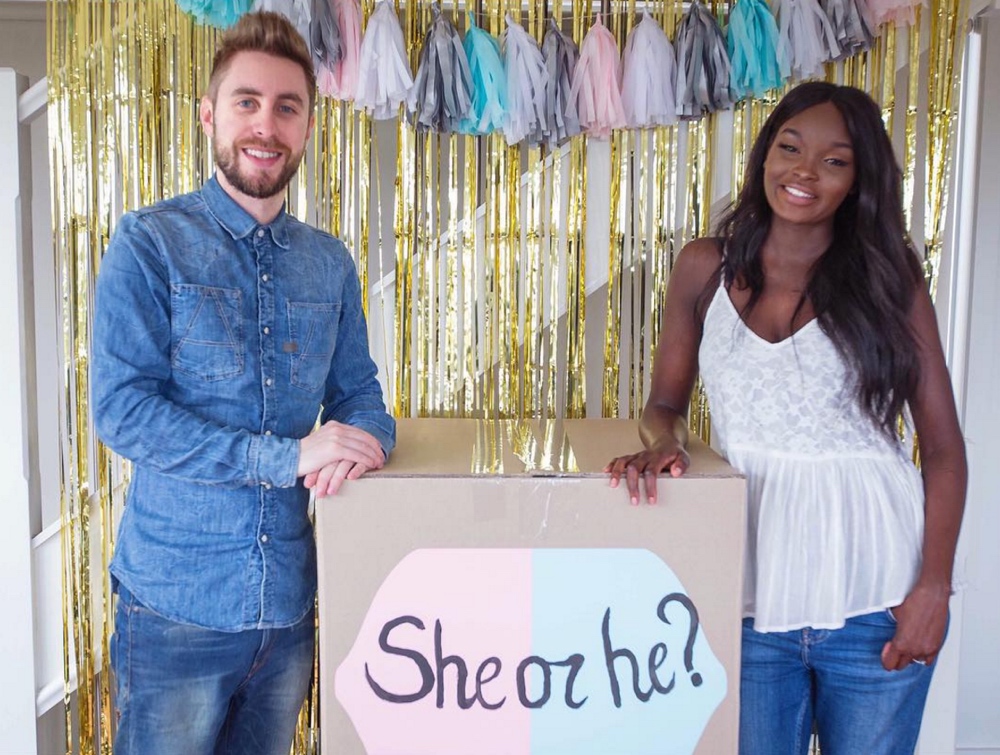 Here she is with her husband Jamie in a cute white loose fitting peplum top and blue jeans. It's causal but super cute and it's one of my favourite looks in this edition.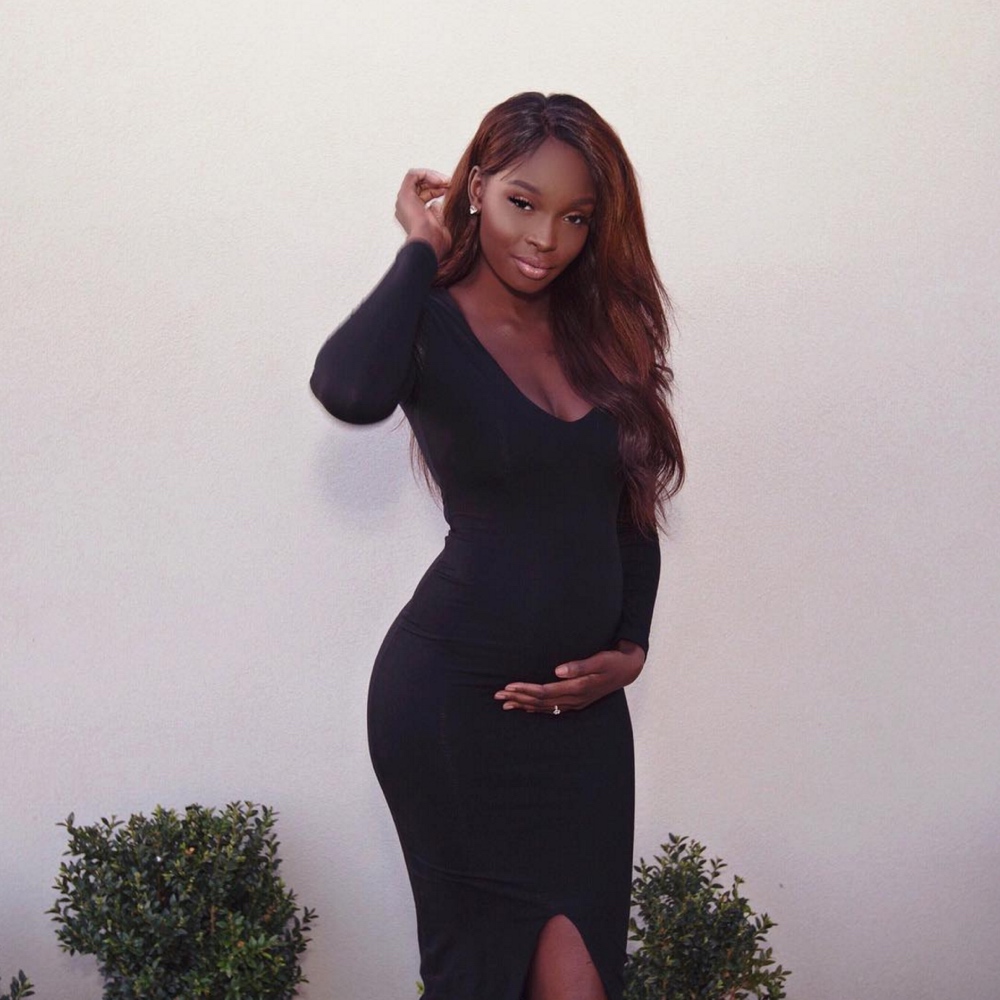 Sexy in black at 20 weeks. Love it! Notice the V-neck and thigh high slit in this dress. A dress like this could be a little risqué for some but you can always find a dress that you're more comfortable with that doesn't have such a low neckline or high slit but Nikki is killing this one!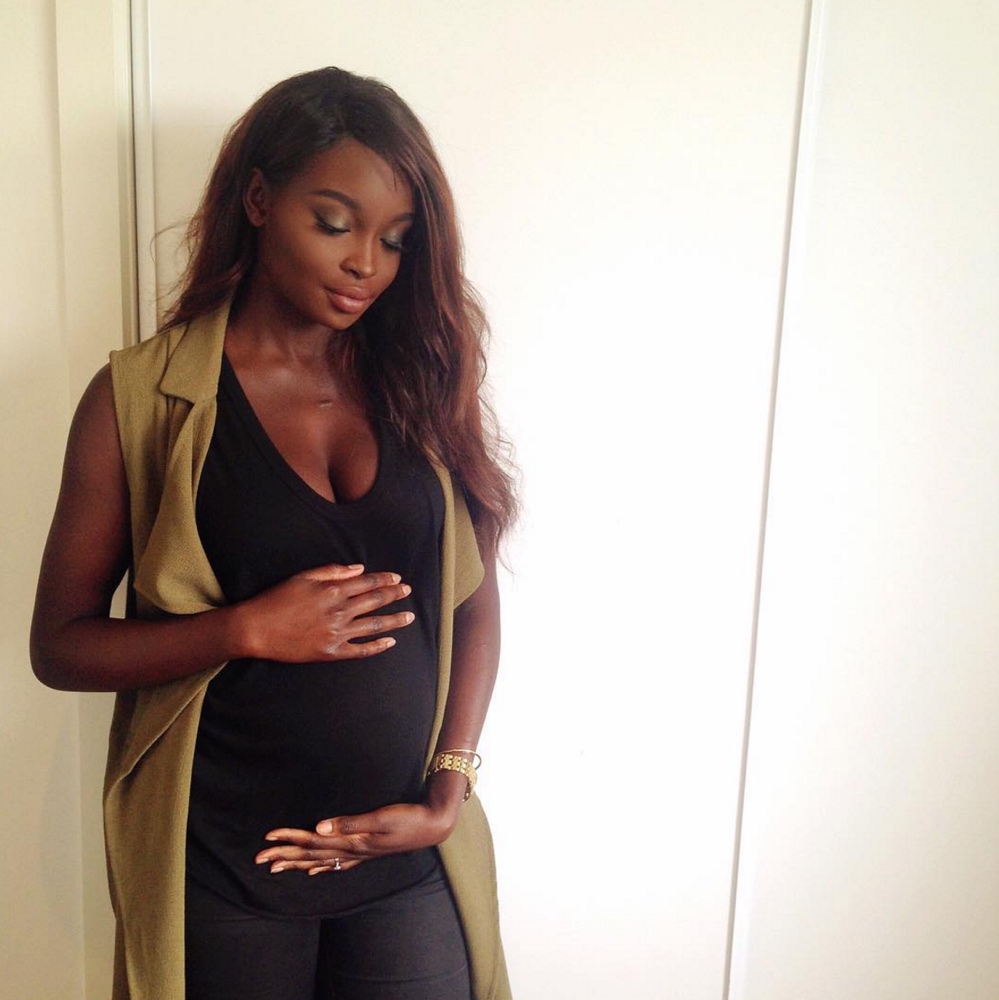 Another sleeveless jacket with a V-neck top at 24 weeks.
More bodycon dresses
At 32 weeks, here she is cradling her baby bump in a V-neck bodycon dress with a thigh high slit and sleeveless jacket.
Preparing for the arrival of her baby girl at 35 weeks, she's working on Ava's room in this lovely V-neck windowpane print maxi dress.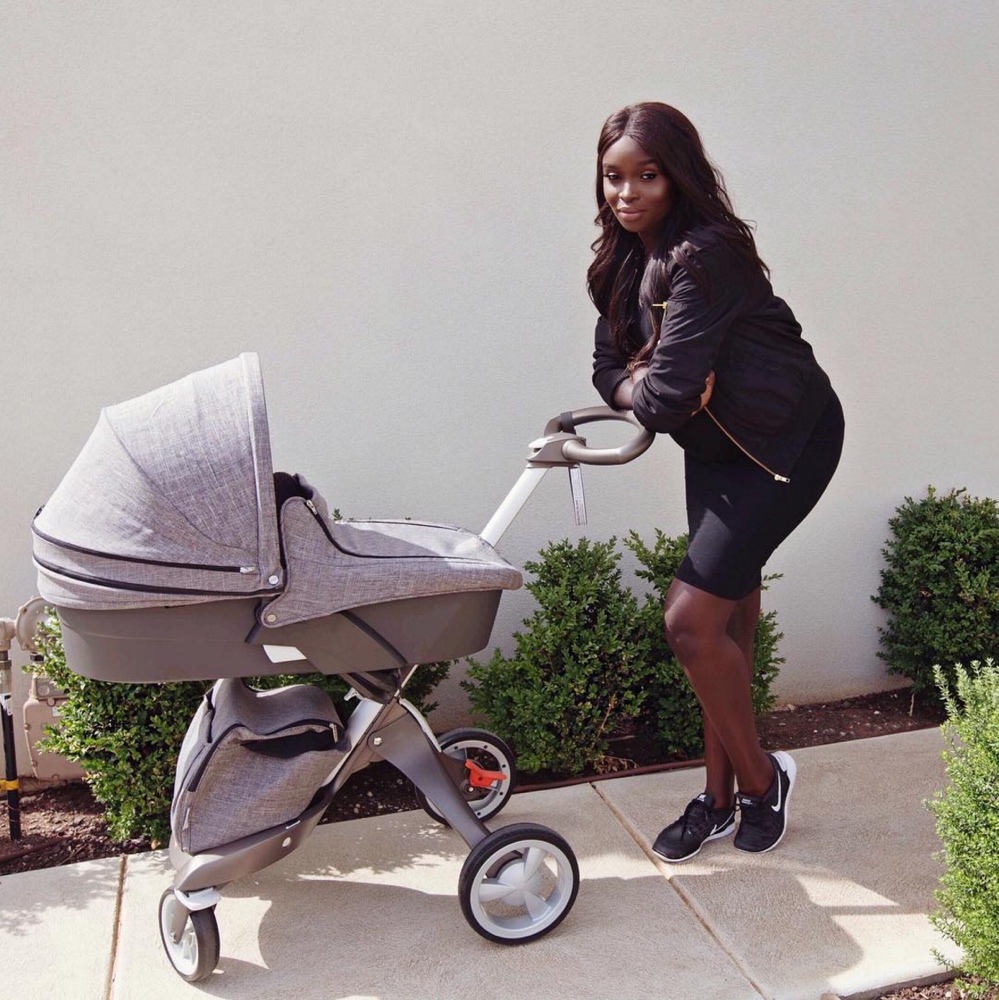 Wearing a black bodycon dress and bomber jacket, she has on comfortable sneakers here while taking a walk, testing the baby's stroller with her husband.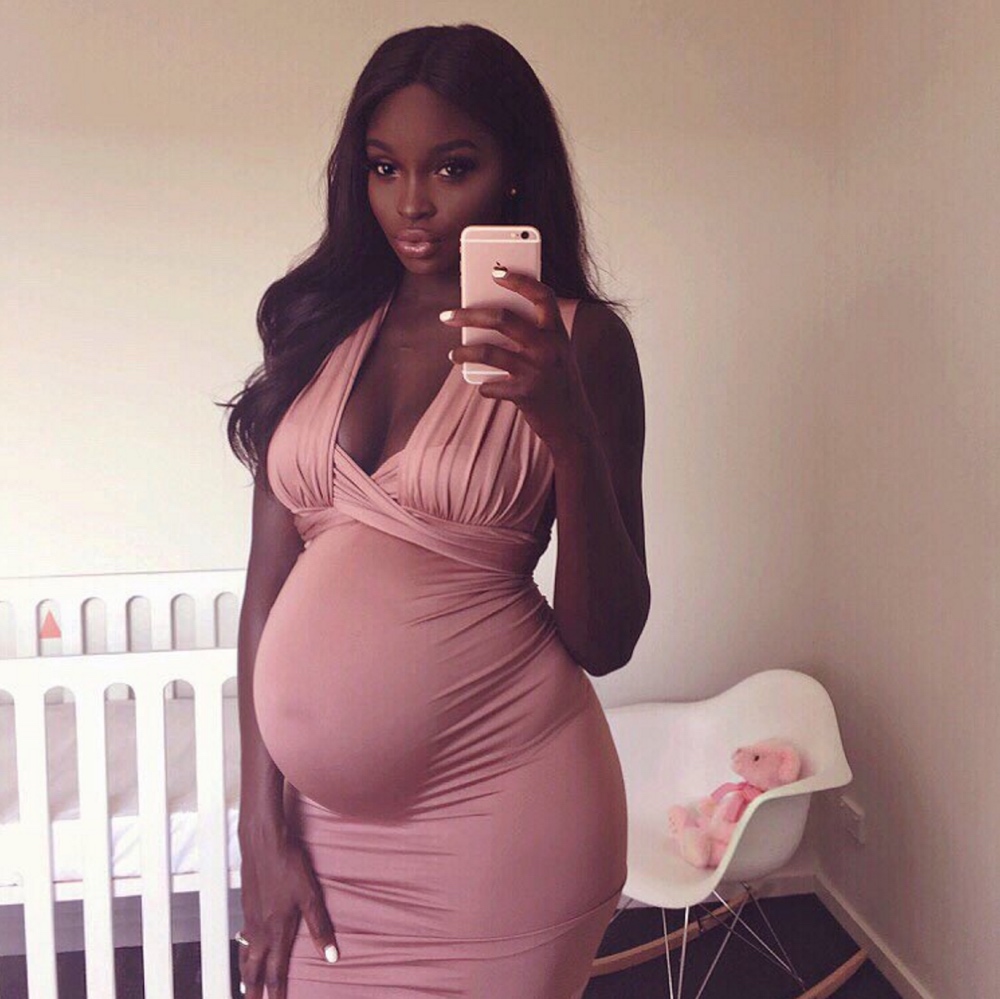 She's 38 weeks in at a wedding with her husband, wearing this deep V-neck bodycon dress in a beige/blush colour.
I just had to share these photos of Ava and her parents, they're so adorable!
This has been another stylish edition of the BN Style Your Bump series. As promised, here are a few tips to note:
Accentuate your slimmest body parts. Try empire waistlines.
Jackets are a great way to conceal the bump while thigh high slits and V-necks are great for flaunting your legs and cleavage.
Don't be afraid to wear bodycon dresses and feel sexy with your body just remember to be tasteful about it. If you're a beginner with this, try a bodycon dress in a dark colour and a maxi length. The colour and length reduces attention on your bump.
Balancing volume in your outfits by pairing loose clothing with fitted items as well. An example is pairing a loose top with skinny jeans.
And if you have no baby bump, check the BN Body Shape Series for useful styling tips!
Look out for the next one, Wednesday next week.
Sources: Nikki Perkins | @jamieandniks