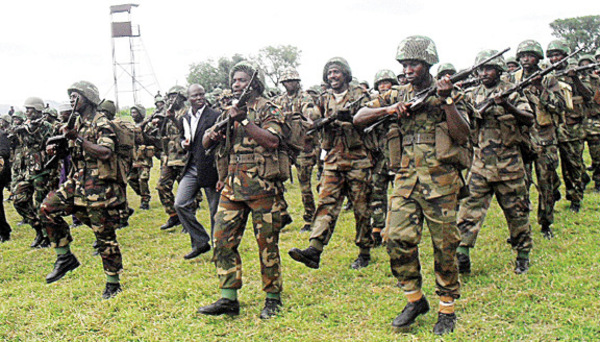 The Nigerian Army on Sunday said its troops have rescued about 5,000 persons held hostage by Boko Haram terrorists in parts of Borno.
The acting Director of Army Public Relations, Colonel Sani Usman, said in a statement that eight suspected Boko Haram insurgents were killed during clearance operations conducted by troops of 21 Brigade.
He said the incident occurred in Zangebe, Maiwa, Algaiti and Mainari villages in Mafa Local Government Area of the state.
He said troops of 7 Division Garrison Rapid Deployment Force also conducted clearance operations in several villages across Borno on Saturday to rid the areas of the insurgents.
Usman said though a member of the Civilian Joint Task Force was killed in the operation and one soldier was wounded, the spirit remained high among troops as they continued with the operations.
"Elements of Nigerian Army 7 Division in conjunction with Mobile Police Force on Saturday conducted clearance operations in Musa Yiwa, Ladin Buta and Bazaka villages.

Other villages include Kesa Gala, Talba, Fahinde, Shirori, Gizina, Maska Aribe and Maska Lawanti, all in Mafa Local Government Area of Borno," he said.
The News Agency of Nigeria (NAN) reports that troops had in recent operations rescued many hostages and cleared several villages hitherto held by the insurgents.