Power couple Beyonce and Jay Z have added their voice to that of other celebrities that are speaking up against police brutality following the death of Alton Sterling and Philando Castile.
On her website Beyonce wrote: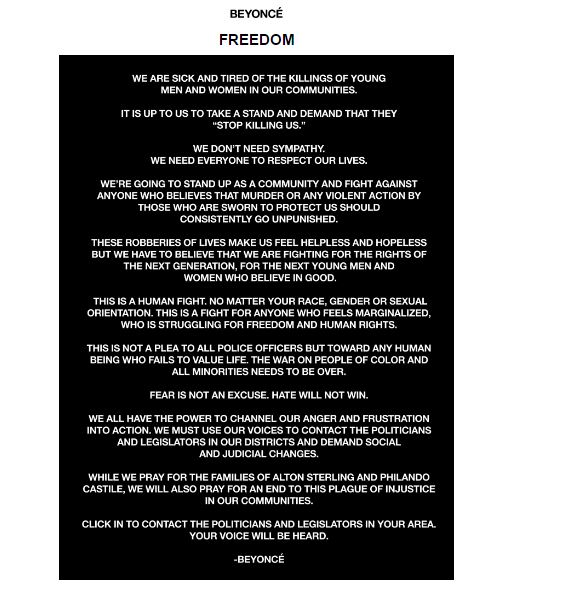 The post ended with this "We all have the power to channel our anger and frustration into action. We must use our voices to contact the politicians and legislators in our districts and demand social and judicial changes."
At her concert in Glasgow on Thursday night, she held a moment's silence and used the giant screens to display the names of victims of police violence.
Her husband Jay Z has also dropped a new song speaking against police brutality.
The song "Spirituality" has a note from the rapper which reads:
"I made this song a year or so ago. I never got to finish it. Punch [Terrence Henderson, the co-president of Top Dawg Entertainment] told me I should drop it when Mike Brown died, sadly I told him, 'This issue will always be relevant.' I'm hurt that I knew his death wouldn't be the last. I'm saddened and disappointed in THIS America – we should be further along, WE ARE NOT. I trust God and know everything that happens is for our greatest good, but man…. it's touch right now. Blessings to all the families that have lost loved ones to police brutality."
You can stream 'Spiritual' on TIDAL now.