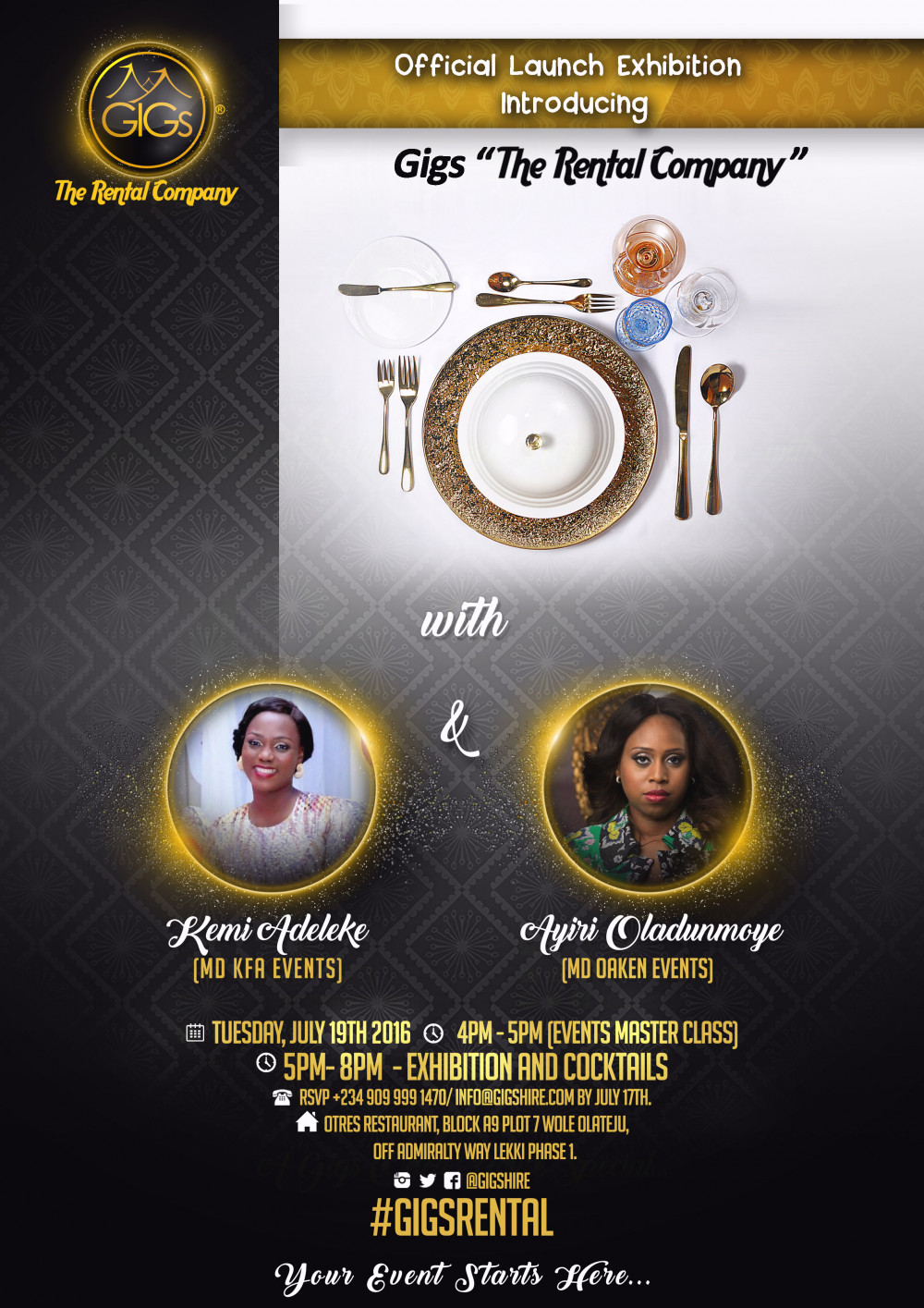 Gigs "The Rental Company" invites event managers, planners, vendors and individuals to an evening of cocktails, good music and exhibition of amazing products that will redefine the Nigerian events and logistics rental industry.
The event, will feature a Free Master Class/Discussion Forum by two Industry leaders, Kemi Adeleke (MD KFA Events and Rentals) and Ayiri Oladunmoye (MD Oaken Events).
Details of the event is as follow:
Date: Tuesday, July 19th, 2016
Time: 4pm – 8pm
Venue: Otres Restaurant Block A9, Plot 7 Wole Olateju Crescent off Admiralty Way Lekki Phase 1, Lagos
Event Planners and Managers who would like to be a part of the Master Class may RSVP by sending an email and their phone numbers to [email protected] on or before the 17th of July 2016. The Exhibition and Cocktail will kick off immediately after the discussion forum and it is opened to all.
"This Launch will revolutionize the events industry in Nigeria, as Event Planners and Managers will not only learn, but will also get the opportunity to network and gain access to rent quality products. The company was created to provide convenience to event planners, managers and vendors. We have created a onestop rental haven that consist of products, which vary from, very affordable to extreme luxury tailored to appeal to any and every event budget. These pieces where created from our desire and love of design, every combination and setting gives uniqueness to that particular event or client, we make sure that our services are 100% bespoke. I am excited for this new venture and I hope and pray the industry welcomes this with open arms". – Orode Okpu CEO of Gigs
For more information please visit www.gigshire.com
For enquiries call 09099991470 or email [email protected]
Follow us on all social media platforms @gigshire. Join the conversation #GigsRental
Your event starts here!
_______________________________________________________________________
Sponsored Content