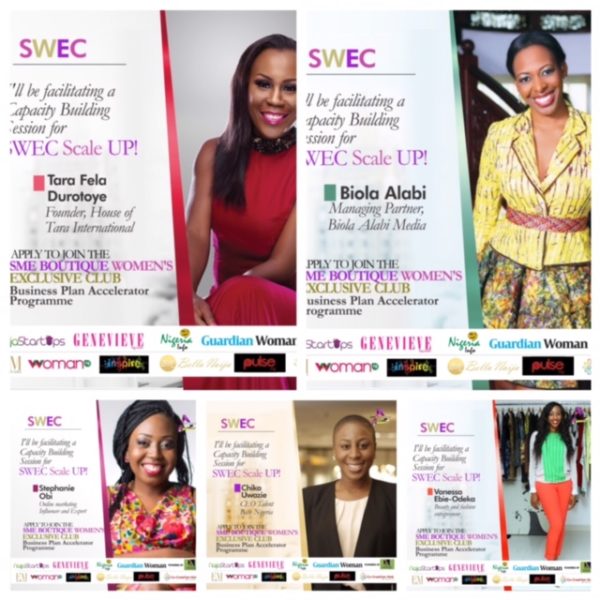 Are you a female entrepreneur living in Lagos? Are you part of the 100 plus women who have already registered to take part in the SWEC Business Accelerator Competition- Scale up?
Well if you aren't here are 5 reasons why you should.
Girl Power: SWEC is an exclusive club for Lagos based female entrepreneurs who are seeking business growth and personal development opportunities. Through its member-based group structure, SWEC is committed to providing key opportunities for female entrepreneurs to succeed. That's why we are choosing 12 lucky members who join SWEC before the 6th of August to join our 4 month Business Plan Accelerator Competition- Scale UP! At the end of the competition every woman selected will have a business plan and strategy to scale up their businesses
Facilitated sessions with established business owners: Established business owners such as Biola Alabi, Femi Longe, Tara Fela Durotoye, Chika Uwazie, Stephanie Obi and a host of other influential business leaders will provide intensive capacity building sessions in areas of corporate governance, business strategy and design, marketing, leading self, business integrity, finance and accounting for small businesses and a host of other business development topics.
Opportunities for innovation, collaboration and creative thinking: SWEC is an ecosystem for female entrepreneurs based in Lagos. We have partnered with Co-Creation Hub-Nigeria's first open living lab and pre-incubation space designed to be a multi-functional, space for entrepreneurs and investors to catalyze creative social tech ventures. Members of SWEC and competitors will be able to take advantage of some of the opportunities afforded by CC Hub.
Media exposure for your business: SWEC has also partnered with Naija Start-ups a leading start up community in Nigeria. All participants in the Scale Up competition will be part of the Naija Start-ups directory and receive media exposure on their platform. In addition to this, SWEC has also partnered with various media platforms such as BellaNaija, Guardian Woman, Exquisite magazine, Genevieve Magazine Online, Pulse and Naija Info, competition participants will receive free media exposure through some of these platforms as well as through our social media networks
Sector Specific Mentors– We know female entrepreneurs need one-on-one support and the advice of established business owners within their sectors to expand their networks and help them test their ideas. That's why we are providing one-on-one sector specific mentorship for all the participants who take part in our Scale Up Competition.
Seed Financing for Winner– We know financing can be a challenge for entrepreneurs. That's why we will be providing the winner of the Scale up competition with seed financing to support their business development efforts. We will also ensure that all participants who complete the entire programme have investment ready business plans which will also them to access funding from other sources.
Eligibility
Please apply if you meet the following criteria:
Women owned/co-founded business duly registered by the Nigerian Corporate Affairs Commission. Please note that for co-owned businesses only female founders will be eligible to participate in the capacity building and mentoring portion of the programme.
Business must have been in operation for at least 6 months.
All business sectors are welcome to apply.
The SME Boutique Women's Exclusive Club Business Accelerator Competition- Scale UP application form takes less than 10 minutes to complete and can be downloaded via this link: http://goo.gl/forms/SqUwzro59m5D0r1v1
Deadline for applications is 6th of August however female entrepreneurs can apply to join SWEC at anytime.
_________________________________________________________________
Sponsored Content