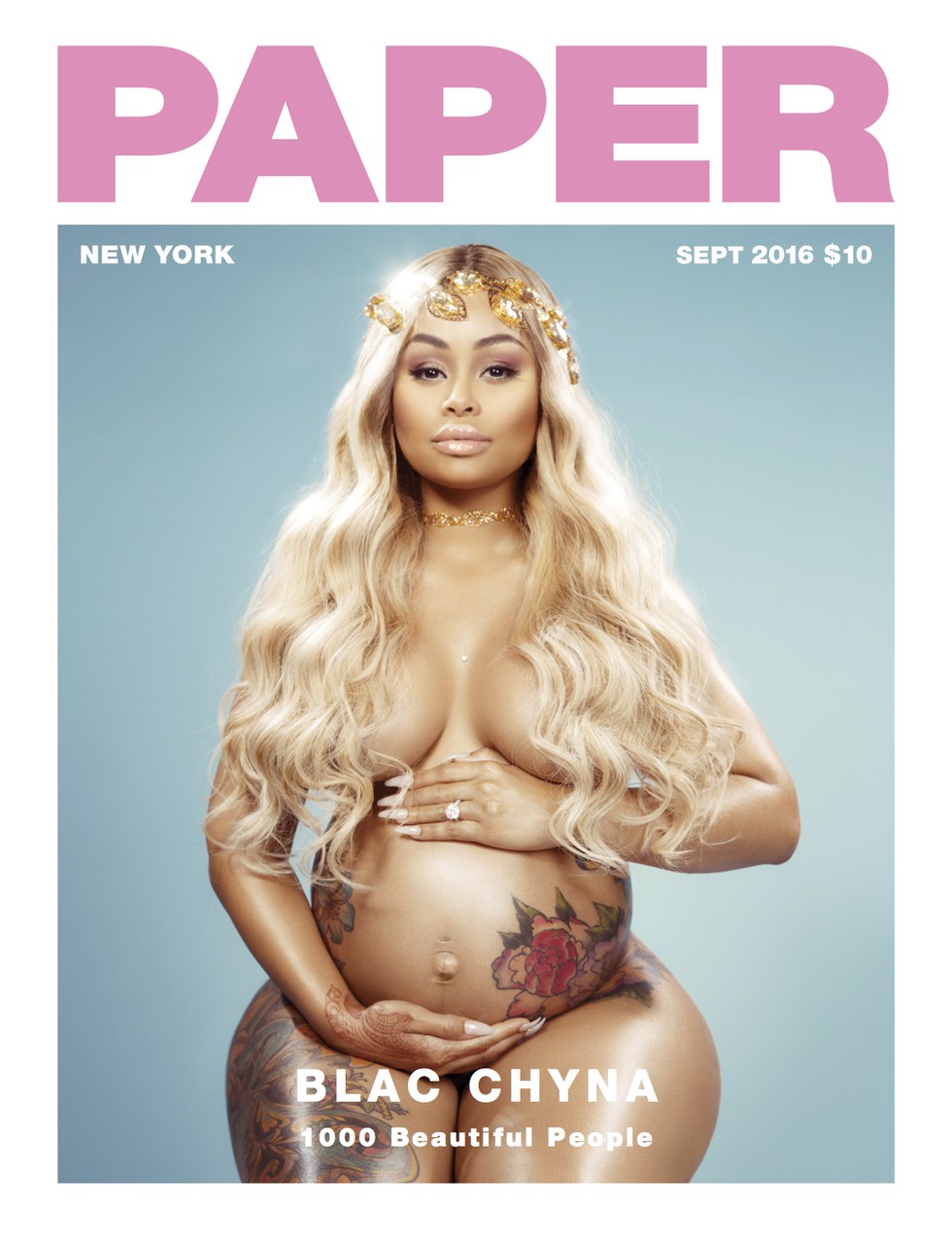 Blac Chyna covers the new issue of Paper Magazine celebrating 1000 Beautiful People. The soon-to-be Mrs. Kardashian (almost) bares all in the spread and gives her first print interview in years.
Read excerpts below;
Blac Chyna. It's a name rooted in hip-hop notoriety and social media fame. As one of rap music's biggest muses today, Chyna, real name Angela Renée White (soon to be Kardashian), has danced, Instagrammed and hustled her way into pop culture's epicenter. And with Rob and Chyna, her and fiancé Rob Kardashian's new, six-part reality series on E! that documents their relationship and pregnancy, it's safe to assume Chyna Mania is only getting started.
Mysterious Chyna
In a town like Hollywood that often prefers to smooth jagged edges and paper over controversial histories, Blac Chyna's well- known past as a stripper and the unapologetic way she owns her sexuality make her ascent into pop culture's mainstream all the more thrilling — not unlike her soon-to-be-sister- in-law Kim's own path. But unlike those famous in-laws, Chyna hasn't used traditional media to help fuel her rise. She maintains an aura of mystique amidst the feverish attention directed her way. Instead of speaking to the press, she communicates directly with her fans on social media and lets the occasional bold fashion statement do the talking.
Chyna's Story
Until now, biographies of Chyna have been cobbled together from gossip stories, rap songs and social media posts. They have the basic facts down (she was born in Washington D.C., danced at Miami's famous King of Diamonds strip club, got a shoutout on Drake's 2010 track "Miss Me," dated and had a son with Tyga before getting together with Rob Kardashian) but not much else. "I don't do interviews, and I haven't spoken publicly in years," she explains. But now, with her decision to film a reality show, she's finally ready to open up and let fans get a glimpse into her private world. "I'm excited about fans getting to know me as a person and not as a thing or a face," she says. "I'm funny and smart, and they'll see me as a mom with several businesses just keeping everything together. I'm looking forward to showing my relationship with Rob, our day to day, our struggles and what we're dealing with, positive and negative." She adds, "I hope when people think about Blac Chyna, they think of a mogul and entrepreneur, a mother and a badass bitch."