BN Style presents Collection Conversations, a weekly round up of all the collections and look books from African designers featured on BN Style from the previous week. Collection Conversations features Eki Ogunbor & Richard Akuson sharing their individual thoughts on featured collections from the previous week.
So, let's get started.
***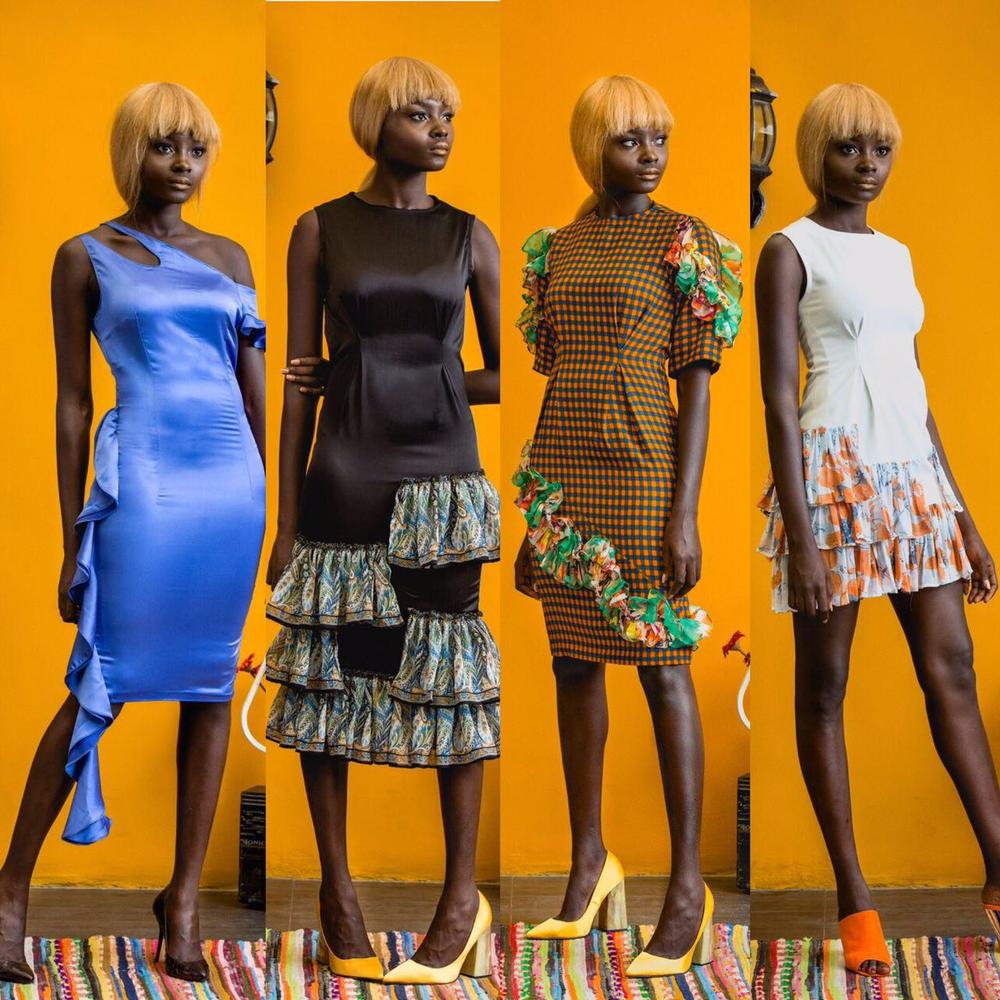 Eki: First is Wagner Ayu
Richard: I love Wanger. The person and the brand. Reveal: I've known her personally for some time now
Eki: ?Ok
Richard: I've witnessed first hand the progress of her brand from that point till now, she's done a phenomenal job. But back to her Epoch Collection, I got to see it before she released it, she shared them with me for feedback and I'll tell you what I told her a few weeks ago. I think she did a fine job making frills and ruffles cool, that's always a hard task. Take this for instance, I know a million cool girls that'll kill for this blouse.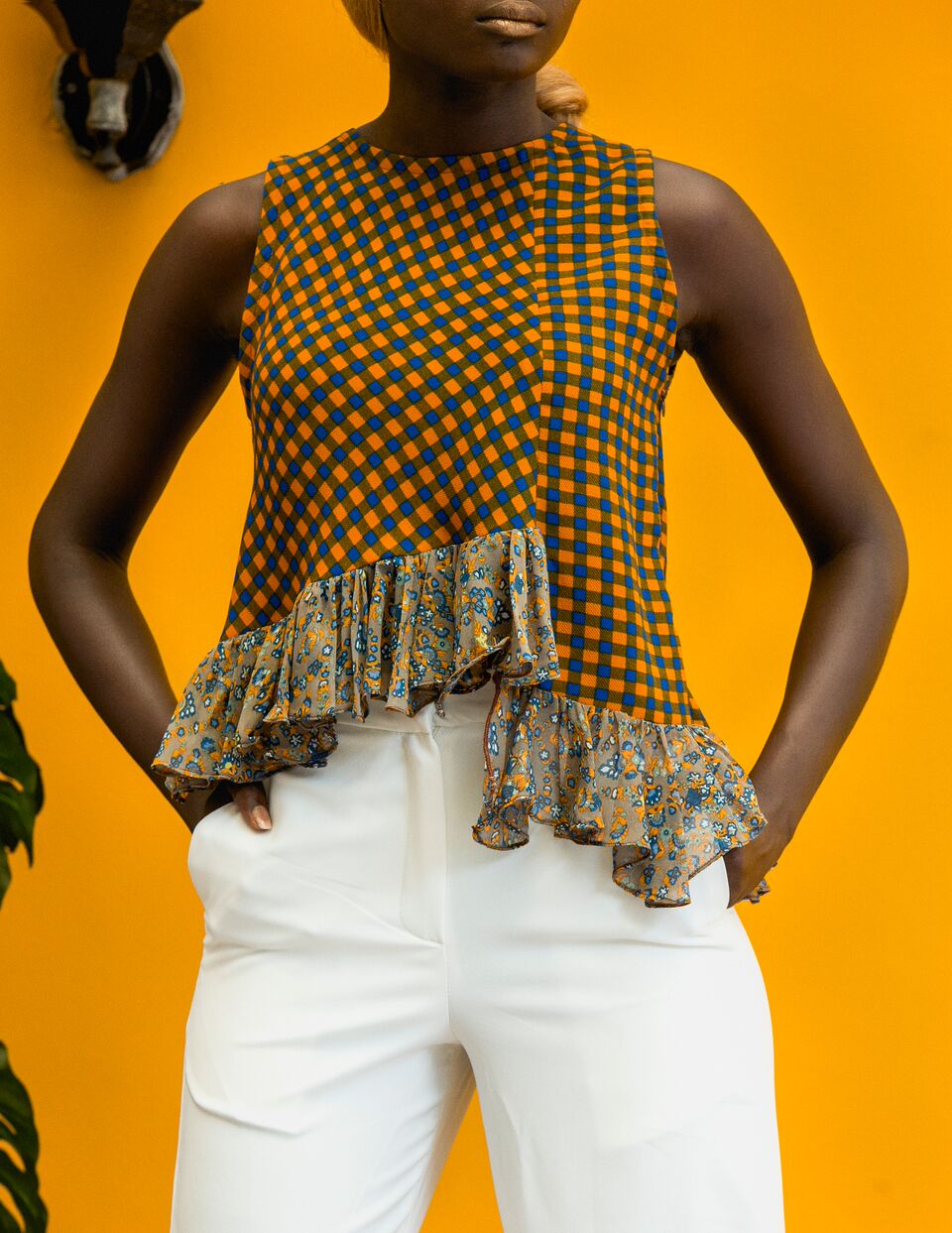 Richard: It's chic, modern and really fashion forward. The uneven hemline adds to the oomph and this same level of deconstruction continues through the rest of the collection. However, I'm not a fan of this metallic culottes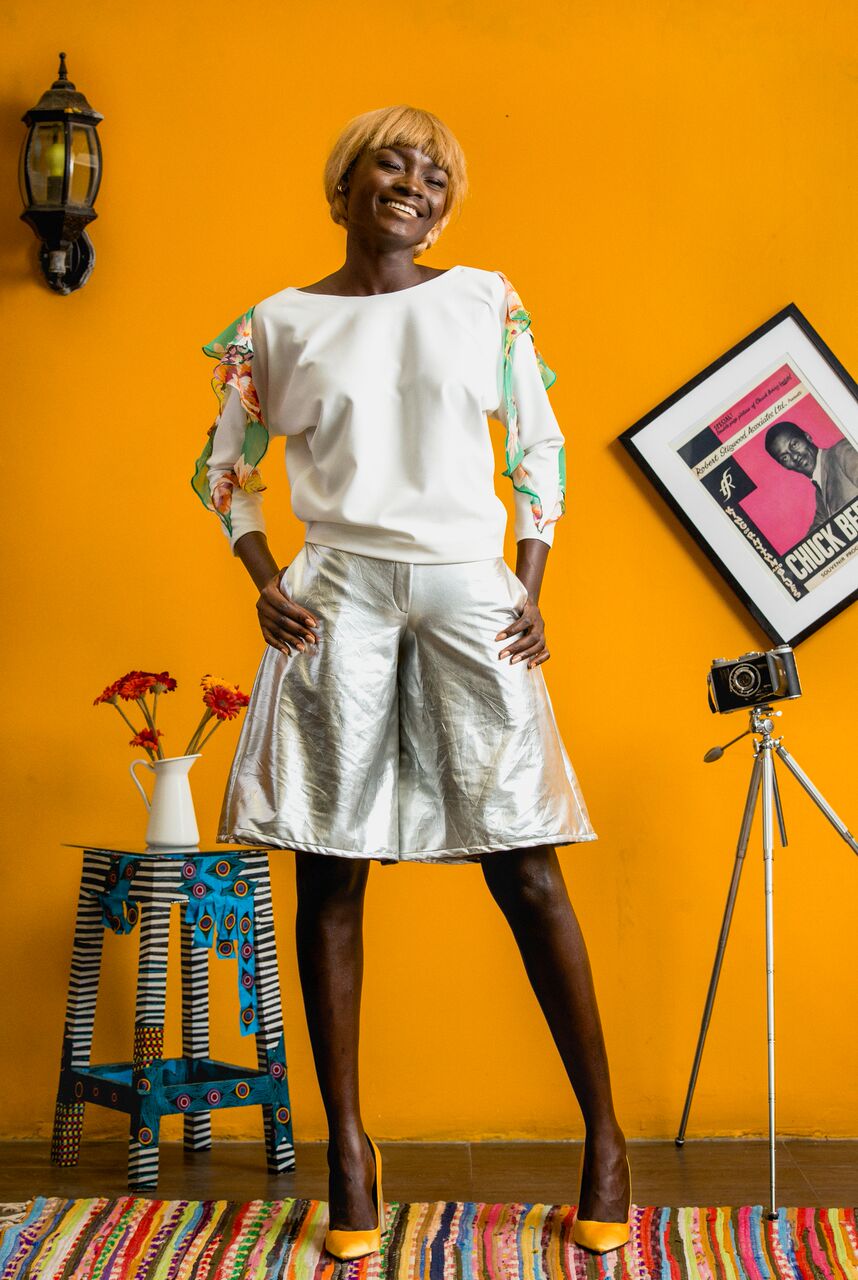 Richard: The seams are obvious and that silver doesn't look high-end which makes it stand apart from other beautiful pieces. In summary; I prefer the non-faux leather part of the collection to the other bit.
Eki: Lol I'm not one of those cool girls then! @"I know a million cool girls that'll kill for this blouse."
And yes I also don't like the culottes.
I mean in the end it's a good collection, waaaaay better than some we've seen in the past. It's not everyone's cup of tea (i.e. me) but you can appreciate the creativity and there's something here for every girl's style, that's one thing I like about collections like this, aside from good tailoring etc. I like the collection as a whole I just don't like every single piece, I also prefer the non faux leather bit.
Richard: Exactly!
Eki: Fave piece is this white dress. Your fave?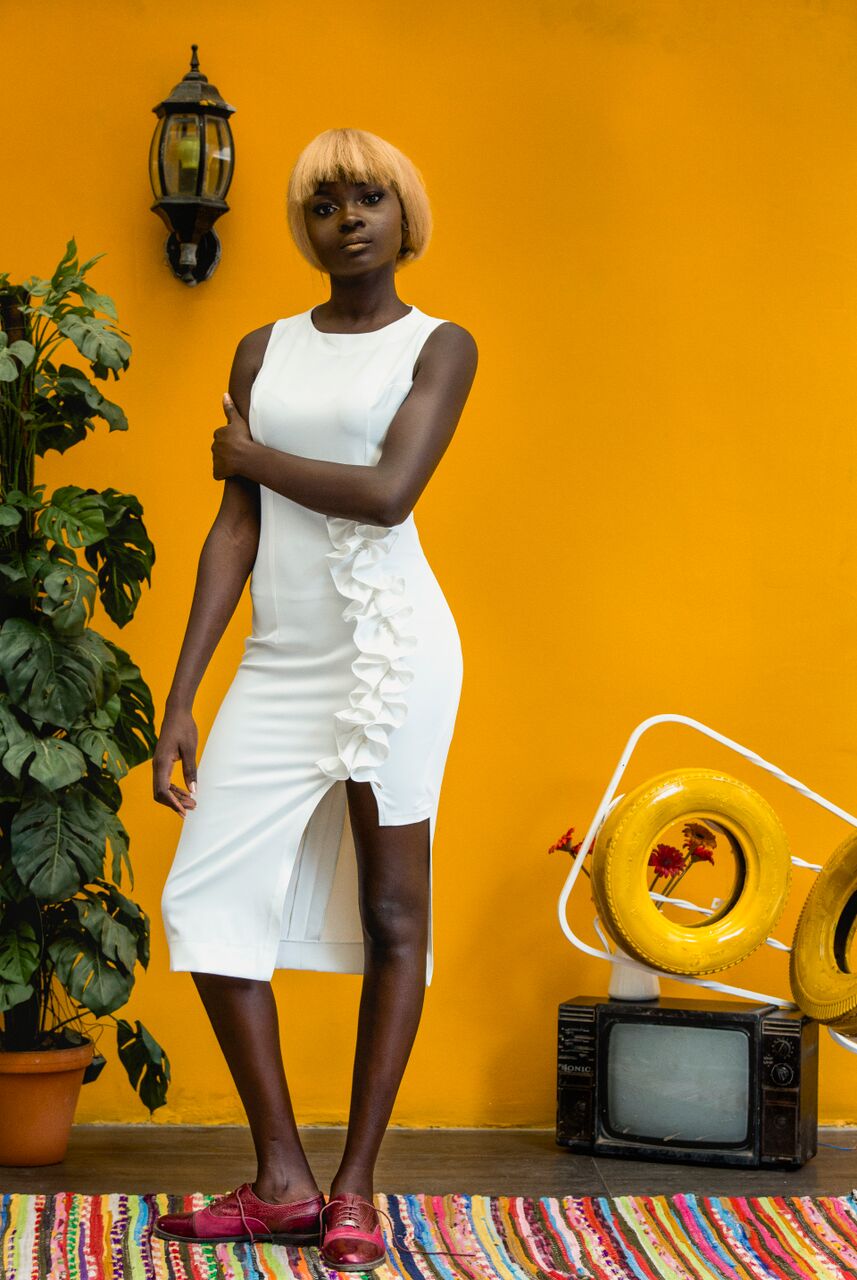 Richard: I have favorite looks. Simply because I think a lot of work and thought went into them
Eki: Don't be biased o! Everyone puts in "a lot of work and thought" into their collections at the level of their own capacity. Sometimes it may not reach your standards but they all put in "work," So don't be trying to single it out cuz you know the designer. I'm watching you ?
Richard: I'm not being biased. We've reviewed collections by over 15 designers I know personally. So, this isn't the first designer that I know and reviewed. My point is, if I don't like something, I say it, regardless of my personal relationship with the designer/brand. I've pointed out what I didn't like about the collection, and picked out my favorite looks from the collection, as I've done with other collections that I especially find a lot that I like. So?
Eki: ? Just checking. On to Woman by Aisha. Uju girl! I LOVE this collection ?????? THIS is a great collection. Random but there's something about the collection that reminds me of the women from Sex and the City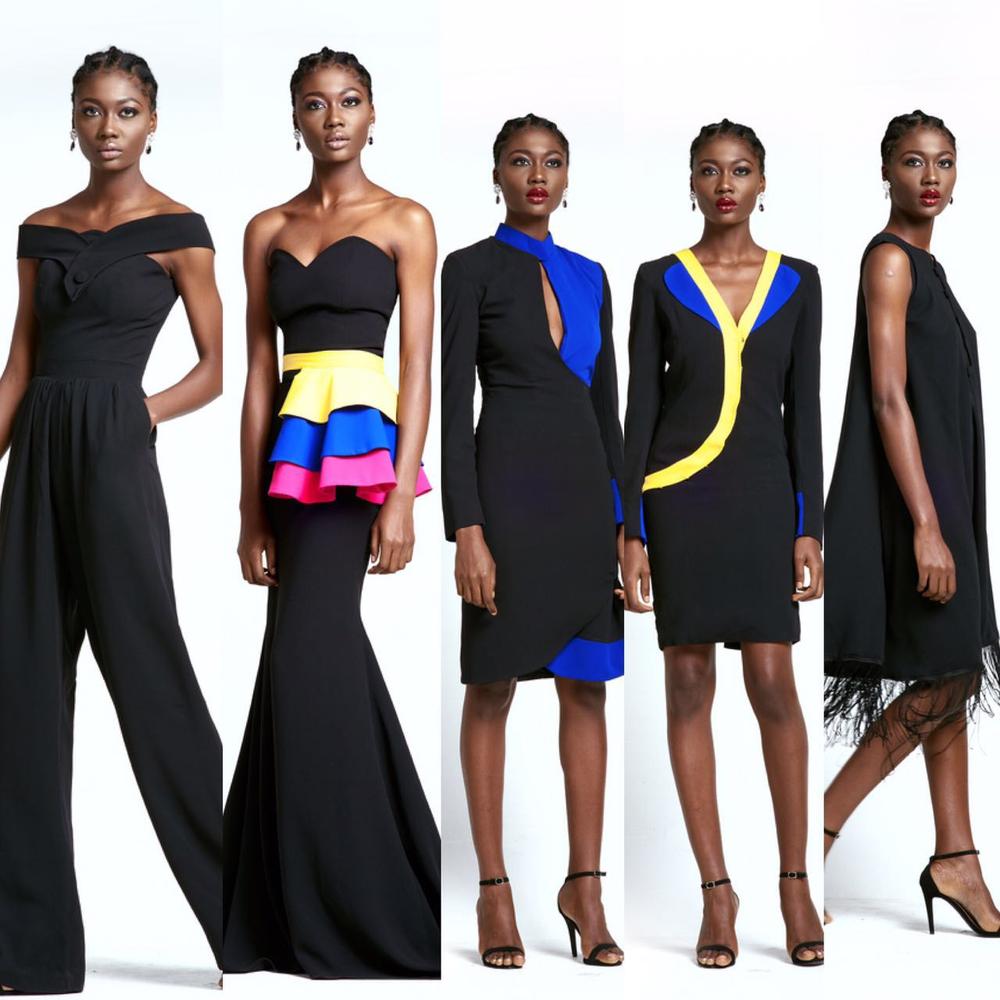 Richard: That's because it's a collection of clothes that liberated and successful women will wear. Those women that RUN their lives and don't allow the society to define who they are or who they should be. They're in charge and call the shots.
Eki: Guy! You just hit the nail on it
Richard: That's especially why this collection makes such a profound hit for me. The construction is beautiful, tailoring on point. They clothes fit Uju like she was born in them. I wish the better part of the collection wasn't so anchored on black but it also works, makes everything sharp and crisp. I like that the model was striped of all the noise (weave and loud makeup) that usually characterize lookbooks. She's like a blank canvas, reason why the clothes also speak in such loud volume
Eki: True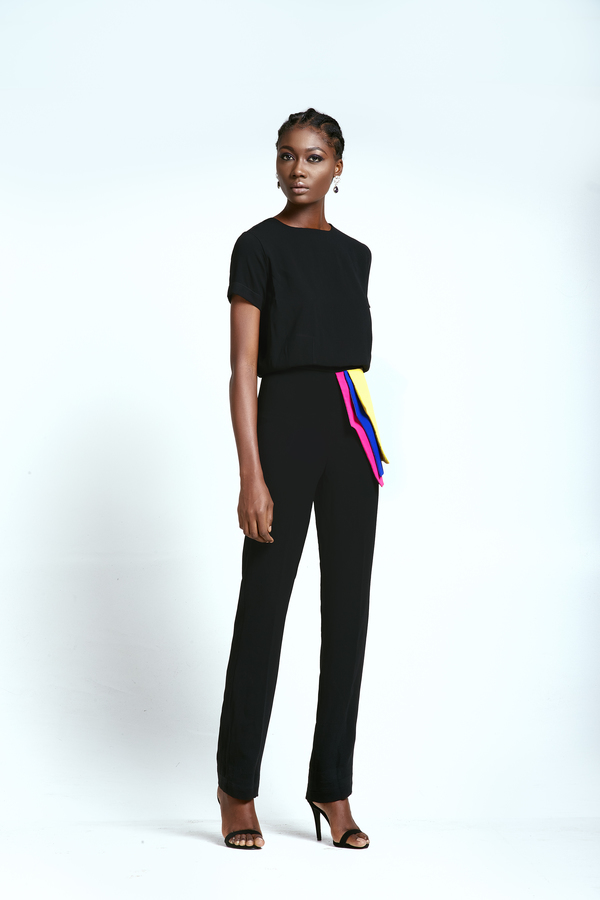 Richard: Who run the world?
Eki: I was going to answer Women actually… Not girls cuz this collection is on some grown woman things, the name is very appropriate for it
Richard: Exactly!! This collection reminds me of that and Neyo's Miss Independent. I agree!!!!! @"this collection is on some grown woman things"
Eki: Do you have a fave?
Richard: I love them all
Eki: Me too!! Lmao. But top two for me are the jumpsuit because I like the lapel detail, and the A-neckline pencil dress with different colours on the chest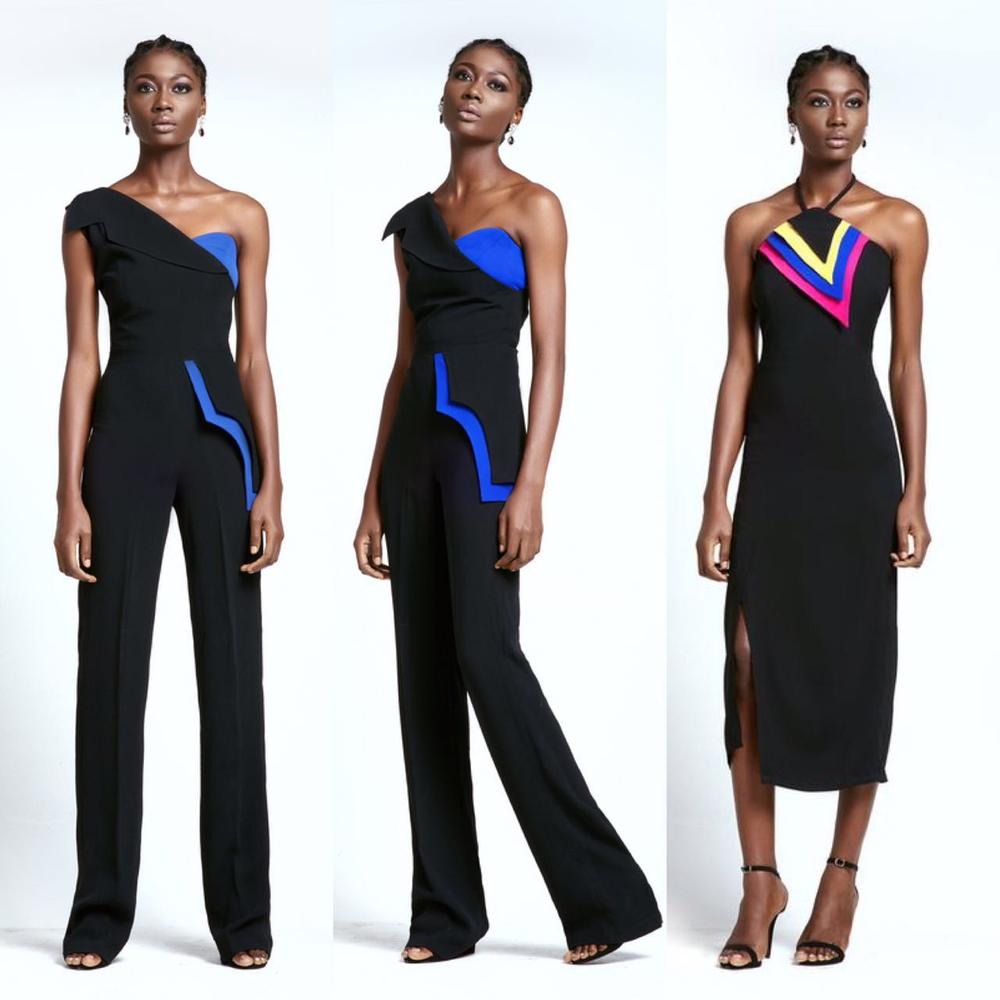 Richard: I'd wear each and every one of these if I could but somehow, this look gives me butterflies. It's just nonchalant.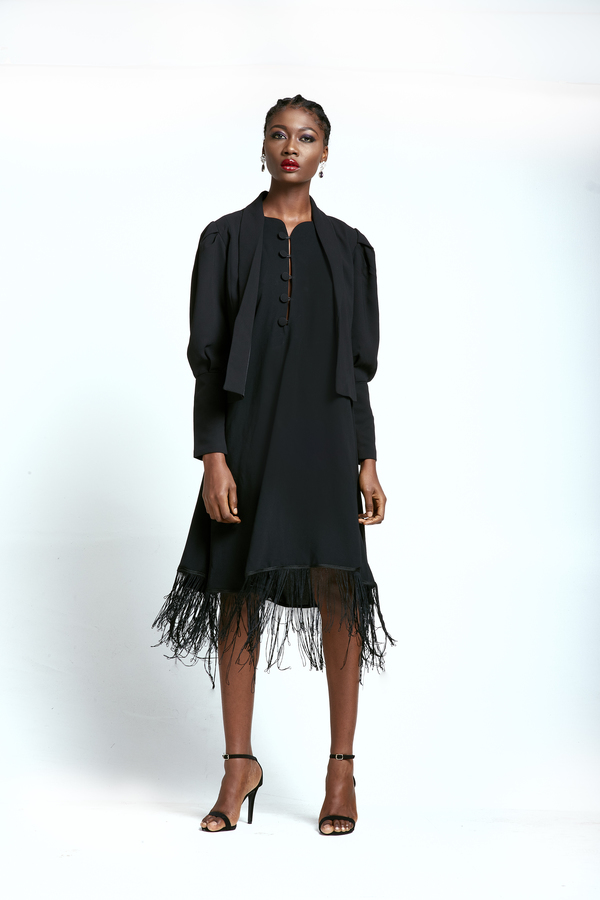 Eki: I like that too. You like things like that, even what you wear sometimes is usually just loose fitting. So yea this is so you
Richard: Hahahahahaahha! Exactly!!! By the way, I'm collaborating with a menswear designer for a capsule collection. Still in production. But thought I share with my "CC fam"
Eki: Boy bye! Whaaaaaaaat! Why am I just hearing about this ???????? Ayyy nice! When should we be expecting it,  I hope it's not expensive ?
Richard: Hahahha. Hunnnnnnyyyyyyyyyyyyyyy!! Nahhh!! I'm a bargain king. And it'll be a collection for like minds. Hopefully around LFDW, will hopefully host a private viewing during LFDW, rather!
Eki: Nice one!
Richard: Moving on.
Eki: Your guy next Orange Culture ?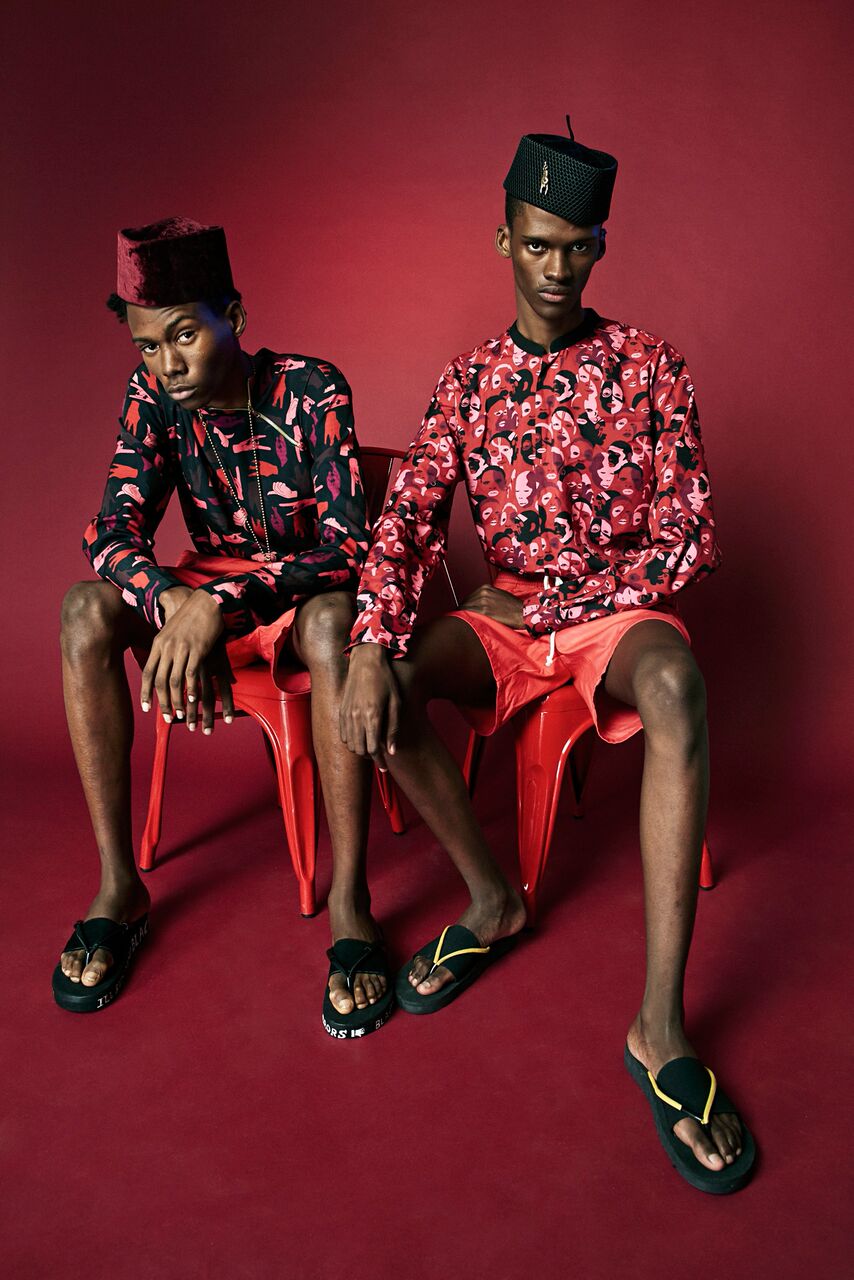 Richard: Hahahahahah, My guy Yes! OC for the win!
Eki: Lol I know!
Richard: Well, Orange Culture clearly has been keeping up with the trend, waifi-sh models have been everywhere these past few models. For a lack of a better description; the delicate sort of models that are borderline androgynous. The don't exactly stick out as the most masculine of models. Saint Laurent is the king of this trend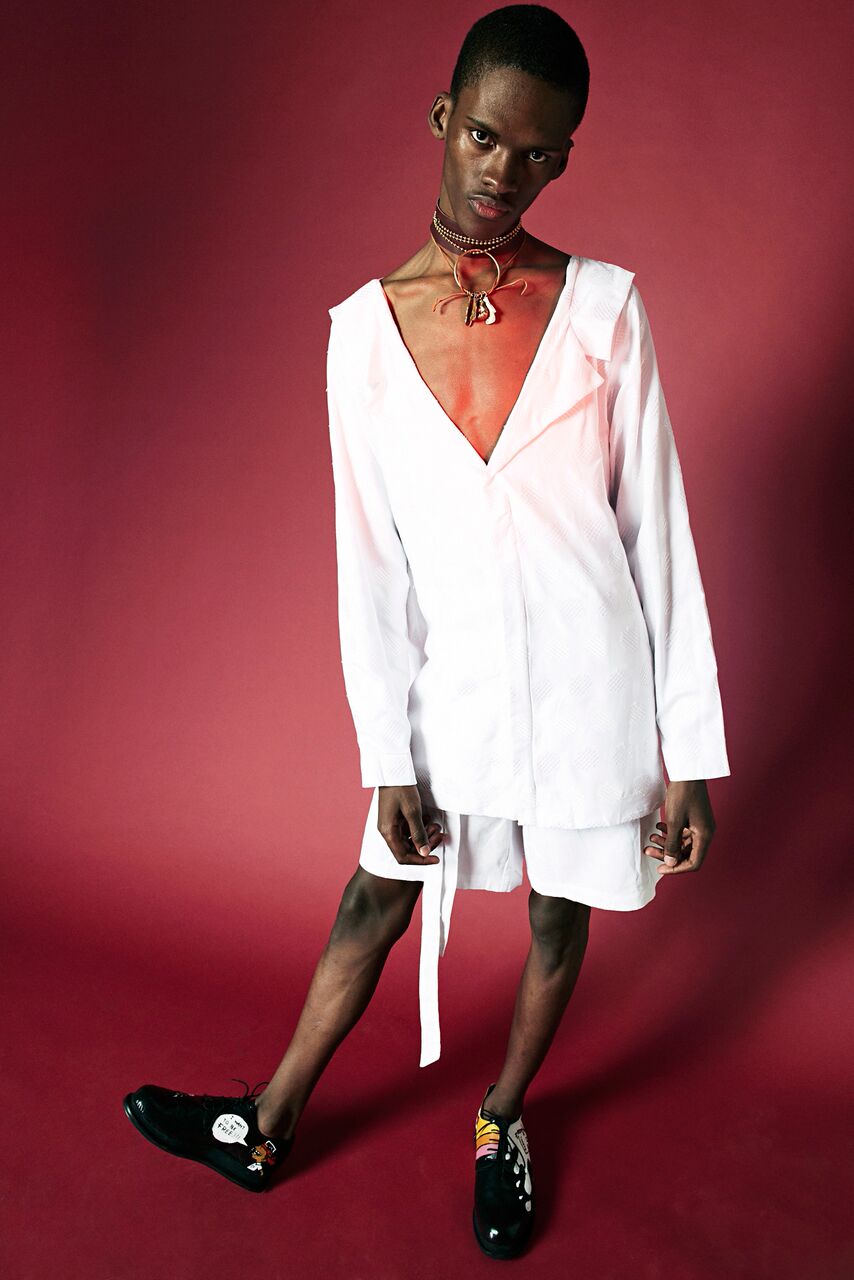 Eki: Lol it's like a shift. We are embracing plus size female models but now thin male models are it?
Richard: I think News Week did a story on this too.
Eki: Ok, I'll check it out. Thanks!
Richard: Anyway, so, this is such a shift for Orange Culture. Remember his past lookbooks and campaigns and what they had in common, beyond the lovely clothes? Those unmistakably athletic looking models. With that change came a change in creative direction and presentation.
Richard: Notice the drop earrings, leather chokers paired with charms, and more skin (or bones) etc. Back to the clothes, I like the prints and the airiness of the shirts
Eki: Yea me too. Even I'd wear some of the bomber jackets ?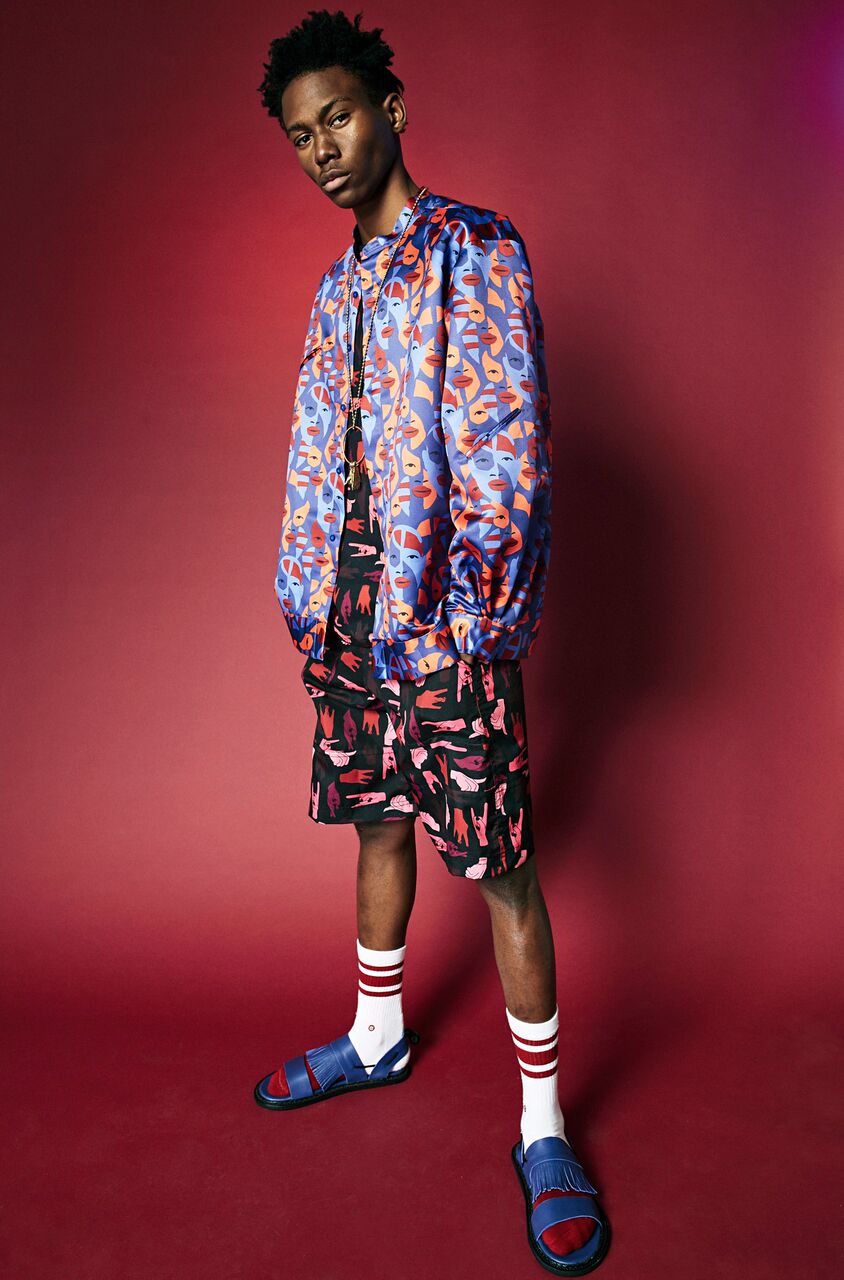 Richard: I'll wear every shirt in this collection. Yes to the bomber jackets. And the sandals. And the shoes. And those print pants. And those colourful shorts. Kai…… i want them all ??
Eki: It is clear you really enjoyed this collection lol. Yes! Love the accessories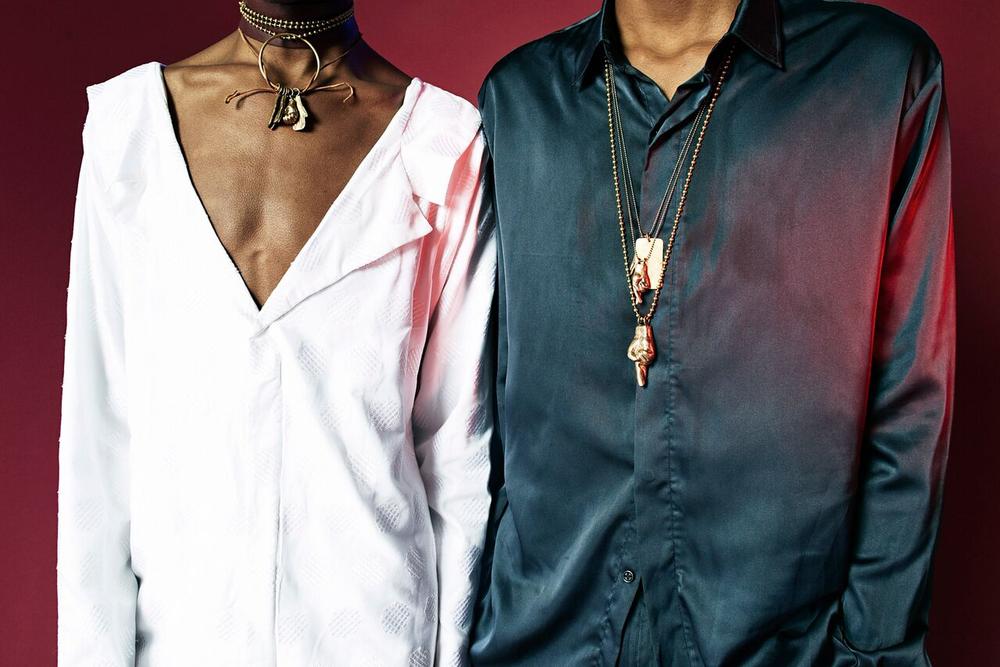 Richard: Yes, besides the belts and chokers etc. Too daring for me
Eki: ?
***
Today's title was inspired by a line from the song Grown Woman by Beyoncé. And of course MY favourite collection from last week, Woman by Aisha, very grown and sexy.