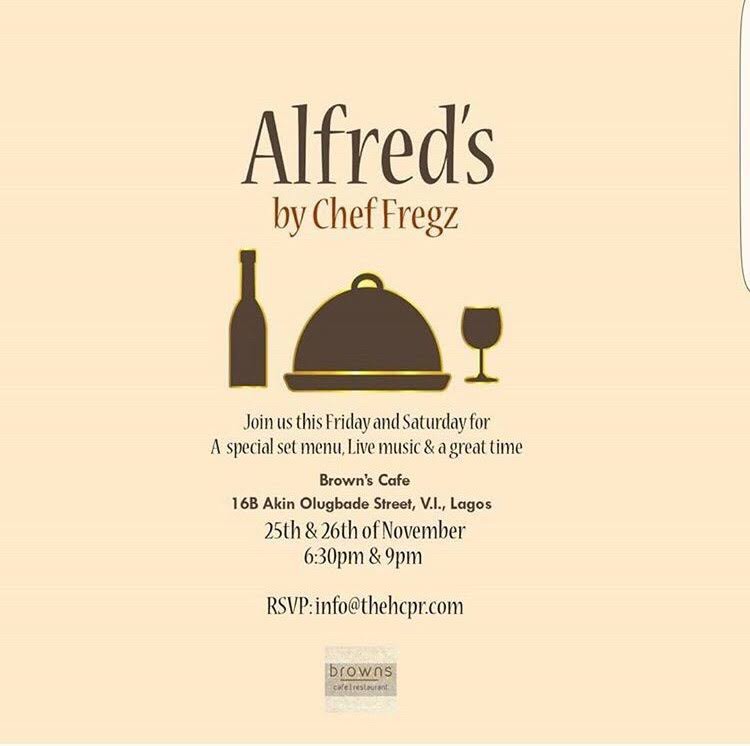 "My Grandad. Prof A.B Kasunmu is my real life hero. He is the biggest reason I have all that I have"
– Gbubemi Fregene a.k.a Chef Fregz
The holiday season has officially started and Brown's Cafe Lagos is honored to be a part of this special tribute.
"Alfred's" is an ode to Chef Fregz' grandfather and finally this long time dream will become a reality for two nights this weekend.
Join us on a thanksgiving culinary journey with Chef Fregz as he puts a modern twist on food inspired by his grandfather.
Date: November 25th & 26th, 2016.
Time: 6:30pm & 9pm
Venue: Brown's Cafe, 16B, Akin Olugbade Street, Victoria Island, Lagos.
Menu:
13,000 pp
Epe's Surf. Kaduna's Turf
Seared Fish. Miyan Taushe with Butter Bean Puree. Seared Cow Tongue. Toasted Egusi.
Alfred's Law
Goat Meat Ravioli. Chilli Tomato Sauce. Nigerian Pesto. Efirin.
Seafood Jollof Rice
Dele Loves Puff Puff.
Sea Salt Caramel Puff Puff. Pear Fluid Gel. Chocolate Mousse.
Limited Seating. RSVP highly encouraged.
Reservations:
[email protected]
cc [email protected]
Bookings will be confirmed upon receipt of payment.
____________________________________________________________________
Sponsored Content