For the past couple of days a certain Twitter user has been trending – along with his wife. The couple got married earlier this year and it was quite a fantastic wedding ceremony.
A couple of days ago, Naija Twitter's @Subdeliveryman posted – and deleted – a DM he got from a concerned "friend" of the couple. The friend talked about how the wife found out on their honeymoon that her husband was gay as a result of the nudes and messages he was sending to one particular media personality/lawyer friend who had been one of the husband's groomsmen.
The friend also talked about how the wife had exposed her husband to his family and they had allegedly reached an agreement where she could seek gratification outside as long as she kept things quiet about her husband's sexuality. The friend alleges that the wife, who just gave birth a couple of days ago, also has a lover outside of her matrimonial home.
The wife also reportedly wrote in to social media psychologist, Joro Olumofin.
Media personality Ebuka Obi-Uchendu has weighed in. See Ebuka's tweets below.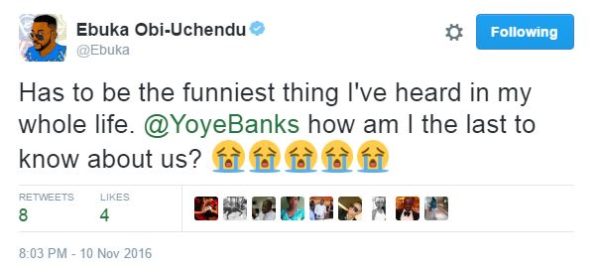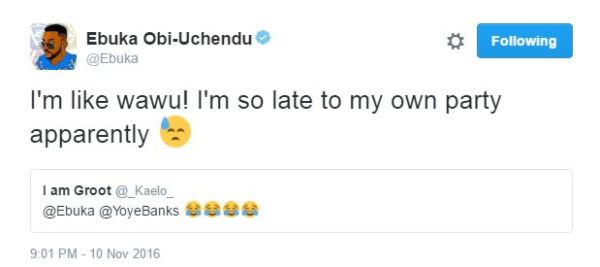 Ebuka followed up by posted this on Instagram
Best week @yoyebanks!!! ?#TGIF
Thank God Its Friday
Thank God Its Funny https://t.co/0hhv3fv8jM

— Ebuka Obi-Uchendu (@Ebuka) November 11, 2016