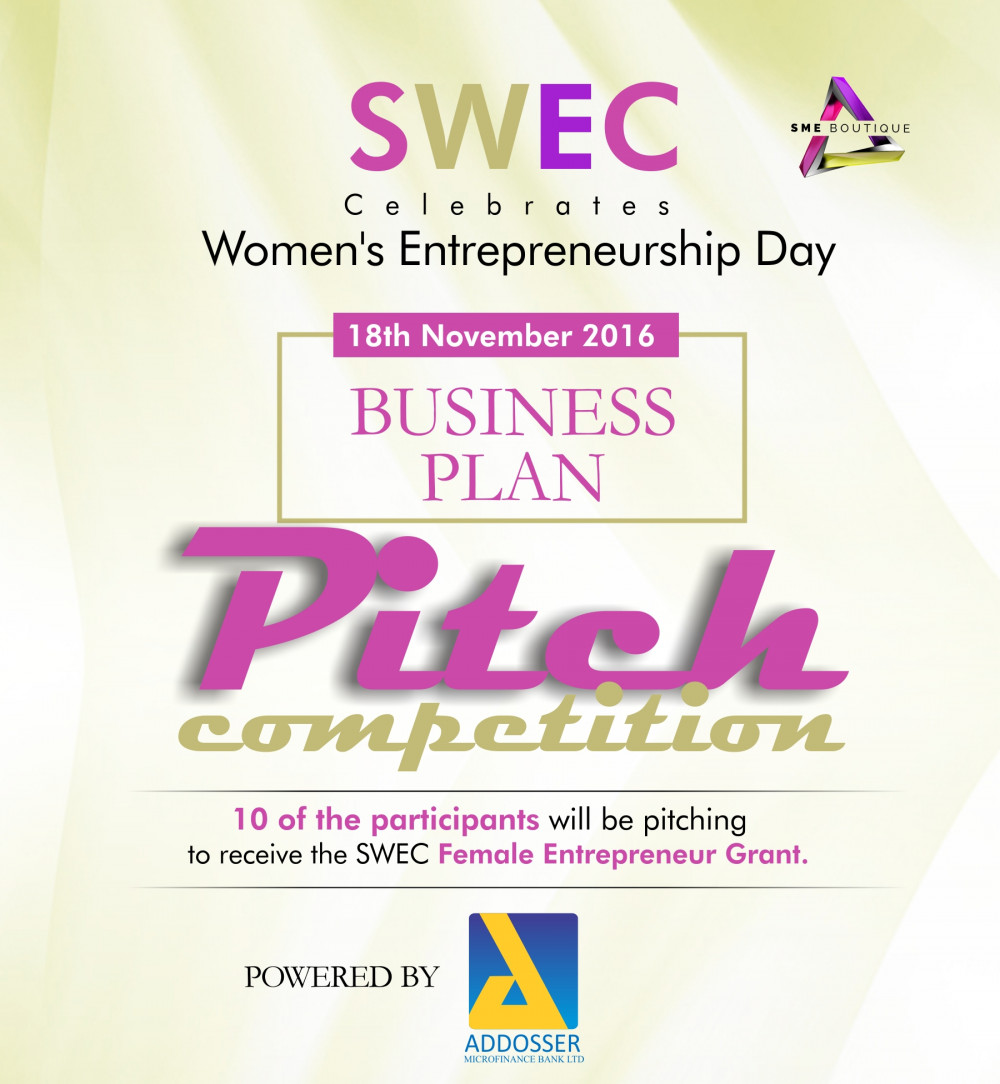 In August, the SME Boutique Exclusive Women's Club (SWEC) powered by Addosser Micro Finance Bank put out a call for innovative female entrepreneurs to apply for its Business Plan Accelerator Programme Scale UP! Over 150 responses were received out of which 10 women were selected to go through a 4 month business strategy and development course. These included in-depth capacity building session from established business leaders, one on one mentorship opportunities with successful female business owners, as well as networking opportunities. Top business leaders such as Ndidi Nwuneli, Femi Longe, Tara Fela Durotoye, Omoyemi Akerele, Biola Alabi, Tale Alimi, Stephanie Obi, Tomilayo Aluko to mention just a few were some of the top class business leaders and facilitators who provided a range of business development and capacity building courses.
The selected female entrepreneurs have also received one on one mentorship with established business owners such as Ada Osakwe of Agolay Ventures, Joycee Awosika of Oriki, Gbemi Adebayo of Hagai and Esther and Isoken Ogiemwonyi of Zazzai, Glory Edozien of Inspired by Glory to mention only a few. The aim of the business accelerator programme has been to power the next generation of female entrepreneurs with the required business skills to scale up their business and compete effectively in the economy.
The next stage of the programme is the official pitch competition which will see 10 of these women present their business plan to a select panel of judges with the winner receiving the "Female Entrepreneur Scale up Grant" Powered by Addosser Micro Finance bank. The pitch competition and the selection of the winner have been aptly timed to commemorate Women's Entrepreneurship Day (WED) which holds on the 18th of November 2016.
Meet the participants;
Cynthia Tule-Okochu
Founder Adirelounge
Sector- Fashion Manufacturing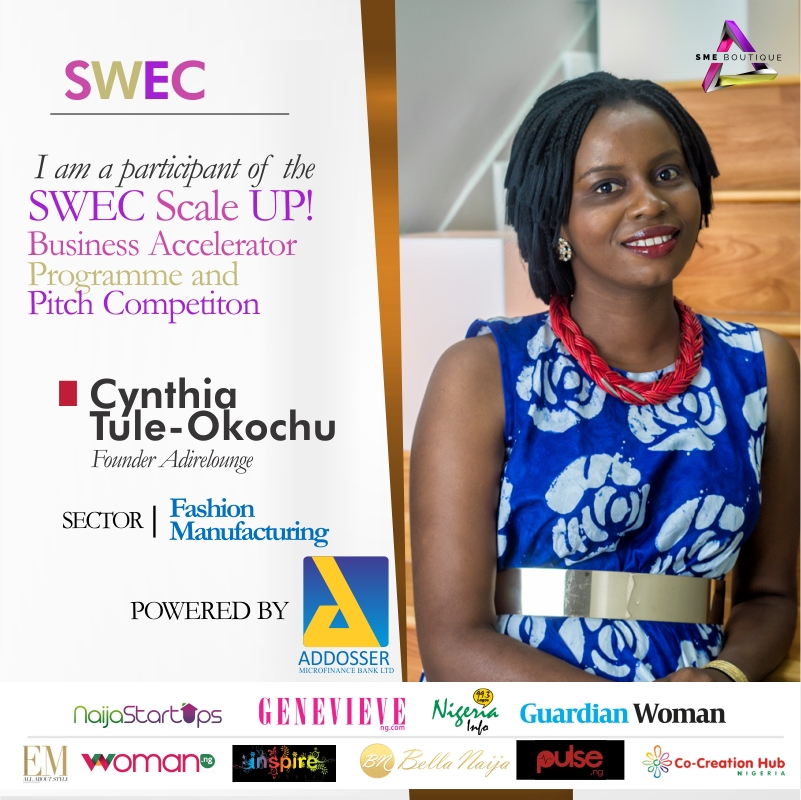 Cynthia Tule-Okochu is the Creative Director of Adirelounge. She holds a Bachelors in Business Administration  from the University of Benin. She also attended the Fate foundation Entrepreneurship school where she has a Certificate in Entrepreneurship.
Adirelounge is a textile company that incorporates hand dyed ethnic infusions popularly known as Adire on non conventional fabrics like silk, scarves, chiffon, jersey, cotton and T-shirts. Adirelounge also creates custom made prints for designers, parties and organizations
Twitter and Instagram: @adirelounge
Debbie Larry-Izamoje
Founder Image Boosters
Sector- Business Services/consulting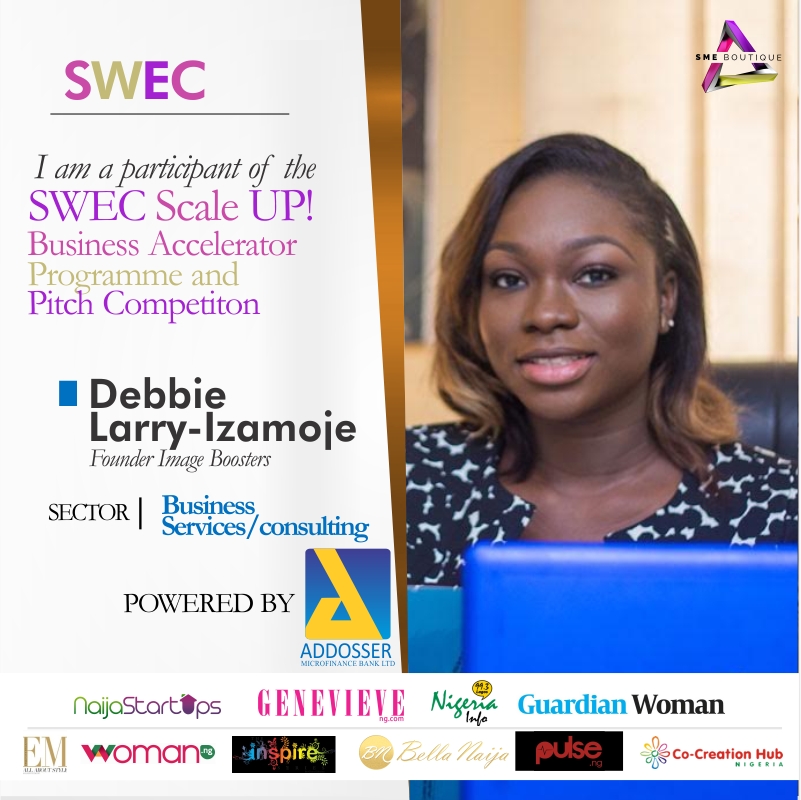 Debbie holds a BSc in Information Management from the University of Sheffield, United Kingdom as well as an Msc in Management from University College London (UCL). She has also secured certificates in user innovation from Massachusetts Institute of Technology (MIT) and Innovation and strategy from Harvard University.
She is a communications and brand strategist at Image Boosters Limited a company which offers tailored social media content, management, training, monitoring and coverage for businesses and events.
She is the founder of the IBL platform a subsidiary of Image boosters limited which is an online business community for young established/soon to be established professionals to ask questions, share concerns and experiences and receive tailored counseling.
Debbie Larry Izamoje who is also known as the entrepreneurs best friend is on a mission to raise a generation of young established or soon to be established professionals who are more vocal about business difficulties while providing solutions through public speaking, training, workshops and coaching. Her primary goal is to change the narrative that the journey to success is lonely.
Twitter and Instagram: @dee_larry @imageboosters_
Elizabeth Laiza Kalu
 Founder: Sylvo
Sector- Fashion and content creation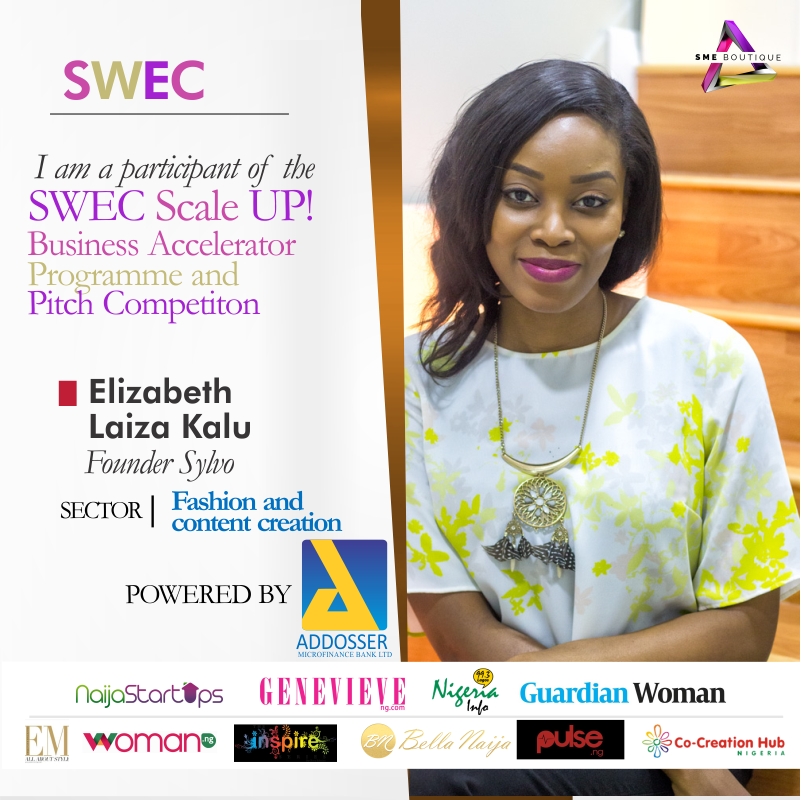 Elizabeth is the Founder/CEO of STYLVO, the leading content and commerce platform that creates premium shoppable fashion, beauty and style content, focused on the African fashion and beauty industries. She is a purpose driven entrepreneur and forward thinker who is passionate about using business, content, technology and creativity to drive change. Prior to STYLVO, she led several positions dedicated to supporting entrepreneurs at the base of the pyramid and also successfully managed projects focused on education and women empowerment. Elizabeth holds a Bachelors degree in Accounting and has certifications in Digital Marketing, Technology & Entrepreneurship.
Twitter and Instagram: @Stylvo
Sekemi Braithwaite
Founder Shay's Treats
Sector- Beauty and manufacturing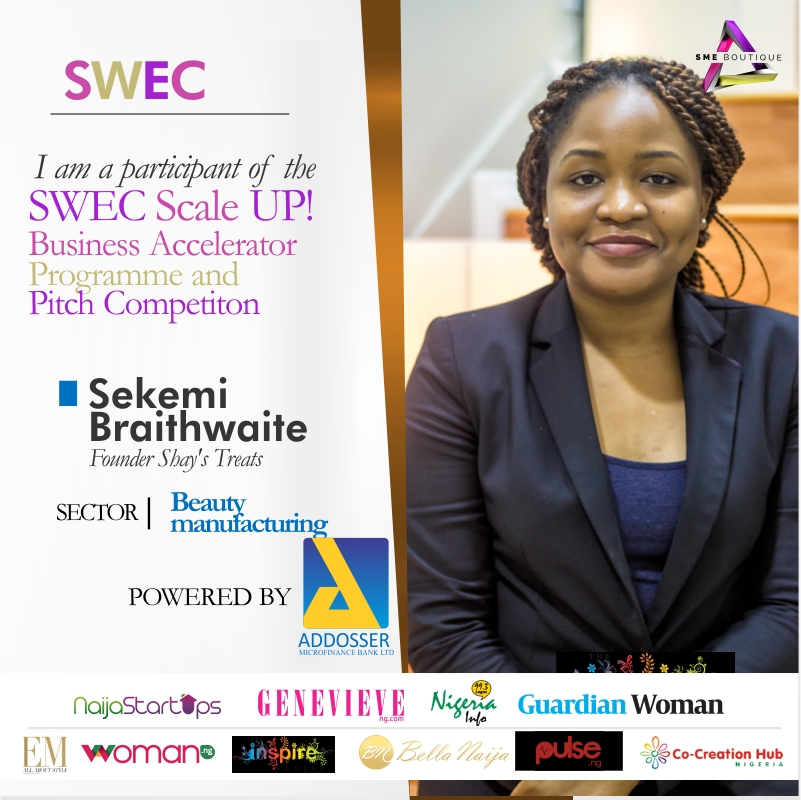 Sekemioluwa Braithwaite is a graduate of both the University of Edinburgh and the Nigerian Law School. She is also the founder of Shay's Treats-a natural skincare company based in Lagos.
Sekemioluwa's experience with childhood skin allergies inspired her to research the benefits of essential oils, plant extracts and other natural ingredients. Thereafter, Shay's Treats was born with the simple philosophy of transforming skin with an affordable range of handmade, organically enriched products. Shay's treats also focuses on using natural and indigenous ingredients which create visible skin care results.
Twitter and Instagram: @shaystreats
Uzoamaka Ezeugwa
Founder and Creative Director Zoya's Jewels
Sector: Fashion and Manufacturing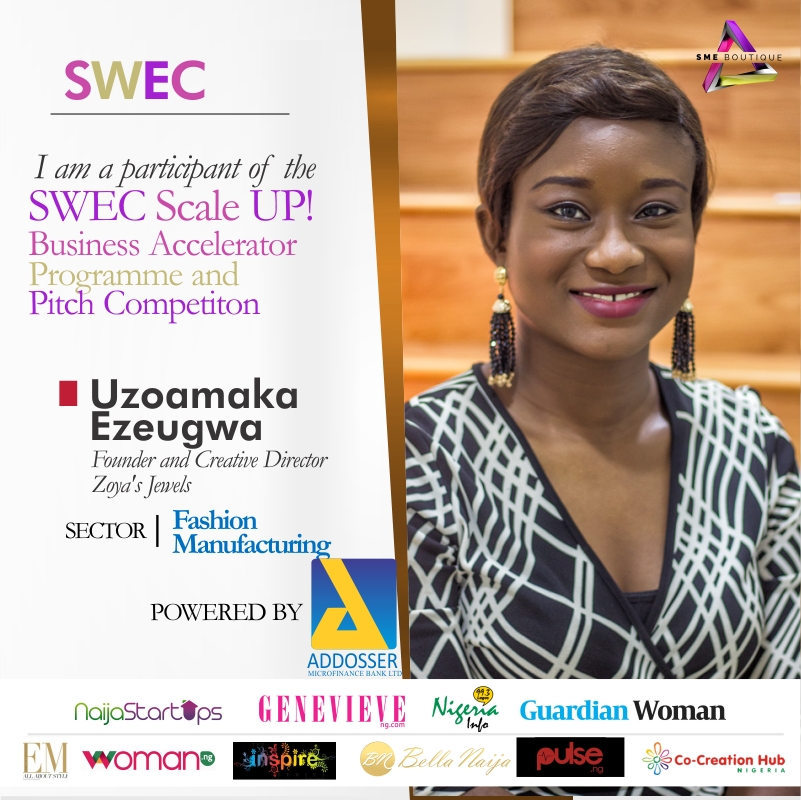 Uzoamaka Ezeugwa is an Accredited Jewelry Professional by GIA and the Creative Director for Zoyas Jewels, who has taken her time to learn her craft from experts in different countries – India and America. Zoya's Jewels is a jewelry brand dedicated to bringing her customers unique, statement and stylish jewelry pieces at great prices that won't break bank. They also help organizations create a more visually professional outlook through the aid of customized branded lapel pins, cufflinks and tie pins.
Zoya's Jewels also provides customized services which focuses on providing counsel on which jewelry style is of best quality and would suit specific occasions, needs, tastes and budgets.
Twitter and Instagram: @zoyasjewels
Omowumi Etiko
Founder The Nusafiri Experience
Sector- Travel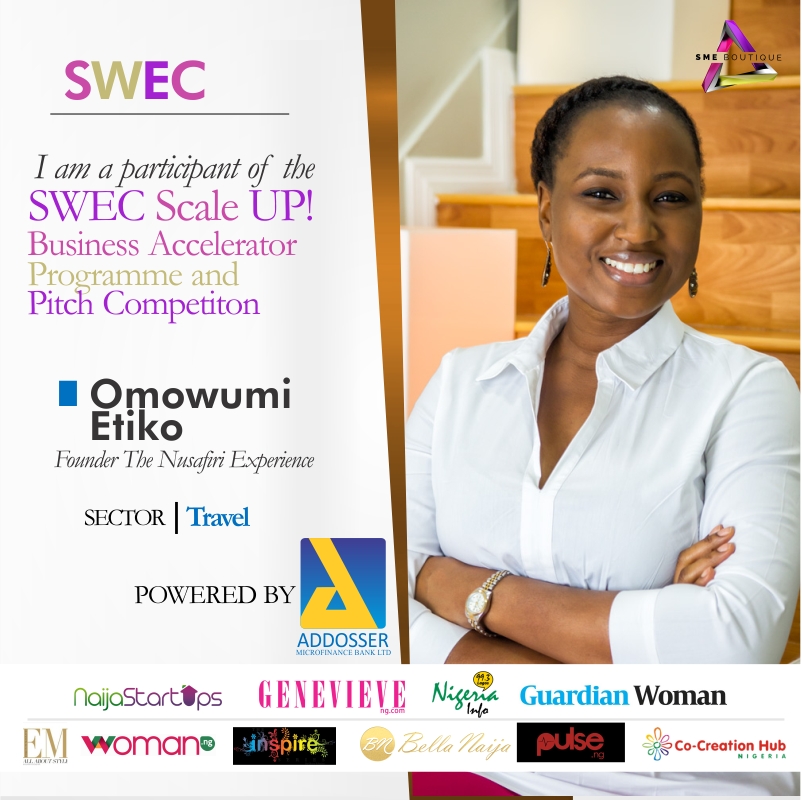 Omowumi Etiko is a certified travel and tourism consultant with a background in administration, human resources, learning and development. Her aim is help her clients experience the art of travel as a seamless and stressfree means of learning, expanding their minds and imbibing new cultures, tastes and sights. She is also focused on expanding tourism opportunities specifically in Nigeria and in Africa as a whole by highlighting notable destinations in country and creating experiences which match the appetite and budget of her clients.
Nusafiri clients are corporate clients desiring unusual retreats and individuals with a unique taste for travel. As a young company with a growing portfolio, Nusafiri has had the privilege of working with some international companies and have planned several personalized travel experiences such as honeymoons, baby moons, personal retreats, corporate team building retreats, wedding destination scouting and much more.
Omowumi holds a BA in Psychology from the Catholic University of America and an M.sc in Human Resources Management from the University of Sheffield and is certified by IATA.
 Twitter and Instagram: @nusafiri
Elizabeth Idem-Ido
Founder Mmabon
Sector- Manufacturing and Fashion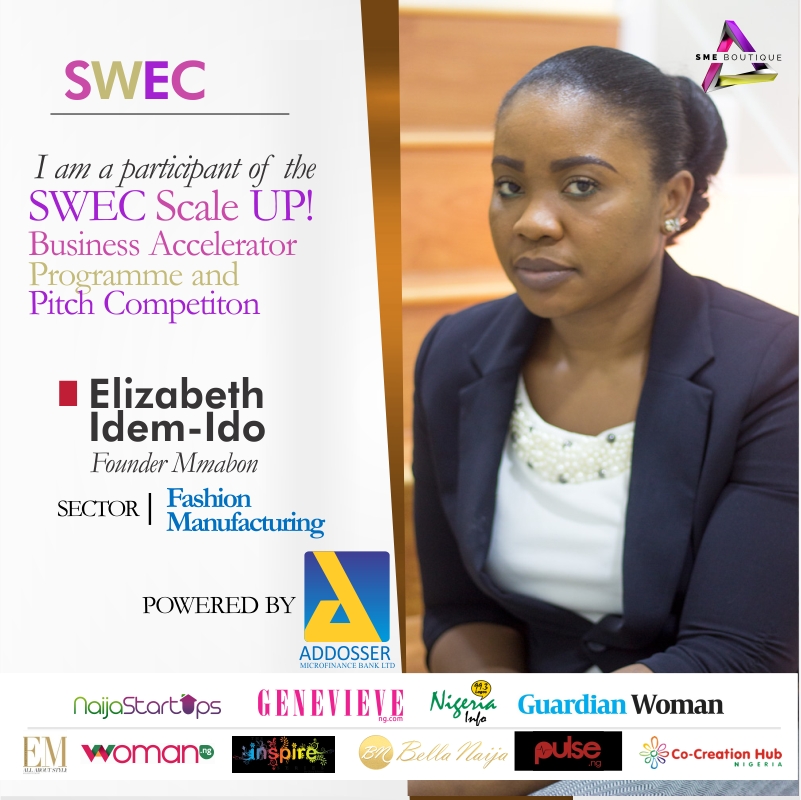 Mmabon is a Premium Custom apparel manufacturer which specializes in customized apparels focused on helping brands, families, groups and events stand out. The central theme of the company is to enhance brand image and promotion while also making life events memorable.
Mmabon service repertoire includes corporate wear and uniforms for businesses, branded Tshirts for family photo shoots, school reunions, bridal showers and other memorable life events as well as school uniforms, sportswear and funday Tees. Mmabon's growth goals include launching a DIY website, increasing capacity by over 100% and launching a new line of branded Tshirts
Twitter and Instagram: @Mmabon
Akpevwe Uvieghara
Founder D'Artiste by Dodos
Sector- Beauty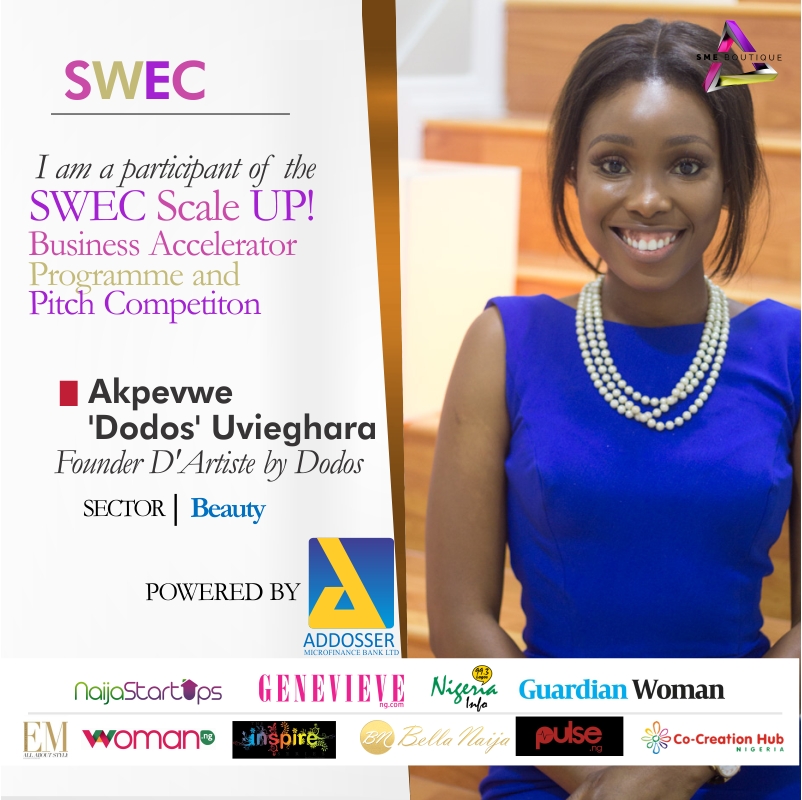 Dodos  Uvieghara is an award winning Makeup Artist, Digital Influencer and founder www.iamdodos.com a  Fashion and Lifestyle blog where she shares and curates style  tips, makeup tutorials and skincare regimens. She is a noted and influential voice in the Nigerian Makeup industry where she   empowers Nigerian women on easy ways to boost their confidence, self esteem and innate beauty qualities through fashion and makeup.  She is responsible for the timeless clean looks seen on some famous Nigerian Celebrities like Genevieve Nnaji, Asa, Eku Edewor and many more. In 2015, Dodo's was a recipient of the coveted Exquisite Lady of the Year ( ELOY) award for Best Make Up Artist.
 Twitter and Instagram: @iamdodos
Ibukun Oludare
Founder Pine and Ivory Ltd.
Sector- Interior design and manufacturing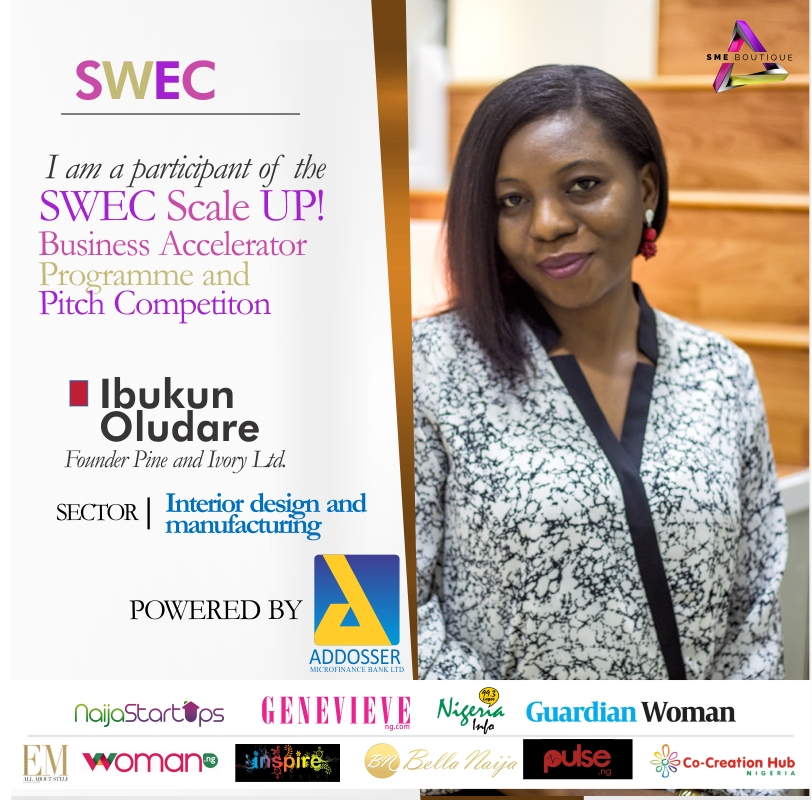 Ibukun is a passionate interior designer who dropped her certification in Law and ADR to bring her dream of creating amazing timeless spaces to life. Her company, Pine and Ivory Ltd is an interior design company committed to ensuring that our clients realize their vision for their space, we have a mission to meet and exceed our clients expectations,  giving excellent service and creating spaces furnished with our furniture pieces that are built to stand the test of time.
Pine and Ivory has both an interior design arm as well as a furniture and retail arm, with show rooms located in-36 Association Avenue, Ilupeju,  Lagos.
Twitter: Pineandivory
Instagram: Pni2012
Amara Roy-Osuji
Founder and Creative Director Timara Creations
Sector- Beauty
Amara is an alumnus of the Lagos Business school where is attained an MBA after receiving a Bachelor of Science degree in Computer Science from Covenant University.
Her company Timara Creations is a beauty company focused on providing professional hair and beauty services to women. The passion behind the company stems from the important contribution beauty plays in building confidence in women. At Tamara creations beauty matters because confident women make things happen!
Timara Creations offers bespoke services which cater to the individual needs of her clients. She also provides customized wigs and services a range of international clients.