Hello BellaNaijarians!
It's another edition of Events This Weekend.
Here are the exciting events happening this weekend!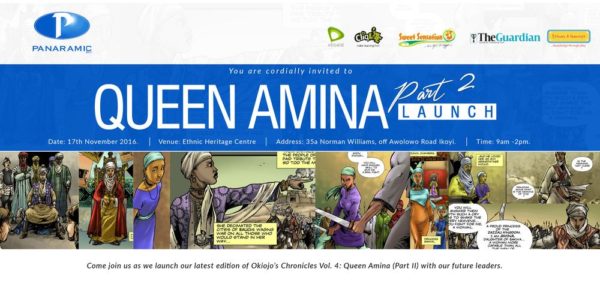 Queen Amina (Part 2) Launch
Come join us as we launch our latest edition of Okiojo's Chronicles Vol. 4: Queen Amina (Part II) with our future leaders.
Date: Thursday, November 17 2016
Time: 9AM
Venue: Ethnic Heritage Centre, 35a Norman Williams, Off Awolowo Road, Ikoyi
---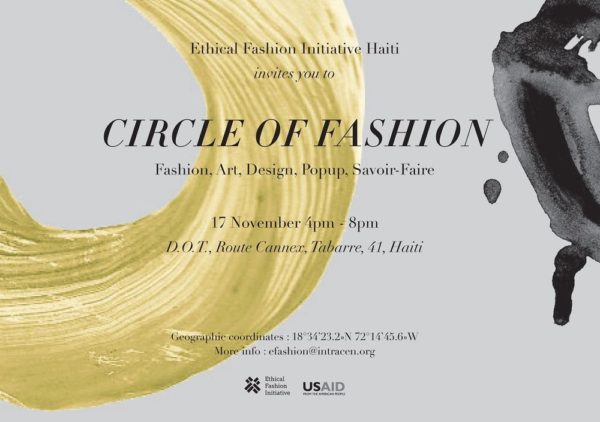 Circle of Fashion
The Circle of Fashion is an encounter between the world of fashion and art, celebrating the innovative creative industry of Haiti. For this, the Ethical Fashion Initiative has invited 20 Haitian and International designers to design a special edition collection to be sold at the event.
Date: Thursday, November 17 2016
Time: 4PM – 8PM
Venue: D.O.T, Route de Cannex, Tabarre 41, Haiti
---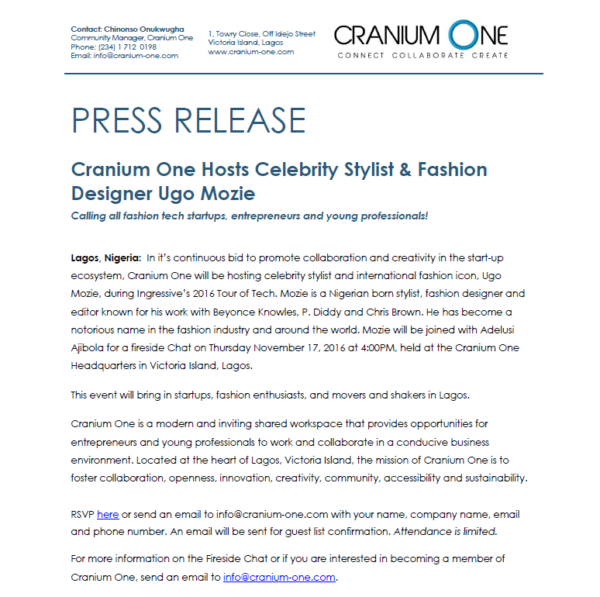 Cranium One Hosts Celebrity Fashion Stylist and Fashion Designer Ugo Mozie
This event will bring in startups, fashion enthusiasts, and movers and shakers in Lagos.
Date: Thursday November 17, 2016
Time: 4PM
Venue: 1, Towry Close, Off Idejo Street Victoria Island, Lagos.
To RSVP send an email to info@cranium-one.com with your name, company name, email and phone number. An email will be sent for guest list confirmation. Attendance is limited.
---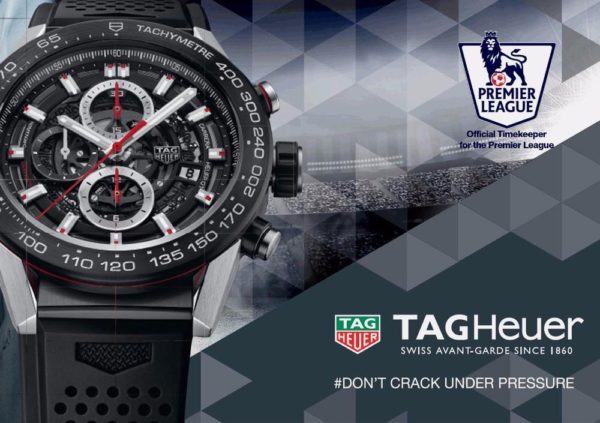 TAG HEUER Mono Boutique Opening
Date: Thursday, November 17, 2016.
Time: 5PM
Venue: L11 Jabi Lake Mall, Jabi Abuja
After Party: 11PM
Venue: Play Lounge, Ademola Adetokunbo Crescent Wuse 2, Abuja
R.S.V.P: omayemi@hole19group.com, +234 9 090 646 4098
---
Heartbeat The Musical
Date: Thursday November 17 2016
Time: Red Carpet: 6PM | Show: 7PM
Venue: Muson centre,Onikan Lagos
---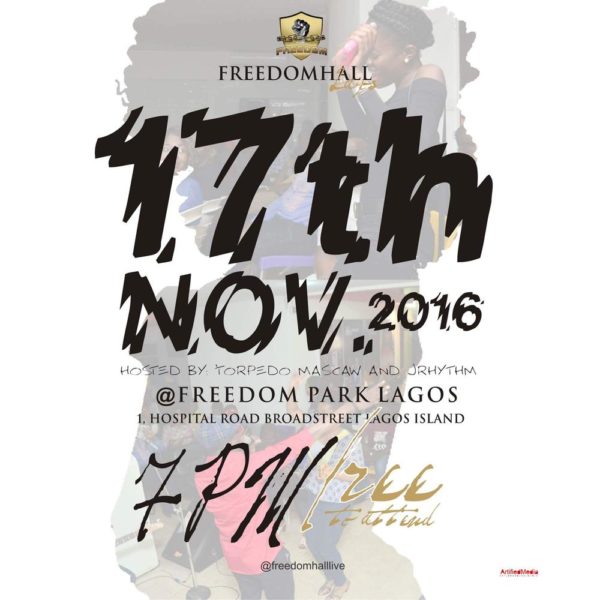 The Freedom Hall Open Mic Night
The Music and Open Mic show features original music and poetry. Anyone interested in reading poetry, singing popular music, or just enjoys open mic nights can attend. Performers sign their names on the list and the performance follows that order.
Date: Thursday, November 17 2016.
Time: Sign up starts at 6.30PM | Show runs from 7 – 10 PM
Venue: Freedom Park – 1 Hospital Road, Lagos Island, Lagos
Open Mic is Free but entry into Freedom Park is N200.
---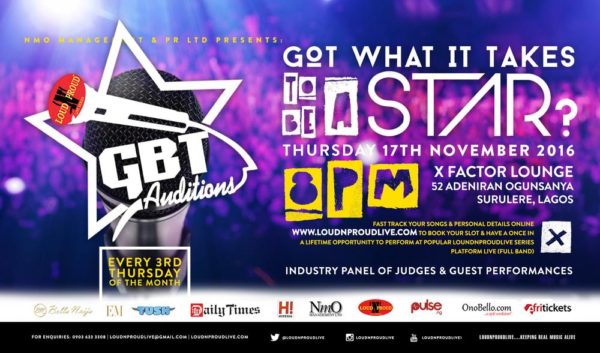 Golden Break Through (GBT) Auditions
Calling all aspiring artists…Have you got what it takes to be a STAR? Each month the GBT Winner – selected by an industry panel of judges – secures AUTOMATIC entry for a live band set performance at the popular monthly LoudNProudLive Series held in Victoria Island.
Date: Thursday, November 17 2016
Time: 8PM
Venue: X Factor Lounge, 52, Adeniran Ogunsanya, Surulere, Lagos
---
LagosVegFest
For a third time, the festival on healthy lifestyle and plant based diet at a 3 day festival in Freedom Park, Lagos Island on November 18-20 with exhibitors, workshops and exercise sessions.
Date: Friday – Sunday, November 18 – 20 2016
Time: Friday: 4PM – 9PM | Saturday & Sunday: 11AM – 7PM
Venue: Freedom Park (old prison ground on Broad Street), No. 1 Hospital Road, Lagos Island (opp. St. Nicholas Hospital and Island Maternity)
For more info: 09090697729, www.lagosvegfest.com, lagosvegfest@gmail.com Entry fee to park applies
---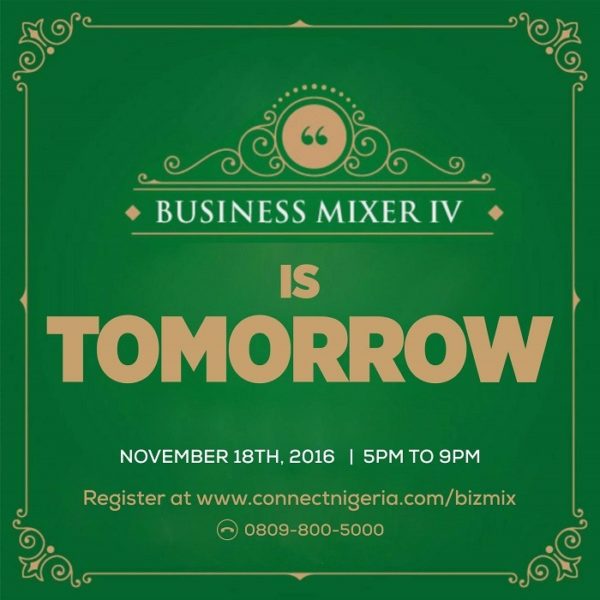 The Business Mixer
The Connect Nigeria Business Mixer is an event which gives business people the opportunity to network and build business relationships in a relaxed environment. The Connect Nigeria Business Mixer is free for Club Connect members; non-club members can pay the sum of ₦10,000 to attend.
Date: Friday, November 18th, 2016.
Time: 5PM – 9PM
Click here to register.
For enquiries, send an email to grow@connectnigeria.com, or call 0700-800-5000
---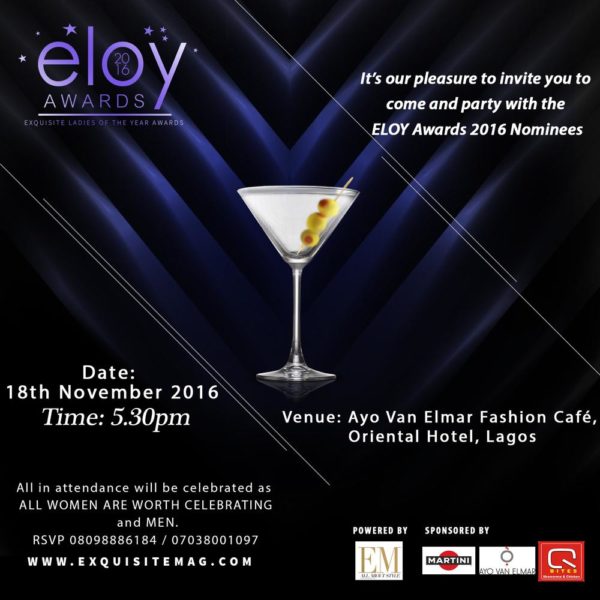 Eloy Awards 2016 Nominees Party
The Nominees party is an evening set aside to congratulate all the nominees and their achievements so far.
Date: Friday, November 18 2016
Time: 5:30PM
Venue: Ayo Van Elmar Fashion Café, Oriental Hotel
RSVP: 08098886184, 07038001097
---
Silent Thanksgiving Groove Disco
Date: Friday, November 18 2016
Time: 7PM
Venue: 6, Ologun Agbaje Street, Victoria Island, Lagos.
Ticket: N5,000 – Covers Headphone, Cocktails and appetisers
---
Kinabuti 'Dare2Dream Winners Send-off Party'
Date: Friday, November 18 2016
Time: 7 – 11 PM
Venue: Cafe Royal
---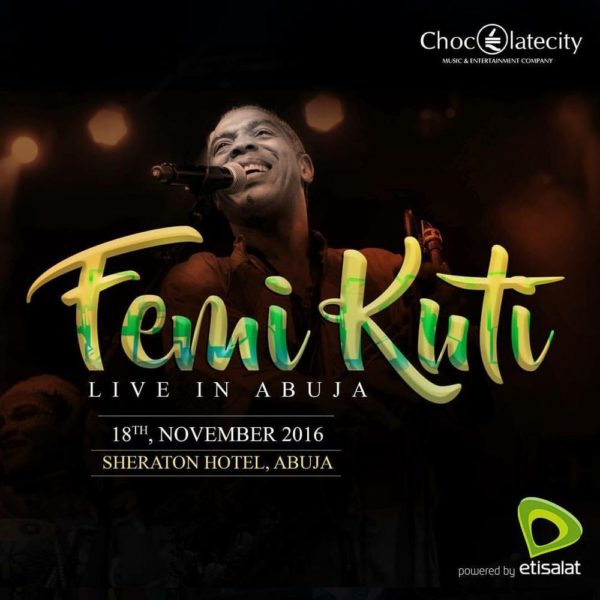 Femi Kuti Live in Abuja
Afrobeat legend, and four time Grammy Award nominee, Femi Kuti brings the recently ended Felabration vibe to Abuja this November. The event which is being put together by Chocolate City Group, with support from Etisalat Nigeria, is targeted at consumers with a fine taste for live music experiences.
Date: Friday, November 18 2016.
Time: 6PM
Venue: Sheraton Hotel Abuja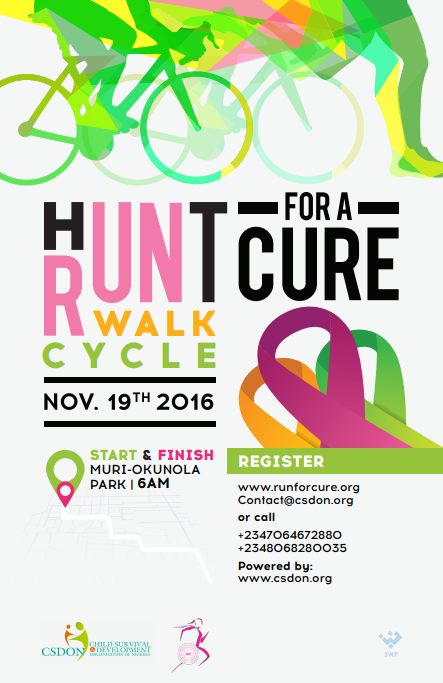 Run For A Cure 2016
Hosted by Child Survival and Development Organisation of Nigeria (CS-DON), the Run For A Cure initiative began in 2009  to raise awareness and funds to support the treatment of those suffering from cancer.
Date: Saturday, November 19 2016.
Time: 6AM
Venue:  Muri Okunola Park, Victoria Island, Lagos.
Register at www.runforcure.org or visit 1D, Club Road, Ikoyi, Lagos, Nigeria. Your registration fee covers your race essentials and gives you a pass to the Race after party filled with all kinds of fun for the whole family.
Adults – N5000 | Children – N2000 | Teams – N3500 each.
---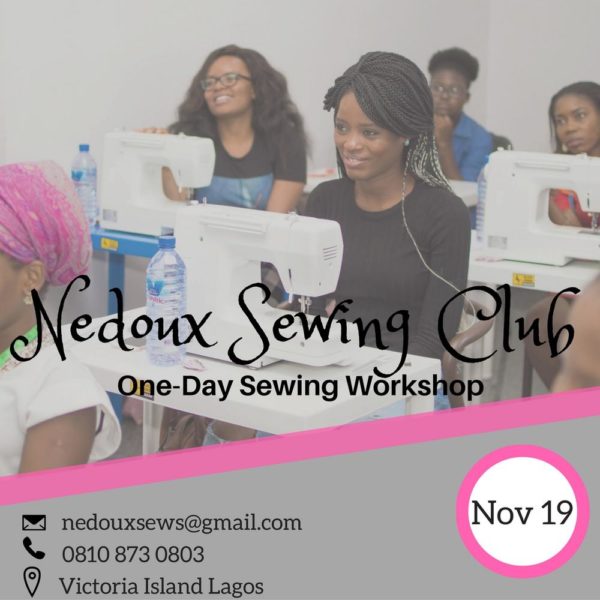 NSC November 2016 Sewing Workshop
The Nedoux Sewing Club is holding a one-day workshop for absolute beginners who are interested in acquiring valuable DIY sewing skills in a social setting.  At the end of the workshop, each participant would learn how to sew trendy staple garments using an electric sewing machine.
Date: Saturday November 19 2016
Time: 8AM
Venue: Victoria Island, Lagos
Contact: nedouxsews@gmail.com or 0810 873 0803
---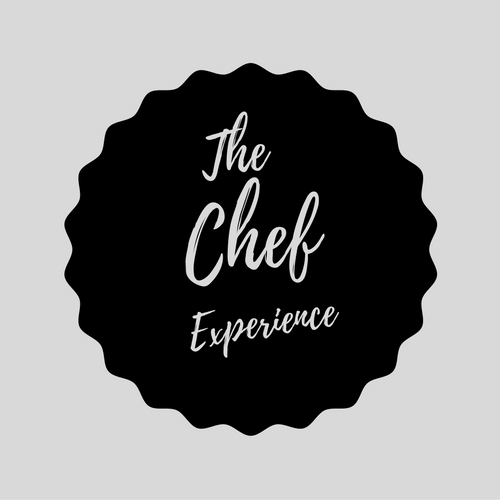 The Chef Experience
The Chef Experience, a tasting club, where foodies get to sample gourmet recipes and a great way to meet the chefs behind the food.  On the line up are Chef Dish, Chef Nylah, Alex Cooks food, Chef Benedict, KD Prime & more.
Date: Saturday to Sunday,  November 19 – 20 2016
Time: Saturday:  9AM – 3PM | Sunday: 10AM – 2PM
Venue: Due by Chef Dish, 19/35a Adetokunbo Ademola street, 1004 exit, driveway between Tantalisers and Chase Mall.
For reservations contact 08185556842, 08186973369 or @duebychefdish
---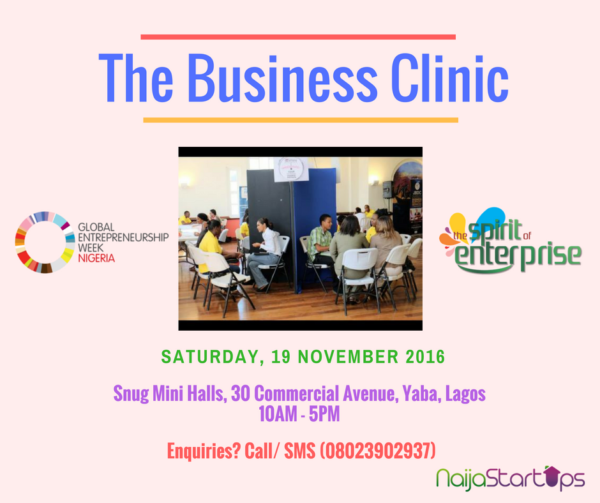 The Spirit of Enterprise Business Clinic
The Spirit of Enterprise in conjunction with the Nigerian Hosts of the Global Entrepreneurship Week (GEW) holds a Business Clinic for Entrepreneurs & Business Owners this Saturday! 
Date: Saturday, November 19, 2016
Time: 10AM – 5PM (sessions are on a first come, first served basis so attendees can pop in and out at their convenience).
Venue: Snug Mini Halls, 30 Commercial Avenue, Yaba, Lagos (grey building beside First Bank and opposite NUT building).
Ticket: N 2,000
Contact: 08023902937 | thespiritofenterprise@gmail.com
---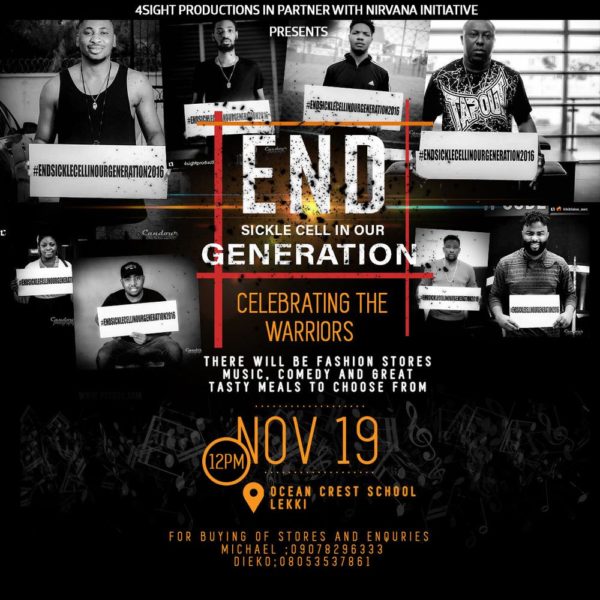 End Sickle Cell in Our Generation
4Sight Productions and Nirvana Initiative NGO have collaborated on this charity. There will be fashion stores, music, comedy, and great tasty meals to choose from.
Date: Saturday, November 19 2016
Time: 12PM
Venue: Ocean Crest School Lekki, Lagos
---
RETURN
"RETURN" is an evening of true and sincere worship. An evening where we start the journey of coming back to the things we used to do and the things that truly matters. A time to steer aright our love for the Lord Jesus Christ.
Date: Saturday, November 19, 2016
Time: 4PM
Venue: Main Auditorium, University of Lagos, Akoka
---
11th Hour Praise
Put on your dancing shoes and Join the Inspirational sisters of Cornerstone Youth church to her November praise event, The 11th hour praise, where we would be praising and thanking God for the year 2016. 
Date: Saturday, November  19 2016
Time: 4PM
Venue: Cornerstone Youth Church, no 15 adelabu street, surulere, lagos.
Contact: Cornerstoneyouths@gmail.com or visit: www.facebook.com/mycyc
---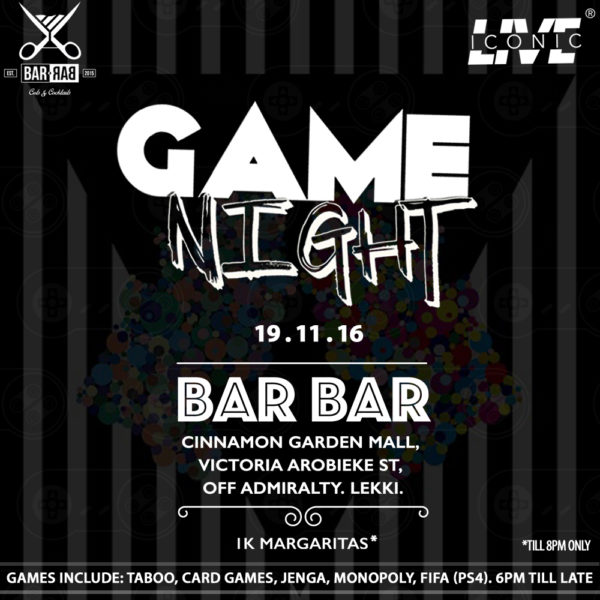 Game Night
Join us for the first edition of our games night this Saturday at Bar Bar Lagos. It promises to be a fun, exciting night. Games include; Jenga, Monopoly, Card games, Taboo and Video Games. We also have discounted cocktails till 8PM.
Date: Saturday, November 19 2016
Time: 6PM till Late
Venue: Bar Bar Lagos. Cinnamon Garden Mall, Victoria Arobieke St, Lekki Phase 1.
---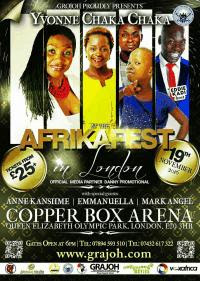 Yvonne Chaka Chaka live in London at Afrikafest
The Concert will feature Anne Kansiime, Emmanuella, Mark Angel, Eddie Kadi and many more.
Date: Saturday, November 19 2016
Time: 6PM
Venue: The 7500 capacity COPPER BOX ARENA, Queen Elizabeth Olympic Park, London E20 3HB
Tickets: from £25 | Buy tickets at www.grajoh.com
Info: 07894 593 510 / 07432 617322
---
BU Fest
RED and the Babcock University Students Association have put together this initiative to welcome the world to the ever glowing holistic social life that Babcock University students enjoy on campus and also to share the Babcock culture.
Date: Sunday, November 20 2016
Time: 12PM
Venue: Babcock University stadium, Ilishan-Remo, Ogun State
For enquiries and for stall bookings please call 07060976006, 08186807430 and email bufest2016@gmail.com
---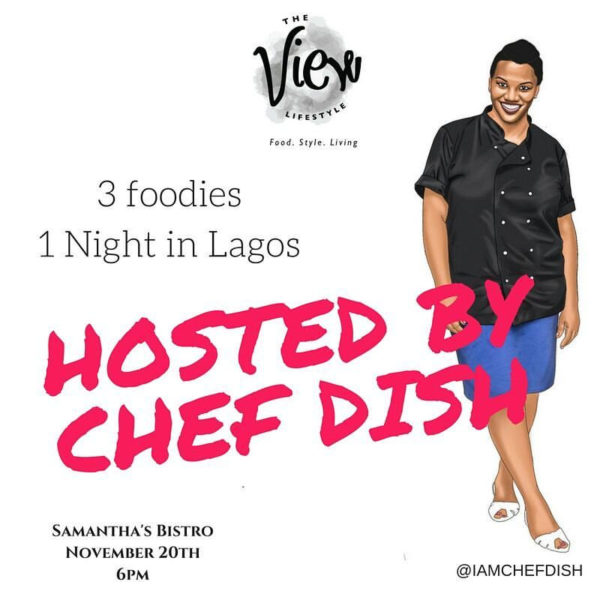 3 Foodies 1 Night
1 Night in Lagos was introduced a couple of years ago by Dumebi Agbakoba to promote the work of creatives and recognize their contribution to food, fashion, culture, music and lifestyle.  
Date: Sunday, November 20 2016
Time: 6PM
Venue: Samantha's Bistro Lagos
---
Makeup Photography Masterclass
The Swish signature company in collaboration with Emmanuel Oyeleke Photography and Zaron cosmetics presents a 3day Professional Makeup and Photography Masterclass With Maero Allen & Emmanuel Oyeleke.
Date: Monday – Wednesday, November 21 – 23, 2016.
Time: 10AM – 5PM daily.
For more information:
call: 08096504095
Email: swishsignature@gmail.com
Instagram: @zaroncosmetics, @emmanueloyeleke, @swishsignature
---
Mentorship Sessions
Join Adeolu Akinyemi, Alex Goma, Innocent Usar, Idy Enang and Kunle Ogunwomoju.
Date: Monday – Friday, November 21 – 25, 2016
Time: 10AM – 2PM daily.
Venue: Platinum Hall, Our Place, 7 Olufunmilola Okikiolu Street, Ikeja, Lagos.
Register here: www.goo.gl/XpWhGM and join in for an empowering time.