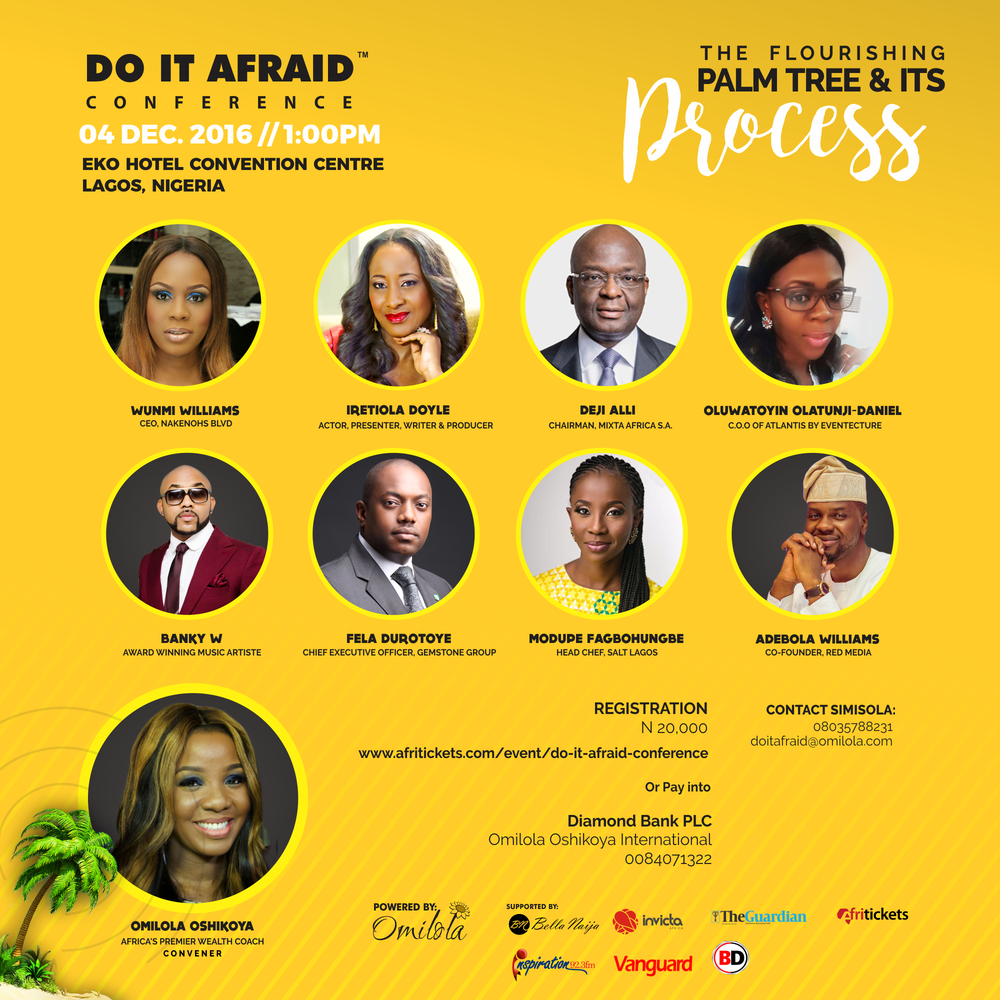 Are you afraid of losing your job because of the recession or have you lost your job? Do you want to follow your dreams but lack the courage to do so? Have you followed your dreams but your reality makes you want to give up on them? Do you feel like shutting down your business and going back to paid employment? If you answered yes, then the Do It Afraid Conference is for you.
Omilola Oshikoya International presents the second edition of the Do It Afraid Conference. The 2016 edition comes as a strategic, solution-based response to the critical economic and social crises that Nigeria, Africa and the world face today.
The conference is a motivational and inspirational event based on the "Do It Afraid" trademark owned by Omilola Oshikoya International (OOI). Their main objective is to inspire individuals to fulfil their dreams and purposes, with a special emphasis on business-minded individuals who lack the will and conviction to fulfill their entrepreneurial dreams.

The theme for the second edition is, "The Flourishing Palm Tree and its Process". The goal is to encourage those who are in the process of fulfilling their dreams, and to give courage to those who want to follow their dreams.
Speaking at this year's event are: Wunmi Williams (CEO Nakenohs), Iretiola Doyle (Actor), Banky W (Music Artiste), Deji Alli (Chairman, Mixta Africa SA), Oluwatoyin Olatunji-Daniel (COO Eventecture), Fela Durotoye (CEO Gemstone Group), Modupe Fagbohungbe (Head Chef, SALT Lagos), Adebola Williams (Red Media Group) and Omilola Oshikoya (Africa's Premier Wealth Coach).
Do It Afraid Testimonials:
Damola Ladejobi, a former lawyer and general manager, attended the first Do It Afraid conference. Today, she is a certified personal nutritionist and weight loss expert in Nigeria, running a thriving business called Ask Damz.
Nelly Agbogu is the founder of Nellies.ng, a food production company. Prior to attending the conference, she worked in one of the top multinational oil and gas companies in the country.
Oluwatoyin Olatunji-Daniel is currently the only female special-effects and lighting specialist in Nigeria. She attended the first conference and was inspired to resign from her job of 9 years!
Come to the Do It Afraid conference on the 4th of December, 2016, and be inspired to live out your dream.
Date: Sunday, December 4th, 2016.
Time: 1pm
Venue: Eko Hotel Convention Centre
Fee: N20,000
Register on www.afritickets.com/event/do-it-afraid-conference or pay directly into OMILOLA OSHIKOYA INTERNATIONAL, 0084071322 Diamond Bank PLC.
For more information, sponsorships and partnerships, contact Simisola: 08035788231 (doitafr[email protected])