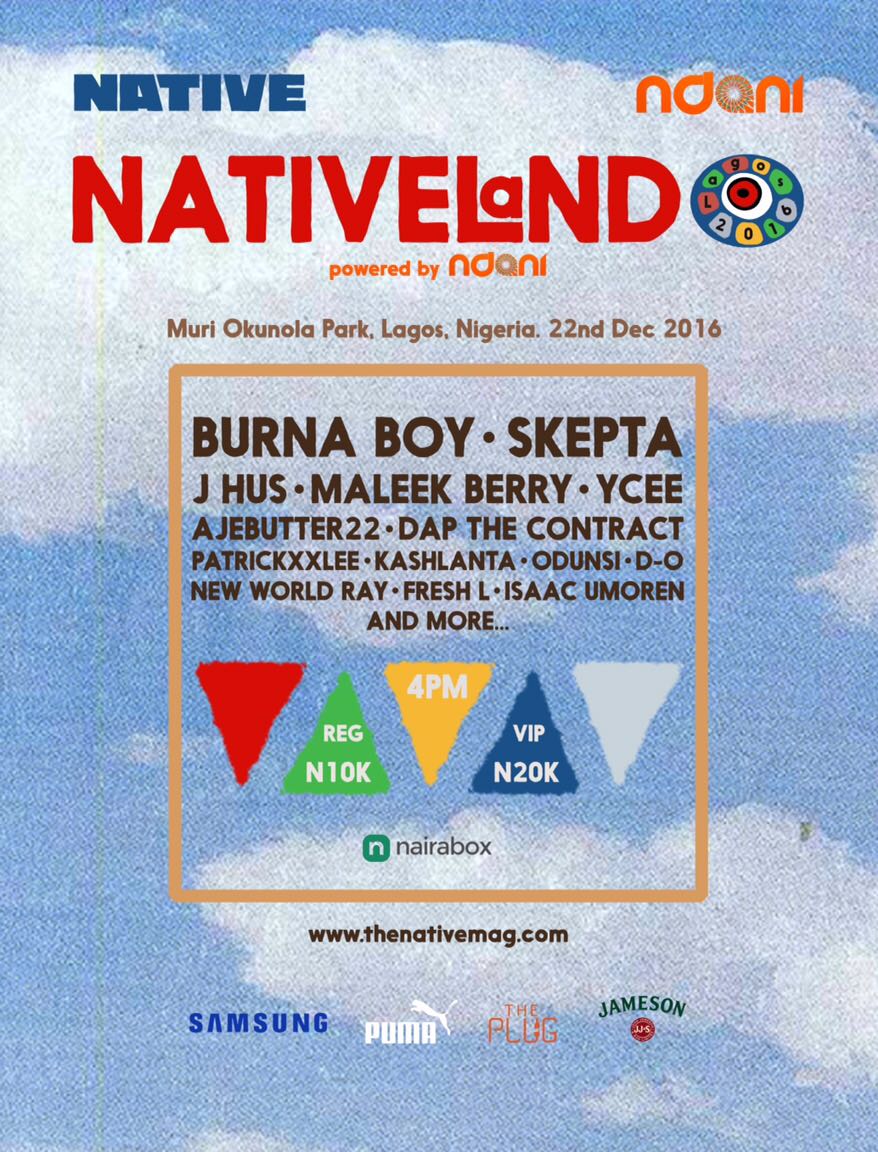 The NATIVE, a brand created to identify, analyze and champion the new culture, will officially launch its website and print magazine through their first annual music festival (NATIVELAND Festival) this December, 2016. The NATIVE brand aims to work towards creating a constant dialogue between the underground and the mainstream, thus reshaping the face of popular culture.
Speaking on the brand, Founder of The NATIVE, Seni Saraki said, "Africa has been built on a foundation of censorship and conservatism from outsiders and within. Technology has gone a long way in the mission to eradicate this suppressive way of living. Africans have never had such a voice within their countries as they do now. Walls are being broken down, the youth especially now have a vocal input in the shape of the country culturally, politically and economically. This is our way of contributing and speaking out."
The NATIVE, set to launch on the 23rd of December 2016, will be created in both print and online. They aim to be the reliable pulse of the African millennial, definitely covering music, style, art and the communities in which they are nurtured. Geared towards the active, fashionable, career focused individual, it aims is to be the most informative source for those aspiring to achieve their goals and live a successful lifestyle. The NATIVE will be published in print form four times a year, with each issue covering a unique theme. TheNativeMag.com will be updated daily.
NATIVELAND Festival, powered by Ndani.TV, aims to bring the pages of the NATIVE magazine and website to real life experiences with a highly curated event which will take place at Muri Okunola Park on the 22nd of December, 2016 at 4pm. This will see a wide range of high profile guests and well known celebrities and the Festival will showcase an array of established acts in the mainstream such as Skepta and Burna Boy. Other performing acts include YCEE, Maleek, Berry, Ajebutter 22, Fresh L, DAP The Contract, Odunsi and much more.
Date: Thursday, December 22nd, 2016.
Time: 4pm
Venue: Muri Okunola Park, Lagos.
The NativeLand Festival is brought to you by The Native , sponsored by Ndani.TV and supported by Nairabox, Samsung, Puma, The plug and Jameson.
Tickets for NATIVELAND Festival are now available at the price of N10,000 and N20,000 (VIP).
They can be purchased at the following outlets;
Shisha Room, 27 Fola Osibo Lekki Phase 1,
Harbour Points, Ahmadu Bello Way, Victoria Island, Lagos.
411 Restaurant, 14 Adeola Hopewell, Victoria Island, Lagos.
Tickets are also available online exclusively here: https://www.nairabox.com/events/single.php?id=5847ca7d8ead0e5c588b4946
For Press inquiries, to schedule an interview/obtain additional quotes, or to discuss festival media presence please contact: Lola Adamson [email protected]
Keep up with The Native on Social Media:
Instagram @thenativemag
Twitter @nativemag
Facebook: Facebook.com/thenativemag
Website: www.thenativemag.com
_____________________________________________________________________
Sponsored Content