It has not been the best of times for Nigeria's largest commercial airline, Arik Air in the last couple of months.
Passengers have taken to social media to call out the carrier for poor customer service and delayed flights.
Today, the anger got physical, as passengers assaulted an official of the airline, who was reportedly fighting with another passenger.
A Tweeter user shared the following videos:
So @lindaikeji@cchukudebelu @BTBreakingTimes @strictlylowkey

Behold an arik manager fighting passengers at Lagos International Airport pic.twitter.com/uSdNvnrxYA

— Graham of H.N.C (@graham_TeleNoza) January 4, 2017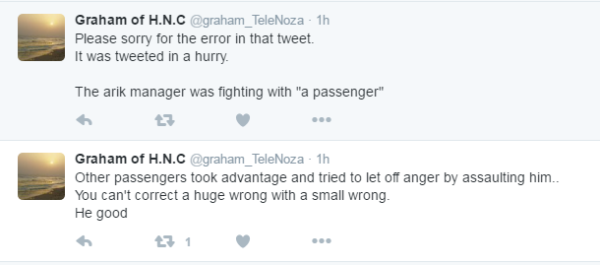 Another Twitter user claimed that due to a 10-hour delay, passengers locked the airline's staff in, saying that if they do not begin their journey, then no staff is going home.
The brawl started after the staff reportedly tried to sneak the manager's bag out of the office.

"this is not an airline! close it down! close it down!' he wails, exhausted… pic.twitter.com/7dlDuDM802

— The Goddess ✨ (@Brendalishus) January 4, 2017
Here we see an anti arik warrior pulling down their banner. Once again. Not having it. pic.twitter.com/wsoXLrHX2k

— The Goddess ✨ (@Brendalishus) January 4, 2017
Shall the show be complete without sprispri? I think not. Here we see an ijgb breaking it down, no violence pic.twitter.com/4ofly61Sim

— The Goddess ✨ (@Brendalishus) January 4, 2017
While the grievances of the customers are genuine, what must be condemned is the assault on the company's staff, as the following tweets assert: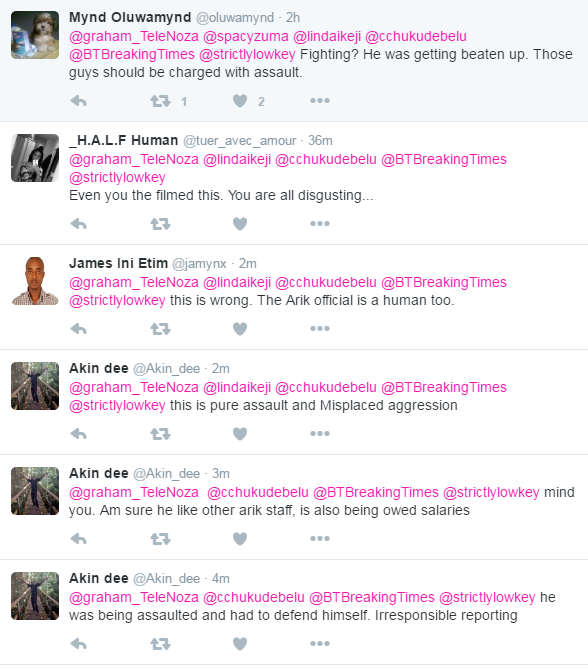 According to tweets, police officers have arrived the scene and calm has been restored.