Olutayo Arikawe, 39, a community pharmacist who has been the Pharmacist Manager at Priory Community Pharmacy in Dudley for four years, has won UK's "I Love My Pharmacist" Award for 2016.
"I am really honoured and happy to be the winner of 'I Love My Pharmacist award 2016',"Olutayo said. "I really believe that if you take care of the community they will in turn take care of you, patient care is the core of everything that we do at the Priory Community Pharmacy."
The 'I Love My Pharmacist' award was created by the Royal Pharmaceutical Society, the professional body for pharmacists in Great Britain, to showcase and celebrate the great work that pharmacists do for their patients across the country. It actually celebrates Britain's best pharmacists.
Olutayo, who was voted by members of the public as the Regional Winner for the Midlands and East, had earlier won the Chemist and Druggist (C+D) Community Pharmacist of the Year and Pharmacy Manager of the Year awards.
She was crowned the winner after 6 of the regional finalists faced a judging panel, where they had the opportunity to make a 10-minute presentation on their health care initiatives.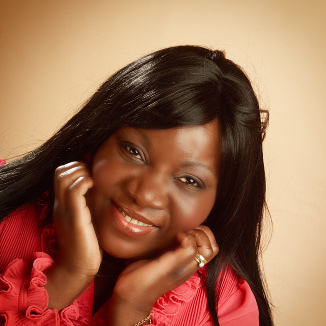 According to I Love My Pharmacist organisers:
Olutayo joined Priory Community Pharmacy in 2012 with a determination to make a difference. She started to organise training for her team so they could carry out health promotion sessions in and outside the pharmacy (for example libraries, community centres, gyms and other work places)

Olutayo always puts the community first and she is involved in many other interventions to help patients improve their health, from organising annual health funfairs for the community to organising carol services, promoting alcohol awareness and supporting alcohol dependent patients. Dudley Public Health has recognised the work Olutayo and her team carry out around alcohol interventions. Olutayo's team give advice to certain patients who find it difficult to drink within the required limits. They support patients with alcohol diaries and booklets and refer alcoholic-dependent patients on to specialists. Over a period of 13 months they reached 1,414 people resulting in 477 interventions. Her team also reach out to colleges to provide sexual health awareness and screening for students.

Her commitment doesn't stop there. She is also a visiting lecturer at the University of Wolverhampton, giving career advice and offers work placements for their students.
Read excerpts of her interview with TheCable:
Impact of the new award on your career and life generally

The award has shown that the great work that my team and I are doing are not going unnoticed. I was honoured to see the community where I work support me and go from house to house to canvass votes for me.  It has been a source of motivation and encouragement for me to do much more than I am currently doing in terms of supporting patient care.

It has given me the opportunity to promote the pharmacy profession and the great work that pharmacists are doing to care for their patients above and beyond what they are expected to. I have been invited to radio programmes where I spoke about public health issues and attended programmes to support other pharmacists in achieving excellence. It has created awareness about my work and this has led to companies and organisations inviting me to train or motivate their team members in achieving success.  Generally, I am proud to be a pharmacist.

How Arikawe and her team help the people

My team and I do a lot to promote better health and reduce health inequality in our community. We do not wait for people to come to see us at the pharmacy; rather, we take pharmacy to them in their community. We go to places such as colleges, pubs, churches, community centres, gym, work places and more. We carry out health promotions in areas like cardiovascular risks (diabetes, blood pressure, cholesterol etc.), reduction of teenage pregnancy, sexual health, smoking cessation and alcohol awareness (creating awareness on how much people are drinking and how they can conform to the national recommended unit). For example, we helped a woman, who smoked over a hundred cigarettes a day, to stop smoking.

My team also gives advice to patients who find it difficult to drink within the required limits. We support patients with alcohol diaries and booklets and refer alcoholic-dependent patients to specialists. Over a period of 13 months, we reached 1,414 people resulting in 477 interventions. We also reach out to colleges to provide sexual health awareness and screening for students.

Becoming a pharmacist

I graduated from the University of Ibadan in the year 2000, had my internship at Nigerian Army Reference Hospital, Yaba Lagos, before proceeding to Jigawa state for the national youth service. It was at a remote village at the end of Nigeria called Babura (Jigawa state) that I met a young qualified pharmacist who told me about practising as a pharmacist in the United Kingdom. His sister sent him some documents, which I photocopied and posted to the UK. I was privileged to have received the Jigawa state honour award at the end of my youth service. Before relocating to the UK in 2005, I worked in various hospitals in Nigeria and in community pharmacy and really enjoyed the work.

Pharmacy has always been my love right from childhood. I actually never filled two courses in my JAMB form when I was seeking admission to the university. I feel privileged to be a member of the profession and have enjoyed it immensely. I am quite passionate about supporting and caring for people. I love to make a positive difference in people's lives in any way I can.

Challenges on your way to the top

I have encountered a lot of challenges in my journey but not as a result of being a Nigerian. I do not remember the colour of my skin when at work. I see us all as the same and my love for my profession is devoid of race. My patients also appreciate me as evidenced in how they went all out to canvass votes for me to become Britain's favourite pharmacist.

But the UK pharmacy conversion programme was challenging for me.  I had to first complete a conversion course at Aston University for one year and then do a one-year internship. My first challenge was getting used to the way people speak. I had to call my mum several times to tell her I didn't think I was going to pass my conversion course because I couldn't understand the lecturers. However, with God, I passed with flying colours. Funnily, I don't have a problem hearing people anymore.

I always believe in improving myself, which led to another challenge of combining my Master of Public Health programme at the University of London and other diploma programmes with work. I had to be very organised to be able to fit it all together and excel.

Rising to the peak of Pharmacy within a short time, and plans for the future

I intend to mentor and support other people, not just pharmacists, to achieve their dreams and aspirations. People should be able to enjoy the whole journey of their business or career and make a success of it too. And I am already doing this through my company, LT Coaching and Consulting Ltd.

Return to Nigeria?

Yes, I want to contribute to the pharmacy profession in Nigeria and hope to come back home someday. In the mean time I hope to come home once in a while to support the profession and healthcare in Nigeria.

In what specific areas should we expect your contribution?

Mentoring, coaching, training and development are uppermost in my mind; and of course any other area I find my skills needed.
Congratulations Olutayo. Greater achievements for you this year!