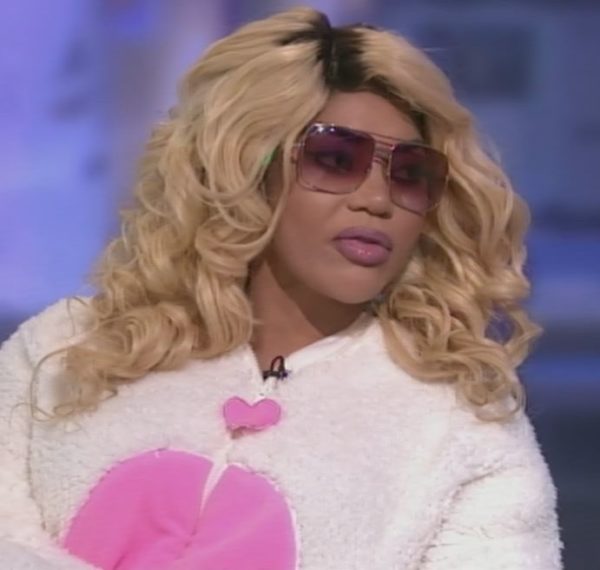 Singer Dencia is one to quickly defend her product Whitenicious, often correcting people that it is not a skin lightening product but a dark spot remover.
After being featured back in 2014 on UK's Channel 4 News to talk about her skin lightening products, she was again featured recently to talk about the effects of skin lightening alongside comedian and journalist Ava Vidal and the show got pretty hot.
Watch a clip below.
.@IamDencia says people don't use her skin bleaching cream to whiten their skin – @thetwerkinggirl says she is "intellectually dishonest". pic.twitter.com/9IzAvYMPTj

— Channel 4 News (@Channel4News) January 4, 2017
After Channel 4 tweeted the clip above, things got pretty heated between Dencia and Ava with Ava calling Dencia "intellectually dishonest" and also referring to her as Casper the Ghost. For Dencia, she emphasized the fact that the "dark spot removing" business is her business and that she has the statistics on what people use her products for.
See some of their tweets below.
You could never educate me. Please don't start. I am not the one. I kept it respectful. So don't make me switch. Thanks Casper. https://t.co/jPE6ox6KBD

— Ava Vidal (@thetwerkinggirl) January 4, 2017
U called me Casper & I'm cool I call u Ashy u making it a race thing ??but u were Ashy in Real https://t.co/kVgdO4onUW will help Ma'am https://t.co/Gl0OZ7a5dQ

— Dencia (@IamDencia) January 4, 2017
I'm just salty abt the damn Camera Angles that made me look Bloated & WEIRD ??I need a do over like @Raymani said ?!! My Henna too ?

— Dencia (@IamDencia) January 4, 2017
You don't have blonde hair. And you are not light skinned since you're concerned with #facts. Hate to break it to you! https://t.co/1hUkpVwrqX

— Ava Vidal (@thetwerkinggirl) January 4, 2017
You seem to know a lot about me. You were raised to be so confident you changed your skin colour. https://t.co/XWpRDnVEXX

— Ava Vidal (@thetwerkinggirl) January 4, 2017
No one wants to hurt you. You are clearly already in a lot of pain https://t.co/XWpRDnVEXX

— Ava Vidal (@thetwerkinggirl) January 4, 2017
Anymore racist tropes you want to apply? yes I was with my WHITE friend from boarding school. You think that makes you blacker than me? ? https://t.co/rwt8Su1jkj

— Ava Vidal (@thetwerkinggirl) January 4, 2017
You're not like Casper. He was friendly. You're defensive cause you're ignorant. You were creaming your dry white ankles in the green room ? https://t.co/lqt3r88bVy

— Ava Vidal (@thetwerkinggirl) January 4, 2017
You called me uneducated when you spout nothing but nonsense. Go away please. You're a disgrace. https://t.co/lqt3r88bVy

— Ava Vidal (@thetwerkinggirl) January 4, 2017
I was wrong. Intellectually should never be applied to this woman. https://t.co/opacMSVV4I

— Ava Vidal (@thetwerkinggirl) January 4, 2017
If you were still black you wouldn't need bronzer. Now go away. Shame you did not have this much mouth last night. Go. Away. https://t.co/TsrGjbSHHb

— Ava Vidal (@thetwerkinggirl) January 4, 2017
I will pray to white Jesus for you. He is the only one that can help you. The self loathing is sad. Poor Mama Africa. She's suffered enough https://t.co/b1kmIv3GIK

— Ava Vidal (@thetwerkinggirl) January 4, 2017
You call everyone else angry but you were the one ranting last night. You get mad at dark woman like Lupita & I that like our skin. Sad. https://t.co/b1kmIv3GIK

— Ava Vidal (@thetwerkinggirl) January 4, 2017
I used #whitenicious on my daughter. Tried to eliminate dark spots. Look what happened! Before and after… pic.twitter.com/S4cW0Fjl2C

— Ava Vidal (@thetwerkinggirl) January 4, 2017
Me laughing are these angry people ??? #HappyChild #Creator #addisons #vitiligo #Liveandletlive pic.twitter.com/8MYEfXNf3s

— Dencia (@IamDencia) January 4, 2017