Hi BellaNaijarians,
It's that time of the week where we get the scoop on some of the fun events happening this weekend.
Check them out below.
***
Eat. Pray. Love
Begin your journey to self-discovery and be the best version of yourself.
Date: Thursday, January 26, 2017
Time:6:30PM
Venue: Ikoyi, Lagos
Contact:08177257790
---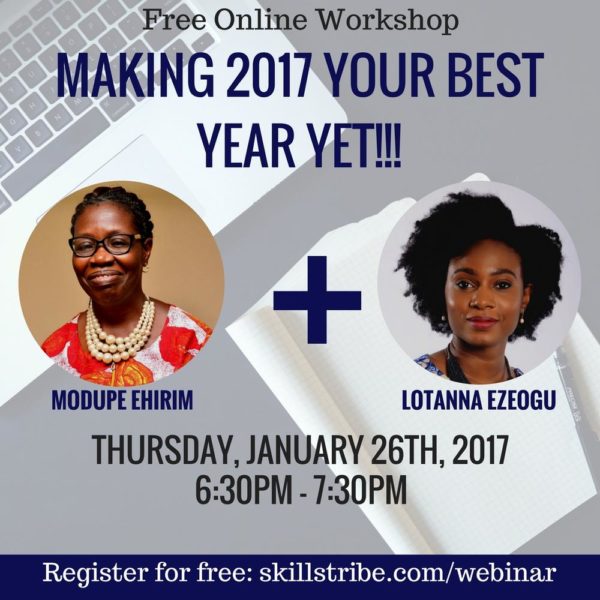 Skills Tribe Free Online Workshop
Need help deciding on which goals/projects to focus on and when? Ditch those New Year resolutions that you start flunking on by mid- January and learn how to set goals then prioritize and smash them using an awesome system. If you want to plan out the first quarter of 2017 and make it your best and most productive year yet, don't miss this workshop. Register now.
Date: Thursday, January 26, 2017
Time: 6:30PM
Click here (http://bit.ly/2jntQxJ)  to register, learn more, or watch the replay.
---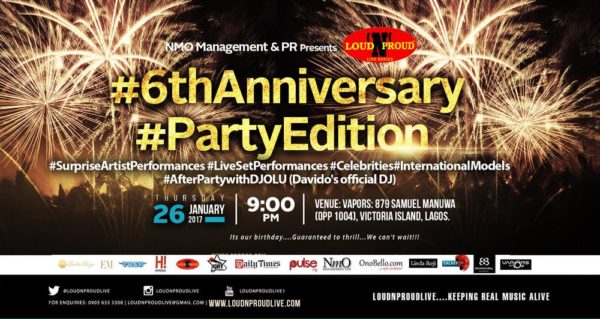 LoudNProudLive 6th Anniversary #PartyEdition
NMO Management & PR presents LoudNProudLive's 6th Anniversary party edition with artist performances, live music sets and more.
Date: Thursday, January 26, 2017
Time: 9PM
Venue: 879 Samuel Manuwa (Opposite 1004), Off Ozumba Mbadiwe, Victoria Island, Lagos
---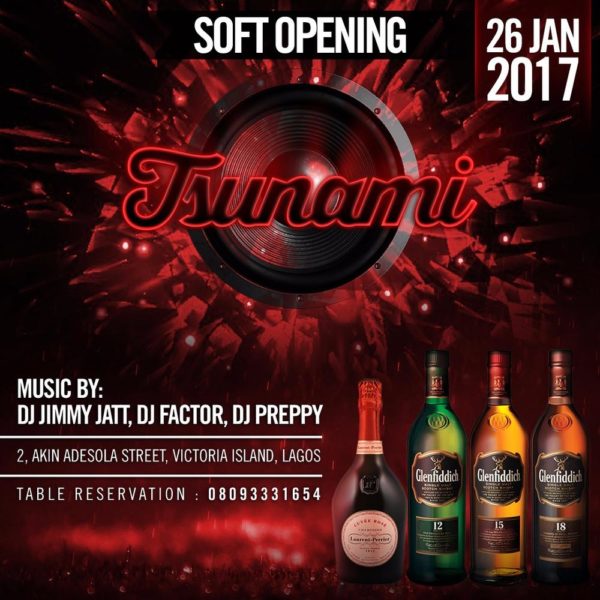 Official Opening of Club Tsunami
Enter Club Tsunami, opening on Akin Adesola Street in Victoria Island; there, you can expect the service of an upscale Ibiza night club–think mixology, exclusive VIP area, bottle service, best DJs and stunning décor and lighting. In the same vein, optimum security for guests is taken seriously. Poised as a soft opening, Lagos can expect a mega official opening party soon as well.
Date: Thursday, January 26, 2017
Time: 10PM
Venue: 2, Akin Adesola Street, Victoria Island, Lagos
---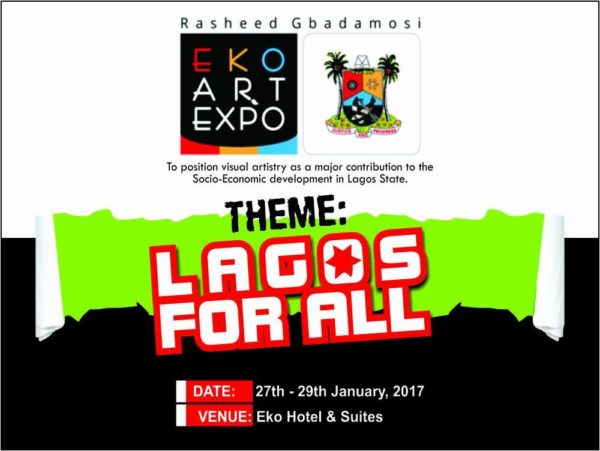 Rasheed Gbadamosi Eko Art Expo
As part of the Lagos State Government's vision and support for the arts, Governor Akinwunmi Ambode would officially declare open the first edition of the Rasheed Gbadamosi Art Expo this weekend.
Date: January 27th-29th, 2017
Venue: Eko Hotel & Suites, Victoria Island, Lagos
---
Bantu Game Night
Come through as Team Marvel and Team DC resume hostilities in 2017. Winning team goes home with bragging rights, champion victory, and pure happiness. Game Night is free to attend.
Date: Friday, January 27, 2017
Time: 4PM
Venue: 14 Fez Street off Kumasi Crescent Wuse 2 Abuja
---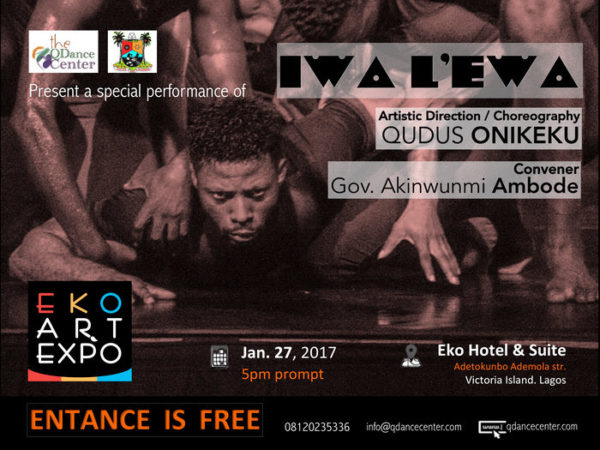 Iwalewa | Stage Play
Where will you be this Friday? QDanceCenter will be at the Rasheed Gbadamosi Eko Art Expo in the company of Gov. Akinwunmi Ambode and Prof. Wole Soyinka, performing our breath-taking piece #IWALEWA.
Date: Friday, January 27, 2017
Time: 5PM
Venue: Eko Hotel & Suites, Victoria Island, Lagos
---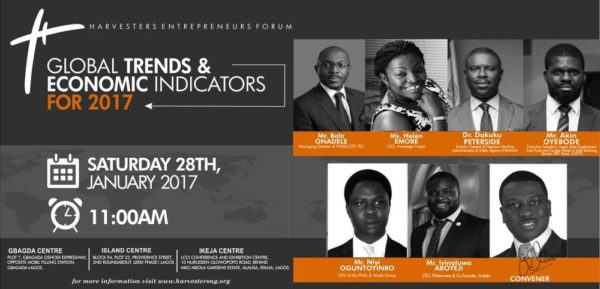 Harvesters Entrepreneurs Forum
Harvesters International Christian Centre, a church with a simple mandate of "Changing Lives" invites you to her January edition of "The Harvesters Entrepreneurs Forum (HEF)", a monthly gathering of business professionals and entrepreneurs. The Forum aims to reach and equip entrepreneurs and people of similar inclinations with practical business knowledge to achieve and sustain economic success. The forum is targeted at high net-worth individuals, business executives and entrepreneurs with small to medium sized enterprises. The theme for this month is "Global Trends & Economic Indicators in 2017".
Date: Saturday, January 28, 2017
Time: 11AM
Venue: Gbagada Centre:
 Plot 5-7, Gbagada Expressway, Lagos, Opposite Mobil Filling Station | Lekki Centre:
 22, Providence Street, Lekki Phase 1 (2nd Roundabout), Lagos | Ikeja Centre:
 LCCI Building, 10 Nurudeen Olowopopo Drive, Alausa, Ikeja
---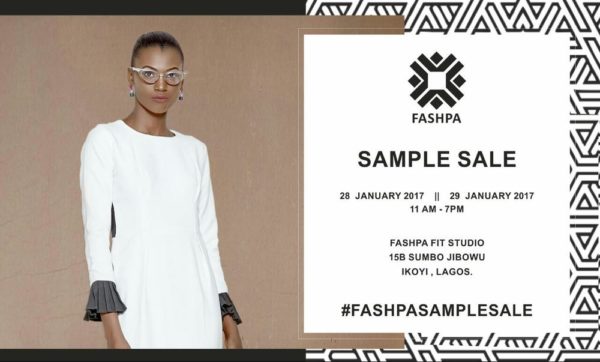 FASHPA Sample Sale
Fashpa will be holding its First Sample Sale –#FASHPASAMPLESALE this weekend. Limited samples from this and past collections will be available at the upcoming sale.
Date: Saturday, January 28 – Sunday, January 29, 2017
Time: 11AM
Venue: The Fashpa Fit Studio, 15b Sunmbo Jibowu, off Ribadu, off Awolowo Road, Ikoyi Lagos
---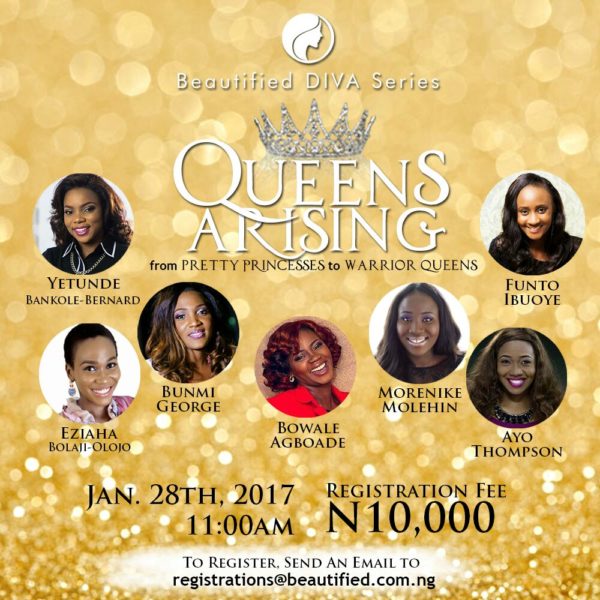 Queens Arising
The Beautified Network is set to host her 4th Beautified DIVA Series tagged "Queens Arising", an intimate gathering for women who are ready to rise and reign in all spheres of their lives. Exceptional women who are indeed sitting on their thrones as queens and living up to their roles in all ramifications will address different aspects of a woman's life to enable her rise and reign in these aspects-business, career, marriage, ministry, singlehood and finance. The lineup of speakers include – Yetunde Bankole Bernard, The Identity Coach who is the Keynote Speaker, Bunmi George, CEO Shredder Gang, Morenike Molehin, CEO Oak and Teak Interiors, Bowale Agboade, founder Kids Entreprenuer, Ayo Thompson, award-winning Presenter & Radio host, and Funto Ibuoye, Founder The Beautified Network.
Date: Saturday, January 28, 2017
Time: 11AM
Ticket: N10,000
---
Eat and Screen
We at Stand Up To Cancer Nigeria are set to roll out our quarterly health sensitization programme, "Eat and Screen," for the year 2017. This programme will help to promote healthy eating. Also, it will afford participants the opportunity to have free screenings on breast cancer, blood pressure test, sugar level testand BMI. We are going to be giving out free VIA cervical cancer screening coupons to the first 50 women who will make it to the venue.
Date: Saturday, January 28, 2017
Time: 12PM
Venue: GCL Plaza, Plot 522 Aminu Kano Crescent Wuse 2 (Next to 1st Fourty Hotel) Abuja
---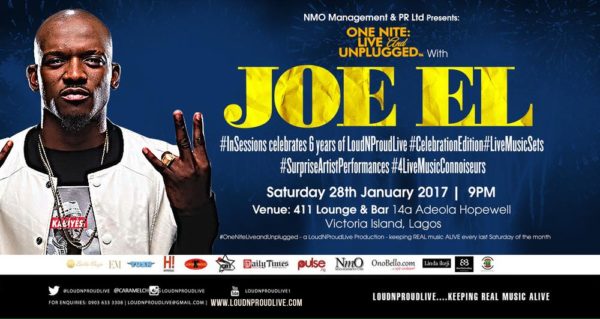 One Nite: Live & Unplugged with Joe El
Join Joe El at an unplugged night as LoudNProudLive Series celebrates its 6year Anniversary.
Date: Saturday, Janaury 28, 2017
Time: 9PM
Venue: 411 Bar & Lounge (Upper level), 14a Adeola Hopewell, Victoria Island, Lagos
---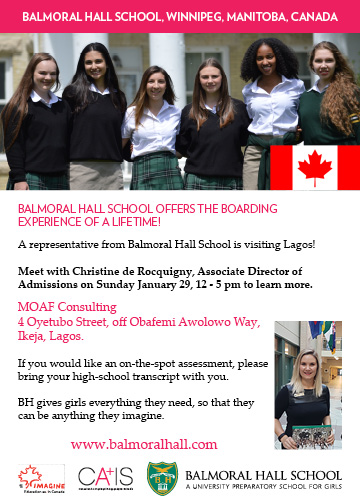 Balmoral Hall Boarding School Visit
Living, working and playing together is what Balmoral Hall Boarding School is all about. Experienced staff and faculty in our safe, welcoming residence building creates a sense of home away from home.
Date: Sunday, January 29, 2017
Time: 12PM
Venue: 4 Oyetubo Street, off Obafemi Awolowo Way, Ikeja, Lagos
Contact: 0807 530 2113 | 0909 457 9336
---
"What's On Your Mind" Summit
"What's On Your Mind"? Summit was conceived to liberate and course transformation that would emanate from their within to help form participants choices, value and believe system so much so that we begin to see every participant living true and free while effectively engaging within their communities in career, health, relationship and business. The Speakers are Adeola Azeez (Deputy Country Head Deutsche Bank, Nigeria), Lanre Olusola (Africa's Premier Life, Mind, Emotions and Behavioral Coach).
Date: Sunday, January 29, 2017
Time: 3PM
Venue: Southern Sun Hotel, Ikoyi, Lagos
Registration: Send Name, Number & Age to [email protected]
---
Paint the Night presents Sip & Dip
Sip & Dip this Sunday, January 29th at Bottles!
Date: Sunday, January 29, 2017
Time: 3PM
Venue: Bottles, 8 Imam Agusto Close, Victoria Island, Lagos
Ticket: Children N2,500 | Students – N3,500 | Adults – N5,000
Contact: [email protected]
---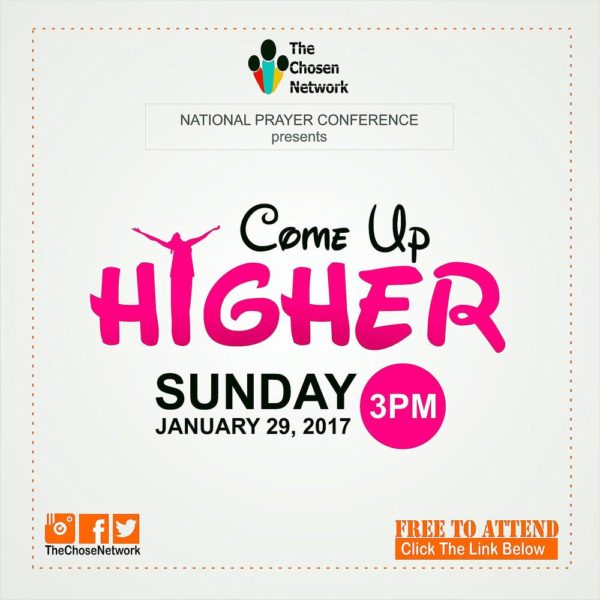 Come Up Higher Conference
You are invited to The Chose Network's National Prayer Conference, designed to help you set things right where your career, business and ministry is concerned.
Date: Sunday, January 29, 2017
Time: 3PM
Venue: Sweet Sensation, Alagomeji, Yaba
---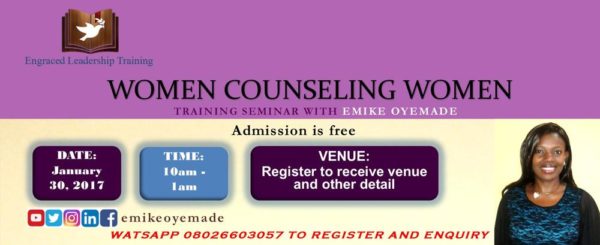 Women Counseling Women Training Seminar
Do you counsel women and children? Would you like free quality training? Do you have burning questions about counselling women and children? This is the seminar for you
Date: Monday, January 30, 2017
Time: 10AM
Contact: 08026603057