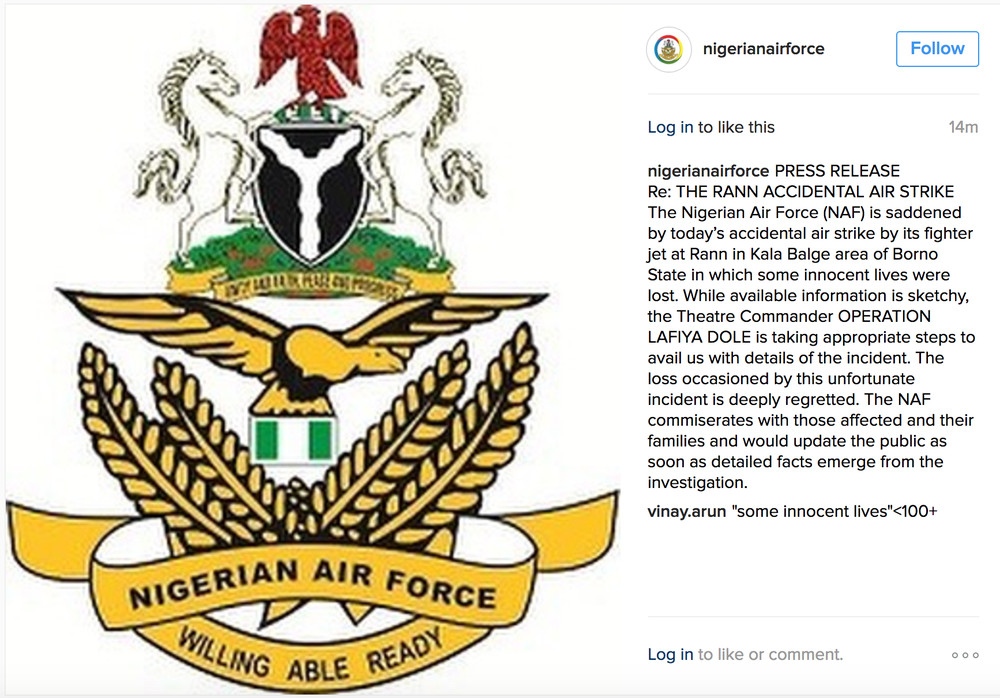 Once again, Boko Haram has caused the death of innocent Nigerians, though, this time, the Nigerian Military is to blame.
Over 50 people have been killed and 120 others wounded when the Nigerian military accidentally bombed a refugee camp in the Nigeria's northeast.
The incident took place today, Tuesday 17th January 2017 at 9am in Rann, Borno state which is considered as one of Boko Haram's strongholds.
The strike took place as aid workers distributed food to civilians.
Nigeria's air force said a fighter jet was on a mission against the group's fighters when it accidentally struck the camp and killed an unknown number of refugees and aid workers.
Aid organizations Doctors Without Borders (MSF) and the International Committee of the Red Cross (ICRC) were working at the camp when it was hit. The ICRC has revealed that its team members are amongst the dead and injured.
1/3 We report with sadness that among the casualties of today's airstrikes in Rann 6 #Nigeria #RedCross @nrcs_ng were killed & 13 wounded.

— ICRC Africa (@ICRC_Africa) January 17, 2017
2/3 They were part of a team bringing desperately needed food for more than 25,000 displaced people in Rann NE #Nigeria #LakeChadCrisis

— ICRC Africa (@ICRC_Africa) January 17, 2017
3/3 We are coordinating medical emergency efforts with relevant authorities and other aid actors #Nigeria

— ICRC Africa (@ICRC_Africa) January 17, 2017

Maj.-Gen. Lucky Irabor, the Theatre Commander of Operation Lafiya Dole, disclosed this during a press briefing on Tuesday in Maiduguri.
"This morning, we received a report about the gathering of Boko Haram terrorists around Kala Balge area of Maiduguri.

I coordinated and I directed that the air component of the operation should go and address the problem. "Unfortunately, the strike was conducted but it turned out that other civilians were somewhere around the area and they were affected.

So far, it is a little bit disturbing; death has occurred. There are casualties; there were deaths and injuries but on the actual number of casualties, we would get back to you later.

"I am yet to get the number of casualties of civilians killed, but two soldiers were also affected. "Some humanitarian staff of Medicines Sans Frontiers and some staff of International Committee of Red Cross(ICRC) were also affected. "We are sending helicopters to evacuate those that were critically wounded, including our wounded soldiers."