The latest issue of Complete Fashion Magazine is here, and as always, it brings with it four new exciting covers for each section of the magazine; Complete Fashion woman, Complete Fashion man, The lifestyle section and the delectable Beauty box, all channeling contemporary fashion, and of course the most entertaining stories centered on fashion.
Mayowa Nicholas features on the front cover, giving you the inside scoop on how she made it from a young girl studying to become an accountant to making the Vogue 'Models to watch' shortlist alongside Kendall Jenner.
Also in this issue, Complete Fashion interviews another Elite model winner, Victor Ndigwe, who tells it all, from his spontaneous audition which he wasn't so keen on to his love for music and his favorite musician Burna Boy, as he casts his charm on the cover of Complete Fashion Male.
The beauty box cover features the multitalented actor, model and brand ambassador Bryan Okwara giving us an intimate look at how he keeps his hair long and dark. Beauty box also explores a deeper take on the fast-growing latest brow technology, Microblading.
Complete Fashion Lifestyle bears on its cover 2 awe-inspiring women in the entertainment industry, Vimbai Mutinhiri and Kaylah Oniwo. They both talk about their paths to success in their various fields and their present plans for the future.
In an exciting Fashion editorial, real-life couple Nikki and Jekwu, are in a modern day adaptation of the infamous rebellious bandits, Bonnie and Clyde.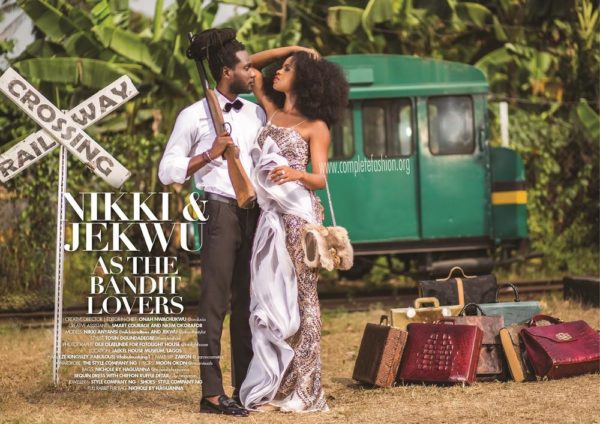 Credits
Cover Shoot Mayowa Nicholas
Creative Director | Editor-in-Chief: Onah Nwachukwu | @onahlucia
Creative Assistant: Smart CourageStyling: Moses Style Ebite
Styling: Moses Style Ebite | @moashystyling
Photography: Kelly Green
Hair: Ben
Makeup: Zaron | @zaroncosmetics
Cover shoot Vimbai & Kaylah
Creative Director | Editor-in-Chief: Onah Nwachukwu | @onahlucia
Creative Assistant: Smart Courage
Photography: Hama Daniels | @hamadaniels
Hair: Complete Fashion Team
Wardrobe: Fashpa | @fashpa
Makeup:  Zaron | @zaroncosmetics
Beauty Box
Creative Director | Editor-in-Chief: Onah Nwachukwu | @onahlucia
Creative Assistant: Smart Courage, Emeka Uzoma, and Nkem Okorafor
Photography: Ayo Lasi | @ayoalasi
Hair: Complete Fashion Team | @completefashionmag
Wardrobe: Complete Fashion Wardrobe | @completefashionmag
Makeup: Zaron | @zaroncosmetics
Fashion Editorial
Creative Director | Editor-in-Chief: Onah Nwachukwu | @onahlucia
Creative Assistant: Smart Courage and Nkem Okorafor
Models: Nikki Anyansi | @nikkiandtees and Jekwu | @jekwuthestylist
Stylist: Tosin Ogundadegbe | @thestyleinfidel
Photography: Deji Olatunde for Fotolight studio | @fotolighthouse
Location: Jaekel House Museum, Lagos
Hair: Eze Kingsley (Fabulous) | @fabulousking1
Makeup: Zaron | @zaroncosmetics
Wardrobe: The Style Company NG
Props: Moon Okon | @moonvisuals, Sequin dress with chiffon ruffle detail: Isi Ata Jewelry
Bags: Nichole by Haguanna @nicholebyhaguanna
Jewelry: Style Company Ng
Shoes: Style Company Ng