Joseph Imeh and Sarah Adegoke Emerge Winners of the 3rd Edition of Rainoil/Ikoyi Club 1938 Masters Tennis Championship
Sarah Adegoke and Joseph Imeh have emerged Men and Women Singles Champions of the 3rd Rainoil/Ikoyi Club 1938 Masters Tennis Championship.
The winners each pocketed N250,000 while the finalists got N200, 000. The four semifinalists at the five-day tournament were also rewarded with N150, 000 each. Other participants also received a range of cash prizes.
Speaking at the end of the final, Group  Executive Director, Rainoil, Godrey Ogbechie promised that the energy company would continue to invest in the development of youths through sports especially tennis for those who want to take it as a career.
She said, "We have been involved in tennis sponsorship for over 13 years and we want to take Nigerian Tennis to an enviable height. My husband, in particular, is very passionate about Tennis. Our vision is to see a Nigerian player in the Grand Slam"
NTF President, Sani Ndanusa commended Rainoil for their unrelenting commitment to Nigerian Tennis adding that their backing of Sylvester Emmanuel, with a $90, 000 scholarship to at the Pereriba Tennis Academy in Barcelona, Spain, speaks volumes of their passion for seeing Nigeria excel at the sport at global level. He disclosed that in 2015 Rainoil had also sponsored Emmanuel to a US training trip also.
Ndanusa while presenting a gift trophy to Rainoil from NTF for their commitment to tennis development said "Similar to our plan, you have mapped out a route for a Nigerian player regarding the Grand Slam. The NTF will continue to give technical support, monitor as well as give opportunity to make sure that Rainoil's dream is realized."
The 4th edition of the annual Rainoil Ikoyi Club Masters Tennis Championship will continue next year.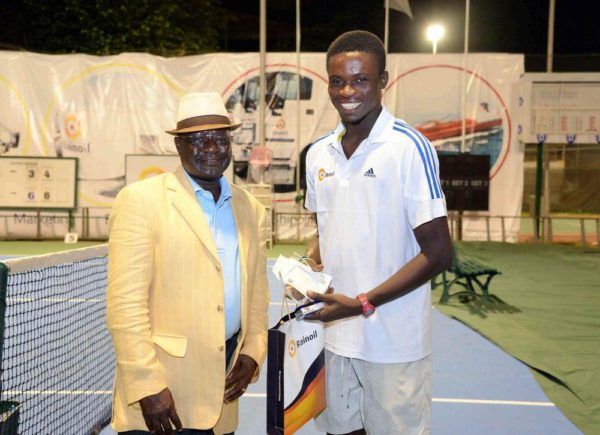 ——————————————————————————————————————
Sponsored Content