A Facebook user, Alhaja Adeola Agoro JP, has claimed that unknown men who kidnapped three friends at a creamery near Wuse 2, Abuja, have contacted the family, demanding $300,000 (around N150m using current black market rate) as ransom.
Suspected kidnappers, who abducted three friends when they went to buy ice cream and cake in Abuja, have finally contacted families of the victims, demanding $30,000.
Two of the victims – Veronica Otogo and Bisola Mohammed – had gone to the creamery to get ice cream and cake in celebration of Veronica's birthday.
It was, however, learnt that the ladies were later joined by Bisola's friend, Damilola Oribuyaku.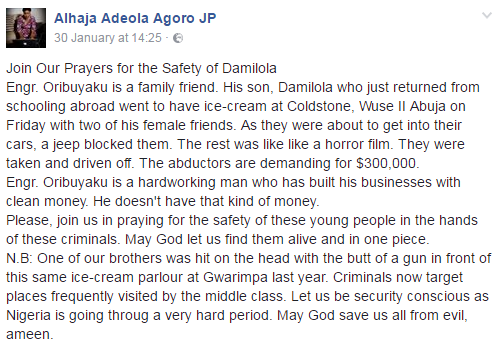 Adeola Agoro in her post said:
Join Our Prayers for the Safety of Damilola.

Engr. Oribuyaku is a family friend. His son, Damilola who just returned from schooling abroad went to have ice-cream at Coldstone, Wuse II Abuja on Friday with two of his female friends. As they were about to get into their cars, a jeep blocked them.

The rest was like like a horror film. They were taken and driven off. The abductors are demanding for $300,000.

Engr. Oribuyaku is a hardworking man who has built his businesses with clean money. He doesn't have that kind of money.

Please, join us in praying for the safety of these young people in the hands of these criminals. May God let us find them alive and in one piece.

N.B: One of our brothers was hit on the head with the butt of a gun in front of this same ice-cream parlour at Gwarimpa last year. Criminals now target places frequently visited by the middle class. Let us be security conscious as Nigeria is going through a very hard period. May God save us all from evil, amen.
Damilola's sister, known as Bolaji (@_oribz) on Twitter has come out to say it's not true. She was reacting to a story reported by a national newspaper that the kidnappers demanded $30,000 as ransom.