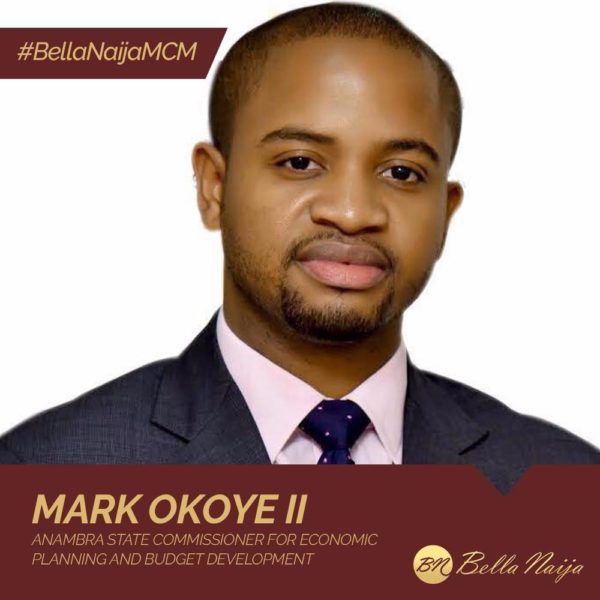 In June 2016, Anambra state governor, Willie Obiano appointed 30-year old Mark Okoye II as Commissioner for Economic Planning and Budget Development to the applause of many.
He was confirmed by the Anambra state House of Assembly on June 17 2016.
Mark studied Finance at George Washington University and was an Associate at Afrinvest West Africa.
Mark, an alumnus of the Harvard Kennedy School and Euromoney, Dubai left his blossoming banking career to join Anambra State's Economic Think-Tank.
He was a former Executive Director, Anambra State Investment Promotion & Protection Agency (ANSIPPA) and was also the Special Adviser to the Governor on Economic Planning and Budget.
Prior to being Special Adviser, he served as Governor Obiano's Senior Special Assistant on Investments.
According to the state government, Mark is one of the numerous youth who make up over 55% of the political appointments made by the Obiano-led Administration.
Obiano had said that Mark's appointment would have come earlier if not for constitutional restraints. As soon as he met the 30 years minimum age, he was appointed into the position he currently occupies, making him one the youngest commissioner in Nigeria at the moment.
During his time at ANSIPPA, Mark spearheaded the successful launch of Public-Private-Partnership projects such as Coscharis farms ($100m), Lynden Poultry Farms ($40m) and Anambra Delfarms Ltd ($60m).
His introduction of monthly performance reviews of the state's Internally Generated Revenue (IGR) led to its increase from N600m per month to approximately N1.3bn per month in 12 months.
Mark was the 2016 The Future Awards Africa (TFAA) Young Person of the Year.
He is married and just welcomed his first child – a son named Mark Okoye III.
Mark is our Man Crush Monday this week.