Hello BellaNaijarians,
It's Wale Akadiri again and I'm back from my trip to Ghana and of course with a lot of pictures and things to talk about.
First, I will like to say a big thank you to Lansdown Aburi Resort for the warm hosting, BN Travel for making this golden travel experience possible, Hotel Casarere for giving me my first taste of the famous Banku (Akple) with Okro and Tilapia and definitely to all BellaNaijarians for staying glued all through the journey.
Now let's begin.
DAY 1
I got to Murtala Muhammed International Airport around 9:30 am and had to wait for roughly an hour before the checking in process began. I met Demola Ojo from ThisDay and Friday from ATQ News my travel partners. We boarded the plane, Africa World Airlines around 11:30 am (right on time) and luckily I got a seat close to the window which I desired.
We arrived in Accra 45 minutes later and we were welcomed by John, Mawutor Darkey and Sika who gave us a presidential ride to the mountainous Aburi in a black Escalade.
The journey took us about 45 minutes.
Scroll through the photos below to see the beauty of the resort.
Aburi is a town in the Akuapim South Municipal District of the Eastern Region of south Ghana with a population of 18,701 people as of 2013 and Lansdown Aburi Resort is a tourist center located on a 1500 feet mountain above sea level in Aburi.
By 1:30 pm (Ghana time), we arrived at the beautiful Lansdown Aburi Resort. We were immediately given our individual internet access to the resort's free WiFi and no doubt was speedy fast. While lunch was been prepared, Mawutor gave us a quick look around the resort. We were shown the pool, the restaurant, the table tennis board and the snake house.
Lunch was served at the club house. I had a taste of the Ghanaian Calamari Green Herb Salad with fried potato chips for the first time.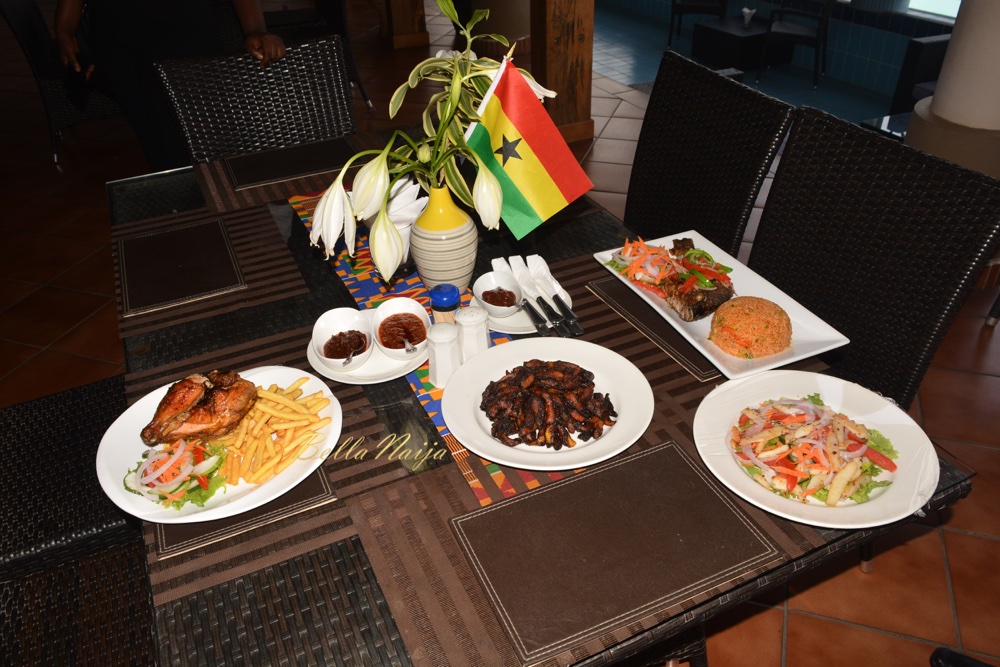 After lunch, we checked into our different air-conditioned rooms with outdoor jacuzzi in one of the villas in the resort.
We relaxed for an hour and Mawutor was back calling. We had to take a tour to Aburi Botanical Garden which is about 20 minutes away from the resort. We had an amazing time exploring the beauty of nature and culture in this garden. We got to see the historical building where a meeting attended by delegates of both the Federal Government of Nigeria and the Eastern delegates was held in order to prevent the outbreak of the civil war in 1967.
Also, we were shown Ghana's first helicopter which was donated by the Queen of England, Ghana's oldest tree which is 450 years old, the double headed palm tree and a carved story-telling calamondin tree which were all in this garden.
Back at the resort, I ate dinner and had an outdoor private movie show after watching the shocking UEFA Champions league return leg between Barcelona and PSG.
DAY 2
I was up by 5:00 am on this day. Got dressed and ready for the early bed hiking fixed for 6am. We took a walk around the mountain and back to the resort which lasted 51 minutes.
We had breakfast and off we went to Accra to visit the Kwame Nkrumah Mausoleum and Memorial Park dedicated to the first Ghanaian president. We had a closer look of the city and its beauty and couldn't resist but to take some shots from the car.
Soon, we arrived at Hotel Casarere to eat lunch. Here, I got a first real taste of the almighty Banku (Akple) soup with Okro and Tilapia :).
We were back at Lansdown Aburi Resort after a long day and soon after dinner, I fell asleep.
DAY 3
Today started brightly and fulfilling. You know why? Right from my pre-travel post, I had shown my love and desire to eat the popular "Waakye"… and today, that opportunity was laying flat on the table in front of me starring right at me. I jumped at it almost immediately and I wasn't disappointed with the talented cooks at all.
Next was the interview with Queen Yurglee-Kpodo, Head, Sales and Business Development for Lansdown Aburi Resort. She was so positive and discussed about the ongoing projects from the management. Some of which include expanding the resort to the other side of the hill, the introduction of cable cars, the completion of the snake house for conferences, the golf course, a spa and many more.
We had a further tour of the resort majorly to check out available facilities for tourists and visitors intending to use the resort on both short-time and long-time basis.
I ate vegetable rice and chicken for lunch in our villa and relaxed a bit before accepting a tennis challenge from Friday of ATQ News at the Lansdown Tennis court. Tough one and interesting. After the duel, we retired back to our villa where I had a warm bath in the jacuzzi.
DAY 4
Our final day at the resort started with an unforgettable experience in the magnificent pool.
I had breakfast at the club house and soon Nigeria came calling. It was time to pack our bags, hug our host and bid Lansdown Aburi Resort goodbye.. I sincerely had so much fun and I'll treasure the trip for a long time.
Thanks for following me on this journey, I had a great time and you can see more photos with the hashtag, #BNinAburi.