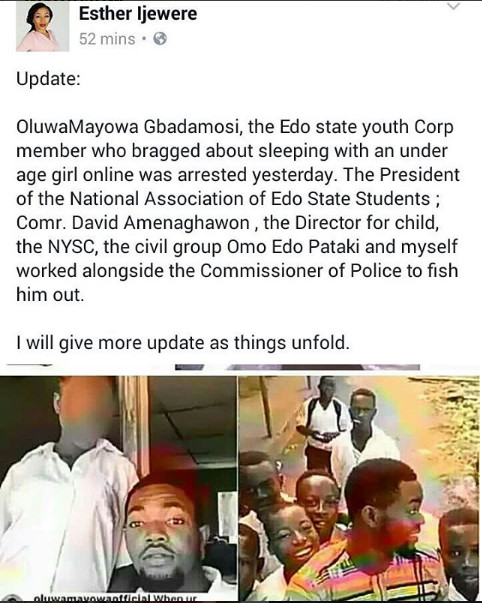 Oluwamayowa Gbadamosi, an Edo state National Youth Service Corps (NYSC) member who bragged about having sexual relations with a student has been arrested.
This was disclosed in a statement by Esther Ijewere, the National Coordinator, Walk Against Rape Nigeria on Facebook. Esther wrote:
Update:

OluwaMayowa Gbadamosi, the Edo state youth Corp member who bragged about sleeping with an under age girl online was arrested yesterday. The President of the National Association of Edo State Students, Comr. David Amenaghawon, the Director for child, the NYSC, the civil group Omo Edo Pataki and myself worked alongside the Commissioner of Police to fish him out.

I will give more update as things unfold.
Oluwamayowa sparked outrage on social media last month after he posted, and deleted, some implicating posts about himself on social media.
In one post he bragged about having sexual relations with one of his students because "she wants" it and in another post, he shared a video of how he spent February 14 drinking alcohol with his teenage male students. Read about it here.