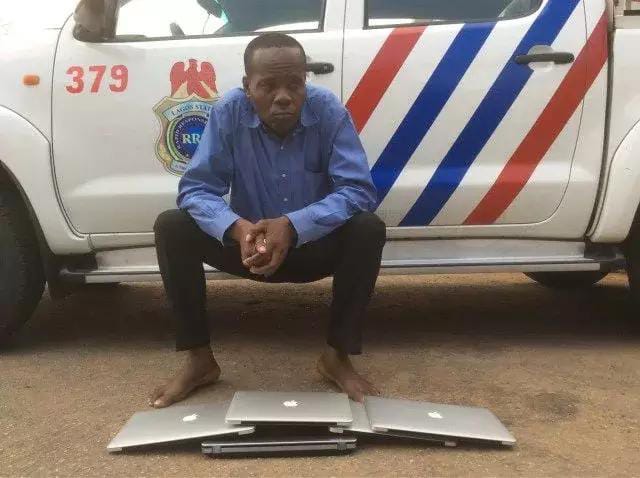 Operatives of Rapid Response Squad (RRS) of the Lagos State Police Command, on Wednesday, arrested one Ikemefuna Aje, 47, a house fellowship leader, who specialises in stealing laptops and properties of conference and seminar participants in Lagos State.
Aje was arrested after he stole 5 MacBooks, one HP computer and some assorted personal effects of participants of a seminar organised for internet brand managers at a popular hotel in GRA, Ikeja, Lagos.
Ikemufuna, captured by the CCTV camera in the hotel, drove in and headed straight to the seminar room at a time when the participants were having lunch in another room.
The suspect, who was corporately dressed, wore the tag of seminar participants before making away with the items.
He had, after stealing the said items, took them to Computer Village, Ikeja, and sold 5 Mac Books and one HP computer to one Saliu Ibraheem for N1.1m.
RRS operatives, in tracking the suspect traced him to 5, Tony Street, Ejigbo, Lagos where he was hosting about 34 other church members in a house fellowship.
Recovered from his house after the arrest were the 4Runner Toyota car with the registration No. KRD 701 DC, which he drove into the venue of his last operation, a master key, Zinox laptop, several computer bags, computer and tablet accessories as well as seminar materials and a sum of N700,000.
According to one the representatives of the seminar organiser who did not want her name in print: "We were shocked see participants bringing up issues of missing laptops and computer accessories after returning from lunch."
"The seminar was not advertised online neither in any national newspapers. How did this suspect get to know of the event and managed to come at the exact time participants about a hundred participants were having launch?"
Ikemefuna had several scouts who furnish him with information on conferences and seminars where he goes to steal laptops and properties of the participants.
The suspect, after initially denying the crime, confessed when he was shown a copy of the CCTV footage before leading the operatives to Computer Village to arrest the buyer, Saliu.
According to Saliu: "I have known Ikemefuna for more than seven years. He brought 5 Mac Books and one HP to my shop that he bought them in South Africa…. I bought the 5 Mac Books and a HP laptop computer for N1,110,000 and I resold it immediately for N1,250,000. The money was transferred into my account immediately."
As at yesterday, the operatives had recovered all the laptops allegedly stolen by the suspect at the seminar.
Confirming the incident, the Police PPRO, ASP Olarinde Famous-Cole, said that there will be no hiding place for criminals in Lagos State, adding that officers of the command are at alert to nip crime in the bud.
The suspect has been transferred to the State Criminal Investigation and Intelligence Department (SCIID) Panti, Yaba for further investigation and prosecution.
Photo Credit: RRS Lagos