"I never thought it would get to this level" – Nigerian Albasheer Adam Alhassan a Possible Author of President Trump's "Irish Proverb"
At an event marking St. Patrick's Day on Thursday, U.S President, Donald Trump sparked web derision for himself as he tried to impress visiting Irish Prime Minister Enda Kenny to the White House, with an Irish proverb.
"As we stand together with our Irish friends, I'm reminded of that proverb … And this is a good one. This is one I like, I've heard it for many many years, and I love it," Trump said before quoting the following:
"Always remember to forget the friends that proved untrue. But never forget to remember those who have stuck by you."
"We know that, politically speaking. A lot of us know that, we know it well. It's a great phrase," Trump added.
Trump reads one of his favorite Irish proverbs pic.twitter.com/KgE5ipvepw

— Bradd Jaffy (@BraddJaffy) March 16, 2017
However, what he quoted was not an Irish proverb. The quote however, coincidentally or not, is a line from a poem by a Nigerian man Albasheer Adam Alhassan.
Alhassan submitted the poem on PoemHunter.com, a website that collects famous poems as well as those submitted by users, on January 22, 2013.
Speaking to CNN, Alhassan, a business manager at a bank in Katsina state, said:
"My sister just brought the news to me. I didn't want to believe what she said initially. I posted those things when I was back in school, over 10 years ago. I never thought it would get to this level. Maybe I shouldn't have been a banker, maybe I should have been a poet all my life!"
Alhassan's bio on PoemHunter reads
Born in Kano state of Nigeria on 3rd of March in the mid 80s. Parents hailed from Niger state of Nigeria. Nupe by tribe. Attended Warure special primary school, Kano (1989-1995). Then Aminu Kano Commercial College, Kano (1995-2001). And finally Bayero University Kano (2001-2006). Served the nation as a graduate in Taraba state (2007). Presently working with the first financial institution in Nigeria. I love basketball, music, poems, video games and sleeping.
Many Irish Twitter users declared that they have never heard that proverb before.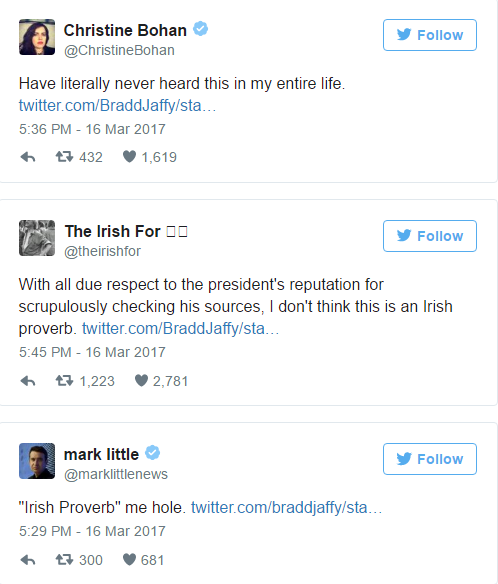 Alhassan disclosed to CNN that he hasn't written poetry for sometime, adding that he may get back into it, considering his newfound fame.
He added: "Personally I am not so much into politics. I have heard a lot about Trump. Especially the fact that he victimized some of my people, some Muslims."
Explaining the meaning of the poem to NBC, Alhassan said: "I noticed that people are always nice to you when they need something but when they get what they want they abandon you. People use you as tools."
However, the line appears on page 325 of the Speaker's Quote Book by Roy B Zuck, published in 1997.
The same line is also on on page 388 of Crystal Inspirations by Joanne Tuttle, published in 2012.
The Guardian UK reports that at least as far as Google Books is concerned, the earliest appearance is in volume 31 of the International Stereotypers' and Electrotypers' Union Journal, published in 1936 in America.
The poem also appears on several websites as an "Irish blessing."
Photo Credits: Twitter – @colz | Facebook – Albasheer Adam Alhassan