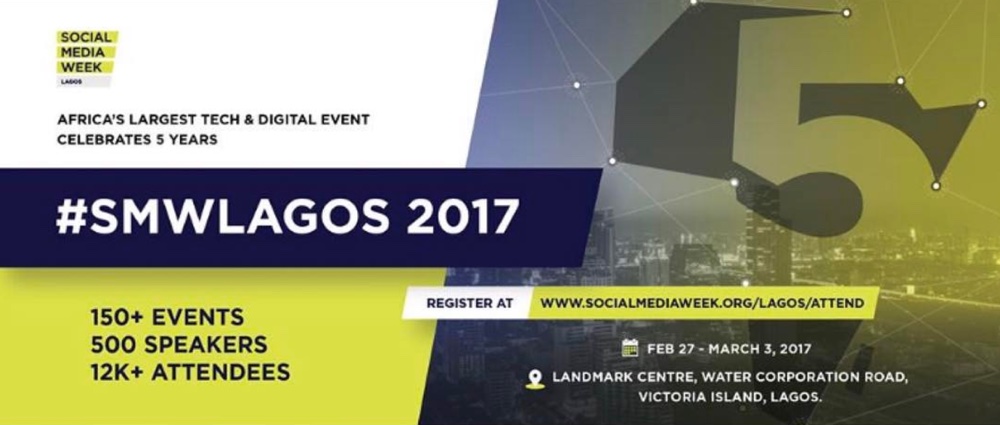 Social Media Week Lagos started this week and it ends tomorrow! There were lots of exciting events all week long so make sure you're a part of the last few events for what could possibly be a life-changing experience for you.
To register, click here to visit the Schedule Page on the SMW Lagos official website, click the event you are interested in, click register and sign up.
To get the VIP experience or buy a Campus Pass for any of the events, click here.
Here's the Schedule for Thursday, March 2
Thursday, March 2
Breakfast & Citizens' Market Place
SACE
8:30 AM – 12:00 PM
Hosted by USAID SACE & EiE Nigeria
Official Event
Innovation Stage Powered by Visa
Thursday, March 2
Create A Profitable Online Store With WordPress
Skillshare Workshop
9:00 AM – 12:00 PM
Hosted by Osayi Emokpae Lasisi
Independent Event
Masterclass Suite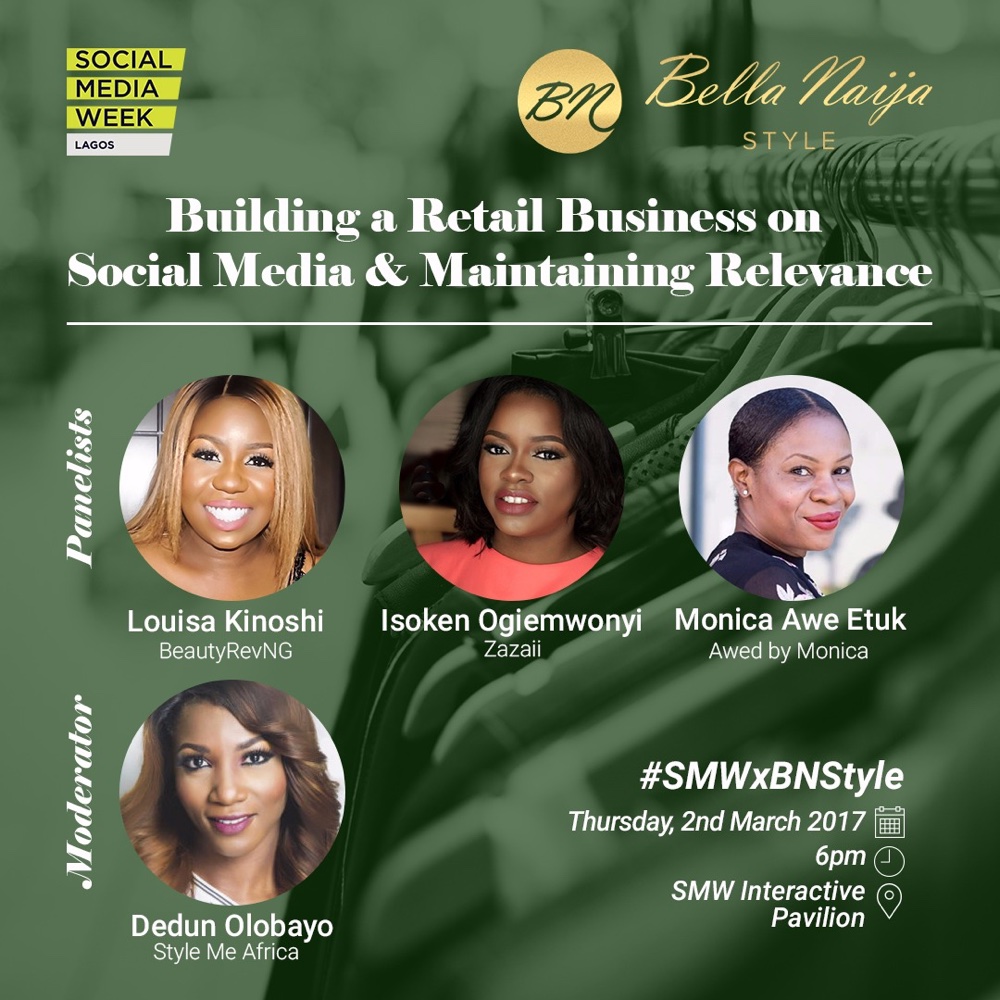 Thursday, March 2
Office of the Citizen: Demo of the Office of the Citizen Portal
SACE
9:00 AM – 10:30 AM
Hosted by USAID SACE & EiE Nigeria
Official Event
Innovation Stage Powered by Visa
Thursday, March 2
Micro Pension As The Next Frontier
PenCom
9:00 AM – 10:00 AM
Hosted by PENCOM
Official Event
Experience Stage Powered by Purple
Thursday, March 2
Using Technology & Social Media To Counter Violence Against Women & Girls
Purple
9:00 AM – 10:00 AM
Hosted by Purple
Official Event
SMW Studio
Thursday, March 2
How to Create a Combined Social Media & PR Calendar for Your Business
Explore Lagos
9:30 AM – 11:30 AM
Hosted by BrandCamp
Independent Event
Beni Gold
Thursday, March 2
The Co-World: Transformative Power of Technology, Content & Commerce
Troyka
10:30 AM – 11:30 AM
Hosted by Troyka
Official Event
Experience Stage Powered by Purple
Thursday, March 2
EdTech & The Future of African Education
10:30 AM – 11:30 AM
Hosted by Future Software Resources Ltd.
Official Event
SMW Studio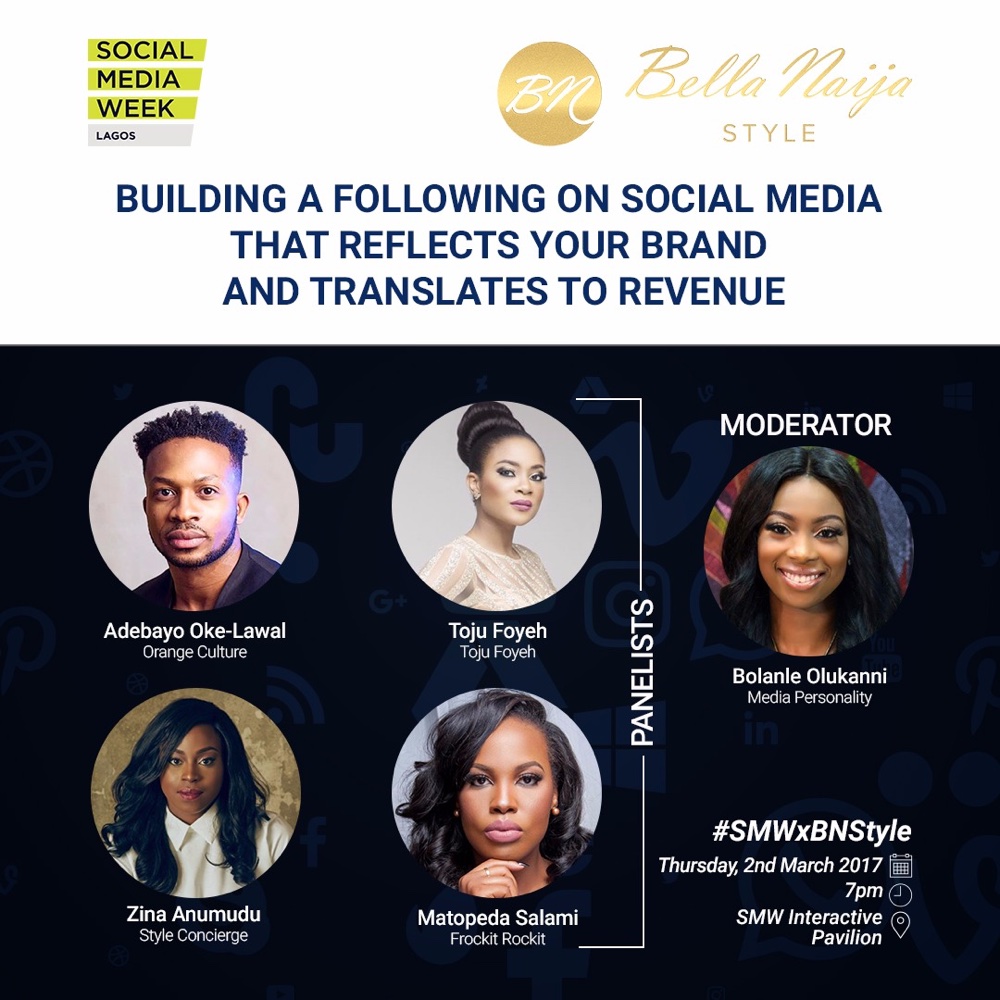 Thursday, March 2
Pencom Meet + Greet
PenCom
10:30 AM – 12:00 PM
Hosted by PENCOM
Official Event
Thursday, March 2
Meet the Disruptors with Sproxil
10:30 AM – 11:30 AM
Hosted by Social Media Week Lagos
Official Event
Thursday, March 2
Technology as a Policy Imperative: Spotlight on Public Officials Who Leverage Technology
SACE
10:45 AM – 12:00 PM
Hosted by USAID SACE & EiE Nigeria
Official Event
Innovation Stage Powered by Visa
Thursday, March 2
GE Lagos Garage 3D Printing Workshop
GE
11:00 AM – 2:00 PM
Hosted by GE Nigeria
Official Event
GE Lagos Garage
Thursday, March 2
The Disruptive Cloud – The Future of Communication, Collaboration & Innovation in Africa
12:00 PM – 1:00 PM
Hosted by Signal Alliance
Official Event
Thursday, March 2
Social Media Week Lagos Office Hours with Neku Atawodi-Edun
12:00 PM – 1:00 PM
Hosted by Social Media Week Lagos
Official Event
Executive Boardroom
Thursday, March 2
Fireside Chat with PenCom's Chinelo Anohu-Amazu 
PenCom
12:00 PM – 1:00 PM
Hosted by PENCOM
Official Event
Experience Stage Powered by Purple
Thursday, March 2
Masterclass: Winning with Content
SACE
12:30 PM – 1:45 PM
Hosted by USAID SACE & EiE Nigeria
Official Event
Masterclass Suite
Thursday, March 2
Masterclass: Tools of Engagement on Facebook, Google and Twitter
SACE
12:30 PM – 1:30 PM
Hosted by USAID SACE & EiE Nigeria
Official Event
SMW Studio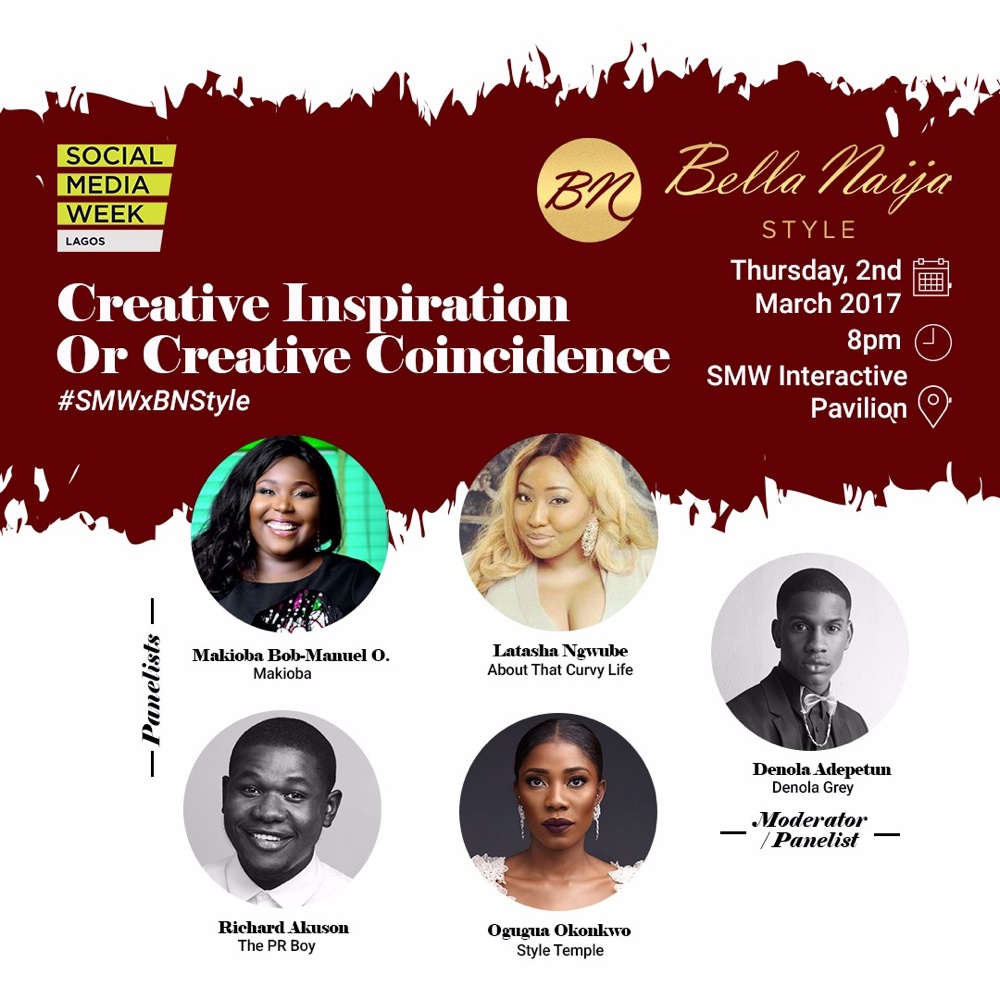 Thursday, March 2
Government & the Citizen: Communicating the 21st Century Way in the Niger Delta
Governance Day
1:30 PM – 2:30 PM
Hosted by PIND Foundation
Independent Event
Innovation Stage Powered by Visa
Thursday, March 2
MEMEPLEX 2.0
1:30 PM – 3:00 PM
Hosted by Imaginaire
Independent Event
Meetup Suite
Thursday, March 2
Parenting in an Era of Technology
1:30 PM – 2:30 PM
Hosted by Women's Technology Empowerment Centre (W.TEC)
Independent Event
Experience Stage Powered by Purple
Thursday, March 2
Online Video 101: How To Speak The Global Language of Online Video
2:15 PM – 3:30 PM
Hosted by Urban Management Enterprises
Independent Event
Masterclass Suite
Thursday, March 2
Strengthening Youth Participation in Governance Through Digital Gaming
Governance Day
3:00 PM – 4:00 PM
Hosted by Youth Alive Foundation, Africa
Independent Event
SMW Studio
Thursday, March 2
Communicating Africa's Fashion Story
Spice
3:00 PM – 4:00 PM
Hosted by SPICE TV Africa
Official Event
Experience Stage Powered by Purple
Thursday, March 2
Use Technology to Make Your Writing Pay
4:00 PM – 5:15 PM
Hosted by WordsAreWork (WAW)
Independent Event
Masterclass Suite
Thursday, March 2
Meet Your New Favourite Girl Children: The Afracanah Podcast Live
4:30 PM – 5:30 PM
Hosted by Afracanah Podcast
Independent Event
Thursday, March 2
Reinventing PR Storytelling in a Digital Economy
4:30 PM – 5:30 PM
Hosted by Public Relations Academy Nigeria
Independent Event
SMW Studio
Thursday, March 2
The New Marketing Mix – Followers, Influencers & Hashtags: Using Social Media to Promote Film & TV
Biola Alabi Media
4:30 PM – 5:30 PM
Hosted by Biola Alabi Media Limited
Official Event
Experience Stage Powered by Purple
Thursday, March 2
Fashion x Tech: Sourcing Fashion in Africa #SMWMeetup
4:30 PM – 6:00 PM
Hosted by THE ASSEMBLY
Independent Event
Thursday, March 2
#SHOPAFRICA PopUp
#SMWLagosNites
5:30 PM – 10:00 PM
Hosted by AFRIKA21
Official Event
#TheAnnex
Lagos 2017 Executive VIP Pass or Lagos 2017 Campus Pass
Thursday, March 2
Creative Industries Africa: Exploring The Impact of Social Media On Design & Culture
6:00 PM – 7:00 PM
Hosted by VR Creative Agency, Fashion Africa Now & APYA Productions
Independent Event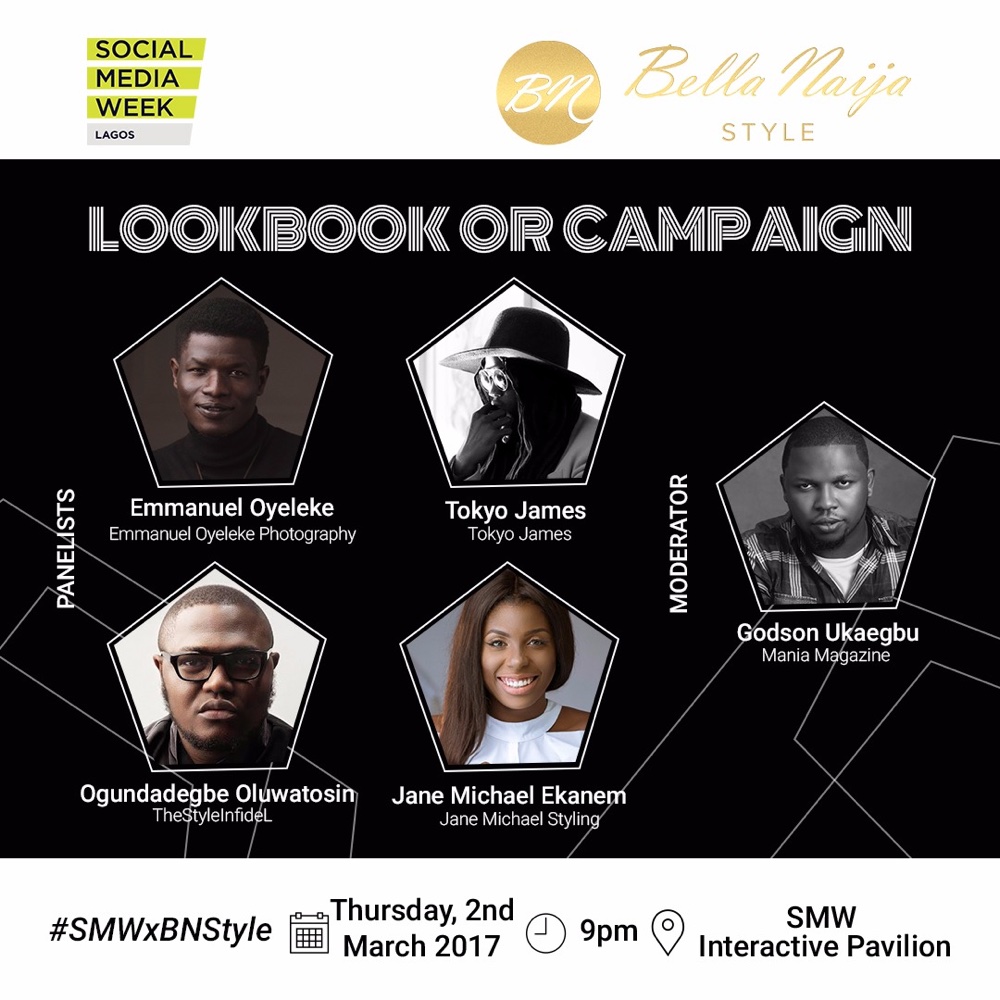 Thursday, March 2
#SHOPAFRICA Speakeasy curated by BellaNaija – Building a Retail Business on Social Media and Maintaining Relevance
6:00 PM – 6:30 PM
Hosted by BellaNaija
Official Event
SMW Interactive Pavilion
Thursday, March 2
#SHOPAFRICA Speakeasy curated by BellaNaija – Building a Following on Social Media that Reflects your Brand and Translates to Revenue
7:00 PM – 7:30 PM
Hosted by BellaNaija
Official Event
SMW Interactive Pavilion
Thursday, March 2
#SHOPAFRICA Speakeasy curated by BellaNaija – Creative Inspiration or Creative Coincidence
8:00 PM – 8:30 PM
Hosted by BellaNaija
Official Event
SMW Interactive Pavilion
Thursday, March 2
#SHOPAFRICA Speakeasy curated by BellaNaija – Lookbook or Campaign
9:00 PM – 9:30 PM
Hosted by BellaNaija
Official Event
SMW Interactive Pavilion