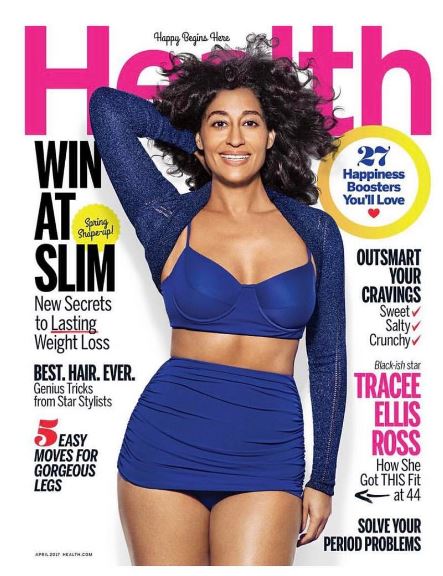 Hollywood Actress Tracee Ellis Ross looks so hot and toned while posing for the cover of Health magazine's April 2017 issue. Tracee's body is giving us serious gym goals.
The 44-year-old Black-ish actress spoke to the magazine about loving her body as she's getting older, on how her style has evolved and more.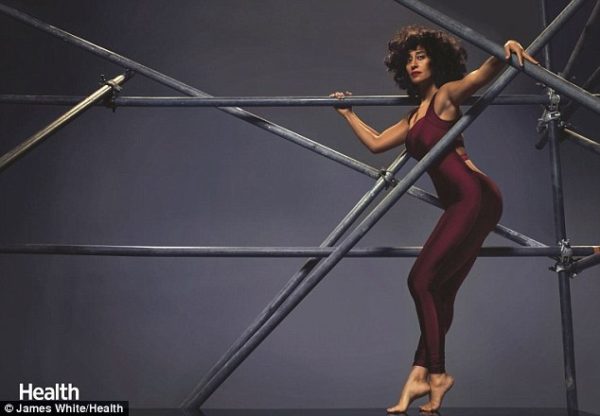 See excerpts below.
On what she loves about her body as she's getting older: I love my butt in a way I didn't growing up. I really didn't like it growing up. It was so much bigger than everyone else's, and I wanted jeans to look the way they did on everyone else, and mine didn't. I've been—to a certain extent—at odds with my body for many years, wanting it to be something other than it was, wanting myself to be something other than I was.
On how her style has evolved: I've always dressed the same way. I love a slim-fitted blazer, a high-waisted trouser. I love dresses and sweatpants. I think less is more, simple is good, and black is always key. It makes anything look good—even sweatpants! Put a fancy jacket over it, and no one will know.
On the best thing she's ever done for her body: One, talk nice to it. And two, find workouts that make me feel good.
On what she got from her mom: My business mind, my work ethic. And I got her courage—courage of self, courage to be who I am. My mom is like that: Who she is is who she is. I got it from seeing her do it—seeing a woman unapologetically being herself and it working. There was no shaming of me being me. I had to work on that a lot, because I'm a large personality, so I had to own my specificity and love it. But the example of what that can look like—I see it more and more—I got from my mom. I love getting older!
On working for her body: It's three days a week on a regular basis, sometimes four. Sometimes I take a little break, but the truth is, I feel the best when I work out. I feel very strong. I didn't wake up like this. At 22, I woke up like that. At 44, I work really hard for this! I am on TV, and I don't want to lie to anybody. I'm not at my skinniest, I'm not at my fattest, but I live my life. This is my body. Health and the functionality of my body are more important than what it looks like.
On the message she'll send to her 30-year-old self: Hang in there. It's not gonna be what you expect, but in some ways, it's so much better. Life is not a fairy tale. It's a little sobering, but it's quite wonderful. This is me. This is who I am. I'm not 22, and I don't look like I looked when I was 22! So love the body you got now, because in 10 years, you're gonna be wishing that you had it.
For more from Tracee, visit Health.com!