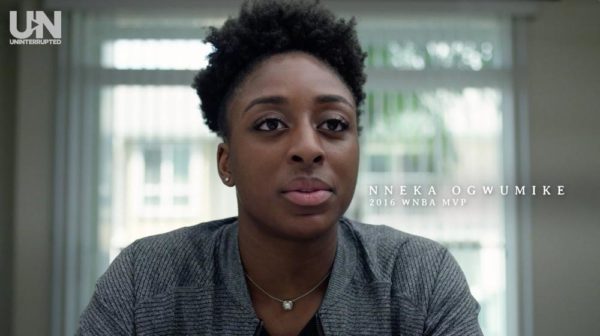 Nneka Ogwumike, the 27-year-old Nigerian-American basketball player who won the WNBA Most Valuable Player in 2016, talked to Uninterrupted about her club Los Angeles Sparks, her sisters, sport and more.
Nneka, who also has an endorsement with Nike, was elected the President of the WNBA Players Association in 2016.
She said that she plays five months in the WNBA and also plays for Dynamo kursk of Russia for 7months; giving her only 11 free days to spend with her family and friends.
She spoke of her childhood, her three sisters, including Chiney Ogwumike who also plays for the WNBA, how she started playing basketball and her plans for the future.
She said she got into Basketball because she was too tall for gymnastics, adding that her mother wanted she and her 3 sisters to stay active.
Her younger sister Chiney, who is also a Basketball player, describes her as the one who sets the bar for all of them.
Magic Johnson, owner of LA Sparks describes her as special, adding that she is the smartest player in the WNBA. "You only will see a few athletes that are so intelligent and smart that can be the president of the United States," he adds.
Watch video below: